Thai authorities decide on Bahrain detainee's future next week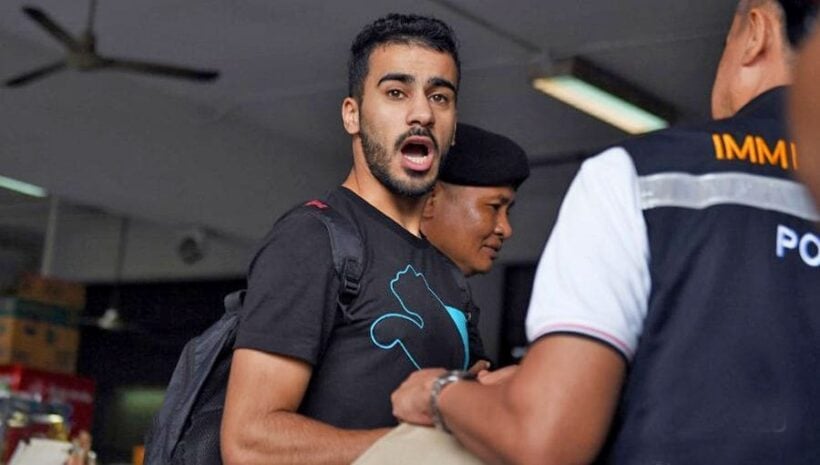 The Thai Attorney General is set to decide by next week whether to extradite a detained Bahraini footballer or allow him to travel to Australia as a refugee.
Prosecutors have now received an official request from the Bahraini government to extradite the footballer, Hakeem Ali Mohamed Ali al-Araibi, and the request is being reviewed to see if it falls within the 2008 Extradition Act.
If the OAG does decide to have al-Araibi extradited, then the case must be completed by next week or within 60 days after his detention, he said. Al-Araibi was detained on December 11.
"However, even after the OAG proceeds with the extradition, the PM still has the power to cancel the order and allow the footballer to travel to Australia, where he has already gained refugee status."
Al-Araibi, an acclaimed Bahraini footballer who currently plays for Pascoe Vale Football Club in Melbourne, has a permanent-protection visa from the Australian government, according to The Nation.
The footballer was arrested at Suvarnabhumi Airport as soon as he arrived on a vacation with his wife.
He had been convicted, in absentia, of vandalising a police station in Bahrain and is being sought by his country's government to serve a 10 year prison sentence.
In an official statement, Human Rights Watch say the footballer is being unjustly charged as he was playing a televised match during the time of the alleged crime.
Thailand and Bahrain do not have a bilateral extradition treaty, but provide each other assistance on grounds of reciprocity.
SOURCE: The Nation


Read more headlines, reports & breaking news in Bangkok. Or catch up on your Thailand news.
"X-Ray Outlaw Foreigner" arrest numbers hit 8,400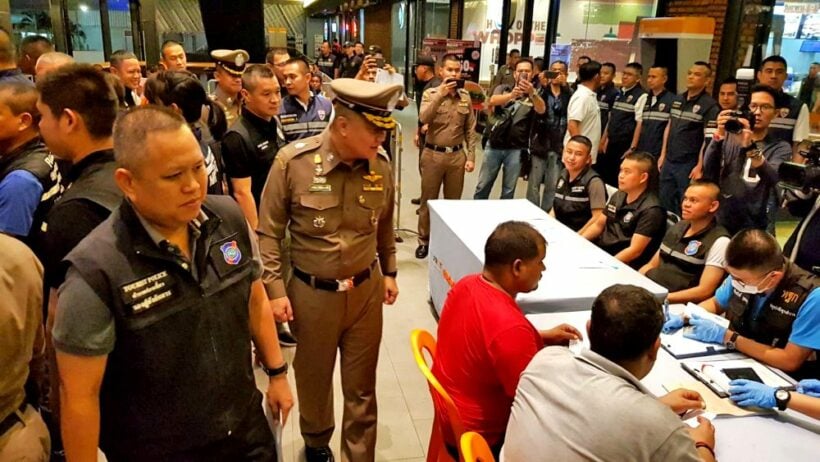 by Kittipong Maneerit
More foreigners detained and likely to be deported. Seems to be a never-ending supply of illegal foreigners hiding in Thailand. X-Ray Outlaw Foreigner has been an almost weekly campaign to round up and deport overstaying and illegal foreigners over the past two years.
Another 490 foreigners were caught this week in the latest Immigration Police dragnet involving simultaneous raids at 229 locations around the country.
It was the 46th such crackdown bringing the total number of locations searched to 7,145 and the number of arrests to 8,400.
Immigration Police Bureau announced that 338 of the people arrested were charged for entering Thailand illegally – 110 from Laos, 141 from Myanmar, 85 from Cambodia and one each from Vietnam and India.
14 others,3 each from India and Vietnam, 2 each from Laos and Cameroon and 1 each from Myanmar, Cambodia, Switzerland and the US, are accused of overstaying their visas.
85 Thais allegedly failed to report within 24 hours they had foreigners staying on their premises.
The 27 from Myanmar, 9 from Cambodia, 4 from Laos, 3 from India, 2 each from China, Vietnam and Russia and 1 each from France, Poland, South Korea and Canada allegedly either failed to report their stay at specified addresses or violated the law on Foreign Worker Management.
SOURCE: The Nation
Earth Hour next week, everyone invited to join Bangkok by switching off lights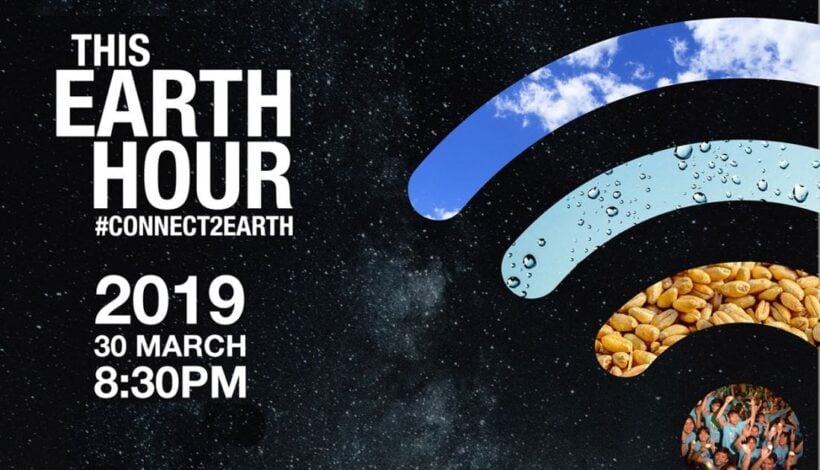 The Bangkok Metropolitan Administration is inviting Bangkokians to join in "60+ Earth Hour 2019", by turning off electrical appliances and lights for one hour from 8.30-9.30pm on Saturday, March 30.
The rest of Thailand is also invited to join in the annual environmental initiative. The BMA has participated in Earth Hour since 2008 by encouraging Thais to switch off lights to show their concern for the planet.
The BMA says they're joining 262 organisations to participate in the event. Bangkok's main celebration venue will be Central World Plaza on March 30.
The BMA say that last year's event, when 121 organisations and establishments took part, was a success with 2,002 megawatt reduction in power usage during the 'lights-off' hour which was calculated to have a cash value of 7.86 million baht or a reduction of 1,026 tons of carbon dioxide.
Started as a symbolic lights-out event in Sydney in 2007, Earth Hour is now celebrated in 188 countries as a global moment of solidarity and action to save the planet.
Summer storm cell hits Bangkok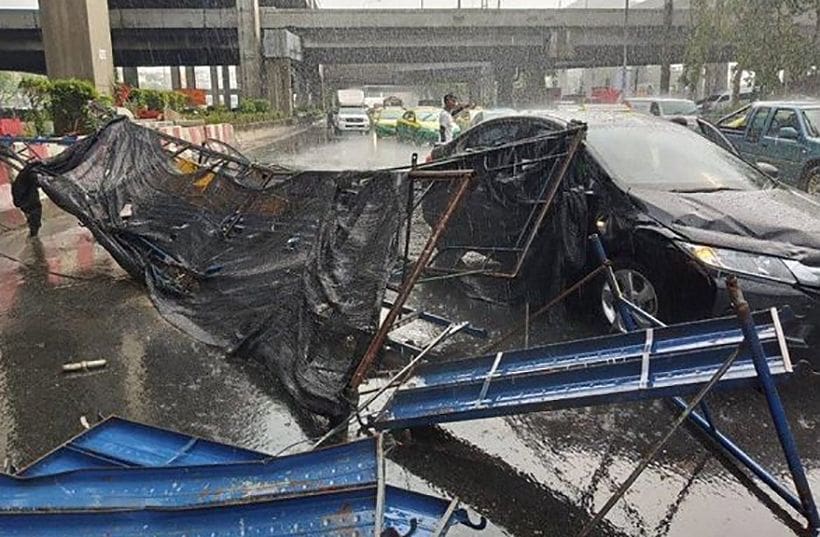 PHOTO: @fm91trafficpro
A sudden and brief summer storm swiftly passed through Bangkok's Lak Si and Don Mueang areas yesterday afternoon.
The storm left some damage in its trail, including toppled small trees on Soi Vibhavadi 60, clogged drains and an under-construction Vibhavadi-Rangsit pedestrian bridge's metal scaffold falling onto a car at Lak Si Intersection.
The stormy weather took place around 3.30pm and lasted over 10 minutes.
The Thai Meteorological Department had previously warned about storms, gusty winds, hail stones and lightening in upper Thailand from March 23-25 and continues to warn people to avoid open fields, big trees or billboards during the storms.
Forecast for the Central areas of Thailand…
Up to March 23, hot to very hot during the day. Minimum temperature 23-27°C. Maximum temperature 36-40°C. During March 24 – 27 2019, hot during the day. Isolated to scattered thunderstorm with isolated gusty and hail. Minimum temperature 22-26°C. Maximum temperature 33-38°C. Southeasterly wind 10-15 km/hr.
SOURCES: The Nation | TMD