BMA backs down to allow Khaosan traders, sort of…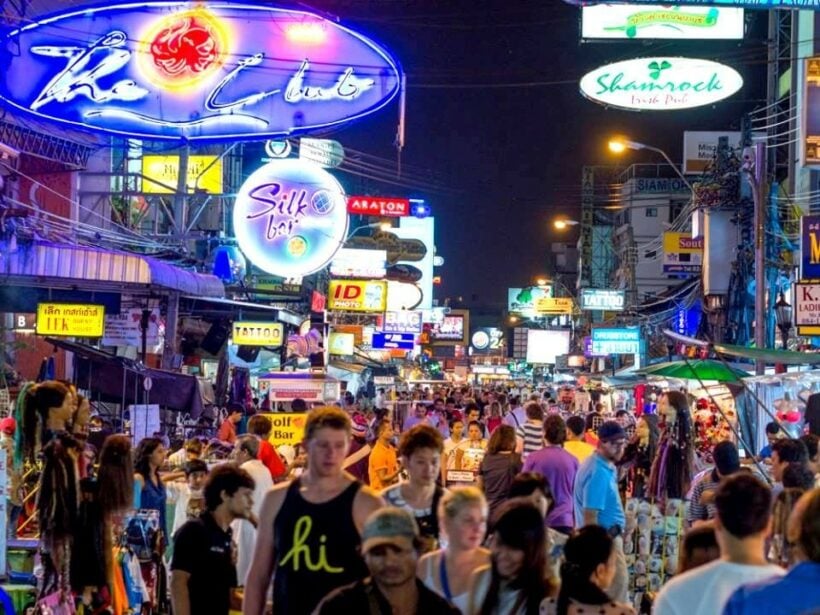 by Kornrawee Panyasuppakun
"From around 9pm to 3am, backpackers use Khaosan as "party central", rather than a shopping fair. Electronic dance beats can be heard blaring from clubs and bars."
There's been a back down in the Bangkok Metropolitan Administration yesterday after vendors from Khaosan Road convinced a committee that their stalls, whilst illegal in the past, were a huge attraction and a part of what made Khaosan Road famous.
Visitors and street vendors claim that tourists will desert the area, or even Bangkok, if daytime stalls are not restored. say
The world-famous Bangkok destination attracts hordes of international youth with offers of street food, beer and a chaotic, lively nightlife. Just about everything and anything is available at all times of the day.
However, the municipal authority wants to bring order to the late-night 'carnivalesque' atmosphere.
Since August 1, the Bangkok Metropolitan Administration (BMA) has strictly enforced the rarely-used Public Cleanliness and Orderliness Act 1992, which forbids daytime street vending. Under the recent sweep, the street stalls have been banned from doing business in front of guesthouses, cars, cafes and shops during the day.
City Hall's plan only allows the previous daytime vendors to hawk their goods and services on the road from 6pm until midnight. The BMA is expected to allow vendors to hawk their wares from 4pm next month onwards.
The plan, however, isn't popular with tourists and shoppers. The authorities are now working to solve this roblem with a public hearing to allow street vendors and store owners to air their views.
Along both sides of the road, carts and stalls are lined up, offering late eaters pad Thai and mango sticky rice. Several smiling hawkers offer "laughing gas" or a crispy fried scorpion. Local and foreign partygoers flock the street daily.
"It's my first time here in Khaosan. I'd heard that it's brilliant and fantastic," said Matthew Bechus, as he and a friend tuck into Thai delicacies at a stall nearby. "Now that the footpaths have been cleared, it's sad. It's a big tourist attraction and brings income for people and jobs and everything. I hope it comes back."
Russel Green, a tourist from South Africa said the new Khaosan was nothing special.
"If they clear out all the stalls, there will no longer be a reason to come to Khaosan," he said. Green and his friend were "disappointed" while strolling through the area in the afternoon.
"I would say tourists under the age of 30 visiting Thailand only come to Bangkok to visit Khaosan Road. Without Khaosan, they will have no reason to visit Bangkok. They will go straight to Phuket," he predicted.
Under the new restrictions, Khaosan Road now looks like any other place in Thailand. While most of the 30-million annual visitors are foreign, not all choose to stay in the area's hostels, guesthouses and hotels.
Rujira Raokhekit, a Thai who came with her boyfriend, said: "I have been here many times at night for parties. I don't usually come to Khaosan during the day, but I think today it is quieter than before."
The peak selling hours for vendors and stall owners used to be from 2pm to 5.30pm, vendors said. After 8pm, people usually come for food, music and beer.
When daytime trading was banned, Bangkok officials allowed them to set up stalls from 6pm, which vendors say will only give them three hours to sell their goods.
"After that, the music is too loud and the crowd is not in the mood for shopping," said Sukwasa Kurattana-sinchai, who has been selling T-shirts on Khaosan since the Tom Yum Kung crisis hit Thailand in 1997.
"Most of our customers are backpackers who came to stay in budget guesthouses. They often travel light and come here specifically to buy comfy cotton pants and sleeveless T-shirts to wear for their whole trip," Sukwasa said, as she waved at a group of backpackers.
She said that from about 8am until late afternoon, Chinese tourists would normally drop by Khaosan after visiting the Grand Palace and enjoy an hour-long shopping spree. Most foreign tourists visit Khaosan in the morning for souvenirs before their flights home in the afternoon.
Most vendors believe that clearing out the stalls is a bad move.
"The prices in shops are usually high, which is probably why the stalls are banned in the afternoon," said another vendor as he waited to set up his bag stall at 6pm. "Now you see most tourists walking without any shopping bags."
If the ban continues, tourists will not bother to visit Khaosan, he said. "They won't even stay close to Khaosan. Why should they? There is nothing to buy during the day. They could book a hotel in Pratunam or Bo Bae [two famous shopping districts a half-hour ride from Khaosan] and take a tuk-tuk to Khaosan for the nightlife," he said.
Bangkok deputy governor Sakoltee Phattiyakul said after a meeting with related agencies on Friday that to help solve the problem, the BMA will draft a regulation allowing Khaosan vendors to trade from 4pm until midnight.
The regulation will includes pavement trading in nearby streets of Banglamphu such as Rambutri, Chakrabongse, Krai Sri, Sip Sam Hang and Tani.
Over the next 10 days, Phra Nakhon district will collect opinions from street vendors and building owners. "All vendors must register with Commerce Ministry. We will make it legal and transparent," he said.
"We are trying to find the middle ground for everyone. The street vendors can't have everything. They can't expect to use the footpaths all day."
He added that the vendors must not block the footpaths and stalls can be no bigger than 1.5 square metres.
"We will also ensure that there is one stall per vendor," Sakoltee said in response to claims by Bangkok officials that some vendors owned as many as seven stalls.
Yada Pornoetrumpa, president of Khaosan Road Street Vendors Association, said: "The officials don't understand the situation of Khaosan. Many vendors trade in the daytime.
"Ideally, I want Khaosan Road to open 24 hours. They think vendors are greedy. But actually, stalls could help look after the street's hygiene."
STORY: The Nation


Read more headlines, reports & breaking news in Bangkok. Or catch up on your Thailand news.
Bangkok luxury poised to push through the US$300 ceiling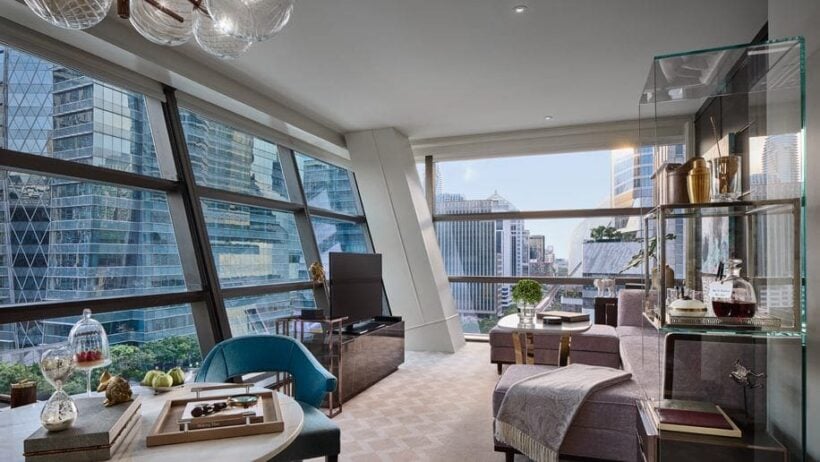 by Bill Barnett of c9hotelworks.com
PHOTOS: Rosewood Bangkok
For hotel owners and managers in South East Asia, one of the great mysteries of the past ten years has been the low rate profile of Bangkok's luxury hotel set. Despite soaring and sustained tourism growth, rising airlift and a strong economy, rates at Bangkok's top tier properties have remained fairly stagnant.
Have we reached the tipping point?
I had had the opportunity to visit the latest entry to the Bangkok luxury class a few days ago, the Rosewood. With 159 keys which includes a limited number of posh houses with private pools and terraces the property is seeing an exceptional response and already achieving high rates.
What's impressive about the entry is a take on the design approach that sees hotel developers apply a non-uniform approach with AvroKO coming in to focus on the restaurants and bars, while the rooms and public areas were led by Celia Chu Design and Associates.
While the speakeasy Lennon's has not be opened yet, the 6,000 record vinyl collection is impressive and the bar will clearly have a strong pull. Taking the approach to designing restaurants and not typical hotel outlets, the Chinese eatery Nan Bei is a breath of fresh air and limited seating provides a bespoke appeal.
Taking a step back, and looking at recent entries like the Waldorf Astoria, and upcoming 101 key Capella, what is clear is luxury properties are shifting in terms of key drivers of the segment of art, fashion, residential vibe, bar and restaurant offerings, wellness and events.
So, what about rates?
On a broad basis Bangkok's top tier hotels have averaged rates of US$200-240 for the past few years. This set has seen longer serving properties such as the St. Regis, Kempinski, and Okura effectively flatline on rates, though newer entries have come up including the Park Hyatt. On the broader horizon is the return of the Four Seasons and Capella by the river and the Orient Express at the MahaNakhon skyscraper.
With the entry of Rosewood driving rates, my expectation is that a few of the set will follow and at the end of 2019 we will set limited number of hotels crash through the US$300 average room rate barrier and effectively smash the legacy glass ceiling of Bangkok's luxury hotels.
As in any business there will be winners and losers. Smaller hotels with some rate leading premium key types will be able to push up average daily rates. Segmentation is another key and hotels on the river that lack substantial corporate numbers will remain challenged until transport links to the area improve.
Where in the world are Bangkok luxury hotels heading?
To sum up 2019, size and location matter, the shift on food and beverage and social events along with niches like wellness and  smaller meetings/weddings are the key to the future. As for the quantum leap in rates, it's about time Bangkok hoteliers be confident and push rates towards a more global norm.
Third runway for BKK Suvarnabhumi Airport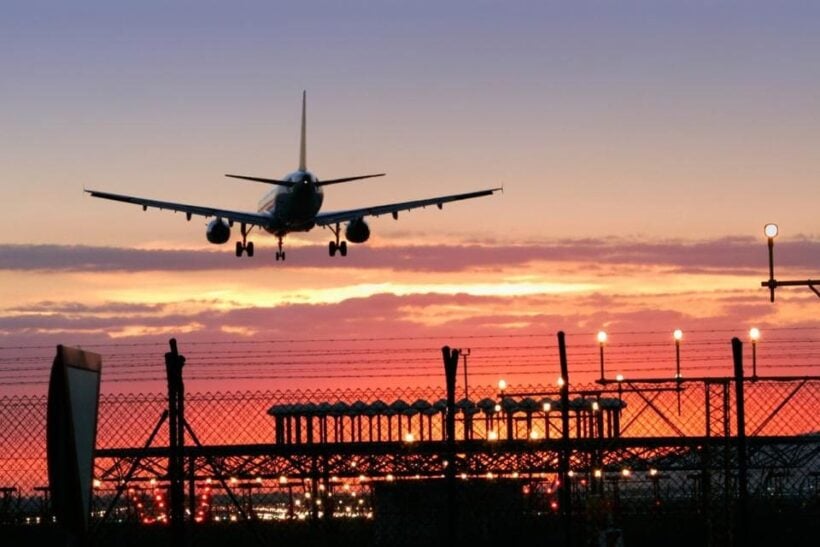 The Thai cabinet yesterday approved the construction of a third runway at Suvarnabhumi International Airport as part of the country's ambition to become the aviation hub of ASEAN.
The 21.7 billion baht project will increase the combined capacity of Suvarnabhumi international airport's runways to 94 arrivals and departures per hour from the current 64, said Lt-Gen Weerachon Sukonthapatipak, deputy government spokesman.
Suvarnabhumi Airport (aka. BKK) was opened in 2006 as Bangkok's second airport. Initially it replaced the tired Don Mueang Airport but Don Mueang was later revamped as a low-coast airport to service the growing traffic demands.
Meanwhile Suvarnabhumi Airport was, and still is, operating above its designed capacity. An earlier bid to build a third terminal has been mired in controversy and is currently shelved pending a new brief from Airports of Thailand with a new round of design bids called for in the future.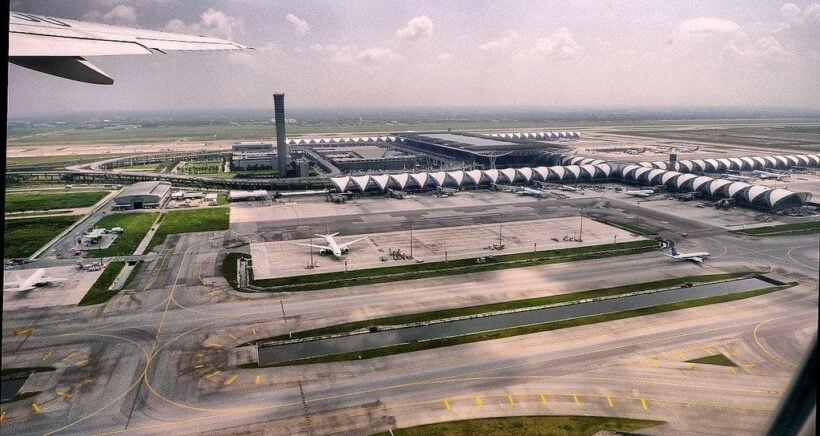 Newborn baby dumped beside garbage bins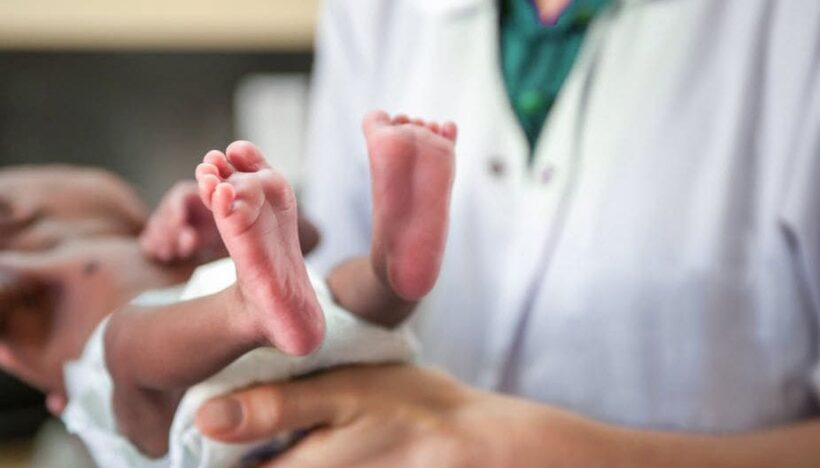 FILE PHOTO
A newborn baby has been found abandoned near rubbish bins in Chon Buri province, south-east of Bangkok, earlier today.
18 year old city sanitation worker, Anucha Boonkhai, has told police that he had loaded garbage from all the bins on Soi 4 of Ban Kao village in Tambon Ban Kao, Muang district, when he spotted a pile of towels. He checked and found a baby boy, whose umbilical cord was still attached still smudged with blood, wrapped in one of the towels.
The baby was alive but had been bitten by mosquitoes and insects so he called an emergency unit of a hospital and then informed police.
Police are now checking footage from security and CCTV cameras in the area to try to identify the mother or person who had dumped the newborn baby.