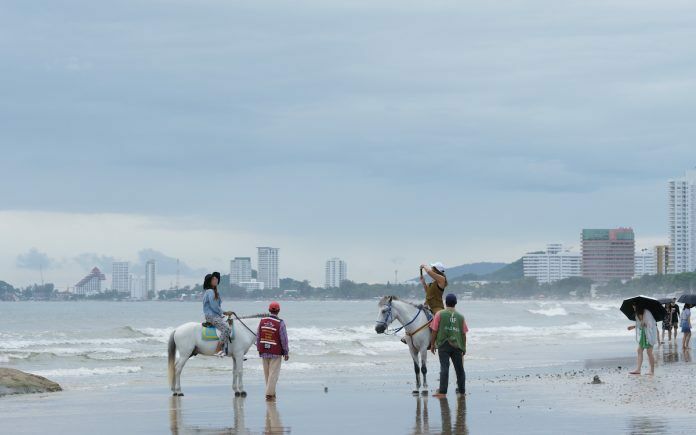 More European tourists are making their way back to Thailand's coastal paradise of Hua Hin than Chinese tourists, according to officials. The vice president of the Thai Hotel Association said most of Hua Hin's tourists are European, from Scandinavia, Denmark, Norway, the Netherlands, and Germany.
The vice president, Udom Srimahachota, said the number of foreign tourists is expected to rise throughout the year. He said the number of Chinese tourists will be small compared to the number of tourists from other countries. He noted that Chinese tourists prefer to visit Chiang Mai, Pattaya, and Phuket.
Udom said foreign tourists now make up around 60% of all tourists in Hua Hin, Thai media reported. He said foreign tourists flooded Hua Hin's beaches, hotels, restaurants, and gift shops this past weekend.
Hua Hin's hotels and resorts reported high occupancy rates over recent weeks. The manager of The Yana Villas Hua Hin said the average occupancy rate during the week is 70-80%, and 90% during holidays and weekends.
As with many of Thailand's tourism hotspots, water activities are a draw for tourists in Hua Hin. The owner of Koh Talu Highland Resort said that groups of tourists are visiting Koh Talu for diving.
In the first half of January, Thailand welcomed a total of 913,013 foreign tourists, according to the Tourism Authority of Thailand (TAT). Governor of the TAT Yuthasak Supsasorn revealed that Russia has overtaken Malaysia as the No.1 tourism market.
From January 1-15, 99,593 Russian tourists arrived in Thailand. There were 89,461 Malaysian tourists, 47,471 South Korean tourists, 41,863 Indian tourists, and 41,863 Laotian tourists.
As time goes on, Chinese tourists are expected to make their way into the top five. In the first half of January, Chinese nationals ranked 10th place, totalling 28,643.
Will European, or Chinese tourists, make up the biggest group in Hua Hin this year? We'll see.