46 die on the roads in Day One of Songkran 'Seven Days of Danger'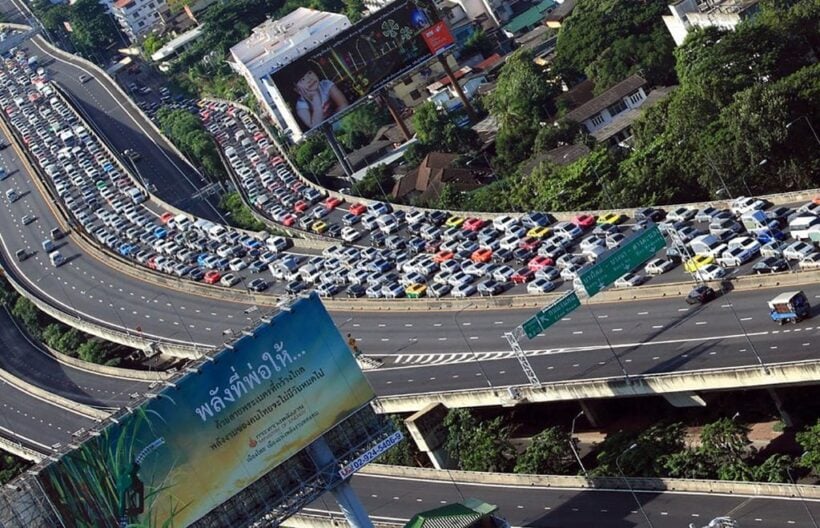 Forty-six people died and 482 were injured in road accidents on the first day of the Songkran holiday.
The figures were disclosed by Transport Minister Arkhom Termpittayapaisit.
The first day of the annual road safety campaign was Wednesday, April 11.
Arkhom says 34.6% of the accidents were caused by drunk driving and 26.9% by speeding, with motorcycles accounting for 78.5% of the accidents (numbers rounded off to nearest .1%)
65.4% of the incidents occurred on straight roads, with 42.3% of the incidents occurring on national highways and 35% on secondary roads.
According to the committee, 29% of the accidents took place between 4 and 8pm and about 25% of the casualties are people over 50 years old.
More than 65,000 officials, including police, military personnel and local officials, have been mobilised to man road checkpoints across the country to ensure road safety. More than 163,000 people have been cited for traffic law violations, with over 45,000 cases of motorcyclists not wearing a crash helmet and 41,000 cases of driving without a valid licence.
The southern province of Nakhon Si Thammarat topped the list with 20 road accidents on the first day of the campaign.
SOURCE: Thai PBS
Keep in contact with Thaiger by following our Facebook page.
Never miss out on future posts by following Thaiger.
Sawasdee pi mai – The four days of Songkran 2021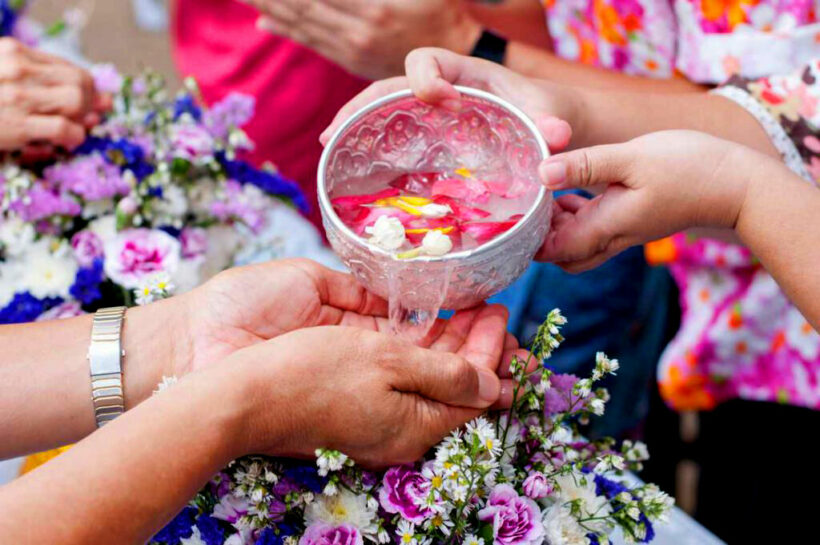 Despite the annual celebrations, water fights and parties being mostly side-lined this year, Songkran goes on for 2021, albeit in a much-subdued form. Many Thais have decided not to head home, but others have already headed out of the city centres to their homes to be with their families. They are being confronted with new restrictions and delays as they reach home province with many provincial officials now imposing quarantine or negative Covid tests to cross provincial borders.
And today, the Bureau of the Royal Household announced the Grand Palace and the Temple of the Emerald will be closed from April 13 due to the current rise in new Covid infections. Other royal palaces are also closed until further notice including Bang Pa In Summer Palace.
Even airlines are having to stop their food and beverage services, again. A January CAAT ban was only lifted a month ago (but some of the discount airlines will still ferry you to your flight in a cramped bus!).
The best we can do for Songkran 2021 is be happy, smile at our Thai hosts on their special day, buy an outrageously colourful Songkran shirt from a road vendor and say Sawasdee Pi Mai to everyone we meet. Let's do our best to add a few smiles to Songkran this year.
Here are some of the original traditions for the Thai New Year celebrations…
Tuesday, April 13 – Wan Sangkhan Lohng
On this day residents clean their houses in preparation of the New Year's festivities. Many provinces have street parades and gatherings at temples or get-togethers at relative's homes.
Wednesday, April 14 – Wan Nao
In preparation for the Buddhist celebratory merry-making the following day, people spend this day preparing cooked meals and preserved cuisine. Buckets of sand were commonly collected and brought into the temples to construct sand chedis, or sand shrines that are then decorated.
Thursday, April 15 – Wan Payawan
As the first day of the New Year, people would gather in the early morning at the wat to offer the food prepared the previous day along with new robes, fruit and other goods to the temple monks. In the past, this was the day where subdued water play began.
Friday, April 16 – Wan Paak Bpee
On the last day of Songkran, people paid their respects to their forebears and poured scented water over the hands of their elders who would then bless those taking part in the celebratory tradition known as rod 'naam daam hua'.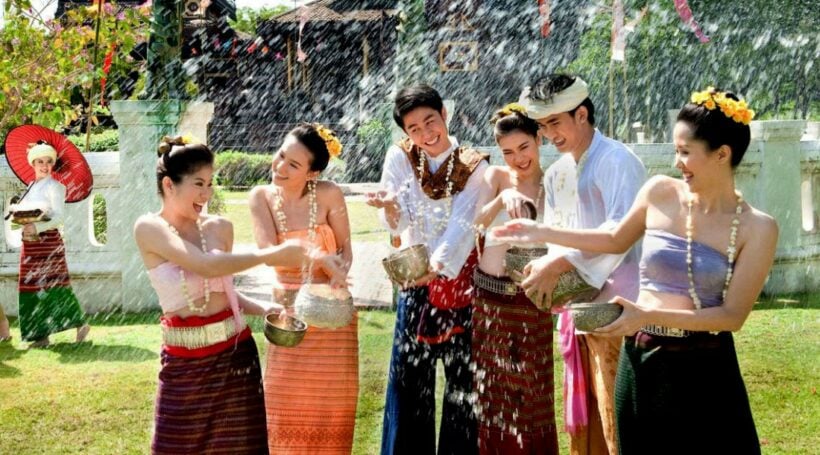 Keep in contact with Thaiger by following our Facebook page.
Never miss out on future posts by following Thaiger.
A Thailand Covid update that you won't read in the news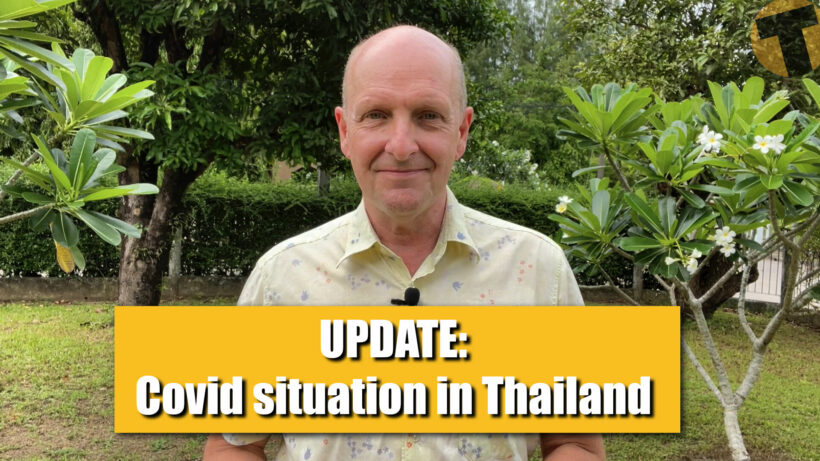 Tim Newton goes through some of the moving goal posts regarding Thailand's Covid situation RIGHT NOW. Vaccines for expats, what will happen after Songkran, provincial restrictions, new quarantine requirements. Reading the tea leaves and reading between the lines, Tim provides his personal opinions on many issues expats and foreigners in Thailand are worried about at this time.
Keep in contact with Thaiger by following our Facebook page.
Never miss out on future posts by following Thaiger.
37 Thai provinces now imposing restrictions for travel from Bangkok and some surrounding provinces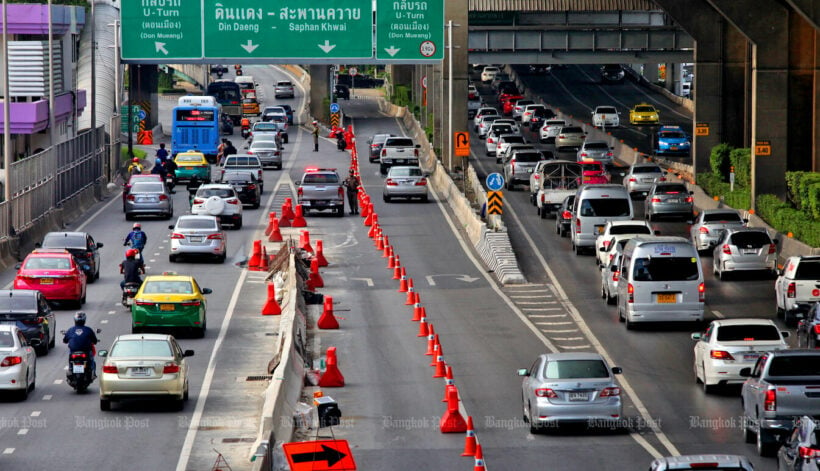 37 Thai provinces, out of 77, have now imposed a 14 day quarantine on travellers from Bangkok, Nonthaburi, Pathum Thani, Nakhon Pathum and Samut Prakan – basically Bangkok and surrounding provinces. These provinces are now considered Red Zones under maximum control . Expect more provinces to follow with restrictions for people from these provinces around Bangkok, and the Capital itself.
Songkran, officially, is tomorrow, April 13. But the annual exodus started on Saturday.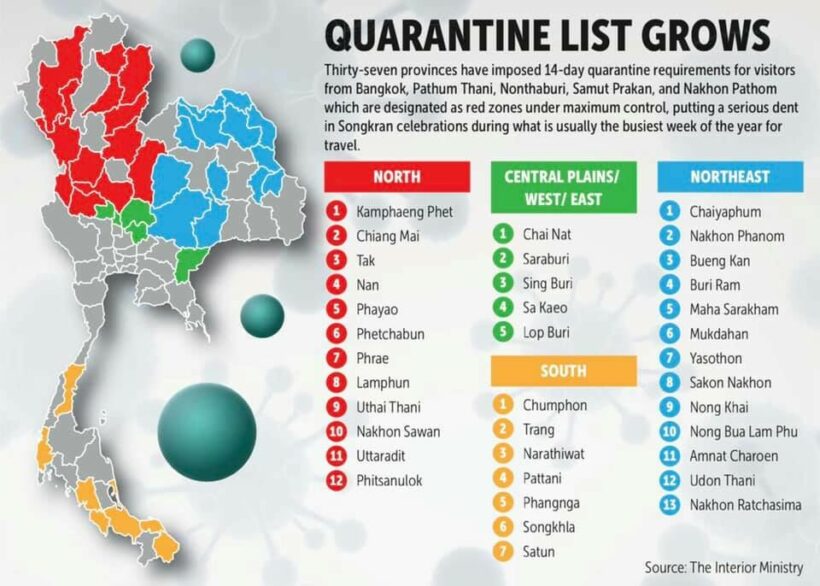 The provincial restrictions, in some cases, will accept a negative Covid test as an alternative. But you expect some delays whilst travelling between provinces over the next week of Songkran celebrations. The annual migration to home provinces by Thais is the biggest movement of people in the country each year, the exact opposite to what you would want during a potential outbreak of new infections.
Here's the full breakdown of new local Covid-19 infections for Monday, April 12 from the NBT…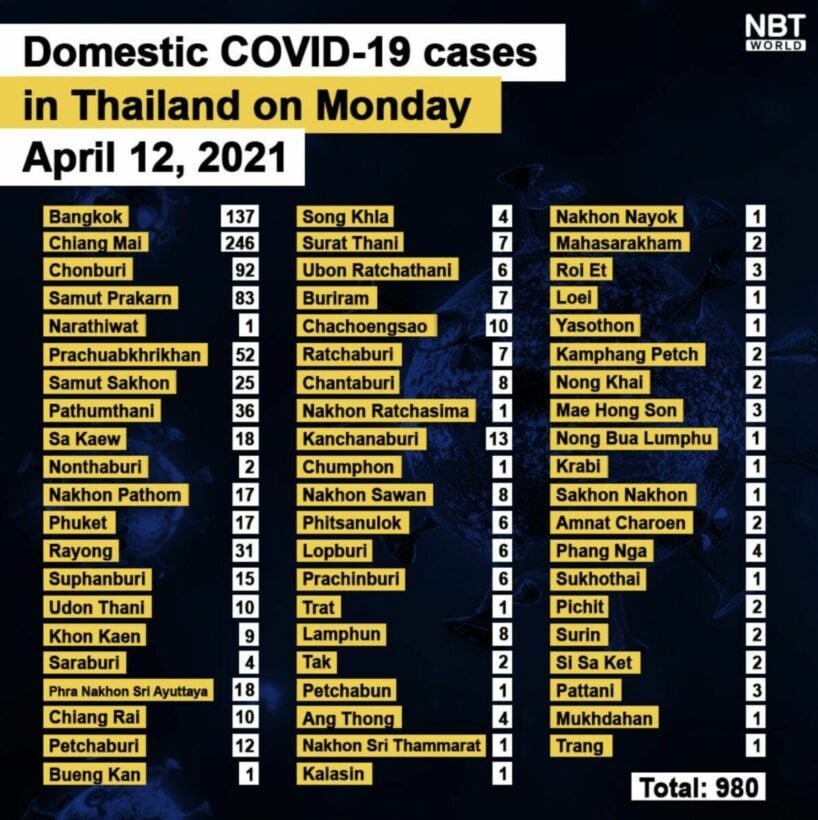 Out of the 980 local infections in today's announcement, most were in the northern city of Chiang Mai (246), followed by Bangkok (137), Chonburi (92), Samut Prakan (83) and Prachuap Khiri Khan (52).
10 new Covid infections announced in Phuket today. Total 74 since last Monday when the first case was announced involving the 3 big parties on the previous weekend. These are not included in the government's official tally as announced this morning.
Although several schools and universities on the island have taken their own independent precautions, the provincial government has been silent about any new restrictions or changes to the status quo. Flights for Songkran, and road traffic, continue to pour into the island for Songkran.
5,265 people still in care or under observation in Thailand, there has been a total of 97 deaths in January 2020. 28, 248 people have fully recovered.
Keep in contact with Thaiger by following our Facebook page.
Never miss out on future posts by following Thaiger.