Thailand to ban import of plastic waste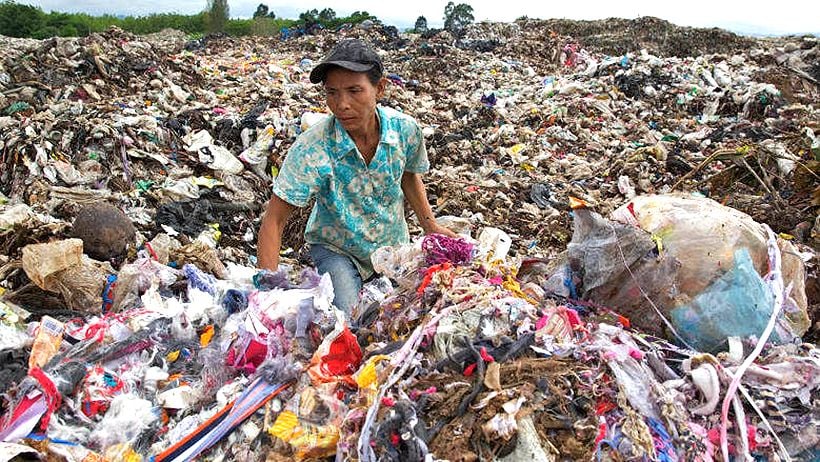 The Ministry of Natural Resources and Environment is proposing to the Thai cabinet a total ban on the import of plastic waste into Thailand. The ban would start in 2020.
Thai PBS reports that the Natural Resources and Environment Minister Gen Surasak Karnjanarat says, that as imports of plastic waste are to end next year, Thailand will increase recycling of locally-generated plastic waste by as much as 100% within ten years.
The application of new measures will require plastic products to contain a certain percentage of recycled plastic. The minister says he is confident that Thailand has the technology and facilities to reach this goal.
Currently, about two million tonnes of plastic waste are generated in Thailand each year but only 500,000 tonnes are recycled. In the meantime, plastic trash is currently allowed to be imported for use in production of plastic products to save cost.
SOURCE: Thai PBS
Keep in contact with The Thaiger by following our
Facebook page
.
Lilly wages war on Thailand's plastic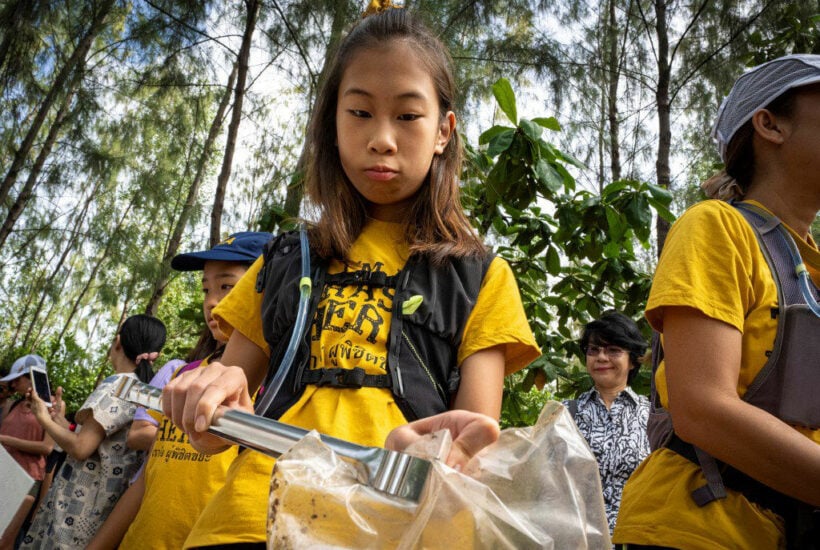 Skipping school to glide through a dirty Bangkok 'klong' on a paddleboard, Lilly fishes out rubbish in her mission to clean up Thailand, where the average person uses eight plastic bags every single day. Single-use plastic is now on the radar in Thailand and has become a hot topic on social media.
"I am a kid at war," the bubbly 12 year old says after a painstaking hour-long routine picking up cans, bags and bottles bobbing in the canal.
"I try to stay optimistic but I am also angry. Our world is disappearing."
Thailand is the sixth largest global contributor to ocean pollution, and plastic is a scourge.
Whether it's for wrapping up street food, takeaway coffees or for groceries, Thais use 3,000 single use bags per year – 12 times more than someone from the EU.
In June, Lilly won her first victory: she persuaded Central, a major supermarket in Bangkok, to stop giving out plastic bags in its stores once a week.
"I told myself that if the government did not listen to me, it would be necessary to speak directly to those who distribute plastic bags and convince them to stop."
This month some of the biggest brands, including the operator of the ubiquitous 7-Eleven convenience stores, pledged to stop handing out single-use plastic bags by January next year.
Mindsets have started to shift this year with the deaths of several marine mammals whose stomachs were lined with plastic, stirring emotions.
The demise last month of a baby dugong was mourned on social media, reviving discussion in the government over a proposed ban on most single-use plastics by 2022.
But critics say along with new rules there need to be enforcement mechanisms such as fines.
For now young activists like Lilly can help capture attention.
"You might be able to tune out all of the evidence and advocacy in the world, but it's very hard to ignore a child when they ask why we're trashing the planet that they have to live on," says Kakuko Nagatani-Yoshida, regional coordinator for chemicals, waste and air quality with UN Environment.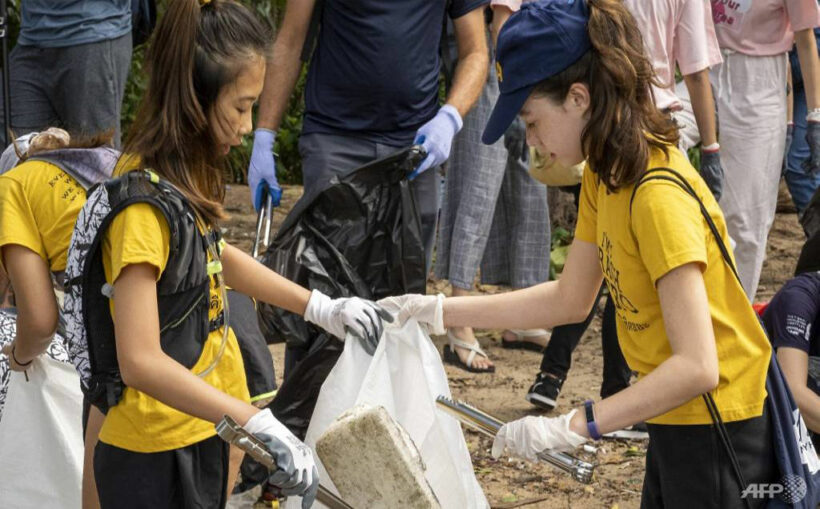 'It's up to us'
'Lilly' is Ralyn Satidtanasarn's nickname.
The US-Thai youngster started campaigning at the age of eight after a seaside vacation in southern Thailand where she was horrified by a beach covered in rubbish.
"We cleaned up with my parents, but that was not helpful because other waste was thrown out by the sea the next day," she recalls.
Then came the global movement initiated by 16 year old Greta Thunberg, who has become a key face in the battle against global warming.
Inspired by the young Swede, Lilly did sit-ins in front of the Thai government buildings.
"Greta Thunberg gave me confidence. When adults do not do anything, it's up to us children to act," she insists.
Though she often skips class to carry out her activism, she will not be in New York alongside Thunberg for a protest on September 20 just days before the UN climate conference.
"My place is here, the fight is also in Southeast Asia," she says.
Even if she sometimes wants to take a break and "go play" like other kids, she also takes part in cleaning sessions organised by local association Trash Hero.
Other activists praise her but say she is up against massive corporate interests.
The main obstacle is the petrochemical industry, one of the main markets for plastics, accounting for 5 percent of Thailand's GDP and tens of thousands of jobs.
"Lilly is a very good voice for the youth of this country but the lobbies are very powerful and that makes any change difficult," concedes Nattapong Nithiuthai, who set up a company turning discarded waste into flip flops.
She can also count on the support of her parents, who help her write speeches to the UN and government officials.
Her mother, Sasie, herself a former environmental activist, adds: "At first, I thought it was a child's fad, but Lilly hung on, so I decided to support her."
SOURCE: Agence France-Presse
Keep in contact with The Thaiger by following our
Facebook page
.
Old Thai habits die hard: Businesses are trying but shoppers remain stubborn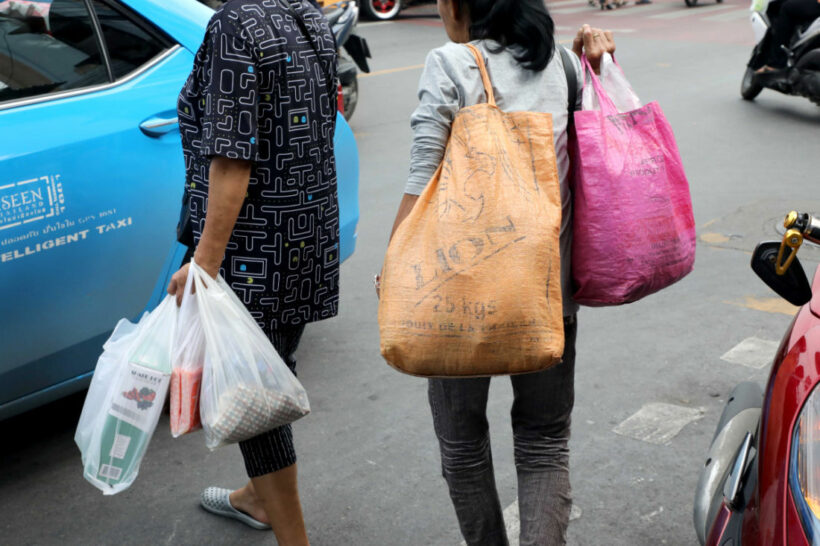 GRAPHICS: The Nation
Thailand is now abuzz over the issue of plastic pollution. This topic is now being widely discussed among Thai netizens, who have been suggesting many measures, including controlling the use of plastic bags at supermarkets and convenience stores.
But so much of daily Thai life still revolves around single-use plastics it is taking radical changes in behaviour and habits to make the substantial changes necessary.
The Nation took to the streets to see if there was any correlation between the big savings some of the larger companies are claiming and the 'real life' demands of shoppers and plastic bags.
The owner of 7-Eleven convenience stores, CP All, were asked about their measures and results. They claim they have enforced a strong policy to reduce the use of plastic over 10 years. Its campaign, "reduce plastic bags every day, you can do it", has saved the company the cost of 646 million plastic bags, and this money saved is being donated to hospitals for medical equipment. As of August 29, CP All said it has donated 126 million baht.
But even this campaign (honestly, I haven't noticed any move towards limiting plastic bags at 7-Eleven stores), is just a tiny tip of the iceberg.
A test at a 7-Eleven opposite Central Plaza Bangna for an hour from 10am showed that 27 customers still demanded plastic bags, while 23 people who bought either cigarettes, bottled water or coffee rejected plastic bags. Only three people were seen bringing their own bags.
Over at Amazon Café, they say the number of clients who bring their own cup for coffee has risen from around 1.8 million in January 15 to 2.2 million by August 15. In about seven months, Amazon coffee shops were reportedly able to reduce the use of 16.7 million plastic cups, averaging at 2.2 million cups per month.
We doubt those claims. The Nation report that when they monitored the Amazon Café near Interlink Tower in Bangkok during lunch break for an hour, not a single person had brought their own cup to the coffeeshop. This is even though staff insisted that 20 to 30 regular clients brought their own cup for a 5 baht discount.
The Thaiger are also regular customers of Amazon Cafes and have NEVER seen anyone coming in with their own mug. (The Thaiger usually drinks their coffee in-store in a china cup.)
Tesco Lotus began campaigning for customers to "say no to plastic" since 2015 and even introduced a variety of incentives such as reward points. As of August this year, Tesco had implemented a policy of not giving out plastic bags for purchases of one or two items at all its 1,800 hypermarkets.
Again, a 'useful' campaign which is as much about good PR for Tesco as it is about any realistic limiting of plastic bag use.
The Nation did more on-the-ground testing. On August 31, The Nation decided to count the number of customers at Tesco Lotus and 7-Eleven who rejected plastic bags. The test at Tesco Lotus (Seacon Square) ran for an hour from 12.45pm, and we found that 453 shoppers still asked for plastic bags, while only 29 either rejected a plastic bag or used their own cloth bag.
After learning about The Nation's tests, Tesco Lotus announced on September 2 that all express checkout lanes at 200 of its hypermarts will become "green lanes" and will not give out plastic bags. It said its goal is to close the loop on packaging, not to just limit single-use plastic bags.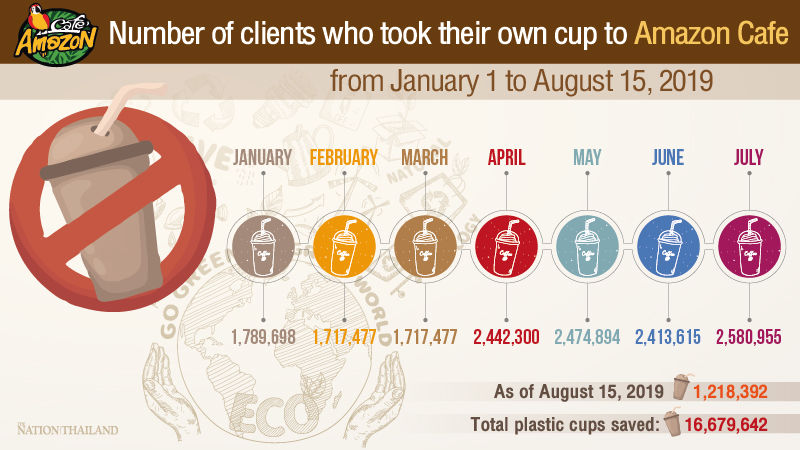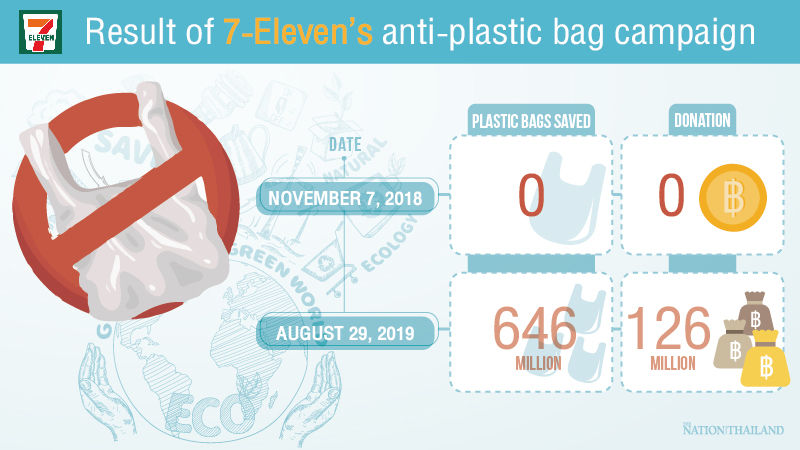 For their part, the government recently announced that by the end of 2019, Thailand will stop producing three types of plastic – microbeads, cap seals and oxo-degradable plastic. It also aims to stop single-use plastics by 2022.
Though the joint effort by the Natural Resources and Environment Ministry and the supermarket network has reduced more than 2 billion plastic bags or 5,755 tonnes of plastic valued at 400 million baht since July 21, 2018 to August 31, 2019, experts doubt if this is enough to make a useful dent in the piles of plastic floating around streets and in the oceans around Thailand.
Anusorn Tamajai, dean of Economics Faculty at Rangsit University, said that the government must come up with both short and long-term measures to tackle the pollution problem, and suggested the introduction of pollution tax.
Another suggestion is to impose the "polluter pays" principle, in which the producer of the pollution must cover the cost of damaging people's health or the environment.
SOURCE: The Nation
Keep in contact with The Thaiger by following our
Facebook page
.
Thailand's big retailers will stop handing out plastic bags in January 2020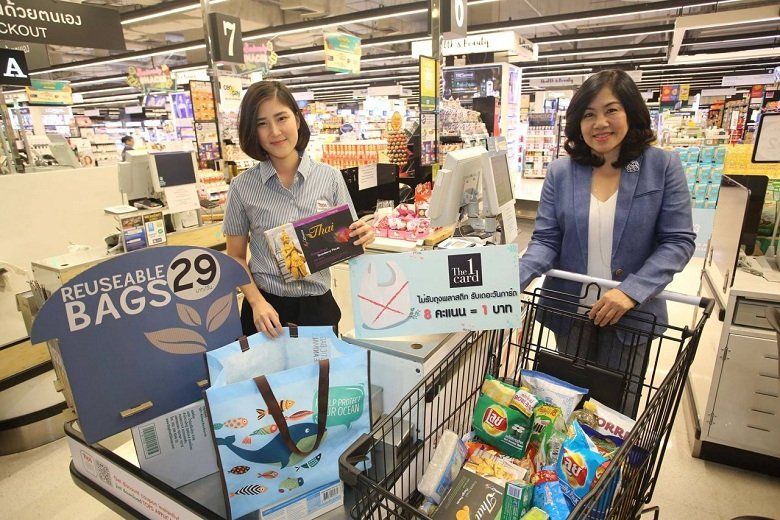 "These partners have vowed to stop giving out single-use plastic bags to customers starting January."
The Thai environment minister has announced a major agreement from large retailers, plastic manufacturers and department stores to stop handing out single-use plastic bags to customers. The new program will start from next year.
Over the past year several large retailers have come up with various promotions to reduce the amount of single-use plastic bags handed out to customers but they've been more of a PR stunt than a real attempt to cut down on the huge amounts of plastic waste generated by these companies.
Minister Varawut Silpa-archa said the Environment Ministry invited scores of Thai partners to join the ministry's campaign to reduce the use of single-use plastic bags.
"This cooperation will help Thailand leave the list of major generators of waste and sea garbage"
Among the big names were Central Group, The Mall Group, CP All (owners of 7Eleven), Siam Makro, Robinsons, Bangchak Retail, Big C Supercentre, Index Living Mall and PTT, as well as trade associations such as the Plastic Industry Club and Thai Retailers Association.
These partners have vowed to stop giving out single-use plastic bags to customers starting January.
"This type of campaign should have been done long ago. We have spent so much time trying to negotiate. At last, we made it."
From next January customers will have to bring their own bags to carry goods from these stores.
"A campaign like this shows that Thailand, which is ranked sixth in the world for generating sea waste, is attempting to reduce plastic waste. It's estimated that Thais use 45 billion single-use plastic bags per year."
Meanwhile, by the start of 2022, a ban imposed on Styrofoam food packages plus other single-use plastic items, including lightweight plastic bags, straws and cups, will also come in effect.
SOURCE: Bangkok Post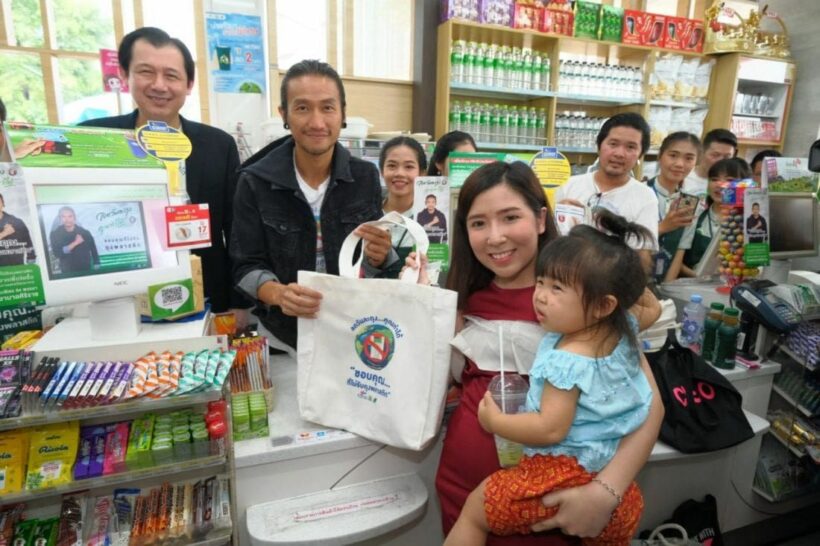 Some of Thialand's biggest celebrities have been wheeled out to try and educate Thais about the problems associated with single-use plastics
Keep in contact with The Thaiger by following our
Facebook page
.