Mekong River drops to lowest level in a century around Thai, Lao, Myanmar border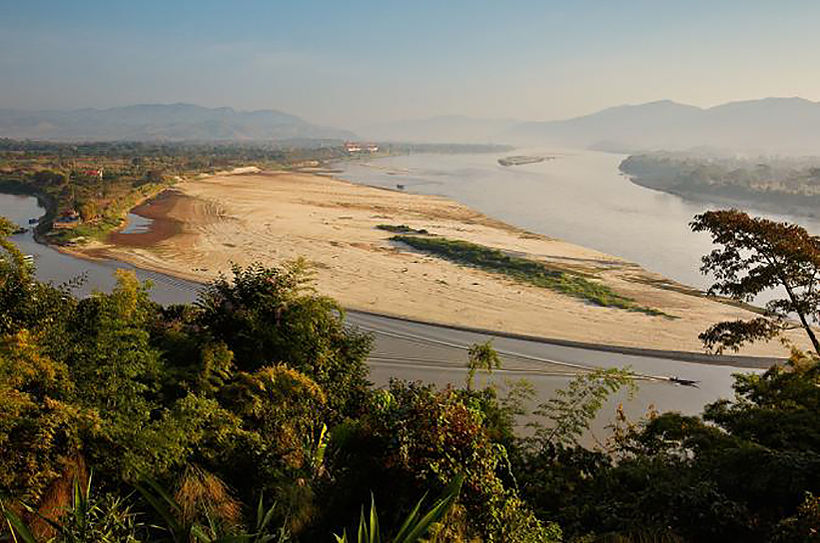 Water levels in the Mekong River are now at the lowest point in a century as of July 19, lower than a record set in April 1973.
South East Asia's Stimson Centre claims that, based on recent satellite images, the drastic lowering of the water level in the river has exposed many islets and sandbars adding. The Centre's report refers mainly to the river as it passes through the 'Golden Triangle' where the borders of Thailand, Laos and Myanmar meet.
The report says that "this could be a new normal for the Mekong River, due to flow regulation by upstream dams and climate change, resulting in prolonged periods of drought."
The Mekong's current water levels, at a historic low, are significant particularly because it's the middle of the wet season, when there should have been plenty of water and flooding in some areas.
In Thailand's Nong Khai province, opposite Vientiane on the Laos border, the provincial waterworks authority suspended water treatment temporarily on Wednesday because its water pumps could not draw water from the river.
Northern Thailand residents and officials are blaming the low water levels on the obstruction of Mekong tributaries in Laos, at the site of the Xayaburi hydroelectric dam, as it test runs its power generators up to July 29. The dam is scheduled to come on line in October.
Several of Thailand's northeastern provinces are experiencing water shortages, despite the onset of the rainy season, with their sources of tap water rapidly drying up.
SOURCE: Thai PBS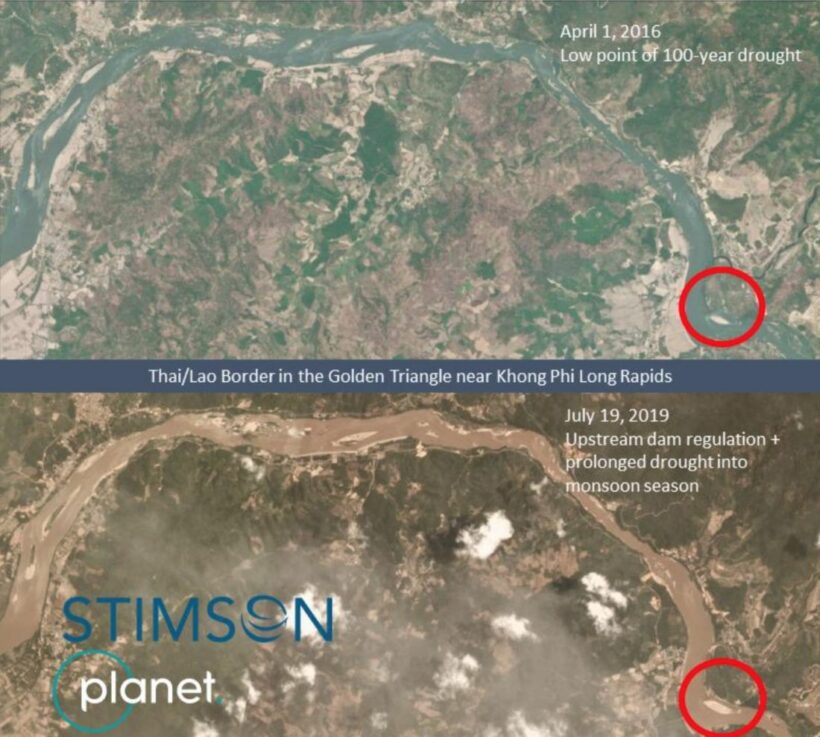 Want more from the Thaiger family?
📱 Download our app on Android or iOS for instant updates on your mobile
📧 Subscribe to our daily email newsletter
👍 Like/Follow us on Facebook
🔔 Subscribe to or Join our YouTube channel for daily video updates
Asia holds 99 of the 100 most environmentally at-risk cities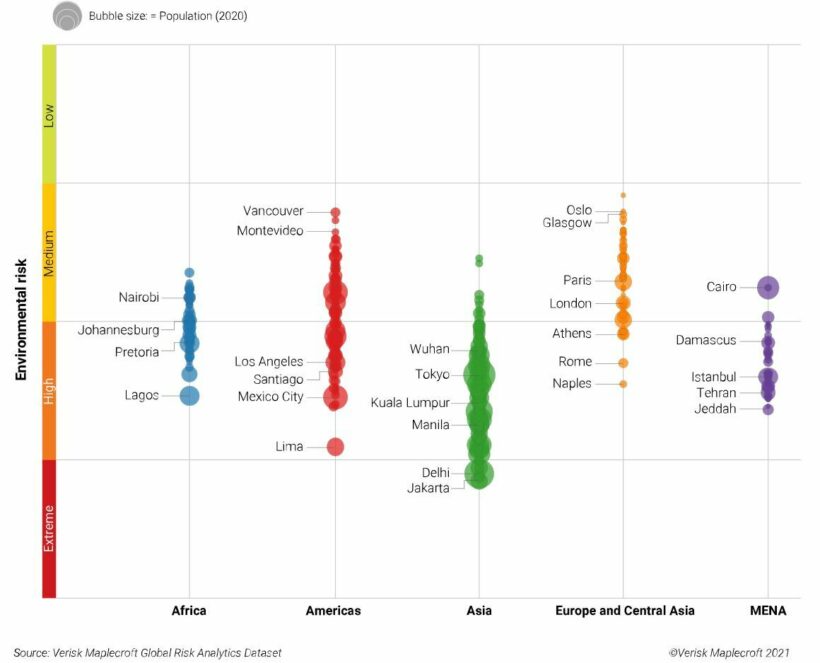 If you live in 1 of the 100 most environmentally vulnerable cities in the world, then unless you live in Lima, Peru, we can guess what continent you're on. According to a recent risk assessment study, 99 out of the top 100 most environmentally vulnerable cities are located in Asia with 80% of them in India or China alone. 1.5 billion people in 400 large cities worldwide are considered to be at high or extreme risk. Natural disasters and climate change, heatwaves, water shortages, and pollution that shortens the average life span are amongst the environmental risks facing people today.
City's hold more than half the world's population and are the financial drivers of a country's economy, but most cities will continue to suffer worse and worse air quality, pollution, extreme weather, water scarcity, and other natural hazards. Asian cities are hard hit, with Karachi ranked 12th, Manila 71st, and Bangkok holding the 84th spot on the list of cities at risk environmentally.
Holding the uncoveted top spot on the list is the Indonesian capital of Jakarta, with frequent heatwaves, flooding, and pollution only increasing. New Delhi ranked second, joined by other Indian cities such as Chennai in 3rd, Agra in 6th, Kanpur in 10th, Jaipur in 22nd, Lucknow in 24th, and Mumbai in 27th. In total, 13 of the top 20 at-risk cities on the list are in India.
Indian cities also fill the entire top 20 list of urban areas housing over a million inhabitants with the worst air quality, with New Delhi ranking first. Every year a million people die in India due to air pollution with 7 million total deaths globally. A lot of the air pollution issues stem from burning coal and other fossil fuels.
Turning from the skies to the water, China holds 35 of the top 50 cities with the most water pollution plus 13 of the top 15 water-stressed cities. There is hope that China's emerging middle class will push for a higher quality of life, rallying for cleaner air and water and persuading the government to act more environmentally responsible.
China's government seems to be beginning to act, shutting down factories until they meet emission goals and taking other strong steps. India has a less cohesive economy and a government with a looser grip on industry, putting it at a disadvantage in tackling environmental issues.
The Middle East and North Africa are the regions most at risk of environmentally calamitous events outside of Asia. Focusing on global warming, sub-Saharan Africa holds 40 of the 45 most at-risk cities. Abidjan, Brazzaville, Freetown, Kigali, Mombasa, Monrovia and other large cities are vulnerable. Lagos and Kinshasa are the two cities in Africa with the largest populations and are included in the list of threatened cities.
Africa is in the unenviable position of being the continent that contributes the least to global warming and climate change but will suffer the most from the results which will bring heatwaves, increasingly bad droughts, flooding and more powerful storms. Large portions of the continent are not nearly prepared enough to deal with the resulting environmental disasters.
To compile the list of risk assessment environmentally for cities, researchers at Verisk Maplecroft looked at human vulnerability, the danger of extreme natural events, and how well the country could adapt to environmental change. They evaluated the livability and operational capacity of a city including its real estate assets and investment potential. The full report can be seen here.
SOURCE: Yahoo
Want more from the Thaiger family?
📱 Download our app on Android or iOS for instant updates on your mobile
📧 Subscribe to our daily email newsletter
👍 Like/Follow us on Facebook
🔔 Subscribe to or Join our YouTube channel for daily video updates
It's cicada season and America is preparing for billions to emerge after 17 years of hiding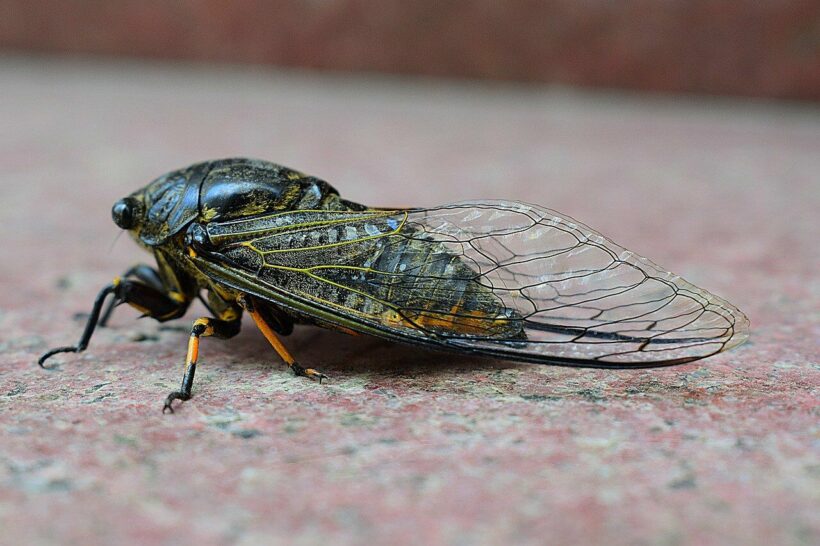 Americans are preparing for billions of cicadas to emerge after spending 17 years underground. Some are thinking it's their worst nightmare to see and hear the insects as they will undoubtedly swarm their yards and porches. Their semi-hard skin, that is shed, will also be a sight to see, if there are, indeed, billions coming out.
In Thailand, and most other countries, cicada season is just about here, with the deafening noises sure to grace the outdoor air. But Thai people are more accustomed to seeing Cicadas in food form. As it is a delicacy in the northeastern or Isaan areas of the country, the females are more prized as they are considered to have more meat. Cicadas are also used in traditional Chinese medicine formulations.
The arrival of the swaths of cicadas in the US is being called Brood X, as it features billions of cicada nymphs that will burst from the soil, shed their skin, mate, lay eggs and then die. And, the noise of the male cicadas trying to find a female to "make eggs with", will be deafening. The last time Americans had to deal with a cicada invasion, was during George W Bush's time as president.
For those interested in the arrival of cicadas, or who may want to eat them, there are websites and social media groups being dedicated to their arrival, which could be any day now. One person says just watching them morph into their adult form in under 1 hour is fascinating.
Another, who is more interested in using them for cooking, says there are websites that feature the insects in recipes. From mixing them with mushrooms or chocolate, or even frying them, it's sure spark anyone's curiosity as they sit inside, hearing and seeing billions of cicadas invade their lawns. Ranging from cicadas with mushrooms or with chocolate, there is something for everyone's palate. Or at least, for those happy to eat bugs.
Want more from the Thaiger family?
📱 Download our app on Android or iOS for instant updates on your mobile
📧 Subscribe to our daily email newsletter
👍 Like/Follow us on Facebook
🔔 Subscribe to or Join our YouTube channel for daily video updates
Covid-19 outbreak contributes to elephant population decline in Southern Thailand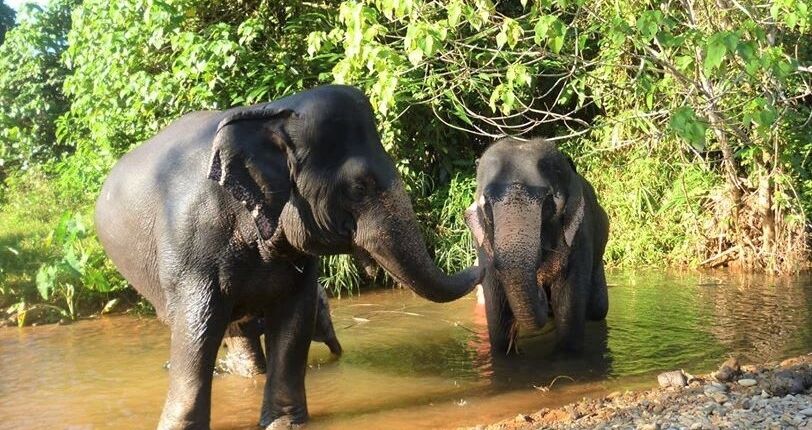 The following was submitted by the Southern Thailand Elephant Foundation.
There has been a significant decline in the elephant population of Southern Thailand as a result of the Covid-19 pandemic. In Phang Nga Province, which normally has more domesticated elephants than any other Southern Thailand province, the elephant population has dropped by a third of its normal number.
This fall in elephant numbers is linked directly to the Covid-19 pandemic and the decimation of Thailand's tourist industry (even now there is a Covid emergency decree in place in Thailand). Without tourists to visit the elephant parks and sanctuaries that abounded in the region, there is no income and therefore no money to buy food for the elephants.
The realisation that the Covid-19 lockdown would affect the tourist industry for the long term meant that many mahouts had little choice but to return to their homes and families, many of which are in the north of Thailand. Of course, they took their elephants with them, and so, at least for now, Southern Thailand has been depleted of its elephant population.
Some owners transported their elephants to Surin, a major elephant centre in northern Thailand, from where some government support is being provided during the pandemic. But this is a journey of more than 1,200 kilometres and many owners cannot afford the cost of a truck ride for their elephant over such a distance.
Most of the elephant parks and camps in Southern Thailand are now closed, and some will never reopen. Only a few parks or sanctuaries are still operating, and these are managing to care for their elephants only as a result of their own fund-raising efforts. Some of these parks have even taken in other elephants from owners who were struggling to feed them. Adult elephants drink around 100-200 litres of water a day and consume 200-300 kilograms of vegetation, costing more than 400 baht a day to feed.
When the lockdown first came to Thailand, many elephant parks in the region had closed almost overnight and simply told the elephant owners to remove their animals. But these owners were mostly mahouts who had one or two elephants contracted to a tourist park.
Without any income from the park, the mahouts were left struggling to feed their elephants and they had no money to send back to their families. Aware of the impending crisis as the parks closed their doors, the Southern Thailand Elephant Foundation stepped in to provide food for the elephants in need.
Our 'Feed the Starving Elephants' campaign, which ran from April to July last year, raised more than 1.7 million baht and our volunteers on the ground in Southern Thailand delivered over 700 truckloads of food. As the drift north began last summer, and the number of elephants in the region declined, the foundation was able to wind down its campaign.
When tourists eventually return to Southern Thailand in significant numbers, hopefully, the elephants will return too. For so many people, the chance to get up close, stroke, and feed these magnificent creatures is the highlight of their holiday.
Want more from the Thaiger family?
📱 Download our app on Android or iOS for instant updates on your mobile
📧 Subscribe to our daily email newsletter
👍 Like/Follow us on Facebook
🔔 Subscribe to or Join our YouTube channel for daily video updates