Mekong River drops to lowest level in a century around Thai, Lao, Myanmar border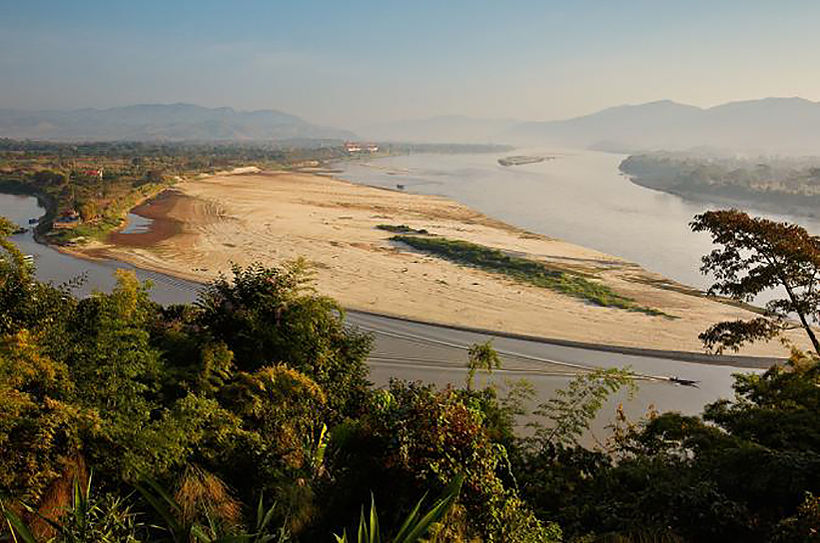 Water levels in the Mekong River are now at the lowest point in a century as of July 19, lower than a record set in April 1973.
South East Asia's Stimson Centre claims that, based on recent satellite images, the drastic lowering of the water level in the river has exposed many islets and sandbars adding. The Centre's report refers mainly to the river as it passes through the 'Golden Triangle' where the borders of Thailand, Laos and Myanmar meet.
The report says that "this could be a new normal for the Mekong River, due to flow regulation by upstream dams and climate change, resulting in prolonged periods of drought."
The Mekong's current water levels, at a historic low, are significant particularly because it's the middle of the wet season, when there should have been plenty of water and flooding in some areas.
In Thailand's Nong Khai province, opposite Vientiane on the Laos border, the provincial waterworks authority suspended water treatment temporarily on Wednesday because its water pumps could not draw water from the river.
Northern Thailand residents and officials are blaming the low water levels on the obstruction of Mekong tributaries in Laos, at the site of the Xayaburi hydroelectric dam, as it test runs its power generators up to July 29. The dam is scheduled to come on line in October.
Several of Thailand's northeastern provinces are experiencing water shortages, despite the onset of the rainy season, with their sources of tap water rapidly drying up.
SOURCE: Thai PBS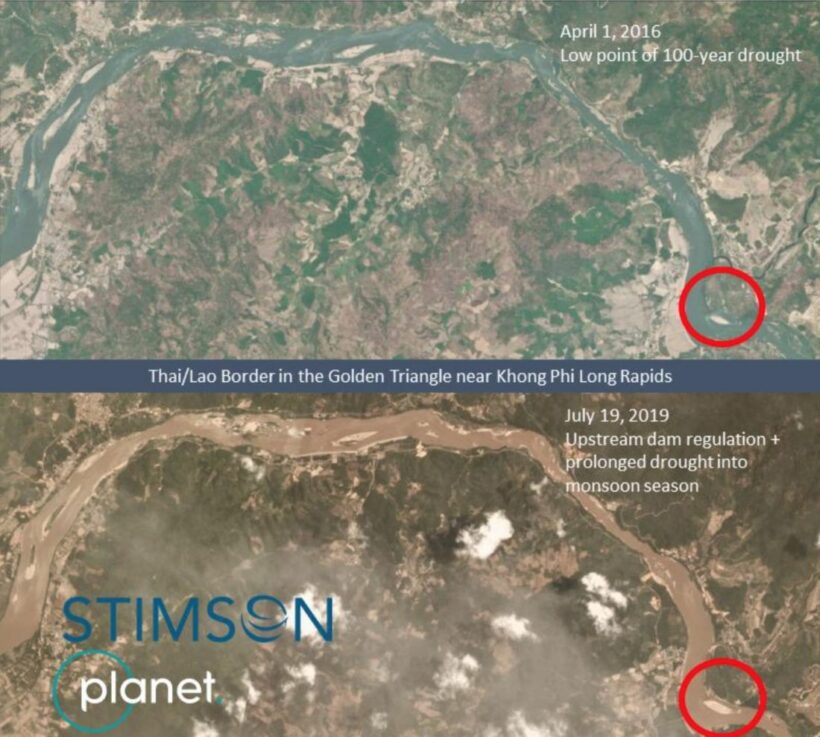 Keep in contact with The Thaiger by following our
Facebook page
.
Rescuers remove 4 metre python from Chon Buri car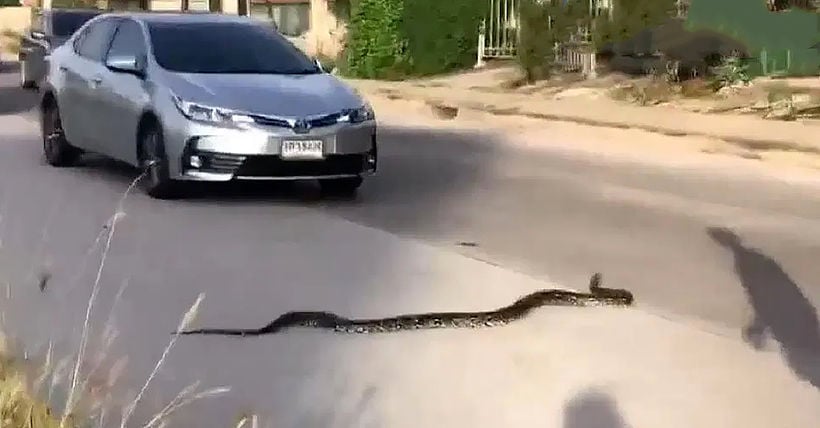 A 4 metre long python has been carefully extracted from a car in Chon Buri's central city district. It took rescue workers around 2 hours to locate and remove the reluctant reptile. Earlier, the snake was spotted by an unnamed local motorist, who stopped traffic to let the python safely cross Bypass Road in the Huay Kapi area. Afterwards it made its way to a car parked at a nearby house and slithered inside.
Rescue workers and a professional snake handler were called to remove the animal. Parts of the sedan had to be disassembled to get at the the snake, which had slithered deep into the vehicle.
Rescue staff report that the python was later released into a nearby forest, healthy and in good condition, but probably bemused from its day of vehicular adventures.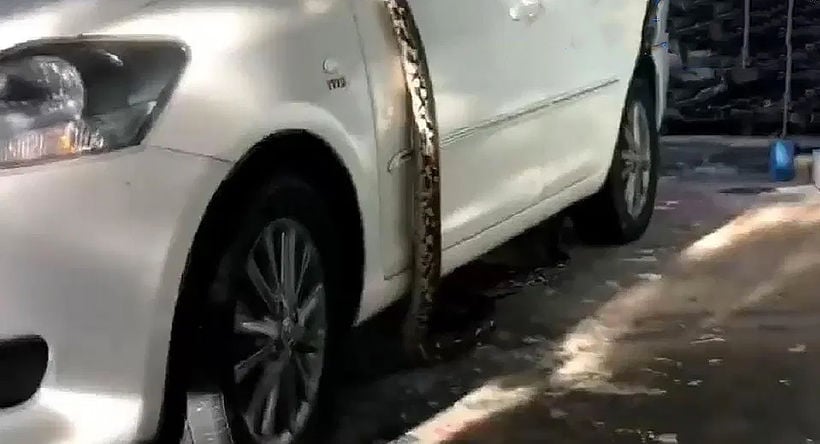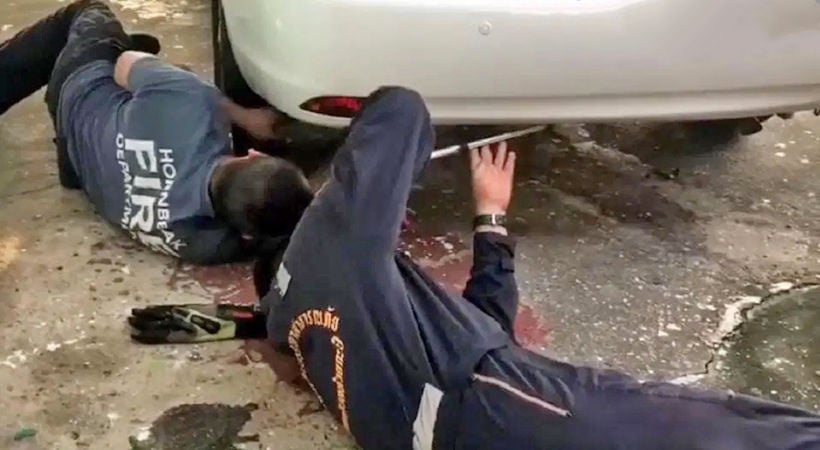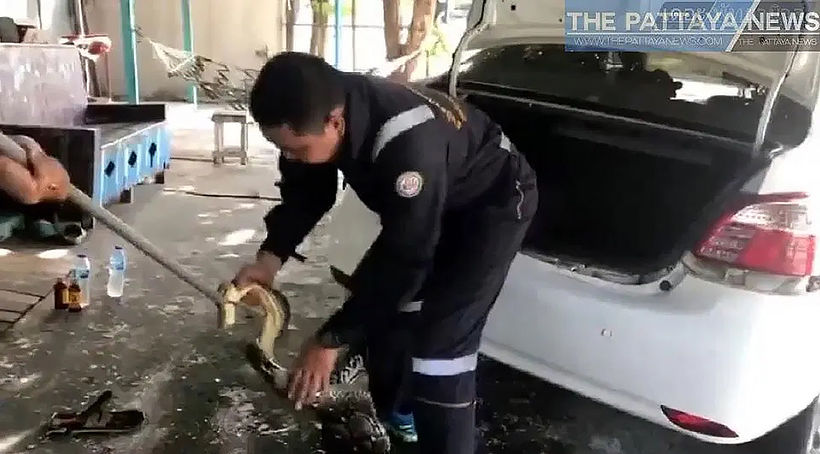 SOURCE: The Pattaya News
Keep in contact with The Thaiger by following our
Facebook page
.
Thai agriculture minister to take a delegation on a coconut harvesting tour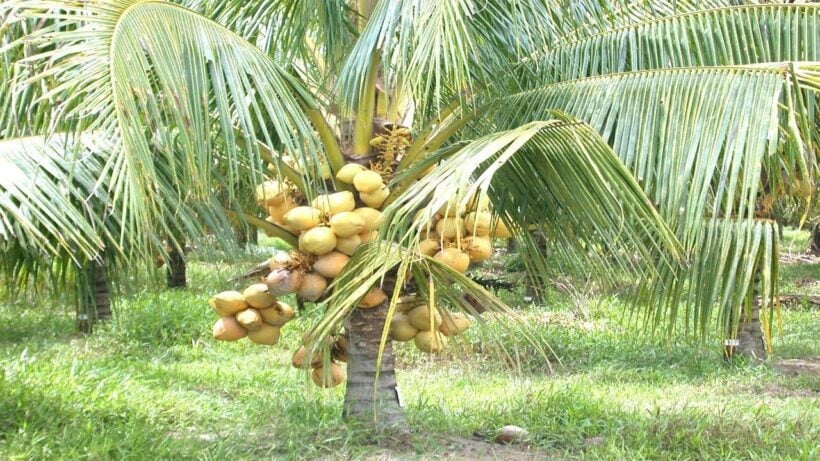 The 'Monkey Business' story has drawn a lot of attention following the People for the Ethical Treatment of Animals' companies about alleged abuse and misuse of trained macaque monkeys to pick Thai coconuts for commercial purposes.
After a week of articles, videos and debate about the relative merits of using monkeys to pick coconuts, the Thai Agriculture Minister formerly invited international delegates to come and inspect the situation and "see for themselves". But they're not going to a monkey training farm or an older style 'family' farm that still uses monkeys to pick coconuts.
Diplomats from European embassies in Bangkok are heading to southern Thailand where they will visit coconut plantations of specially bred short-stemmed coconut trees. They won't find any monkeys there. More evolved primates do the picking of the coconuts in the plantations that the Thai government are taking the delegation.
Deputy Agriculture and Cooperatives Minister Mananya Thaiset says the Ministry of Agriculture and the Ministry of Commerce are taking the European diplomats and media to visit coconut plantations in Surat Thani to witness the human picking of coconuts using specially designed from the coconut trees. The hybrid dwarf varieties grow up to 3 metres in height in comparison with the original taller coconut tree which can grow 20-30 metres in height.
PETA was complaining that the industry was still centred around monkeys being specially trained to pick up to 1,000 coconuts per day. They claimed the methods used to train the monkeys were 'abusive' and that the monkeys were over-worked and not treated well. The animal rights group lobbied for retailers of Thai coconut products to boycott coconuts and coconut milk manufactured in Thailand.
Thailand's deputy agriculture minister says that the country's coconut processing and export entirely depends on huge volumes of coconut fruit picked by humans from short coconut trees and not on a tiny amount of coconut fruit picked by monkeys from relatively tall coconut trees.
Supermarkets and retail stores in the UK and other European states have banned Thai coconut milk and coconut water in the wake of allegations raised by PETA, that monkeys had been abused into picking coconut fruit in the kingdom.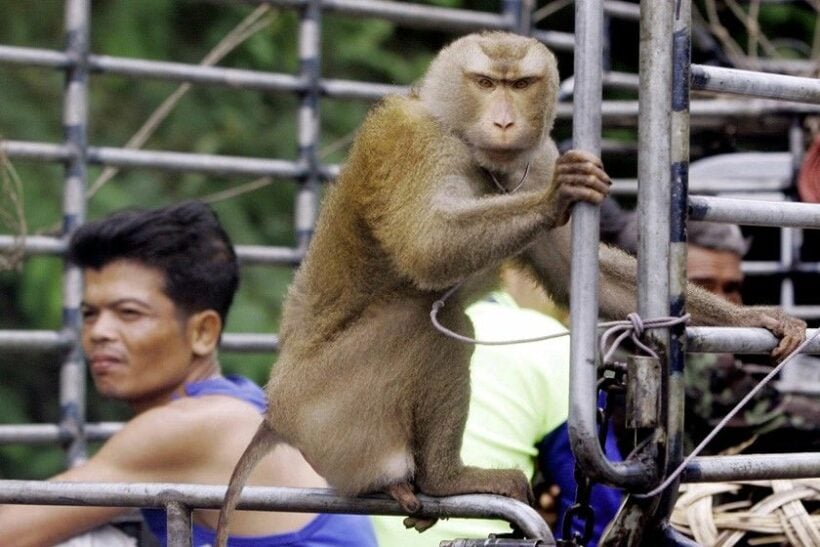 A representative from the regional PETA office sent The Thaiger this response to the stories this morning…
Dear Editor,
Re: "Government defends 'monkey business' after PETA call for boycott on Thai coconut products"
When government officials go to great lengths to deflect and deny the documented cruelty inherent in forcing primates to harvest coconuts, the public wonders why. Kind people aren't buying all the disingenuous dismissals.
Denouncing cruelty to animals is not disrespecting racial and cultural diversity. PETA has long campaigned against entrenched "norms" like foie gras, bullfighting, and the dairy industry. PETA speaks out against all exploitation and abuse of animals, wherever it occurs.
Race doesn't have anything to do with stealing monkeys from their homes and families, chaining and caging them, and forcing them into servitude. Proponents of such acts are clinging to something that needs to end now.
Sincerely,
Nirali Shah
Senior Campaigner
PETA
SOURCE: Xinhua
Keep in contact with The Thaiger by following our
Facebook page
.
Activists want Thailand to lead total ban on wildlife trade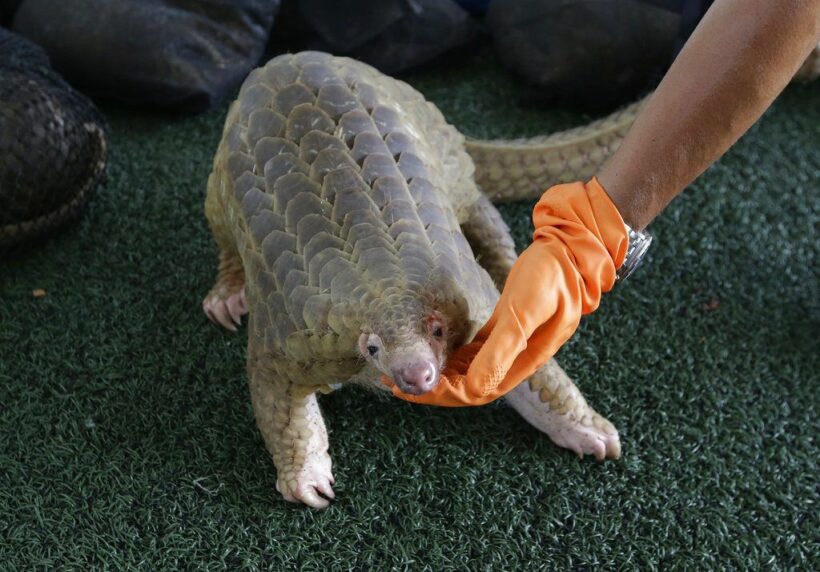 With the Covid-19 pandemic continuing to sweep the globe and the World Health Organisation saying 75% of all emerging infectious diseases are zoonotic, campaigners against wildlife crime say Thailand could become a global leader in helping to prevent pandemics by cracking down on poaching and ceasing to be a gateway for illegal wildlife trade. Activists believe this could help stop animal-to-human disease transmission, saying data show that the majority of emerging diseases usually originate from wet markets – where wild animals are caged and sold for food.
At a press conference yesterday to launch the global campaign "Endpandemics", Steven Galster, the founder of nonprofit group Freeland, which campaigns against animal and human trafficking, called on the government to take more aggressive actions to ban the wild animal commercial trade. Freeland started "Endpandemics" in April when the Covid-19 pandemic exploded globally.
Galster says the nation could return to its top place in the regional fight against the illegal wildlife trade under the framework of the ASEAN Wildlife Enforcement Network. He called Thailand's response to the Covid-19 outbreak "exemplary, resulting in some of the lowest numbers of cases and deaths in the world."
But, he says, Thailand has left a door open for a new viral bomb to explode on its own doorstep; the illegal wildlife trade. He says there needs to be strong efforts from all stakeholders, especially law enforcement, to ban it entirely.
He believes Thailand should close its gates to wildlife traders and lead other countries by example to follow the WHO "One Health" approach that involves protecting not only people but wild animals and ecosystems.
"A new vaccine will not work against a new outbreak strain. A true, sustainable vaccine will address the root causes of these outbreaks but there needs to be a new approach not only for the protection of people but of wildlife and natural ecosystems as well. Thailand can be that global leader by becoming the first country in the world to ban all commercial trade in wild animals. "
Despite its efforts to control wildlife crime, Thailand is widely known as a regional hub for wildlife crime due to its geographic location and transport system linking it to neighboring countries. Tonnes of African ivory, rhino horn, pangolins, and their scales, snakes, tiger cubs, and all manner of wildlife and wildlife products are confiscated at Thai airports annually. The final destination of these items is usually China.
Many anti-wildlife trafficking experts say the Covid-19 pandemic has helped stop the illegal wildlife trade; China has closed its wildlife markets and banned the trade, with some exceptions.
But the order to close the markets will likely be eased as the outbreak fades.
SOURCE: Bangkok Post
Keep in contact with The Thaiger by following our
Facebook page
.