Co-working spaces in Bangkok are re-shaping small to medium business office options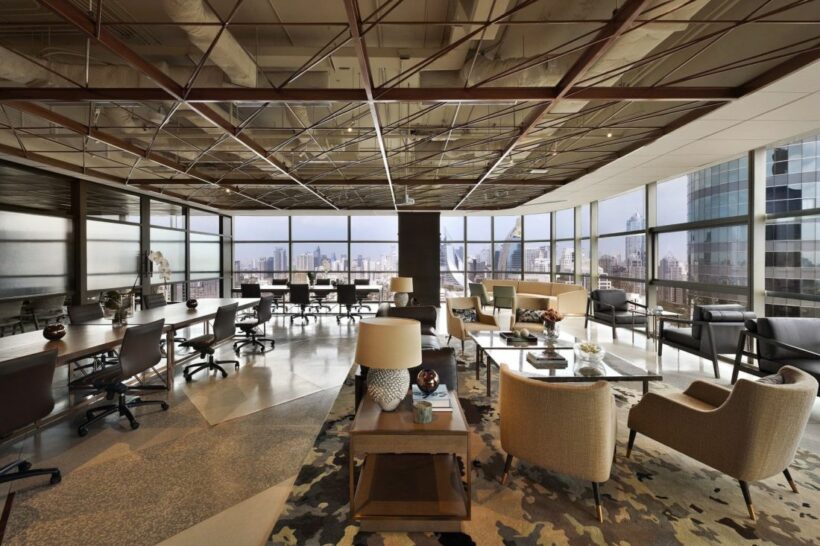 PHOTO: The Great Room
Co-working spaces are opening up around Bangkok and providing a more flexible framework for businesses to grow. Advances in technology, a more mobile workforce, and unpredictable economic growth are reshaping the business environment.
In the Bangkok office market, a traditional three-year lease with options to renew and the tenant fitting out the space remains the typical way of leasing office premises for most occupiers. CBRE reports that multinational firms, with offices in different countries, are increasingly looking for flexible lease terms as real estate costs continue to be one of their major concerns.
Companies are also looking at agile working where staff no longer have allocated desks and, in some cases, it is easier to get third parties to design, build, and operate this space rather than companies doing it themselves.
Some of the current pricing being offered by co-working space operators is very competitive and the cost combined with flexibility is making leasing from third parties more attractive than companies leasing space, fitting them out, and managing their own premises.
In Bangkok, co-working space has continued to be an emerging source of office demand and CBRE has leased over 44,000 sqm, accounting for around 25% of CBRE's total new office letting volume in the last 2 years, to co-working space operators.
International operators like JustCo, WeWork, Spaces, and The Great Room have opened multiple centres over the recent year and more are scheduled to open this year. The aim of these operators is to revolutionise the way occupiers source office accommodation. They want to provide office space as a service rather than a traditional lease.
CBRE believes that co-working space operators are not just targeting startups companies but also multinational firms especially those seeking to build more flexibility into their real estate portfolio. The use of co-working space can provide flexibility for companies to accommodate fluctuation in space requirements.
Accounting rules have changed and rent payable under leases must now go on the balance sheet, whereas it appears that sourcing office space as a service does not count as a lease and therefore need not be on the balance sheet.
This means occupiers do not need to commit to a traditional three-year lease term. Instead, they are paying their rental as a service fee on a per desk or membership basis rather than per square metre. Co-working space operators are also providing tailor-made solutions with companies enjoying exclusive use of the space and not sharing it with others, making this a viable alternative to a traditional lease for large local and multinational companies.
As millennials will become the largest generation within the workforce in the future, CBRE foresees that companies are forced to re-think their workplace quality to make it capable of encouraging collaboration and innovation as well as promoting employee wellbeing. More companies will transform their offices into agile workplaces either doing it themselves or relying on a coworking space operator to provide the solution.
SOURCE: CBRE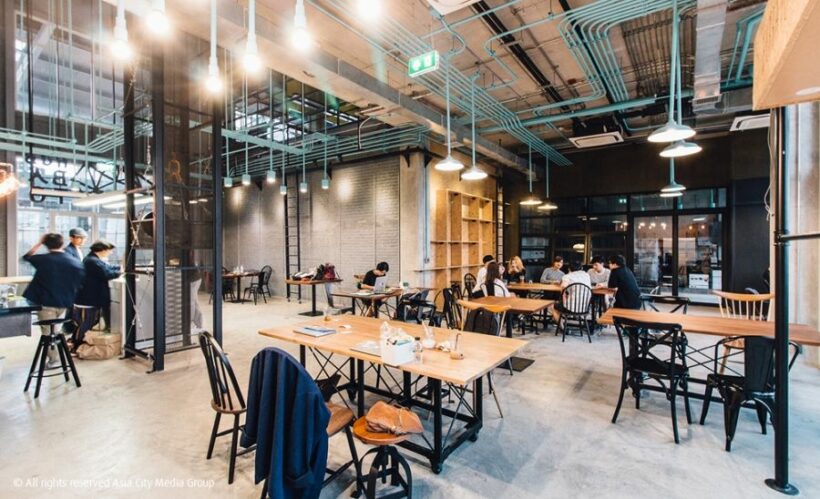 PHOTO: Soimilk
Keep in contact with The Thaiger by following our
Facebook page
.
Never miss out on future posts by
following The Thaiger
.
Thai "net idol" arrested on attempted murder charges over alleged Bangkok shooting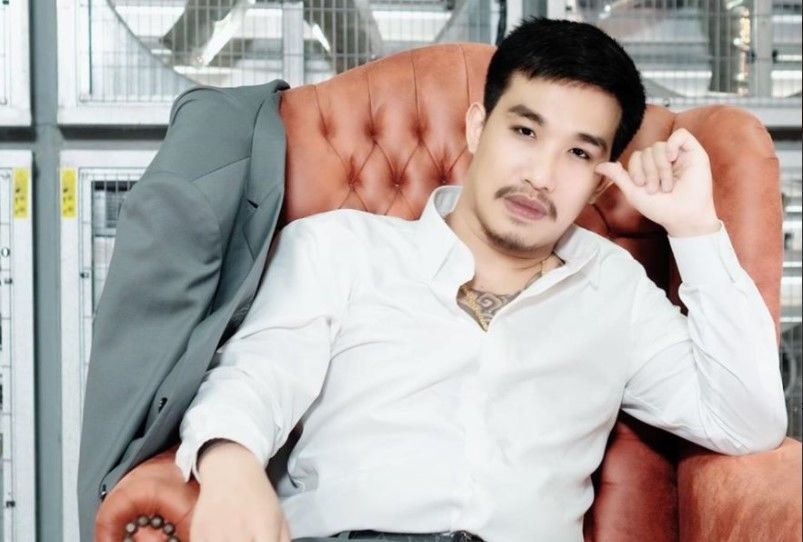 Police arrested internet "idol" and self-professed gambler Apirak "Sia Po" Chat-anon who allegedly shot 2 men outside a massage parlour on Bangkok. Sia Po had turned himself in to police, saying he was at the shooting, but wasn't carrying a firearm. Police arrested him on charges of attempted murder, illegal possession of a firearm, carrying the gun in public and firing shots.
The shooting happened around 10:30pm Tuesday night outside the Saree Sauna & Shop on Ratchaphurek Road in the Phasicharoen district, injuring 2 men. Reports don't go into detail about the men's conditions, or if they have been interviewed by police.
Sia Po told police he is a regular customer at the massage shop and was there on Tuesday with 3 of his friends while his brother was out on an "appointment" with 2 "rival" men at a nearby liquor store. Apparently, it didn't go well. Sia Po's brother along with 10 friends met up with him at the massage shop, but then the rival group arrived with possibly around 200 people. Sia Po says the rival men pointed guns at them and he estimates 60 shots were fired.
Sia Po claims he didn't have a firearm and says he quickly fled the scene. He asked police to review surveillance camera footage. Police searched his family's home and did not find any illegal weapons or other evidence.
The Bangkok Post once called Sia Po the "Gambler King." Sia Po has advocated for the legalisation of gambling and the government even asked him to be an advisor on a committee reviewing the gambling law.
Sia Po is also a former boxer and a so-called "net idol." Various Facebook pages and accounts are under Sia Po's name. One account posts photos of himself with stacks of cash, many 1,000 and 500 baht bank notes, saying that he will pay girls who "make me happy."
SOURCES: Bangkok Post| Facebook
Catch up with the latest daily "Thailand News Today" here on The Thaiger.
Keep in contact with The Thaiger by following our
Facebook page
.
Never miss out on future posts by
following The Thaiger
.
2 shot outside Bangkok massage parlour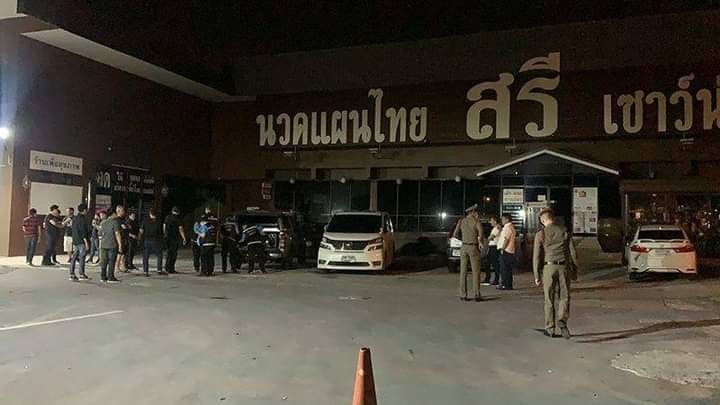 Police are investigating a shooting at a Bangkok massage parlour where a person was shot in the neck and another person shot in the backside. Police have not identified the shooter, but a post by a Facebook user accused an alleged "well known gambler" of shooting the 2 people.
Police were called at 3am Wednesday to the Saree Sauna & Spa on Ratchapruek in the Phasi Charoen, a Bangkok district just across the west side of the Chao Phraya. A fight allegedly broke out around 10:30pm Tuesday between the 3 people. A person then allegedly pulled out a gun and shot the other 2.
The suspect has not been identified by police at this stage. Investigators are collecting more evidence and reviewing surveillance camera footage before naming a suspect and issuing an arrest warrant.
SOURCE: Nation Thailand
Catch up with the latest daily "Thailand News Today" here on The Thaiger.
Keep in contact with The Thaiger by following our
Facebook page
.
Never miss out on future posts by
following The Thaiger
.
Opposition MP slashes his arm in protest at treatment of anti-government activists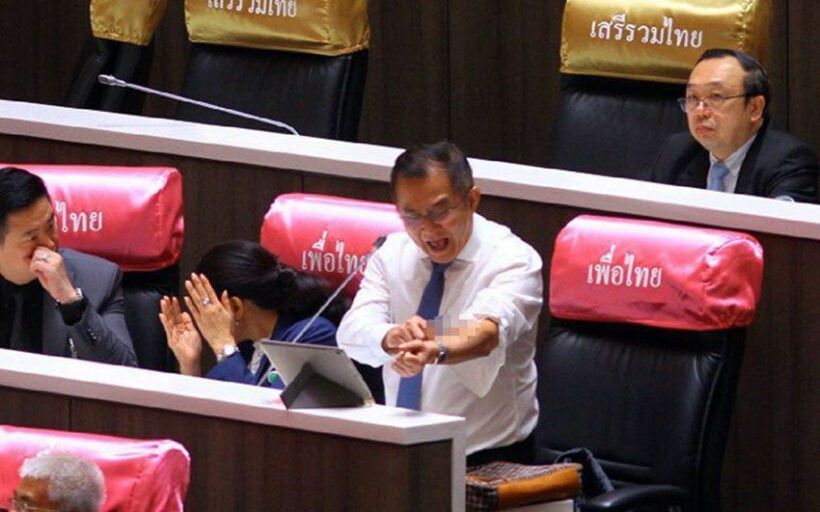 An opposition party MP has slashed his arm in front of officials in Parliament, in protest at the treatment of political activists. Visan Techatirawat, a partY member of the opposition Pheu Thai Party, says the gesture was his own personal protest to oppose the government's action against peaceful protesters at a rally in the capital on October 17. Police remain accused of using high-powered water cannons laced with chemicals to disperse the gathering, although police chiefs have denied using any chemicals.
Visan slashed his left hand and arm 3 times on the second day of a parliamentary debate aimed at finding a way out of the current political impasse. He says that, while he's been in politics since 1986, he still doesn't know how to solve the political problems facing the country and would rather shed his own blood than have the young protesters have to shed theirs.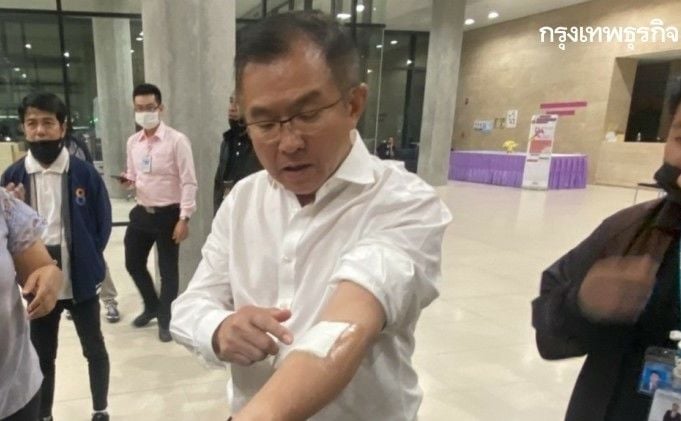 PHOTO: Nation Thailand
It's understood the opposition politician used a fruit knife he'd borrowed from a maid in the parliament building. He says he did not announce his plans to anyone, including his family, before carrying out the act.
Nation Thailand reports that officials and others who witnessed the act were left shocked, with Parliament President, Chuan Leekpai, calling on first-aiders to help. Visan was subsequently taken to hospital and later apologised for the shock he caused. He says the Thai PM Prayut Chan-o-cha must listen to the protesters, rather than resorting to the use of force and standing behind the fence of legal barriers put in place by the unelected NCPO.
Since mid-July, anti-government protesters, primarily students and the younger population, have been taking to the streets with a list of demands. They include the PM's resignation, the dissolution of parliament, and fresh elections. They are also calling for a re-write of the 2017 constitution and for reform of the monarchy.
SOURCE: Nation Thailand
Keep in contact with The Thaiger by following our
Facebook page
.
Never miss out on future posts by
following The Thaiger
.