Man in custody after allegedly throwing grenade into Bangkok apartment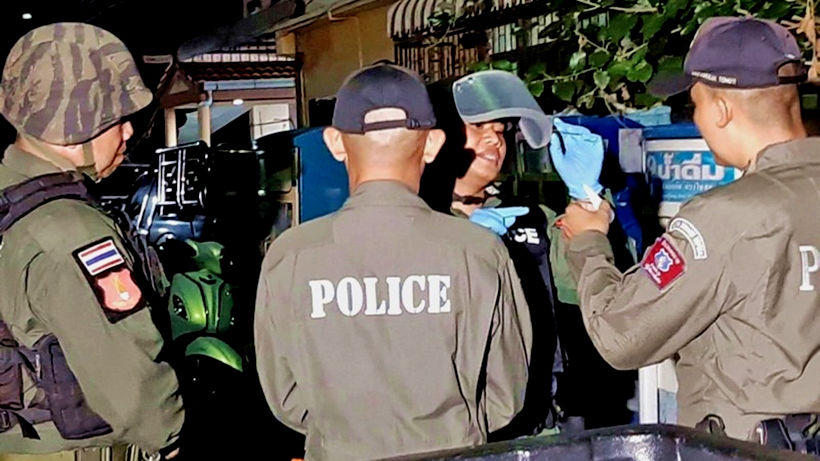 A lovesick Lat Phrao man is currently being questioned by police after allegedly throwing a suspected grenade into the apartment of the 20 year old girl he had fallen in love with. The incident happened at a Lat Phrao district apartment in northern Bangkok on Monday evening.
Lat Phrao police and officers from Explosive Ordnance Disposal headed to the apartment around 9.30pm on Monday night and found an M26 grenade inside thapartment. The device was not activated.
A witness says he saw a man riding a motorcycle into the Nawamin 95 alley and stopped outside an apartment building around 8pm.
"Suddenly, he threw something into an apartment on the third floor through a window."
The couple living in the apartment told police they were terrified when the device landed inside but luckily the grenade didn't explode.
The apartment building's manager, Saranya Krueboon, says the suspected grenade thrower was likely a 50 year old resident living in the same soi and was smitten with the couple's 20 year old daughter. But she already has a boyfriend. Before the incident on Monday evening, the daughter had taken her boyfriend to meet her parents and the suspect "may have become jealous leading him to commit the alleged crime".
Police have arrested a suspect and questioning him at the Lat Phrao Police Station pending charges being laid.
SOURCE: The Nation
Keep in contact with The Thaiger by following our
Facebook page
.
Bangkok's vacant land owners growing fruit and vegetables to evade vacant-land tax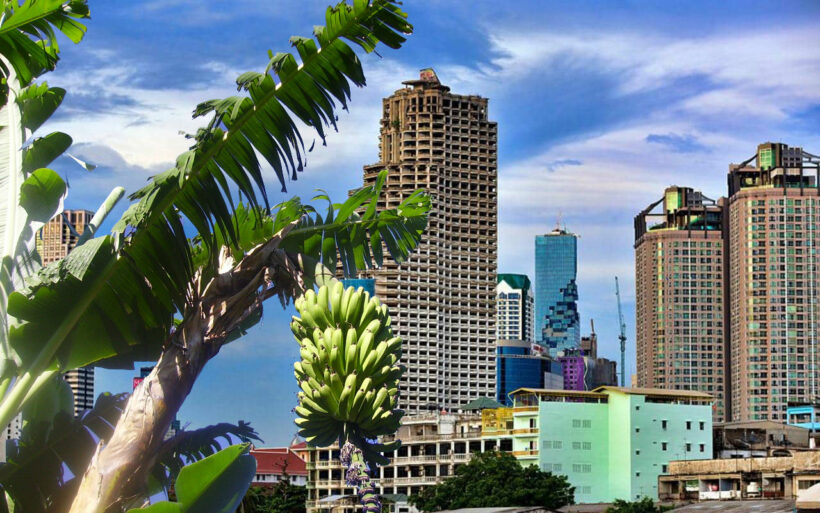 A loophole in land tax around Bangkok (actually everywhere in Thailand) is having an unexpected side effect, mostly good. Many vacant property owners in Bangkok are growing fruit and vegetables to escape the newly launched tax on their undeveloped land.
For example, Banana trees are now growing on an expensive piece of land near Naradhiwat-Rajanagarindra Road. To avoid the new Land and Building Tax Act's tax on vacant land, some landowners had decided to grow banana or lime trees on their land to pay the lower tax rate for agricultural use of the land.
The revised land and building tax act 2019 came into effect on January 1. Owners of vacant land pay a higher tax rate than those who used their land for agricultural, residential or commercial purposes. The act states that the owners of agricultural land with an appraised value up to 75 million baht must pay a tax at 0.01% of the value. From 75-100 million baht valuation, the rate is 0.03%. 100-500 million baht value the rate is 0.05%, etc… 1 billion baht-plus value, the rate it is 0.1%.
In the case of undeveloped land, the owners must pay rates from 3-6 times higher. So owners who are hanging onto their land at expensive locations are now growing grow fruit trees such as lime, banana or papaya to avoid payment of tax on vacant land.
Even along Ratchadaphisek, Rama IX and Ekamai roads in Bangkok, prime land locations, we're now seeing mini plantations of banana, mango, lime and other fruit trees.
SOURCE: The Nation
Keep in contact with The Thaiger by following our
Facebook page
.
Drunken Bangkok tour bus driver fired after 'borrowing' a bus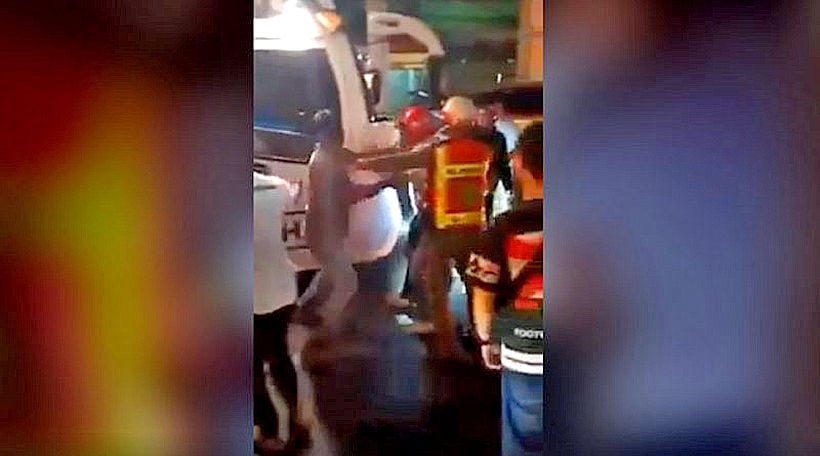 A tour bus driver has now been fired by the tour company that employed him as a driver after he went on a drunk-driving rampage in Bangkapi district of Bangkok around 3am Thursday morning. The incident was reported by khaosod.co.th.
The drunk driver was taken to a police station after being nearly lynched by a mob. He was charged with drink-driving and causing injuries to pedestrians and traffic.
The driver drove the bus out of the company's car park without permission. Khao Sod didn't report on the reasons for 'borrowing' the bus and taking it for a 'spin'.
And angry mob stopped the driver. Police waited for the mob to cool down a bit before intervening and arresting the driver. The license plate of the bus was clearly captured by a bystander that figured it was a good idea to video of the violent mob.
SOURCE: Thai Residents
Keep in contact with The Thaiger by following our
Facebook page
.
"Don't be f**king nosey." Government committee meeting turns sour.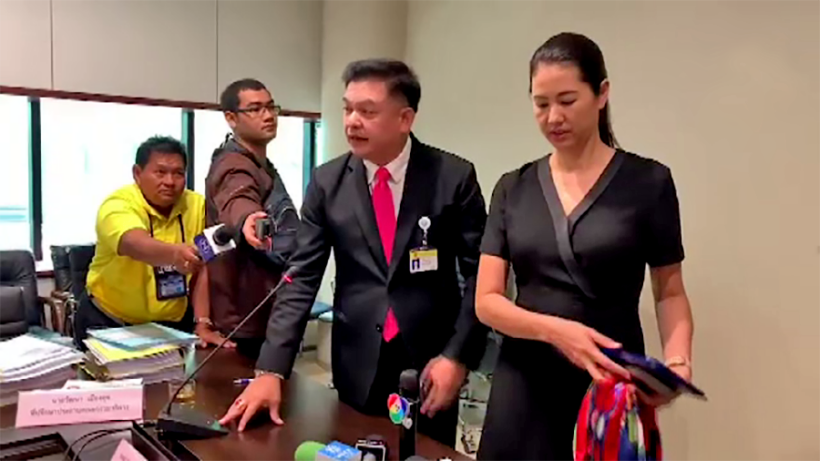 Strong language ahead…
Claws were out at a committee meeting of the House Anti-Corruption and Misconduct Committee. A heated argument started between the committee chairman, Pol Gen Seripisut Temiyavet and two of the committee members, Pareena Kraikupt and Sira Jenjakha. The nasty and noisy spat erupted when Ms. Pareena, a Palang Pracharat MP, asked Seripisut why her petition, demanding an investigation of the committee chairman on seven issues, was not included in the meeting's agenda, after it had been forwarded to the committee by the Office of the Secretary-General of the House, according to Thai PBS World.
The two firstly argued over whether a document had been signed or not. Then the two engaged in a vicious verbal exchange for about 15 minutes before Seripisut, a former national police chief, lost his cool…
"Don't be fucking nosey, talking to me like that!"
That didn't go down well and received the retort…
"Don't use that low-class language with me."
"Because you are low-class!"
Pareena reportedly demanded Seripisut withdraw the words "fucking nosey", which he refused to do.
Then Palang Pracharat MP Sira Jenjakha walked in and jumped into the fray, demanding Seripisut withdraw the swearing and nasty sleights. He questioned how a man could use such rude language speaking to a woman.
The former police chief then abruptly adjourned the meeting and instructed parliament officials to keep an audio record of the incident so he could file defamation charges against the two Palang Pracharat MPs.
Sadly we don't have access to any audio, let alone a video.
SOURCE: Thai PBS World
Keep in contact with The Thaiger by following our
Facebook page
.