Footage found of Ukrainian in suspected murder investigation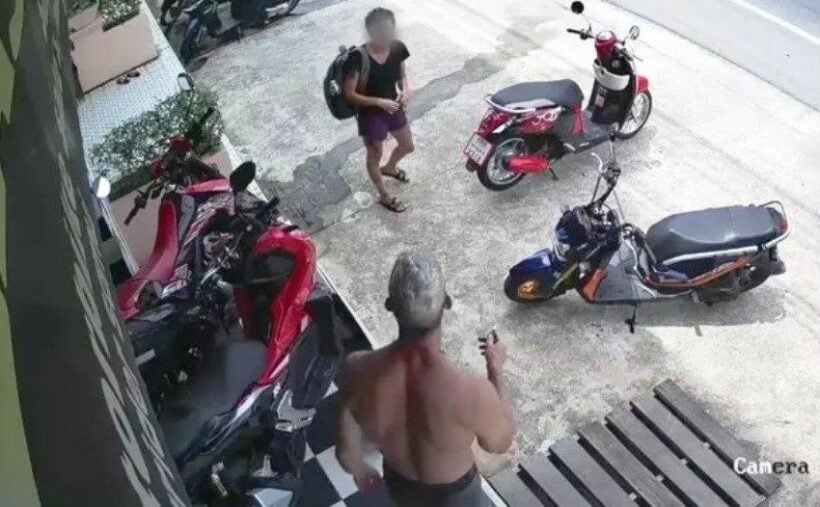 Police in the southern province of Surat Thani say they've found CCTV camera footage of a Ukrainian woman shortly before her death on Koh Samui. Authorities say the footage shows her on the same day she was reported missing. 32 year old Olha Frolova was found dead earlier this week in a case police suspect involves foul play.
Koh Samui police say that the route Olha took is "traceable" to the spot where her body was found. However they're still unsure how she got there, since it's a rural area with few security cameras. The body was recovered Sunday by a local mushroom picker, 2 weeks after her husband reported her missing.
The security footage, recorded at 1:08pm on May 25, shows Olha walking along a sparsely populated rural road in the Maret subdistrict of Koh Samui. Police said she had just returned a rental bike before setting out on foot. In the footage, she is wearing the same clothes that were found on her body.
The director of Koh Samui Hospital says said Olha's body is currently undergoing a detailed autopsy at the Police Hospital in Bangkok. The results will take about 2 weeks. Koh Samui police say they believe she was murdered, as there were visible attempts to conceal her body. While they are treating her death as a homicide, no suspects have been named.
The investigation continues
SOURCE: Chiang Rai Times
Keep in contact with The Thaiger by following our Facebook page.
Never miss out on future posts by following The Thaiger.
Motorbike taxi attacked tourist in Pattaya because he was annoyed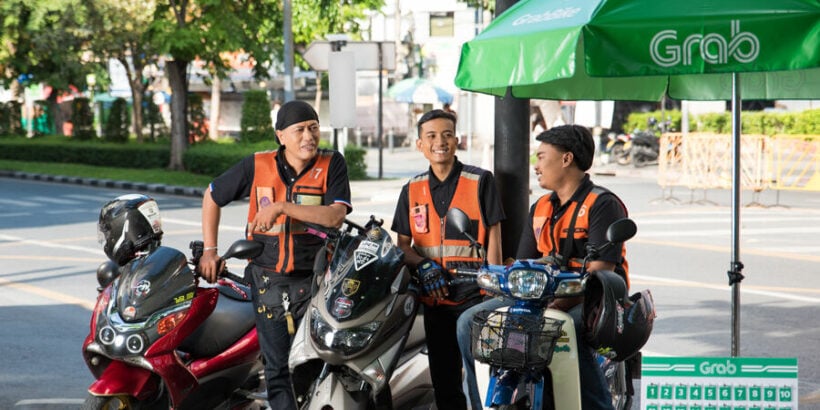 A Pattaya motorbike taxi driver is saying he was annoyed when he attacked a Chilean man out of nowhereearly yesterday morning. Amorn "Jeab" Boonmee was arrested after confessing to allegedly slapping and kicking 24 year old Salvatore Andres Castromedina, breaking his nose. According Khaosod English, Amorn says he acted in a "blind moment of fury" because he was annoyed by the man.
"I apologize. I was annoyed at the tourist who came up to speak to me and I didn't understand what he was saying. He wouldn't go when I told him to. I'm someone who gets annoyed easily, especially at people who talk a lot."
Amorn allegedly attacked the man on Pattaya's famous Walking Street at about 2am on Thursday with CCTV capturing the alleged incident.
Police say the incident has damaged Pattaya and Thailand's overall image as well as its tourism. Investigators say they are waiting for a full medical report of Castromedina's injuries before deciding what charges to bring upon Amorn.
According to Khaosod English, Castromedina said via an interpreter that this was his first time in Thailand. He went on to explain that he was asking the taxi driver for a ride to Soi Buakhao before being attacked.
According to Khaosod English, another motorbike taxi driver was seen in the CCTV footage. 45 year old Rittisak Kulsumaso says he tried to stop Amorn from attacking Castromedina.
"I really didn't want this to happen. It's already hard to make money. [Castromedina] had also been drinking alcohol."
Rittisak says he is the one who took Castromedina to the police station to file a report. He also says he turned himself in after the incident took place. Castromedina was sent to the hospital after the attack for medical treatment. According to Khaosod English, a picture shows police officers giving Castromedina a basket of chicken essence soup, wishing him a speedy recovery.
SOURCE: Khaosod English
Keep in contact with The Thaiger by following our Facebook page.
Never miss out on future posts by following The Thaiger.
Police officer arrested for allegedly stealing grenade launcher and other weapons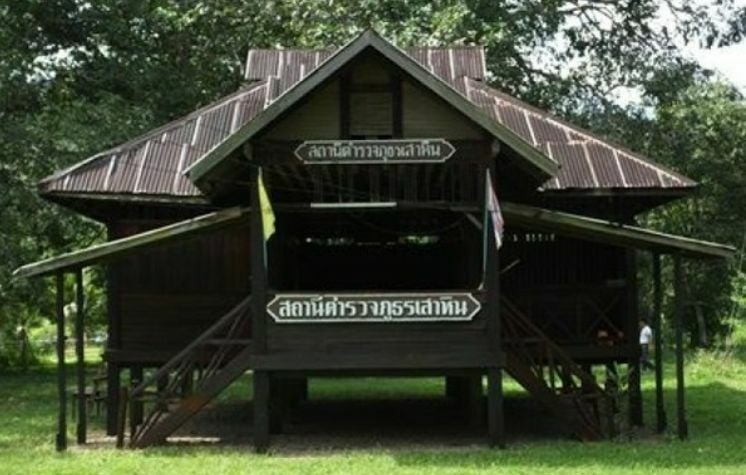 A police officer was arrested for allegedly stealing a M79 grenade launcher and other weapons from a police station armoury in Mae Hong Son, a province in Northern Thailand bordering Myanmar. Police say officer Santichai Luerat planned to sell the guns and ammunition to a buyer who would then sell the weapons to members of an ethnic minority across the border in Myanmar.
Sao Hin Police Station commissioner says he noticed a number of weapons were missing from the station's amoury – a M79 grenade launcher, 9 guns, 21 rifles and a flak jacket. A video recorder was also stolen, police say. Police have confiscated 4 of the stolen guns, 6 rifles and the flak jacket, but the rest of the weapons are still missing.
Santichai is an officer from the Kong Koi Police Station and lives near the Sao Hin station. Reports do not say what charges the officer faces or if he was transferred from his post. Police are still investigating and searching for the missing grenade launcher, guns and rifles.
SOURCE: Nation Thailand
Keep in contact with The Thaiger by following our Facebook page.
Never miss out on future posts by following The Thaiger.
Thailand law enforcement gets new "laser" narcotics analysers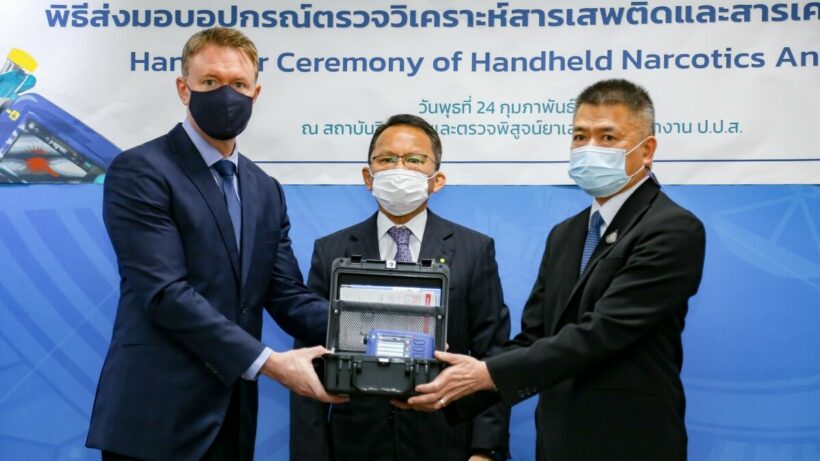 Thailand law enforcement will now use a new "laser" narcotics analyser to test suspicious substances and chemicals in major drug busts. It's apparently a more accurate method to identify illicit drugs than the current colour test. The new portable drug test happens to come a few months after Thailand claimed to have seized 11.5 tonnes of ketamine in the "biggest drug bust ever" and then discovered the substance was actually a cleaning agent.
In earlier reports, Justice Minister Somsak Thepsutin said the mistake was a "technical error" and the testing fluid had turned "purple," a positive sign for ketamine. Somsak didn't mention the failed ketamine bust when announcing that a pair of "portable Raman spectroscopy analysers" had been delivered to Thailand from the United Nations Office on Drugs and Crime. He says the new tool is more accurate than the colour test.
"The new portable analysers utilise the Raman spectroscopy technique to identify suspicious drugs and chemicals in less than 30 seconds, and more accurately than the colour test method that we currently use."
Not only can the device detect drugs, but apparently its laser can also detect additives like colouring and flavouring agents, according to Office of the Narcotics Control Board secretary general Wichai Chaimongkhol.
"The machine can detect chemicals either in powder, crystallised, tablet, capsule or liquid form… Its laser can penetrate transparent containers or wrapping of up to 2mm thickness and read the scattering of light to identify the substance accurately, reducing the risk of officials handling harmful chemicals while also helping preserve the evidence."
The tool is planned to be used to identify suspicious drugs and chemicals that are smuggled across the border as well as at airports and seaports.
SOURCE: Nation Thailand
Keep in contact with The Thaiger by following our Facebook page.
Never miss out on future posts by following The Thaiger.