7 year old daughter helps police prevent father's suicide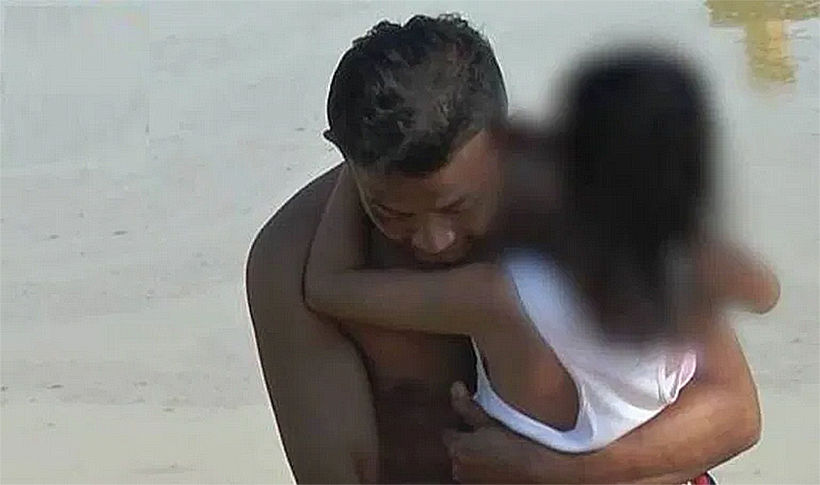 When police in the central plains province of Uthai Thani learned of a shooting incident they rushed to the scene to find a woman with a gunshot wound to her face and a man threatening to shoot himself in the head. Rescue workers rushed the woman to hospital while police tried to calm the man down and stop him from killing himself.
After about 30 minutes officers brought the man's 7 year old daughter to plead with him not to go through with it. She told her father she would visit him even though he'd be arrested. He eventually put the gun down and hugged his daughter while apologising for his actions. He told police that his wife was having an affair and, when he threatened her with a gun, she and her mother tried to stop him with knives, forcing him to fire at them in self defence.
His wife says she fought with her husband often as he had an alleged drugs habit. She had previously left him for a month to live with her mother, but he wanted her to return to him and went to the mother's house.
When he saw her talking on the phone, he became jealous and wanted to shoot her. Seeing the threat to her daughter's life, the mother pushed her way into the line of fire and got shot in the face.
In another story, rescue workers in Chon Buri are frustrated with the repeated threats of a Thai man to kill himself every time his wife declines his sexual advances.
On Tuesday, police were notified of a man threatening to to jump from an overpass in front of a shopping mall. They found a 43 year old Thai man standing on the edge of the overpass looking down at the road, where cars were whizzing past while bystanders watched the scene with horror.
Officers teamed up with rescue volunteers to bring the man to safety. When questioned, he said his "wife declined to sleep with him at night".
One rescue volunteer says the man has threatened to kill himself in public places 7 times, always for the same reason. He said the man's actions are aimed at seeking attention and are useless, but he has to come and rescue the man in any case, "because it's his duty".
If you or anyone you know is in emotional distress, please contact the Samaritans of Thailand 24-hour hotline: 02 713 6791 (English), 02 713 6793 (Thai) or the Thai Mental Health Hotline at 1323 (Thai).
SOURCE: Chiang Rai Times
Keep in contact with The Thaiger by following our Facebook page.
Never miss out on future posts by following The Thaiger.
Thai police officer gets slap down after trying to marry mistress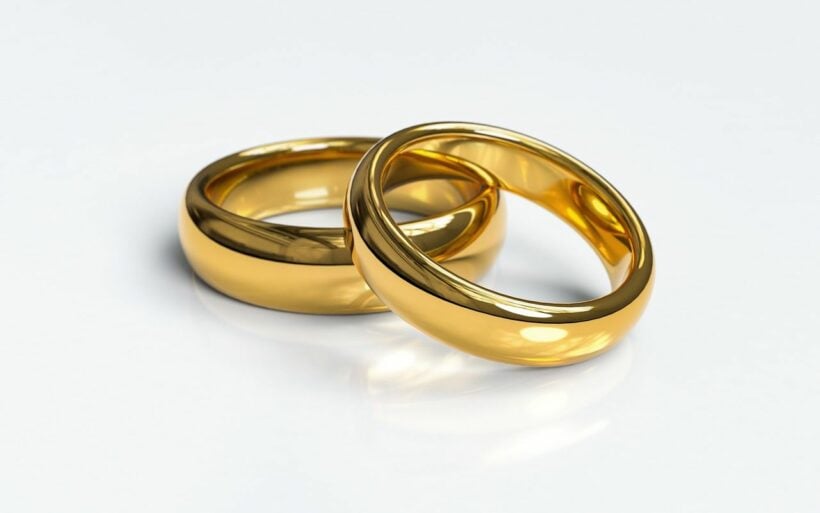 A Thai policeman is making headlines after getting a slap down from his own mother after he attempted to marry his mistress. The man went as far as scheduling a wedding, with monks present to bless the union, but his mom and real wife of 16 years, along with their kids, aged 5 and 15, crashed the party.
Nipapan Peuchpen, his legal wife, brought her marriage license to the nuptuals that took place in Chai Nat province, arguing that her husband had no right to marry another woman.
"This is our marriage license. I don't know how they can go through with this."
The policeman told his wife that the monks were already here, and that she wasn't a guest and to go home. Then the man's mother showed up and slapped him in the head. According to Khaosod English, the mother issued a statement to Amarin TV.
"I always taught him to not mess around with adultery. I warned him so many times. Now he has to reap what he sowed. At first, I understood that being adulterous to some extent was normal for men. But I didn't think he would go this far."
"I want this to be a lesson to all women! If you know a man already has a family, don't be a homewrecker. I don't understand why the bride got married to him, knowing that he was already married."
Nipapan and her lawyer filed a legal complaint to the Chai Nai Juvenile and Family Court against the policeman's girlfriend, asking for compensation for trying to marry her husband when he was already married.
Thailand has always been a culture where adultery has somewhat been tolerated, as many Thai men have lovers on the side, called a Mia Noi. But, legally, only 1 marriage can be registered at a time.
SOURCE: Khaosod English
Keep in contact with The Thaiger by following our Facebook page.
Never miss out on future posts by following The Thaiger.
Traders at 2 Pathum Thani markets unhappy with extended closure order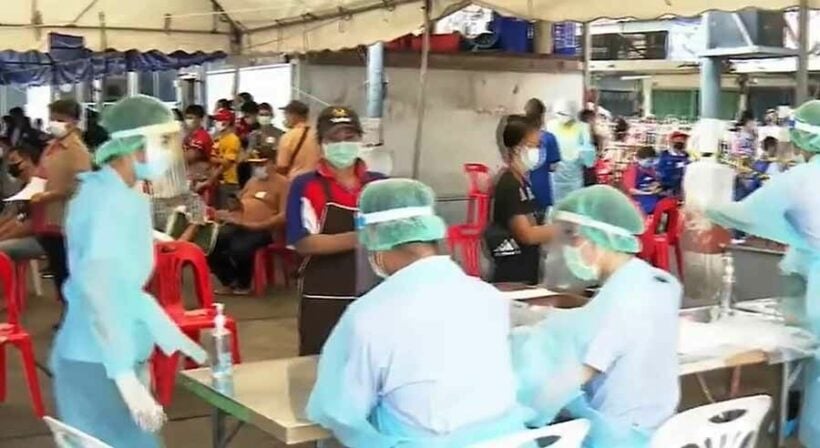 Traders at 2 wet markets in the central province of Pathum Thani have expressed their frustration at the decision to keep the markets closed until next Thursday. The Pornpat and Suchart markets, in the Thanyaburi district, have been closed since last Friday and were supposed to re-open yesterday. However, officials have extended the closure in response to a number of new Covid-19 infections.
However, vendors say the new cases are not linked to the markets and the ongoing closure is having a significant impact on traders who are struggling to put food on the table and pay their bills. Noodle seller Pannee Paophan from Pornpat market says they haven't received any discount on rent or any other assistance from the market owners. She adds that every vendor in the market has already been tested for the virus, but officials are now testing people who live nearby and wrongly attributing positive cases to the market.
The Bangkok Post reports that Pannee was speaking to the media while Public Health Minister Anutin Charnvirakul was visiting the market. Another vendor at Suchart market echoes Pannee's comments. The fishball seller, named only as Onn, says factory workers who live near the market are being tested for Covid-19 and new infections are being reported as having come from the market. He says all workers at the market have already been tested, pointing out that while the market only has about 1,000 workers, officials say they have tested over 3,000. Onn says the extra cases are not from the market and is worried that more positive cases will lead to the closure being extended even further.
"The authorities initially told us that the markets would be closed for 5 days, but now the closure has been extended for 9 more days. I want to ask what the vendors will eat. We are suffering now."
Meanwhile, the governor of Pathum Thani, Chaiwat Chuenkosum, says that when vaccines become available, vendors at both markets will be vaccinated.
SOURCE: Bangkok Post
Keep in contact with The Thaiger by following our Facebook page.
Never miss out on future posts by following The Thaiger.
Samut Sakhon to re-open 22 fresh markets from Monday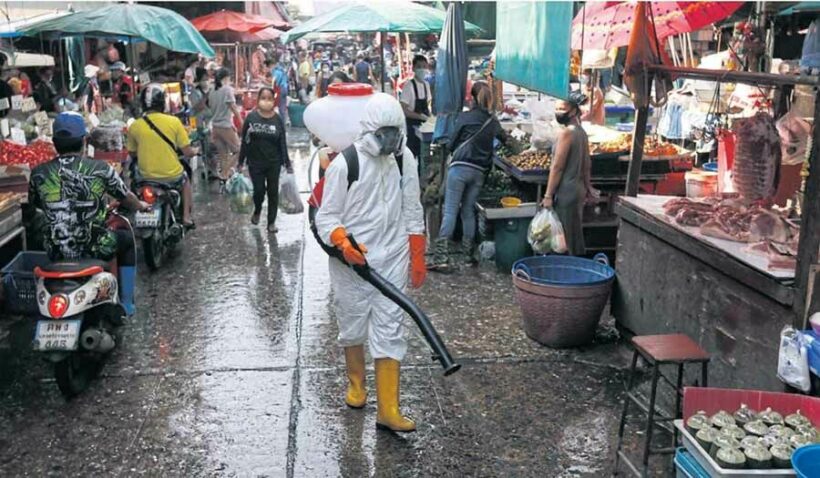 The central province of Samut Sakhon, where the Covid-19 virus first re-surfaced in December, is to re-open 22 wet markets from Monday. However, the seafood market where the outbreak began is not one of them, and it is not yet known when that might re-open. The 22 markets have been closed since December 19 as a result of the virus outbreak.
Officials in Samut Sakhon have begun a 3-day clean-up operation across all 22 markets, aimed at boosting public confidence. Chingchai Bunprakhong, the mayor of Samut Sakhon municipality, says all areas are being sprayed with concentrated chlorine mixed with water. The Bangkok Post reports that yesterday, 3 water tanks containing the mixture were sent to Mahachai Market, as part of a deep cleaning operation.
Chingchai says the decision to re-open the markets comes amid a downward trend in Covid-19 infection rates. Officials have now tested 3,772 workers from the 22 markets and only 0.56% (21 people) have tested positive. Of the 95 new cases reported in the province on Thursday, 60 were found as a result of proactive tracing. It's understood 35 of those are receiving hospital treatment.
SOURCE: Bangkok Post
Keep in contact with The Thaiger by following our Facebook page.
Never miss out on future posts by following The Thaiger.