Anti-alcohol law has "bounty hunters" snitching for reward money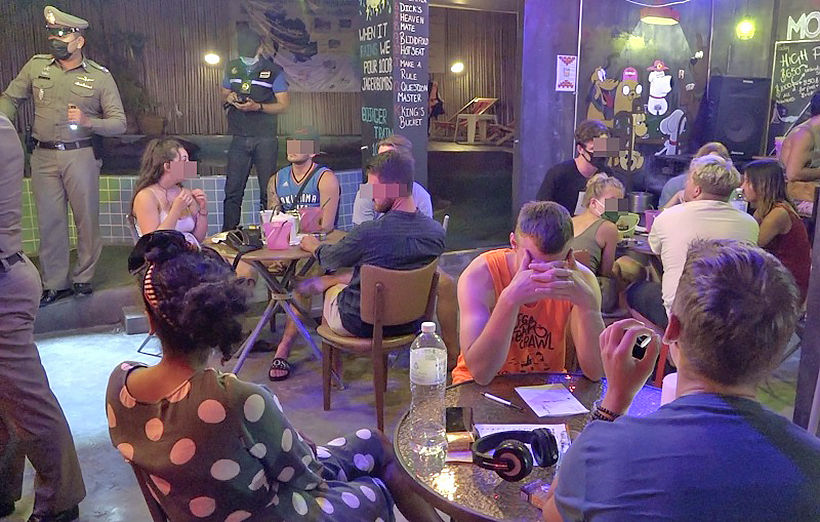 Educating people, or advertising, online about alcoholic beverages is a crime in Thailand – a lesson learned the hard way by the administrator of a Facebook page detailing thee differences in the many types of craft beers when he was fined 50,000 baht for "advertising" alcohol on social media.
Police told him they received a "tip-off from someone". Artid, the admin of "Daeg Beer Hai Plea Kaem," says he was never paid for the beer reviews he wrote, but officials insisted on sending him to court for breaking a notorious law that criminalises any gesture that "advertises" alcohol or "induces" others to drink, including photos of alcohol on social media.
He is one of the many bloggers and Facebook users caught in a recent trend of snitches reporting online photos of alcohol to authorities in exchange for reward money of 7,500 baht.
"This law is incentivising people to snitch and turn others in. If I spent all my days screenshotting and snitching, I'd be rich too. My friend was also fined because 1 of their Facebook friends snitched to the Ministry. We can't even trust people in our friends lists."
The law banning public display of booze has been in effect since 2008, but alcohol aficionados say it's being used without restraint during the coronavirus pandemic to extort fines from regular citizens who discuss alcohol on social media while bars and pubs remain closed.
Under the wording of Article 32 of the Alcohol Beverage Control Act, any action "deemed by officials as inducing others to drink is punishable by a fine of 50,000 baht". Fines go up to 500,000 baht if the offender is a manufacturer. Online advertising of alcoholic products or even displays of a glass filled with alcohol are also banned under the same law.
Those who report such "offences" to authorities receive a cut of 7,500 baht, and that's where the bounty hunting begins, according to a lecturer on food and beverage regulations who teaches food science at Rajamangala University of Technology Thanyaburi.
"Only 40% goes into state coffers. The rest is reward money."
"Witch hunting is definitely happening. The officials will not reveal who reported on them," he continued. "If you hate someone, you can just call the police on them and they will never know who told on them."
The lecturer, who also runs a Facebook page about alcohol laws, says a Facebook user recently posted a photo of beer that they like in a private setting. 1 of their 1,500 Facebook friends later reported the user for the photos, and collected the 7,500 baht bounty.
It seems to be an increasingly common experience. A Facebook page called We Can Choose posted on Sunday a photo of their 50,000 baht fine receipt, which said the page was guilty of posting images of alcohol.
Officials said the law prevents stealth advertisement targetting social media users, especially young people, but critics say the latest crackdown on booze photos will only hurt alcohol traders forced to sell online in the time of Covid-19 lockdown that's shut down pubs and bars indefinitely. The government said on Wednesday that nightlife establishments will not be included in the "Phase 4" of business reopening.
Although the fines can be contested in court, very few people take the risk because of the time and cost involved in legal proceedings.
The lecturer said he will file a petition to the Ombudsman's Office and the Council of State to see if the alcohol law is unconstitutional.
"This law is implemented by people with no knowledge about craft beer, and lots of prejudices. They think it's just an evil thing that must be erased. My page is never even about asking people to drink. It's a serious, even academic, page analyzing craft beers."
SOURCE: Khaosod English
Keep in contact with The Thaiger by following our Facebook page.
Never miss out on future posts by following The Thaiger.
Police raids shut down online network of casinos across 7 provinces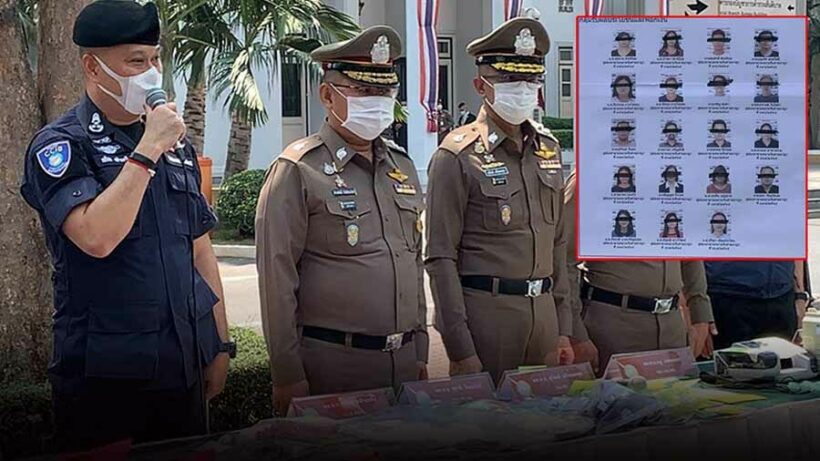 Police have shut down a network of online casinos in raids that took place across 7 provinces, with 19 suspects arrested and cash and other goods seized. In total, 8 online casino networks in 7 provinces have been shut down, with police apprehending 19 out of a total 22 suspects.
Thai PBS World reports that the raids took place in Bangkok, as well as in the central provinces of Pathum Thani, Ayutthaya, Sara Buri, the eastern province of Rayong, the northeastern province of Chaiyaphum, and the northern province of Chiang Mai. It's understood the raids were carried out simultaneously. Officers confiscated 8 vehicles, 2 million baht in cash, and 54 mobile phones.
199 bank accounts are also being investigated, with police saying each one is in the names of the suspects, with transaction records of between 10 and 70 million baht.
The raids are the result of a police investigation into information that an application called "Royal Slot 777", was being used in the illegal running of online gambling. Thousands of clients were involved in the gambling operations, with more than 1 billion baht circulating.
The networks operated from offices across several provinces, each overseeing a certain territory. Many offices were masquerading as transport or property management companies. According to police, the gambling networks were being run from abroad by Chinese businessmen.
SOURCE: Thai PBS World
Keep in contact with The Thaiger by following our Facebook page.
Never miss out on future posts by following The Thaiger.
Phuket police officer charged with attempted murder for shooting and critically injuring a noodle vendor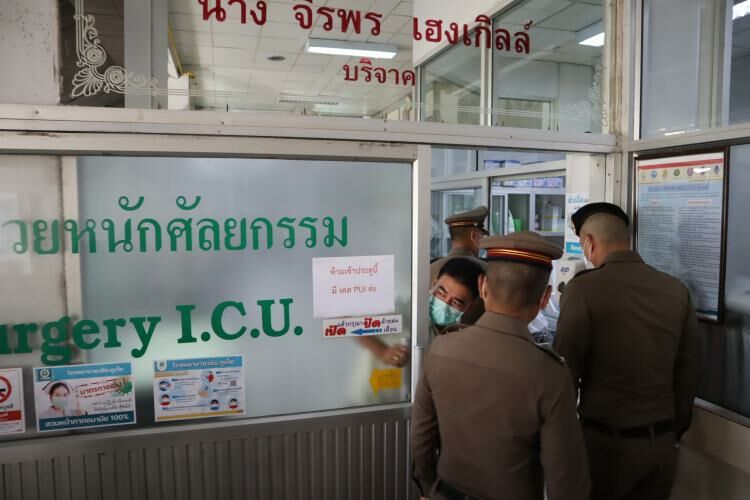 The drunk, off-duty police officer in Phuket who has caught on camera shooting and beating a noodle vendor on Bangla Road is now facing attempted murder charges as well as charges of carrying a firearm in public without a necessary reason and firing a weapon in a public area. The commander of the Phuket police station said he ordered investigators to prosecute the officer Pornthep Channarong with every criminal charge that can be applied.
The officer had gotten into an altercation just before dawn yesterday and shot a young vendor who was walking by. Surveillance camera footage show the 25 year old suddenly falling to the ground after being shot. The officer walks up and shoots the vendor at a close range, but it appears the second shot did not hit the vendor. The officer also slapped the vendor in the face, picked him up and shoved him over, and then kicked him as he lay on the ground.
The vendor has a 4 year old daughter and 3 month old son. His wife says normally he works as a motorbike driver, but he was helping his mother selling noodles. He was shot while he was walking back from collecting a noodle bowl, she says. The vendor is in critical condition and being cared for at Vachira Phuket Hospital's intensive care unit. He's in need of Type B blood.
"For his condition, the doctor told me that the bullet went through his lung. He lost a lot of blood. We need a lot of Type B blood for him."
A disciplinary investigation into the incident was launched by police and Pornthep was officially dismissed from the Royal Thai Police force. Region 8 Police Commander Kitrat Panpetch says the incident does not reflect the police force in Phuket.
"The incident was caused by an officer who did something wrong that our organisation does not want. We are a big organisation with more than 200,000 officers under our control. Our officers are not all bad like this."
Phuket Provincial Police Commander Pornsak Nuannu says he has reminded the police chiefs across the island to discuss reasons for carrying firearms in public.
"Carrying firearms is to prevent any type of crime that may happen, not to commit a crime by themselves like this incident. If I see any police doing such a thing, I will decisively proceed in terms of both officer discipline and criminal charges."
SOURCE: Phuket News
Keep in contact with The Thaiger by following our Facebook page.
Never miss out on future posts by following The Thaiger.
Drunk police officer shoots and beats vendor on Bangla Road in Phuket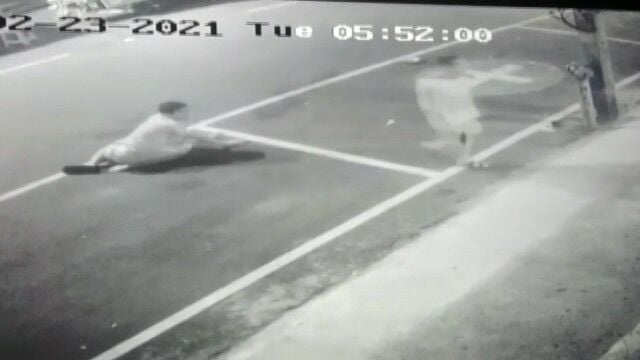 A Phuket police officer was caught on camera beating and shooting at a noodle vendor on Bangla Road in Patong, critically injuring the young man. Reports vary on exactly what happened before the shooting, but apparently the police officer had been drinking until nearly dawn this morning before the incident.
Surveillance camera footage shows the 25 year old vendor suddenly falling to the ground after being shot. The officer then walks up and shoots again at close range. It appears the second shot did not hit the vendor. The officer walks away, but then comes back, slaps the vendor in the face, picks the vendor up and shoves him over, and then kicks the vendor before walking away. The vendor, Aroon Thongplab, is being treated at Vachira Phuket Hospital's intensive care unit for a gunshot wound in his stomach.
Phuket News and Nation Thailand report different scenarios before the shooting. According to Phuket News, witnesses say the officer was drunk and was trying to get into the popular nightclub Illusion, but the venue's bouncer refused and blocked the club's entrance because the officer was carrying a gun. Officer Pornthep Channarong then pointed his gun to the road and shot the 25 year old vendor who was walking by, reports say.
Nation Thailand reports that the officer was drinking at a pub on Bangla Road around 5:45am this morning and got in an argument with foreigners. He then stepped outside and shot in the air as a threat, but the bullet hit the noodle vendor.
Police arrived at the scene around 6am and confiscated a 9mm handgun, 9 bullet casings and 2 live bullets. They took Pornthep to the local police station for questioning, but Patong police chief Sujin Nilabodi says the statements made by the detained officer were confusing because Pornthep was still drunk.
SOURCES: Phuket News | Nation Thailand
Keep in contact with The Thaiger by following our Facebook page.
Never miss out on future posts by following The Thaiger.