Counting down PM's 7 day deadline in Chiang Mai – so far no change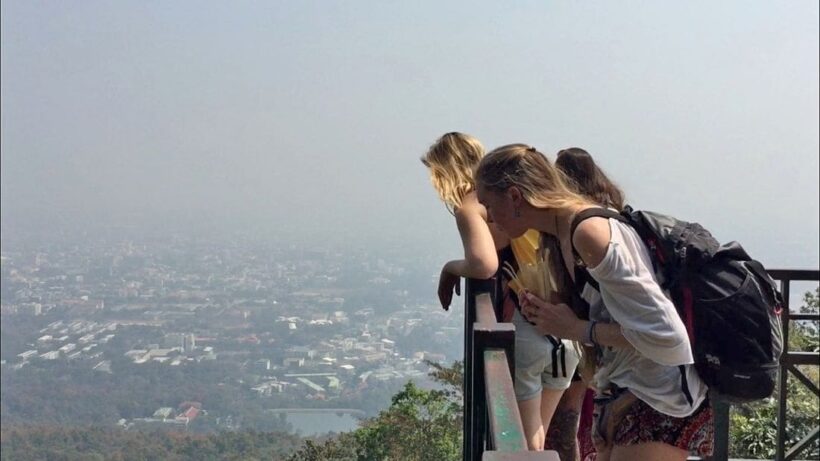 by Piyaporn Wongruang, Tim Newton
Last week PM Prayut Chan-o-cha issued an order to end the haze crisis in the North within seven days and declared the situation part of the national agenda.
Two days to go and there is still no respite of the hazardous levels of smoke and smog besetting the northern capital and adjacent provinces. The PM met with nine provincial governors and authorities directly involved with the smog problem last Tuesday ordering the problem be solved in 7 days.
But Greenpeace country director Tara Buakamsri says the haze was not simply an environmental matter, but rather demands multidisciplinary knowledge to bring the situation under control.
"It's same story as four years ago when there was a similar level of spotfires around the region, identified by NASA satellites, and we still haven't effectively undertaken anything to address it."
Unlike the smog that enveloped Bangkok earlier this year, the haze crisis in the North stems largely from spontaneous dry-season forest fires and other fires deliberately lit to clear farmland and plantations, many of them in neighboring Myanmar and Laos as well as the northern provinces.
GISDA (Thailand's Geo-Informatics and Space Technology Development Agency) has found that the number of hotspots in nine northern provinces, including Chiang Mai, has been climbing since early March. From the dozens initially seen, the number soared in mid-March, surpassing last year's record for the same period.
As of last Monday, there were 6,069 hotspots, compared to 4,722 in the same period last year.
The statistics are supported by those of the Royal Forestry Department, which recorded at least 5,909 hotspots in the North last Monday. Of these, 641 were burning outside forestlands, 772 were on farms abutting forests, and 4,496 were within forests. Project researchers found that bans imposed on outdoor burning every March and April do little to deter farmers from burning off the leftover stubble in their fields ahead of the rainy season.
Chiang Mai, Mae Hong Son, Lampang and Tak are registering the most dangerous air pollution levels, accounting for 63% of the fires observed. Chiang Mai province alone had 1,033.
The fear is the situation is worsening, not improving, and the Thai PM's optimistic directive has resulted in no reduction of the choking haze and smoke at this stage.
In the short-term, unless the fires can all be magically extinguished, the only hope is an early onset of the rainy season and some clearing winds – neither appear on the horizon at this stage.
Keep in contact with The Thaiger by following our Facebook page.
Never miss out on future posts by following The Thaiger.
59 areas see excessive PM 2.5 dust in Bangkok today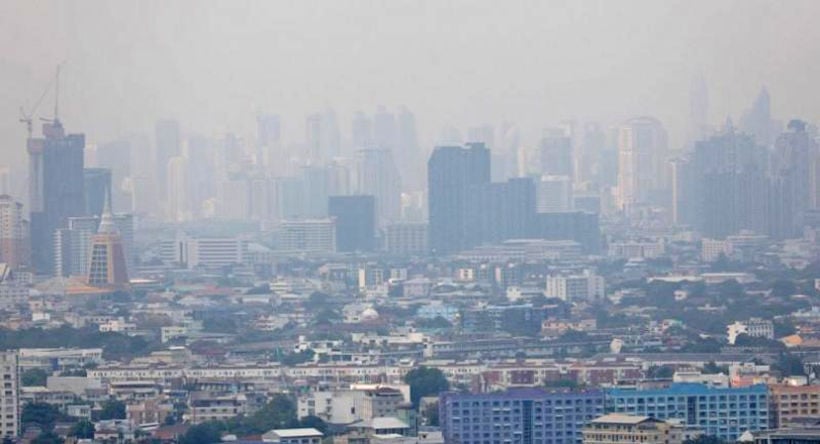 59 areas in Bangkok are seeing excessive PM 2.5 dust ratings today as air quality is being described as moderate to poor. Din Daeng Road is being identified as the most polluted, according to the air4thai website of the Pollution Control Department. The amount of PM 2.5 dust is being measured at between 39 and 113 microns.
Din Daeng is also joining Bang Na-Trat highway in Bang Na district, Lat Phrao district and Sukhapibaan 5 Road in Sai Mai district in featuring PM10 dust in the atmosphere that is measuring between 54 and 155 microns.
Read more about Bangkok's pollution today, and its causes, HERE.
The 59 areas that are considered polluted today are:
Hirunrujee sub-district, Thon Buri district
Kanchanapisek Road in Bang Khun Thian district
Bang Na sub-district
Song Khanong sub-district in Phra Pradaeng district
Din Daeng sub-district, Din Daeng district
Talat Kwan sub-district in Muang district of Nonthaburi
Omnoi sub-district in Krathumban district of Samut Sakhon
Paknam sub-district in Muang district of Samut Prakan
Bang Sao Thong sub-district
Khlong 1 sub-district in Khlong Luang district of Pathum Thani
Rama 4 Road in Pathumwan district
Intharapitak Road in Thon Buri district
Lat Phrao Road in Wang Thong Lang district
Din Daeng Road in Din Daeng district
Khlong Goom sub-district
Khlong Sam Wa district
Chom Thong district
Charunsanitwong Road in Bang Phlad district
Rama 2 Road in Bang Khun Thian district
Vibhavadi Rangsit highway in Din Daeng district
Sukhumvit Road in Phra Khanong district
Ratburana Road in Ratburana district
Rama 5 Road in Dusit district
Trimitr Road at Wongwian Odeon, Samphanthawong district
Rama 6 Road in Phya Thai district
Lat Phrao Road at Soi Lat Phrao 95 in Wang Thong Lang district
Rama 4 Road in front of Sam Yan Mitrtown, Pathumwan district
Narathiwat Road in Bang Rak district
Thung Wat Don sub-district
Rama 3-Charoen Krung Road in Bang Khor Laem district
Sukhumvit Road Soi 63 in Wattana district
Pattanakarn Road in Suan Luang district
Bang Na-Trat highway in Bang Na district
Pahonyothin Road at Kasetsart intersection, Chatuchak district
Don Mueang district
Sukhapibaan 5 Road in Sai Mai district
Nawamin Road in Bang Kapi district
Suan Sayam-Raminthra intersection in Kanna Yao district
Lat Krabang Road in Lat Krabang district
Seehaburanakit Road in Min Buri district
Liab Waree Road in Nong Chok district
Srinakharin Road in Prawet district
Ratchadapisek-Tha Phra Road in Thon Buri district
Charoen Nakhon Road in Khlong San district
Tha Phra intersection, Bangkok Yai district
Soi Nikhom Rodfai Thon Buri in Bangkok Noi district
Buddha Monthon 1 Road in Taling Chan district
Thawee Wattana Road in Thawee Wattana district
Aekkachai Road in Bang Bon district
Pracha-uthit Road in Thung Khru district
Samsen Road in Phra Nakhon district
Huay Khwang district
Khlong Toey sub-district
Ban Sue sub-district
Lat Phrao district
Thung Song Hong sub-district
Pahonyothin Road in Bang Khen district
Saphan Soong district
SOURCE: Thai PBS World
Keep in contact with The Thaiger by following our Facebook page.
Never miss out on future posts by following The Thaiger.
Thailand on fire – NASA satellite website tracks the country's farm fires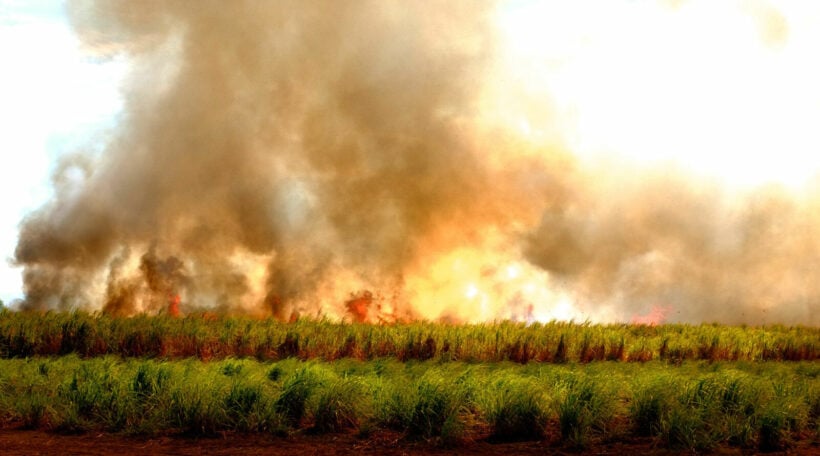 Thailand is burning. The burning off of harvested crop plantations is lighting up the agricultural areas. The truth is starkly revealed in the live NASA satellite feeds which track the fires around the world.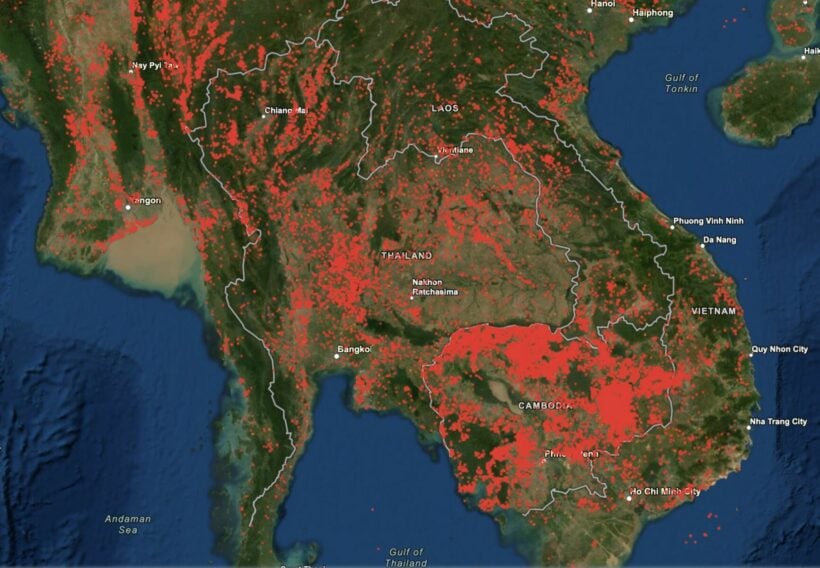 CHART: Fires in the past 10 days around parts of Thailand – Firms.Modaps
Concentrations of the current fires can be seen in Central Thailand, north of Bangkok, parts of Isaan, north east of Bangkok, and around Chiang Mai in Northern Thailand. Notably the concentration of fires in northern Cambodia and across the north-western border in Myanmar, is also causing plenty of problems as the foreign smoke drifts across the borders. No matter what Thai officials do to enforce the rice, sugar and corn plantation burn-offs, there is little they can do about the haze drifting across the borders.
Bangkok, so close to clusters of fires, is in for a bad air pollution day anytime the light winds of the start of the year blow from the north or the east. The lack of rain adds to the problem, the annual problem, that engulfs Thailand's capital during days between December and April, with the worst month, statistically, being March.
The alternative method of preparing for the next harvest, mechanical removal of the refuse and waste after harvesting, is both unpopular in Thailand and economically unviable for the small farmers whose margins remain thin with the multi-national buyers of their produce pushing for lower and lower prices every year.
In Chiang Mai, from January to the end of March, the locals even call it the 'burning season'. Coupled with the hot season, the farmers in northern Thailand burn their fields to prepare land for the next harvest and also to get rid of biowastes like corn that can't be sold in the market. It's officially illegal to do the burn offs but the lack of enforcement leaves the problem unresolved and the smog and haze remain as predictable as the annual wet season.
Chiang Mai also has a local geographic problem which exacerbates the bad smoke pollution. The city is in a valley, surrounded by hills, trapping in the smoke and helping block any breezes that could otherwise blow it away.
For today, Bangkok's air pollution is better than the past two days but still registering as 'unhealthy for sensitive groups' with city readings mostly between 140 – 170. Parts of the city, mostly south-east and south west, were registering readings above 300 in the past few days.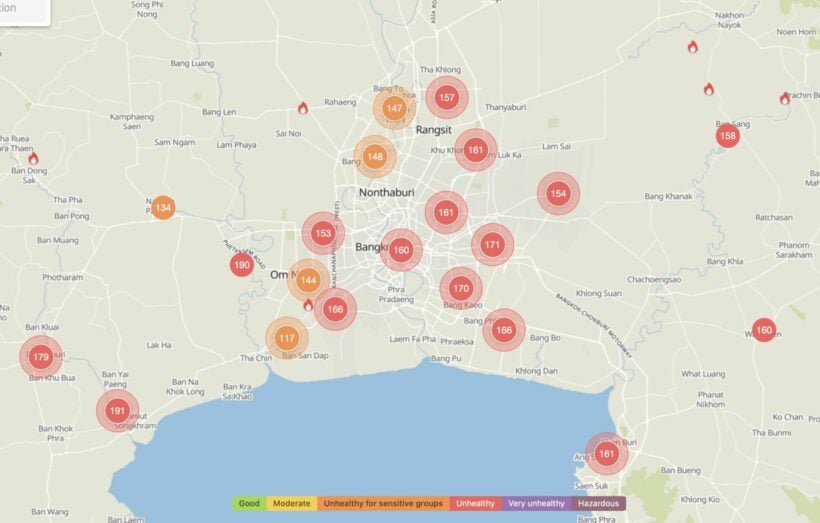 SOURCE: IQair.com
Watch this video for some more information about Bangkok's smog…
Keep in contact with The Thaiger by following our Facebook page.
Never miss out on future posts by following The Thaiger.
Bangkok's air quality is 'unhealthy' today | VIDEO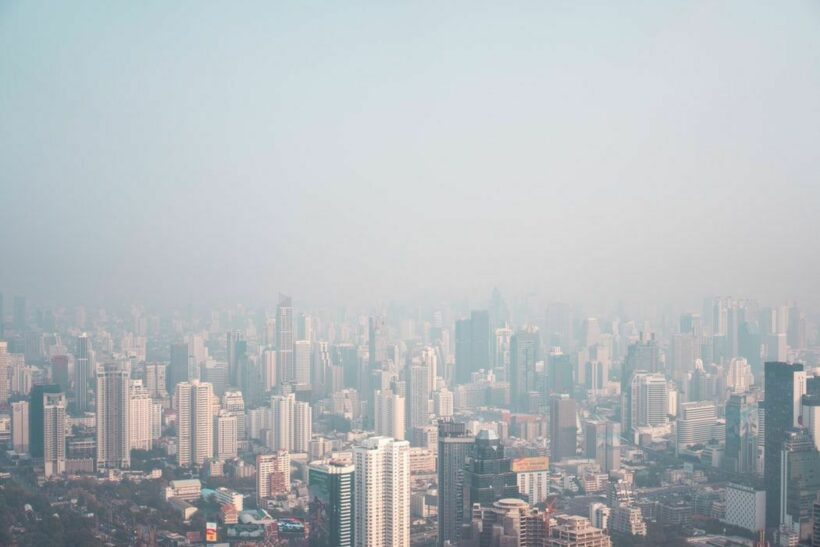 Air quality around Bangkok this morning is awful. Partly due to the lack of wind to blow the smog out of the area. To the south of Bangkok, Samut Prakan and Samut Sakhon, the air quality is even worse with visibility on the ground cut to less than a kilometre. You would be well advised to reduce you activities outside on a day of high air pollution in the capital. The rating by airvisual.com is 'unhealthy'.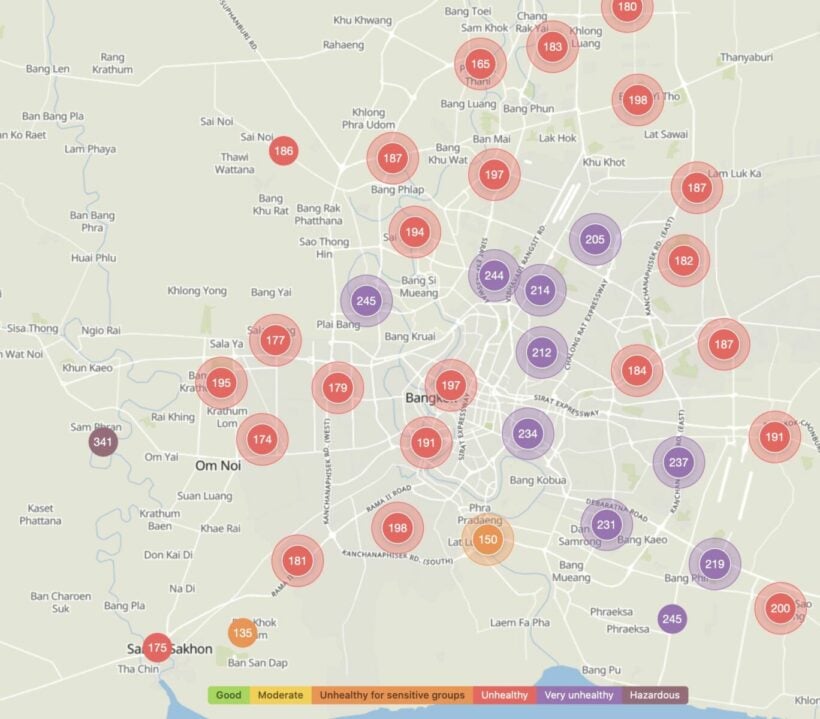 Readings around the inner city vary between 190 – 220. Areas to the east, including around Suvarnabhumi Airport, are higher.
A lot of the smog and smoke is flowing down from the north and north east where plantation fires rage, mostly unenforced, this time of the year, from December to May. Farmers have been told, repeatedly, to avoid buying off the waste after harvests of corn, rice and sugar cane but officials have been disinclined to enforce the laws. Many of the farmers have long-term contracts with some of Thailand's leading agri-business conglomerates.
Bangkok and the central region can expect many more months, especially as the temperatures rise throughout February, March and April and the winds remain low as the north-easterly monsoon weakens.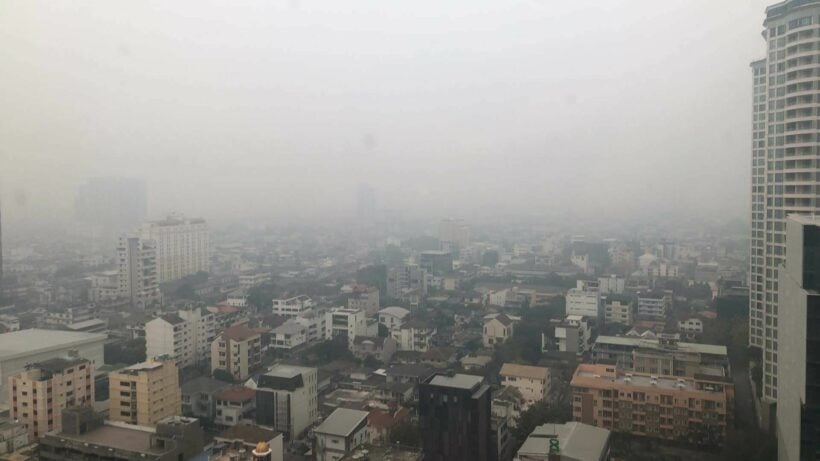 PHOTO: View across the Bangkok skyline from Sathorn this morning.
Keep in contact with The Thaiger by following our Facebook page.
Never miss out on future posts by following The Thaiger.