UPDATE: Confusion over Thailand designating 11 destinations as 'high risk'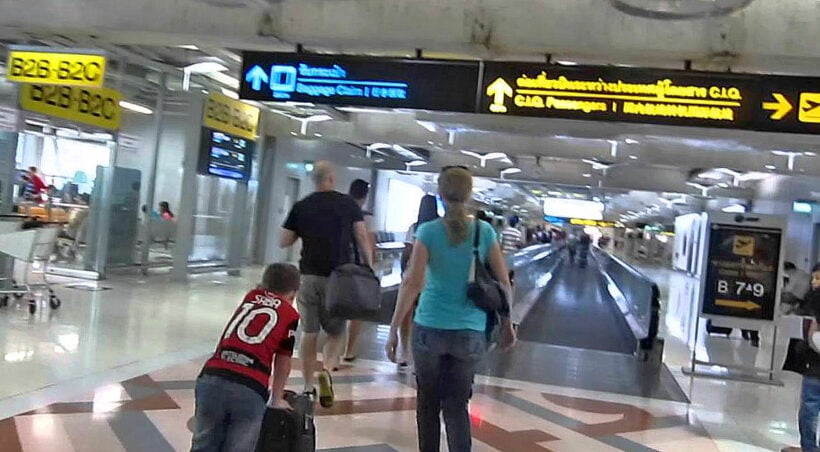 Thailand's Public Health Ministry yesterday designated 9 countries and 2 Chinese territories as high risk areas for the Covid-19 virus. He announced that visitors to Thailand from these destination are now subject to 14 day home quarantine and will have to adhere to strict health-related follow-ups.
The official government post, on a Public Health Ministry letterhead, was released to the media and posted on the Minister's Facebook page. It was later removed from the Facebook page but no announcement was made to either clarify or cancel the earlier announcement.
ORIGINAL STORY
The 11 locations, now designated by Thailand as "high risk" areas, are Japan, South Korea, Germany, China, Taiwan, France, Singapore, Italy and Iran, plus the two Chinese territories of Hong Kong and Macau.
• Visitors and Thai citizens returning from the high risk areas will be subject to 14 days home quarantine, even if they are cleared of the disease, unless they have permission from health officials.
• Those who do not have a permanent residence or lodging in Thailand are required to show officials, upon arrival, evidence of where officials can locate them during the 14 day period.
• Those who have any flu-like symptoms upon their arrival, such as a body temperature exceeding 37.5C, a runny nose, sore throat or breathing difficulties, will be sent to state hospitals for further testing, treatment or quarantine, depending on the seriousness of the illness.
• For those who cannot produce evidence of a formal lodging, such as a hotel or hostel, during their visit in Thailand, immigration officials are authorised to send them back home or to allow them entry subject to 14-days of self-quarantine.
Foreign visitors or Thai returnees from the newly designated high risk areas will have to file a daily report on their health with officials during the 14 day period and, if they become unwell or suspect they may be sick, they must inform health officials within 3 hours so that they can undergo further testing, receive treatment or be isolated.
• All the medical expenses incurred will be borne by the individuals themselves.
Earlier yesterday Deputy PM Prawit Wongsuwon told reporters there was no law in effect now that could force anyone to isolate themselves, contrary to the intention of the Public Health Minister's later announcement.
The Thai Public Health Minister Anutin Charnvirakul briefly showed the announcement on his Facebook page yesterday afternoon with a message that all visitors from these countries will be required to quarantine themselves for 14 days with no exceptions. But the post was deleted minutes later without explanations, according to Bangkok Post.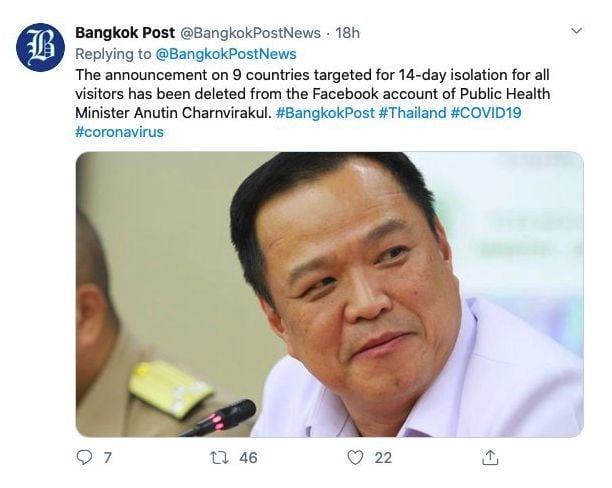 BOTTOMLINE
If you are booked to travel to Thailand which transits through one of the 'at risk' country's airports, or are travelling from one of the 'at risk countries, you will need to keep abreast of the latest information as the dust settles on yesterday's official announcement, and then a social media withdrawal of the post.
Today, right now, there are no restrictions on arrivals. But the situation is very fluid. The Thai PM today released a raft of new edicts relating to Thailand's response to the virus.
SOURCE: Thai PBS World
📱 Download our app on Android or iOS for instant updates on your mobile
📧 Subscribe to our daily email newsletter
👍 Like/Follow us on Facebook
🔔 Subscribe to or Join our YouTube channel for daily video updates
Current list of restrictions for provinces around Thailand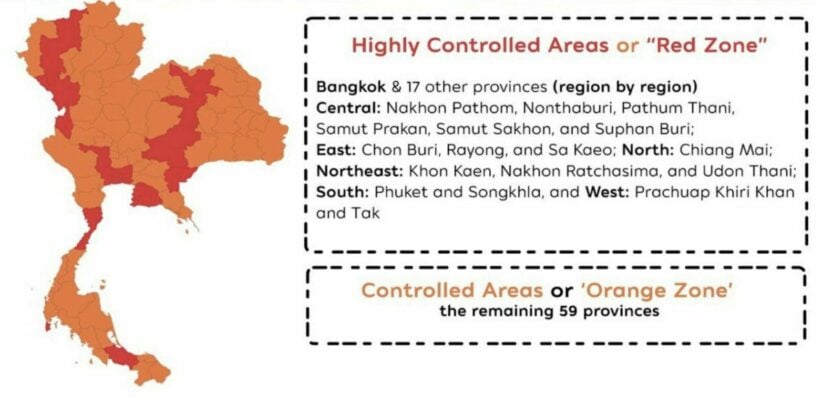 The situation continues to be quite fluid. But if you need to travel at this time, here are the latest restrictions in the red and orange zone provinces. If you planning on travelling, you need to get acquainted with the latest restrictions in your destination province, and you should check if you need additional travel documents.
The could change at any time, so if you are going to be doing any travelling (the government are advising against it), you should get your paperwork ready in advance.
Provincial governors are also being given latitude by the central government to upscale any of the restrictions to meet local situations.
The infographic was compiled by the NBT.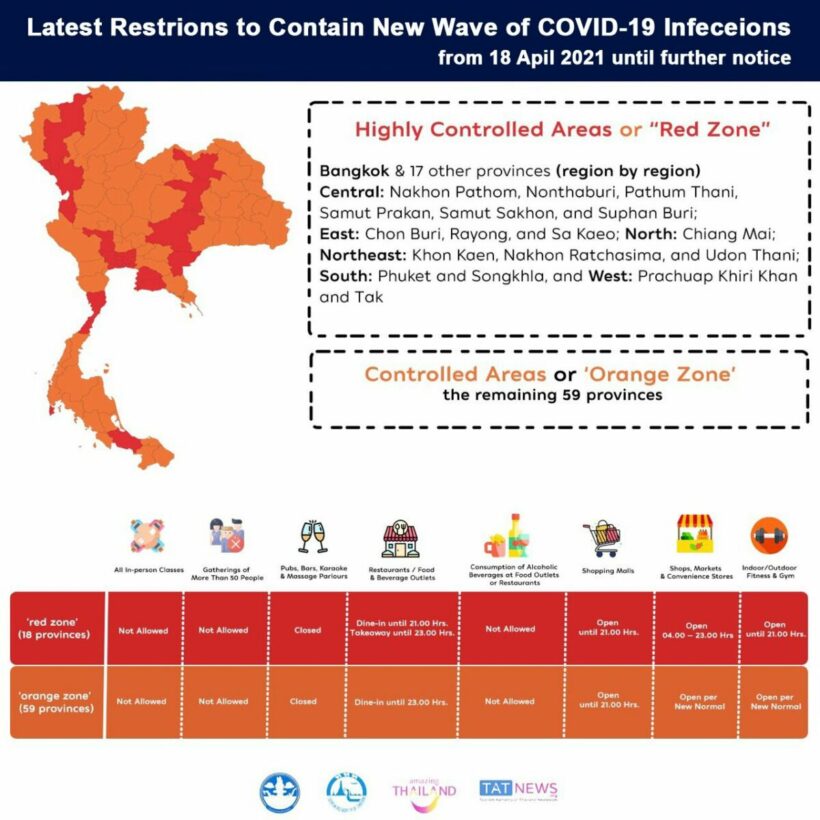 📱 Download our app on Android or iOS for instant updates on your mobile
📧 Subscribe to our daily email newsletter
👍 Like/Follow us on Facebook
🔔 Subscribe to or Join our YouTube channel for daily video updates
No room at the inn – Bangkok hospitals turning away people seeking Covid tests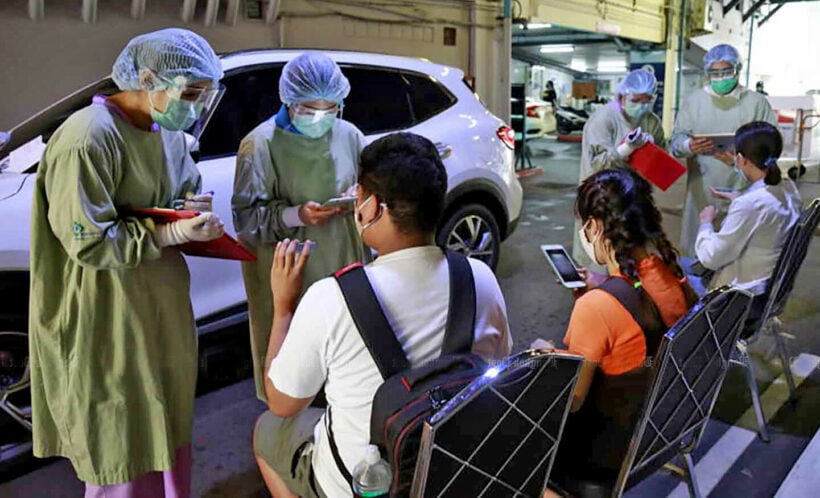 Today's drop in newly reported infections by the CCSA has dampened Thai's desire for a Covid test in and around Bangkok. Now, many hospitals around the city are restricting the numbers of patients tested. And if you want to be tested, Thai or foreigner, you better be ready to pay for it.
Thai Enquirer is reporting that at least 3 private hospitals are not accepting new Covid patients, including BNH Hospital, Praram 9 Hospital and Paolo Hospital in Phaholyotin. But even the latter, who had received a new batch of test kits, said they will take walk-ins but only from 0800 – 1700. The cost at Paolo Hospital is 4,500 baht.
According to Thai Enquirer, the city's public hospitals are also limiting the number of new Covid tests. Thammasat University Hospital and King Chulalongkorn Memorial Hospital are doing tests but only on who they consider 'at-risk' communities, and only 100 tests per day. Taksin Hospital, on the west side of the Chao Phraya, is providing free Covid testing but, again, only people they consider 'at-risk' patients. None of them are providing the popular drive-through services. For the majority of the hospitals charging, costs for the tests are between 4,000 – 6,000 baht, depending on the patients and their perceived risk levels.
293 new infections were detected in Bangkok over the past 24 reporting period. 210 more cases were reported from provinces directly adjacent to Bangkok. Around the country there were 1,390 new cases reported this morning, down on yesterday and Saturday's numbers but still well in excess of the numbers being reported in Thailand's first and second waves.
📱 Download our app on Android or iOS for instant updates on your mobile
📧 Subscribe to our daily email newsletter
👍 Like/Follow us on Facebook
🔔 Subscribe to or Join our YouTube channel for daily video updates
Thailand provincial figures for Monday's Covid cases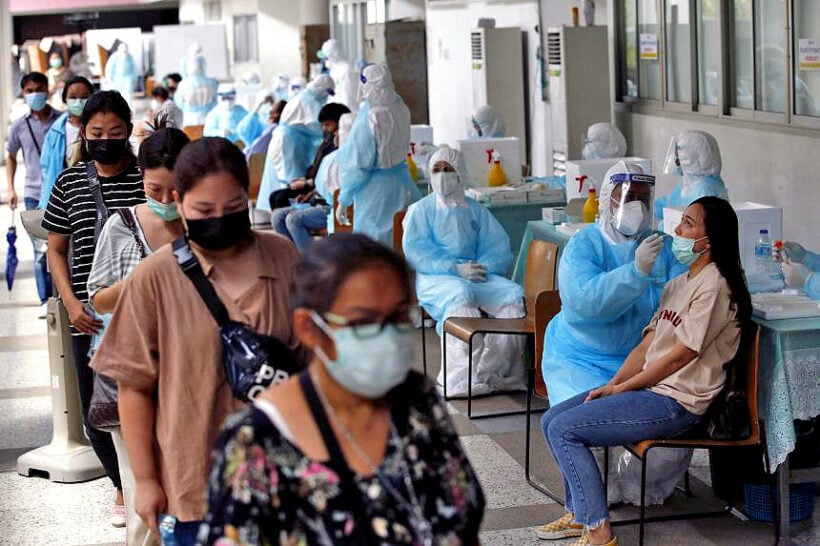 The NBT has published an infographic including all the provincial data on new Covid infections over the past 24 hours in Thailand. Note that some of the data is released by the provinces one day but not reported by the CCSA as a national tally until the following day.
Bangkok, Chiang Mai and Chon Buri, again, lead the way with the latest report. The provinces around Bangkok also feature heavily with today's numbers. 63 of the country's 77 provinces have all reported additional cases in the past 24 hours.
The CCSA earlier reported a total of 1,390 new Covid infections today. The tally is a welcome drop in new case reports after the last 5 days' record levels of new infections. Yesterday there were 1,767 new infections reported.
3 more people have died of Covid-related illnesses, 14,851 people remain under state supervision.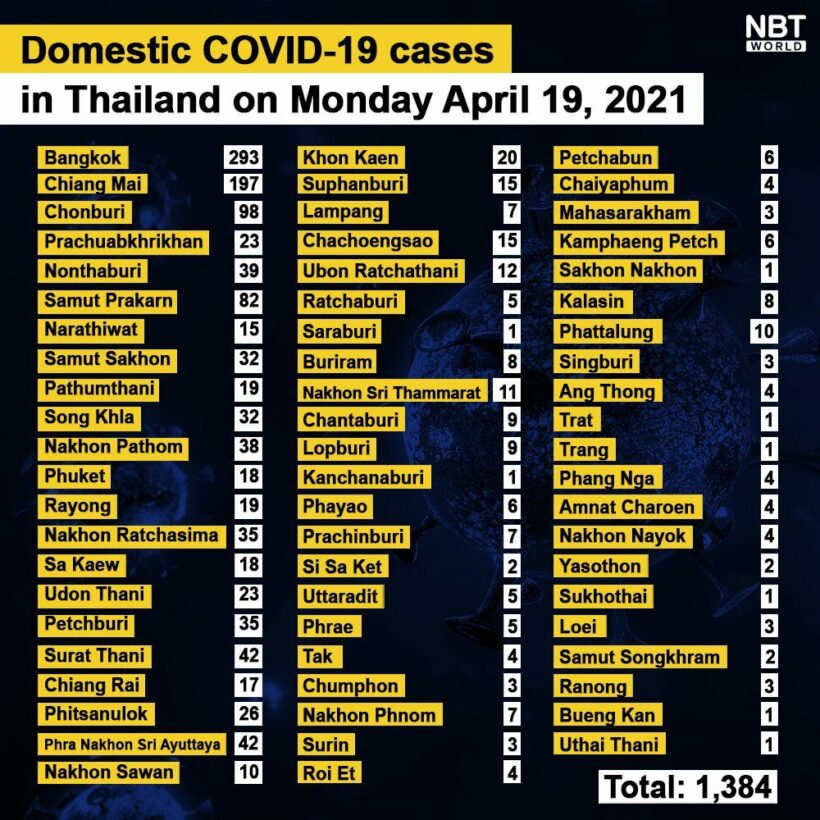 📱 Download our app on Android or iOS for instant updates on your mobile
📧 Subscribe to our daily email newsletter
👍 Like/Follow us on Facebook
🔔 Subscribe to or Join our YouTube channel for daily video updates