Thai Health Minister laughs at media when asked about his 'travel restrictions' document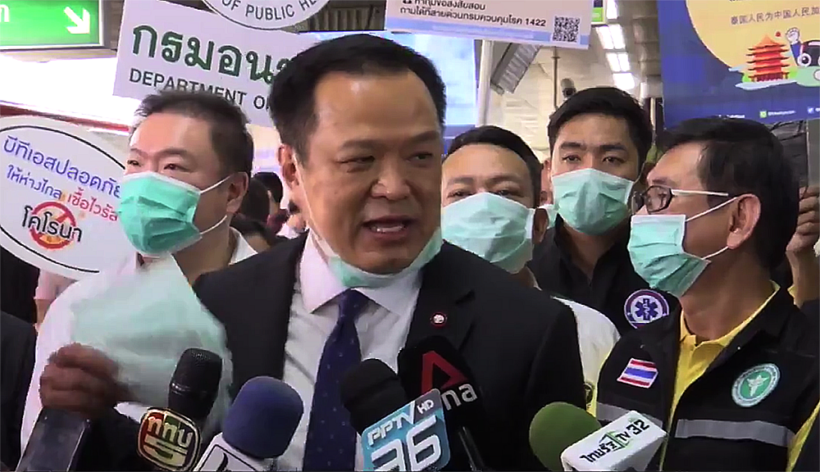 "When asked directly why he deactivated his Facebook account after publishing the official memos, signed by himself, Anutin laughed and attempted to deflect the question."
The Thailand government, specifically the gaffe-prone Public Health minister, has thrown the holiday plans of thousands into confusion after the Minister's orders for any new arrivals from 11 destinations to go into self-imposed quarantine (for the Covid-19 outbreak). He removed his Facebook post soon after posting the decision.
Then his official Facebook page was taken down altogether.
Tuesday evening's post said travellers from affected countries would be subjected to a 14 day quarantine "without exceptions".
The destinations were China, South Korea, Japan, Germany, France, Singapore, Italy, Iran, Taiwan, and the Chinese territories of Hong Kong and Macau.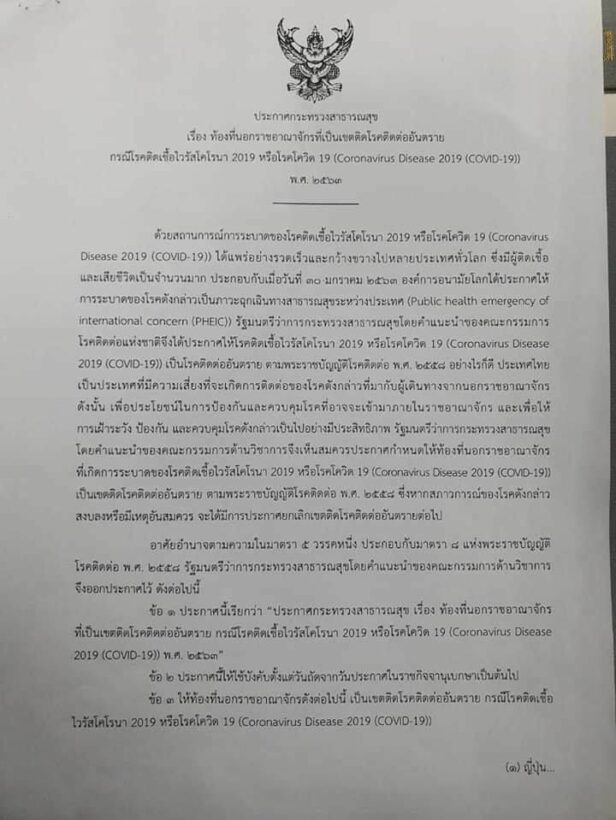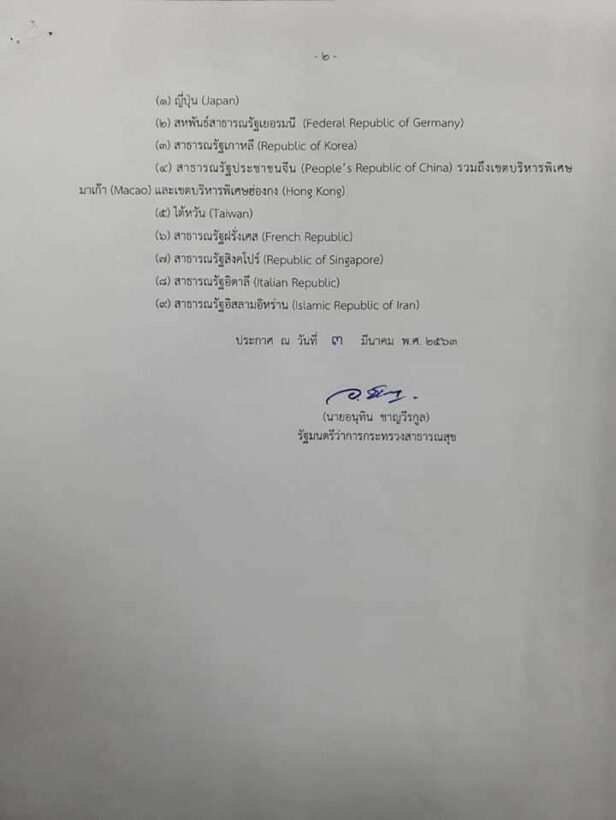 Twitter and Facebook did brisk business yesterday as Thais and foreigners posed thousands of questions about their travel plans. The situation was eventually hosed down by the Public Health Ministry spokesman Taweesin Visanuyothin. He said Minister Anutin's list of countries would have to be "reviewed".
"We have to wait which country would be designated as a risk country."
When Thai media reached out for comments from the Minister at Government House, Anutin denied any knowledge about the matter.
"I'm also wondering how the document ended up there, since I haven't signed it. (That's HIS signature on the bottom of the official letters). It's still in my room. I have to revise it again because the issue of undocumented Thai workers returning from South Korea just came in. I need to look back into the issue before making changes."
When asked directly why he deactivated his Facebook account after publishing the official memos from the Health Department, Anutin laughed and attempted to deflect the question onto another topic, according to Khaosod English.
The post was widely circulated up by both Thai and foreign media, including CNN, causing confusion for travellers who may have been coming from, or transiting through, the 11 destinations.
The Thai PM, or the Thai Government, have not issued any statements providing any clarity on the topic or explaining the actions of the minister.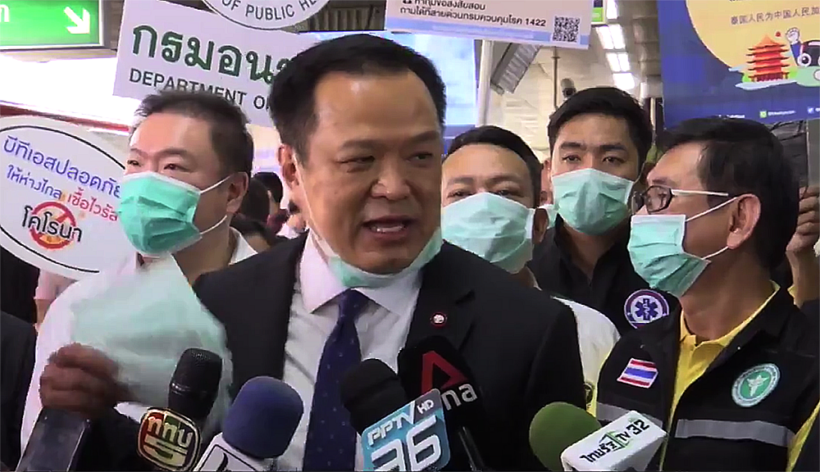 It's not the first time Thailand's Public Health Minister Anutin has attracted undue attention.
Last month he lashed out at farang "caucasian western" tourists for not accepting his free hand-outs of flimsy paper face-masks at a media gathering by the Health Department at the Siam BTS station last month.
Getting flustered, grasping one of the blue masks and waving it about, he suggested the foreigners should be kicked out of Thailand saying that they were putting others at risk.
"All farangs, those tourists… that's something the embassies should be notified about and the public as well that are not wearing masks."
He apologised the next day his Facebook page.
(We note that Minister Anutin and his minions were handing out the masks with their bare hands.)

Finishing up his remarks to Thai media yesterday Minister Anutin said…
"My son wants me to rest. In fact, I have many Facebook accounts to communicate with the public. Some of the posts were written by myself, while others by my team."
A rest sounds like a good idea.
SOURCES: Public Health Minister | Bangkok Post | Khaosod English
Keep in contact with The Thaiger by following our
Facebook page
.
Never miss out on future posts by
following The Thaiger
.
More local Covid-19 cases linked to women who worked in Myanmar border town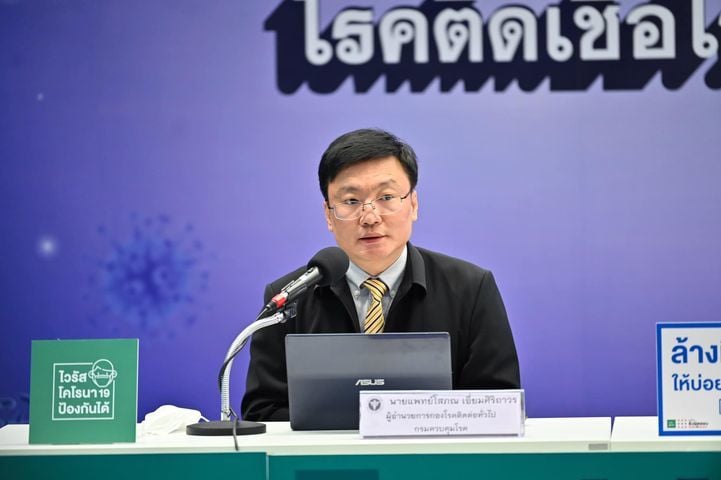 Health officials report 3 more Covid-19 cases linked to the 10 Thai women who tested positive after working in Myanmar's border town Tachileik. The women allegedly crossed the border illegally, evading immigration screening and the mandatory 14 day quarantine. Some travelled using public transportation to Chiang Mai, Bangkok, Phichit and Ratchaburi.
A 51 year old businesswoman from Sing Buri tested positive after travelling on the same flight as 2 of the now confirmed cases, according to director general of communicable diseases Sophon Iamsirithaworn. The flight was Nok Air flight DD8717 from Chiang Rai to Bangkok on November 28.
The businesswoman got an influenza vaccine on Monday. A few days later, she started getting body aches and other symptoms she assumed were related to the flu shot. The next day, she found out that 2 women with Covid-19 were on the same flight as her. She then got tested for the virus.
The 2 other new cases are Thai women returning from Tachileik.
The first confirmed local transmission linked to the women was announced yesterday. The 28 year old Chiang Rai man tested positive after coming in contact with 3 of the women.
Many of the women say they worked at entertainment venues and hotels in the border town. Some confirmed that they worked at the 1G1 Hotel. A Tachileik resident told Coconuts Bangkok that the coronavirus spread at the venue through commercial sex.
SOURCE: Bangkok Post
Keep in contact with The Thaiger by following our
Facebook page
.
Never miss out on future posts by
following The Thaiger
.
Covid-19 spread through commercial sex at Myanmar hotel, border resident claims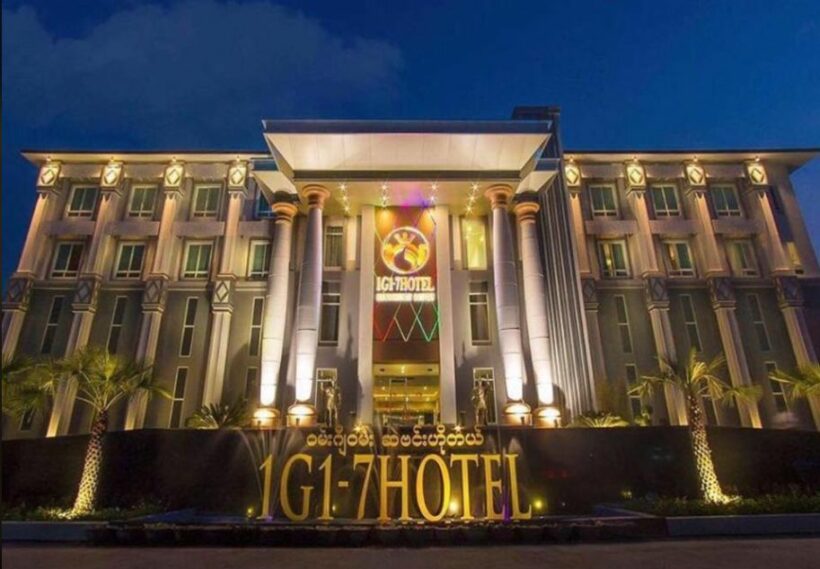 A resident of Myanmar's border town Tachileik claims a recent Covid-19 outbreak spread at sex venue parading as a hotel. 10 Thai women tested positive for the coronavirus after returning from Tachileik where they had worked. Some confirmed they worked at the 1G1 Hotel in the border town.
Tachileik resident Moon Saing told Coconuts Bangkok that the virus spread at the 1G1 Hotel after a group of "fat military generals" from Yangon, where infections continue to rise, had sex with Thai women working at the venue.
"It's 5,000 THB per session and some charge 10,000 THB to bring home."
While that's the only claim reported on hostesses at 1G1 Hotel offering sex services, a Facebook page that appears to be linked to the hotel advertises jobs for "beautiful women." One post offers a 3 day position to earn 30,000 baht, saying the "entertainment" job has "high class business customers."
The Facebook page was created in 2016 and named ร้าน 1G1 7Hotel งานพม่า งานท่าขี้เหล็ก งานเชียงราย, meaning jobs in Myanmar, Chiang Rai and at the 1G1 hotel. The name was changed a few days ago, taking out 1G1 hotel, according to Facebook page transparency information.
Another Facebook page under the 1G1 name links to a modeling website based in Bangkok's Lat Phrao area.
SOURCES: Coconuts Bangkok | Facebook
Catch up with the latest daily "Thailand News Today" here on The Thaiger.
Keep in contact with The Thaiger by following our
Facebook page
.
Never miss out on future posts by
following The Thaiger
.
150 Thai workers ask to be allowed home from Myanmar's virus-hit Tachilek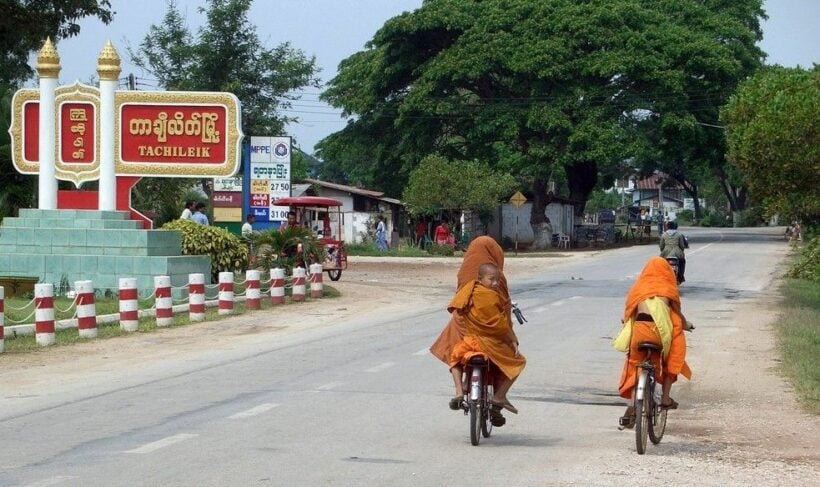 The Department of Disease Control says up to 150 Thai nationals have applied to return from Tachilek, as Covid-19 cases rise in the Burmese border town. The requests come as health officials attempt to trace hundreds who came into contact with a number of Covid-infected Thai women who crossed into the Kingdom illegally, bypassing health checks and quarantine. A man in Chiang Rai who had contact with the women has since tested positive for the virus.
A total of 10 women, all of whom were carrying the virus, are believed to have made the illegal crossing. 2 of them subsequently boarded flights to Bangkok and Phitsanulok. It's understood most of the women worked at a hotel and nightlife complex in Tachilek, called 1G1. Nation Thailand reports that around 180 Thai nationals work at the establishment.
Thai health officials say over 1 million volunteers are now being deployed to homes in border areas, to check for anyone who may have entered the Kingdom illegally. The Thai military is working with other relevant agencies to block the border crossing at the second Thai-Myanmar Friendship Bridge, in the Mae Sai district of Chiang Rai. At least 80 officials, accompanied by additional troops, are being deployed to check illegal border crossings.
Tachilek has reported 15 new cases of Covid-19, with the total number of cases in Myanmar now over 95,000.
SOURCE: Nation Thailand
Keep in contact with The Thaiger by following our
Facebook page
.
Never miss out on future posts by
following The Thaiger
.