Thai Health Minister laughs at media when asked about his 'travel restrictions' document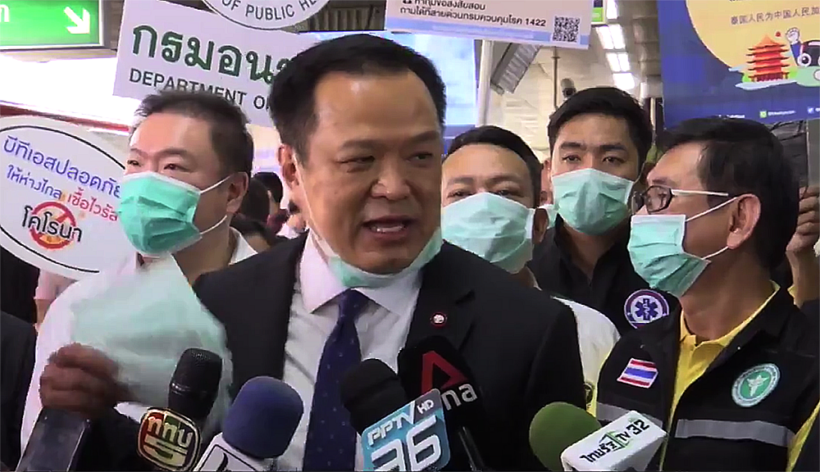 "When asked directly why he deactivated his Facebook account after publishing the official memos, signed by himself, Anutin laughed and attempted to deflect the question."
The Thailand government, specifically the gaffe-prone Public Health minister, has thrown the holiday plans of thousands into confusion after the Minister's orders for any new arrivals from 11 destinations to go into self-imposed quarantine (for the Covid-19 outbreak). He removed his Facebook post soon after posting the decision.
Then his official Facebook page was taken down altogether.
Tuesday evening's post said travellers from affected countries would be subjected to a 14 day quarantine "without exceptions".
The destinations were China, South Korea, Japan, Germany, France, Singapore, Italy, Iran, Taiwan, and the Chinese territories of Hong Kong and Macau.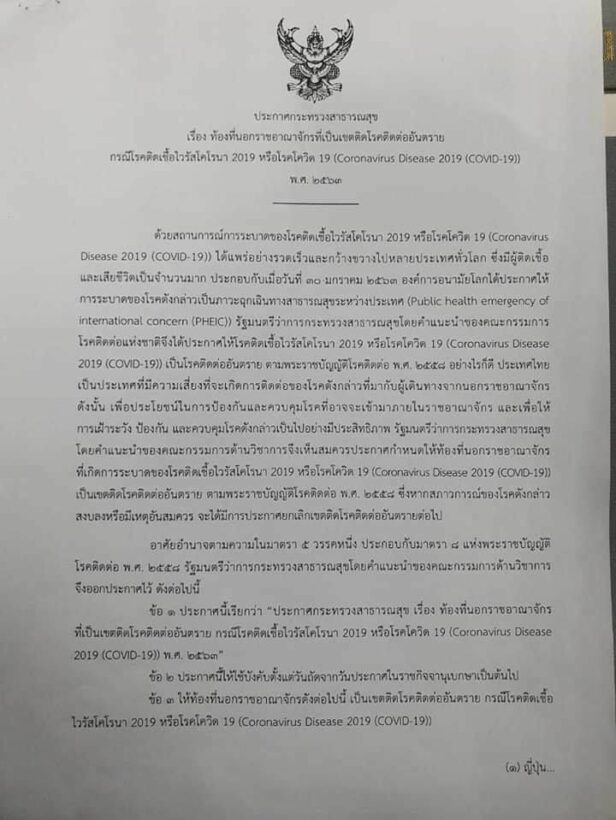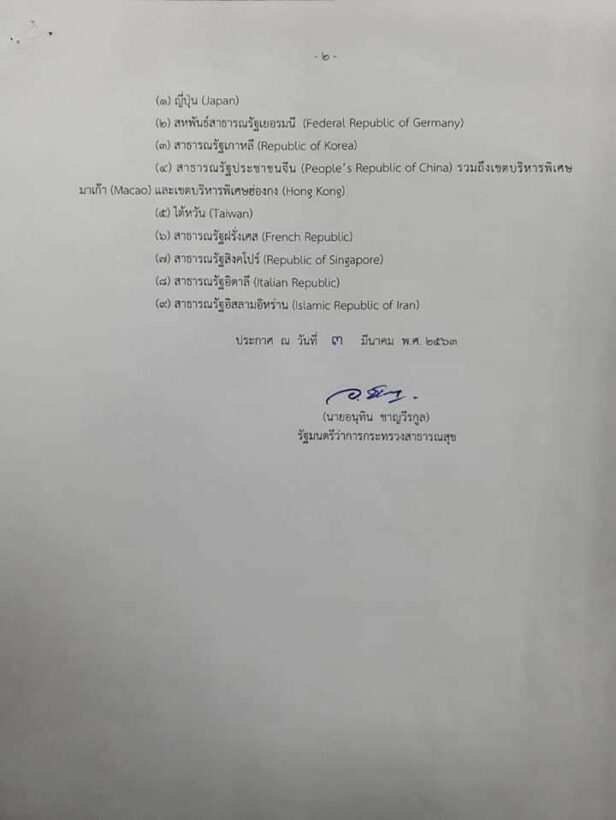 Twitter and Facebook did brisk business yesterday as Thais and foreigners posed thousands of questions about their travel plans. The situation was eventually hosed down by the Public Health Ministry spokesman Taweesin Visanuyothin. He said Minister Anutin's list of countries would have to be "reviewed".
"We have to wait which country would be designated as a risk country."
When Thai media reached out for comments from the Minister at Government House, Anutin denied any knowledge about the matter.
"I'm also wondering how the document ended up there, since I haven't signed it. (That's HIS signature on the bottom of the official letters). It's still in my room. I have to revise it again because the issue of undocumented Thai workers returning from South Korea just came in. I need to look back into the issue before making changes."
When asked directly why he deactivated his Facebook account after publishing the official memos from the Health Department, Anutin laughed and attempted to deflect the question onto another topic, according to Khaosod English.
The post was widely circulated up by both Thai and foreign media, including CNN, causing confusion for travellers who may have been coming from, or transiting through, the 11 destinations.
The Thai PM, or the Thai Government, have not issued any statements providing any clarity on the topic or explaining the actions of the minister.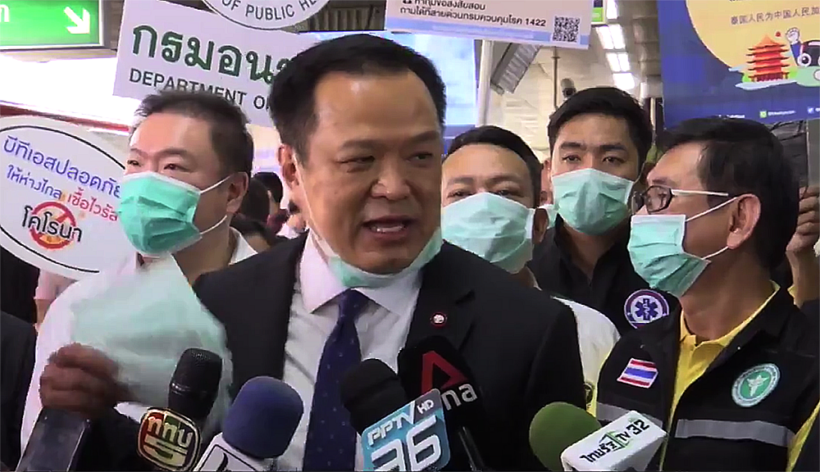 It's not the first time Thailand's Public Health Minister Anutin has attracted undue attention.
Last month he lashed out at farang "caucasian western" tourists for not accepting his free hand-outs of flimsy paper face-masks at a media gathering by the Health Department at the Siam BTS station last month.
Getting flustered, grasping one of the blue masks and waving it about, he suggested the foreigners should be kicked out of Thailand saying that they were putting others at risk.
"All farangs, those tourists… that's something the embassies should be notified about and the public as well that are not wearing masks."
He apologised the next day his Facebook page.
(We note that Minister Anutin and his minions were handing out the masks with their bare hands.)

Finishing up his remarks to Thai media yesterday Minister Anutin said…
"My son wants me to rest. In fact, I have many Facebook accounts to communicate with the public. Some of the posts were written by myself, while others by my team."
A rest sounds like a good idea.
SOURCES: Public Health Minister | Bangkok Post | Khaosod English
Keep in contact with The Thaiger by following our
Facebook page
.
Visa amnesty for foreigners – but conditions apply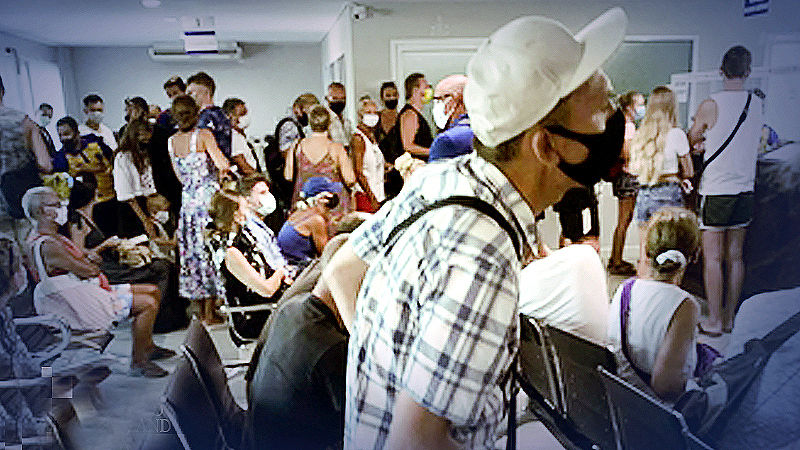 "All foreign nationals are advised to closely monitor the Immigration Bureau's website for updates, though the measures announced on Wednesday are valid until April 30 unless otherwise updated."
The visa amnesty has been announced, hopefully relieving some of the stress on stranded tourists and other foreigners that have ended up without flights or ways to get home. Many flights have been cancelled, confusion has made people miss flights or their home borders may have been closed.
The Immigration Bureau has now announced, after a few false starts, that it is granting visa relief for all foreign nationals who have found themselves marooned in Thailand. The announcement is now up on the bureau's website.
• Visas that have expired from March 26 onwards will be automatically extended to April 30.
• Foreigners are no longer required to apply in person for an extension at an immigration office
• They will not be charged 500 baht per day for overstaying their visa
• Foreigners who are due to file their 90 day reports, between March 26 and April 30, are also temporarily exempted.
• Foreigners with border passes will be allowed to stay in Thailand for now but will be required to leave Thailand within 7 days once the borders are opened again.
Tourists, expats and other visitors have been forced to queue up, sometimes in cramped or hot conditions, putting themselves and the immigration officials at risk.
Meanwhile, many Thais remain stranded overseas with the government's latest edict to allow only 200 Thais to re-enter the country each day so that quarantine facilities can be prepared for them – they will not be allowed to return to their homes until they have spent 14 days in a government-controlled quarantine area.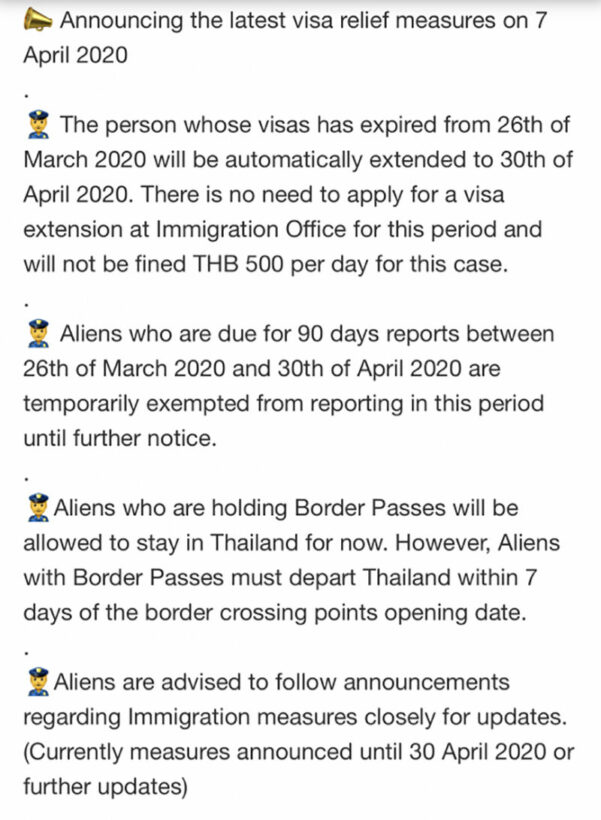 Keep in contact with The Thaiger by following our
Facebook page
.
BIG arrest on price gouging of Covid-19 safety gear and fake test kits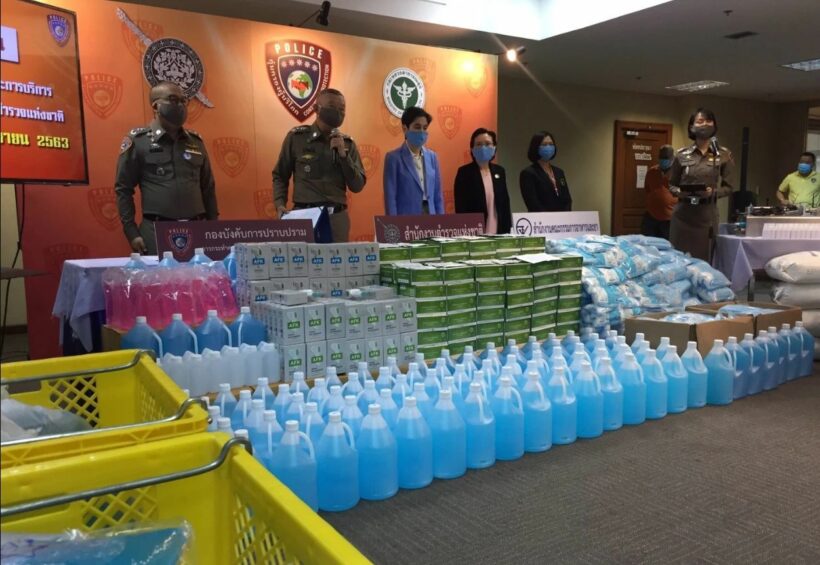 2 Chinese men identified as Chen Lei and Wein Pinpin have been arrested inside a home in Pra Khanong district, Bangkok, after officials received a tip-off that fake Covid-19 test kits were being smuggled into the country. 45,000 fake Covid-19 test kits, 350,000 medical masks, and 1,200 infrared thermometers were seized. The evidence was valued at 33,750,000 baht.
These items were being sold without permission at a extortionate prices in Bangkok area and nearby districts.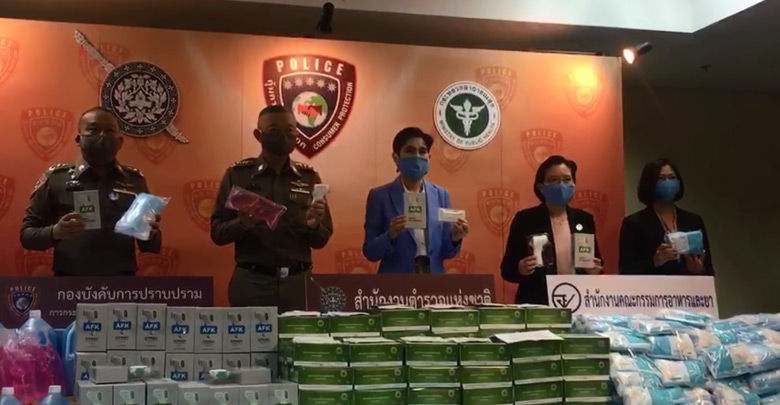 The Food and Drug Administration will be investigating to find out where the fake Covid-19 test kits were made, and who else is involved in importing them into the country.
Police and officials from the Consumer Protection Police Division and officials from the Food and Drug Administration have reported that a large pile of evidence is piling up as the crisis unfolds, including…
45,000 fake Covid-19 test kits, 350,000 medical masks, 1,200 infrared thermometers, 53,000 litres of alcohol, 7,896 bottles of fake hand sanitisers and 82,771 cosmetic items, valued around 50 million baht
The punishment for smuggling medical equipment is imprisonment of up to 1 year, and a fine not exceeding 100,000, or both.
All products claiming to be Covid-19 test kits online at the moment are all fake, according to the Thai FDA.
SOURCE: Thai Residents
Keep in contact with The Thaiger by following our
Facebook page
.
Koh Lanta restricts entry after 4 confirmed cases of Covid-19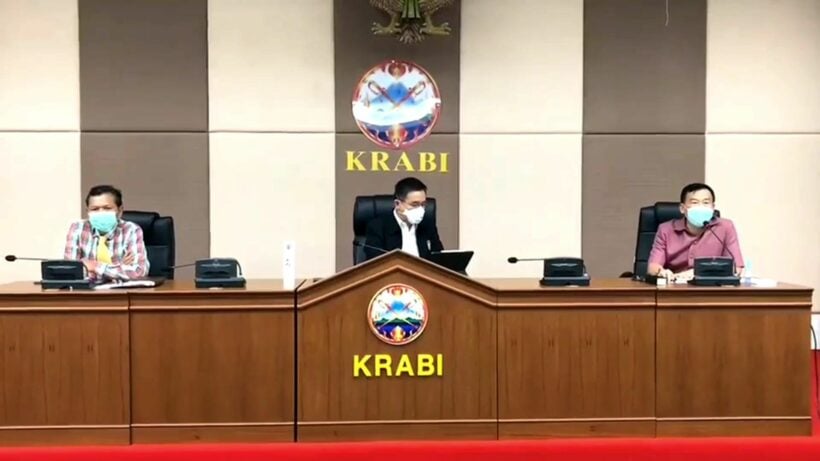 The beautiful Koh Lanta in Krabi province is to be shut down after 4 confirmed cases of Covid-19 infection were found on the island.
Today in an emergency meeting with the top executives of Krabi province, alongside 8 district sheriffs, Krabi's governor Kitibadee Prawit, says "further measures to prevent the spread of Covid-19 are being added as the 4 infected persons had been in contact with multiple people on the island. These contacts are being traced and tracked down by public health officials. "
Provincial authorities had to halt transportation between neighbouring districts. And announced in any case where local residents who need to move between districts must first get permission from their district chiefs.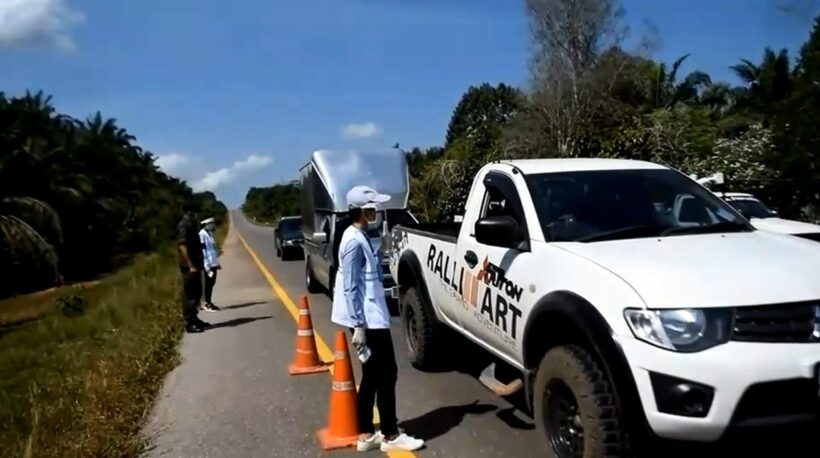 The lockdown of districts will last until April 24.
Meanwhile, from today to Friday officials will be investigating residents to identify the high risk personals affected by the 4 confirmed Covid-19 cases. Authorities in Krabi are also monitoring the Covid-19 situation closely in 227 locations, coordinating their efforts via the internet and the 'Zoom' video conferencing tool with neighbouring provinces.
SOURCE: The Nation
Keep in contact with The Thaiger by following our
Facebook page
.