Not much of an apology – Thai Health Minister's non-apology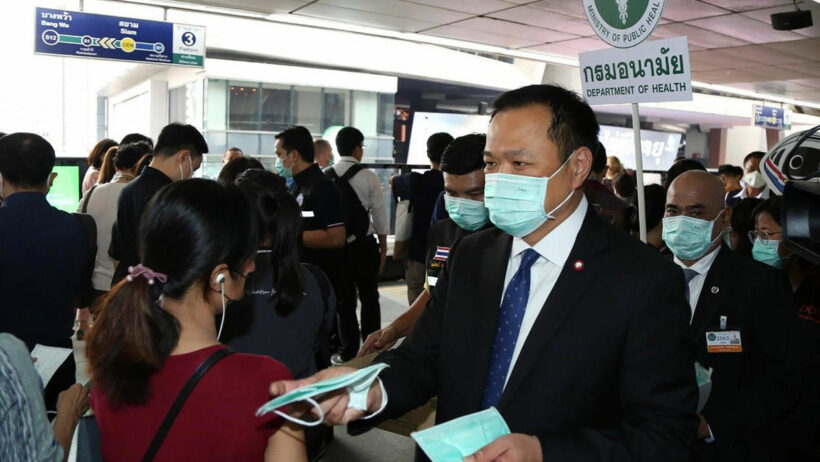 OPINION by Tim Newton
Yesterday morning the Thai Public Health Minister, Anutin Charnvirakul, also the head of the Bhumjaithai Party, lost his cool and struck out at 'Europeans' and 'damn farangs' (caucasians) saying they "should be kicked out" of Thailand for not wearing the cheap, flimsy paper face masks being handed out at the busy Siam BTS station as a government PR stunt.
Worthy as his attempts were, to press BTS travellers to adopt a precautionary attitude about the current coronavirus outbreak, mostly confined to China (all but 300 of the cases are within mainland China), his appearance did a lot more harm than good.
There was little right about the media presser from the start.
Flanked by his minions, all adorned with the flimsy pale blue face masks (which usually cost around 20 baht when the pharmacies aren't price-gouging the situation), he spoke about Thailand's success in limiting the outbreak within the Kingdom.
Just the day before he made another of his changes of mind saying that Thailand won't be closing its borders to Chinese travellers.
"Thailand's public health minister Anutin Charnvirakul now says imposing a travel ban on Chinese citizens won't help the government's fight against coronavirus 2019nCov epidemic."
A week ago he was insisting that Thailand would have to stop flights out of China, a proposal that was challenged by the Sports and Tourism Minister and eventually voted at last Tuesday's Cabinet meeting as "excessive".
Whether that decision was right or wrong, we'll leave that to the scientists and World Health Organisation to explain in coming months.
As Anutin started speaking to the awaiting media pack, ironically without his face mask in place, he noted that some 'farang' weren't taking the face-masks being offered.
"They don't care about the big picture. They don't have any consideration to the situation."
"… non-compliant behaviours of foreigners should be reported to embassies".
"All damn farangs, those tourists… that's something the embassies should be notified about and the public as well that are not wearing masks."
"We're handing them out and they still refuse. They need to be kicked out of Thailand!"
"We're giving the masks to them and they still refuse."
"The Chinese, the Asians… they are all taking the masks, but those Europeans… that's unbelievable."
THOSE Europeans, the 'farangs' he was deriding, have provided the back-bone of Thailand's growing tourism industry for decades until the Chinese started visiting Thailand in large numbers since around 2014. The numbers of Europeans have remained steady but, as a proportion, their percentage has been slowly dropping. But they're still a vital component to the Thai tourism mix.
But his later apology, mid afternoon on the same day, wasn't much of an apology. He apologised for his racially-charged remarks. He blamed his outburst… "on ill manners displayed by some foreigners".
So rather than unreservedly apologising for his comments he just doubled-down and blamed the foreigners again.
"I'm sorry for losing my temper to foreigners today. I couldn't tell where the foreigners came from or how much risk they pose."
"We expected respect and cooperation in mitigating the outbreak from them, not slapping our hands away or looking at us in a demeaning way.
But there was a venom behind his original outburst too, beyond the actual words themselves, that was particularly worrisome. Beyond the venom was a tinge of racism that should concern anyone who is 'caucasian' and living in, or visiting, Thailand. The rant, from a minister, officially appointed by the Head of State, was inappropriate, ill-considered and reflected poorly on the Prayut Government.
If you've lived in Thailand over the term of the Prayut military, and recently quasi-democratic, government, you'd know that that there's been a push (or is that 'putsch') to make it more difficult for foreigners to reside and work in the Land of Smiles. Of course the Thai government are well entitled to make foreigners jump through as many hoops as they want – it's their country.
There has been a few ill-tempered comments coming from Immigration officials, and even the Deputy PM Prawit Wongsawon, in the past, blaming foreigners for Thailand's problems. But this was probably the most direct reflection of those inner racial tensions coming to the surface in front of 50 cameras recording his every word.
And his words, caught in sharp focus on numerous cameras, and republished in hundreds of articles, are making the round in world media. It's not a good look.
Thailand's health minister lashed out at "Western" tourists on Friday for not wearing face masks and suggested they be expelled from the country for putting others at risk during the coronavirus outbreak – France24
Some tourists refused to accept the surgical masks, prompting his comments. He later apologised on his Facebook page for "losing it" – Bloomberg
Even the word 'farang' is one that makes a lot of 'white' foreigners bristle. When used by the vast majority of Thais, it's just a word that's been used for centuries to describe the 'round-eyed' white foreigners. Similar terms have mostly disappeared from polite discourse in the west. The indigenous Australians, are no longer referred to as 'black fellas' and the word 'negro' is considered utterly verboten in the US. Similar terminology has vanished in civilised conversation around the world because it's now recognised as racially-charged and a completely unscientific way of defining the disparate tribes of humans. Anthropologically, we are all one race – the human race.
But there's still plenty of residual racism around the world, not the least in Asia where historical hatreds will take generations to pass. Maybe us 'farang' were too hopeful that the easy-going Thais, with their willing smile and accommodating culture were too good to be true. Maybe we ARE all just walking 'white' ATM cards afterall, ready to be siphoned as we plough through the myriad 'misunderstandings' and paperwork obstacle courses at the Immigration offices. We're just deep pockets of cash to visit Thailand as tourists, then leave, please.
Despite Anutin's outburst, it should be discussed why he was there in the first place. It was a well-timed PR opportunity at Bangkok's busiest BTS (Skytrain) station, just after the morning peak. The Bangkok press were invited to witness his grand gesture of handing out the ubiquitious pale blue paper face masks to passengers.
If Thai people, or anyone else in the world, hasn't already realised that wearing a cheap, poorly-fitting piece of paper will do approximately NOTHING to protect you from Coronavirus, then you haven't been doing your homework. The face masks, properly fitted, are a useful tool for doctors and clinicians in close contact with infected patients. They are also useful in helping prevent coughing and sneezing patients from spreading their germs.
But the virus in not 'airborne' and isn't floating around waiting for you to walk into it (which appears to be the way many think it is transmitted, judging by their behaviour).
Even the World Health Organisation has published papers and websites about the unsuitability for wearing of paper face masks as a prevention for the current coronavirus outbreak. Indeed, it's much more about washing your hands and avoiding touching your face when around infected patients. Anutin would have been better handing out washing basins and hand sanitisers if he wanted to be helpful.
And this guy is the Health Minister…. you know, the Minister of Health!! He should 1) know better 2) have been given better advice and 3) saved the government money and stayed back in his office reading the WHO published material.
Dear Minister, click below…
Keep in contact with The Thaiger by following our
Facebook page
.
No virus cover-up, PM tweets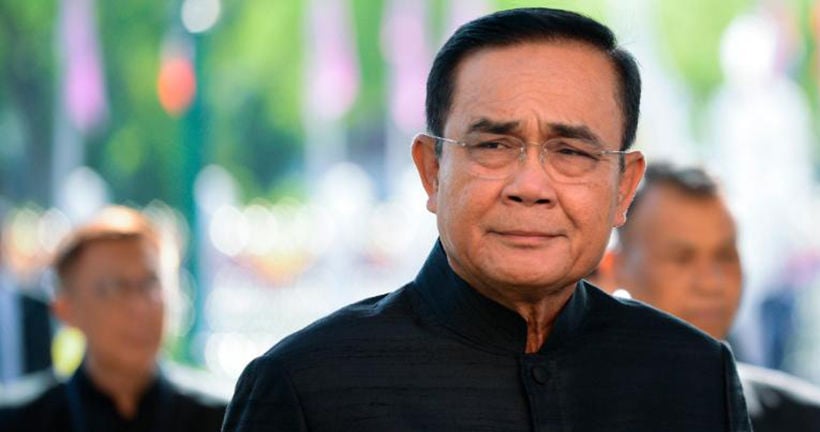 PM Prayut Chan-o-cha went on Twitter yesterday, in an apparent bid to counter "fake news," and announced there is no COVID-19 coronavirus cover-up happening in Thailand. He insisted the government is neither hiding nor distorting the number of infections in the country and said citizens should "gain confidence" in its remarkable success managing the disease. Earlier in the day, Prayut had urged the public to stay calm and not share "fake news or hate speech" about the virus threat, "because everyone, especially medical personnel, will be working on it until the crisis has passed."
Although several countries have expressed admiration for Thailand's ability to stem the spread of the virus, some foreign experts on disease control have doubted the small numbers of confirmed and suspected cases officially reported. Thailand has reported a total of 35 confirmed cases, seventeen of whom have made full recoveries, and has reported no fatalities
"The situation in Thailand today is still in a range we can cope with, and the government will take care of all affected sectors of society."
The PM came out of an afternoon meeting at Government House on the virus issue, saying the Cabinet will soon announce measures to support entrepreneurs who have been affected by the outbreak.
"Measures already taken have been able to control the situation effectively, but we plan to introduce more to help society cope and more again if the outbreak evolves to the next level. Meanwhile it's important to shore up the production and distribution of protective facemasks, which is still falling short."
Businesspeople, especially in the tourism sector, who've been hurt by the virus can count on state assistance, Prayut told reporters
"The virus has had an impact on all businesses, so we must resolve the problem in a comprehensive way. I thank all government agencies for their cooperation in helping solve these problems."
SOURCE: The Nation
Keep in contact with The Thaiger by following our
Facebook page
.
Coronavirus cases more than double in South Korea to surpass 150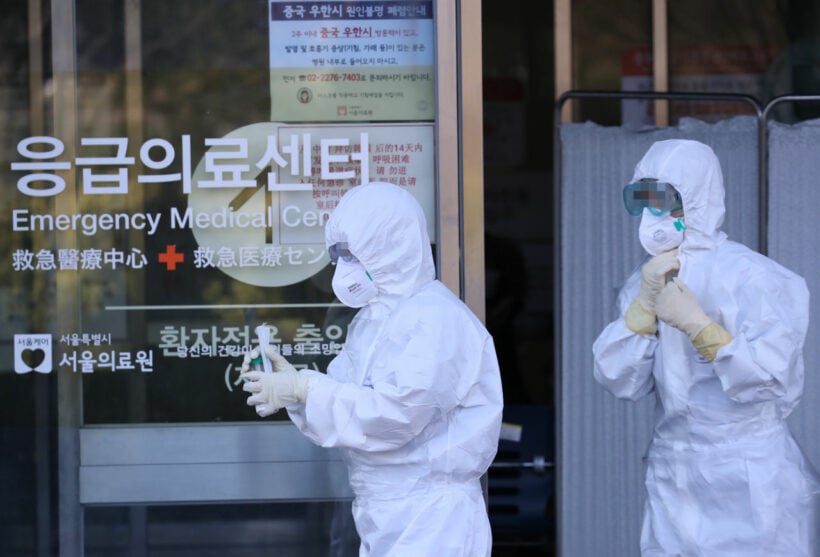 South Korea has reported its first death from the COVID-19 corona virus. The government reports that a 63 year old man, who died Wednesday, tested positive for the virus in a post mortem examination. The exact cause of his death has yet to be determined. He died in North Gyeongsang province, where he had been hospitalized for over 20 years, according to the Korean Centers for Disease Control and Prevention (KCDC).
A 10:30am today, the total number of infected people in South Korea stood at 156, with 70 of them in Daegu and nearby North Gyeongsang Province. Most of the cases have been traced to a church in the city that a 61 year old woman, confirmed as the country's 31st patient on Tuesday, had attended. Daegu fears becoming Korea's Wuhan, with largest cluster outside of China: in just 24 hours through yesterday afternoon, the area saw 53 new cases confirmed. Among the new cases, 39 people are linked with the Sincheonji Church of Jesus, a Christian sect to which the 61 year old woman, who tested positive Tuesday, belongs.
KCDC Director Jung Eun-kyeong said 1,001 church members who attended services with the woman are now in self-isolation at home. But the agency is leaning toward the possibility that the woman could have contracted the virus via a secondary infection. She is considered to be a potential "superspreader."
In a phone survey conducted by health authorities, 90 church members indicated having symptoms so far, although 396 could not be reached.
President Moon Jae-in vowed to mobilise all available resources to Daegu during a phone conversation with Mayor Kwon Young-jin. The central government plans to send medical professionals and facilities to help the city deal with snowballing cases.
Vice Health and Welfare Minister Kim Kang-lip says the country is facing a new situation that requires a different response.
"At this stage, (the government) has judged that COVID-19, which has been flowing in from overseas, is spreading locally with a limited scope."
He added that cases where the source of infection is unclear are emerging in Daegu and the capital, Seoul. There are at least 20 coronavirus patients whose transmission path is unknown.
South Korea is now one of the countries that has reported the highest tallies outside mainland China, along with Japan, Singapore and Hong Kong.
SOURCE: The Nation
Keep in contact with The Thaiger by following our
Facebook page
.
Coronavirus UPDATE: S Korea tops 156 cases, Ukrainians attack evacuee bus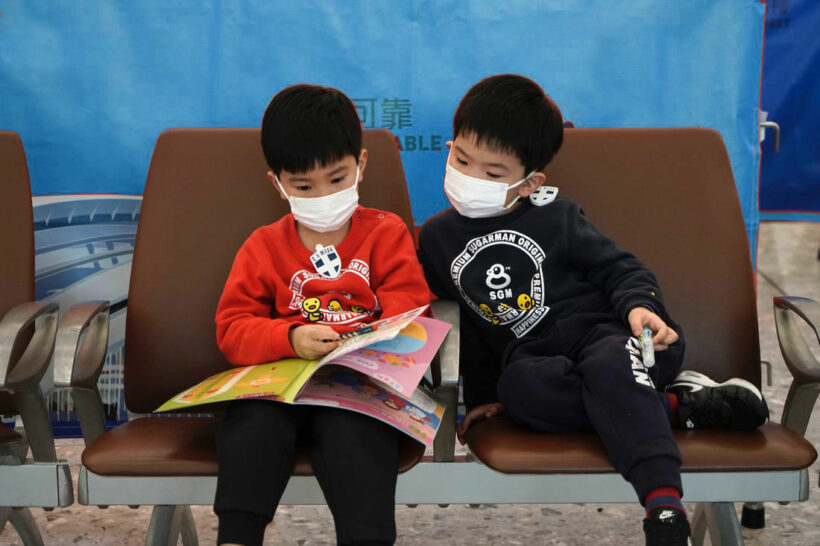 The total number of infected worldwide cases of coronavirus (Covid-19) stands at over 76,735. At least 2,247 people are now dead from the virus, with all but 11 of those deaths in mainland China. 18,561 people are now registered as 'recovered' from the virus. The fatality rate still sits around 2%.
• There has been a sharp spike in new cases of the virus in South Korea according to the country's Centres for Disease Control and Prevention. A total of 52 new cases have been diagnosed in just one day, bringing the total number of infections in the country to 156.
Among the new cases, nearly 40 are linked to the Shincheonji Church of Jesus in the southern city of Daegu. Authorities are now attempting to test the entire congregation.
South Korean President Moon Jae-in and Chinese President Xi Jinping spoke on the phone yesterday, agreeing to share information about the two countries' clinical treatment experiences.
President Xi told Moon that "the Chinese people has broken away from the initial fear and are seeing the prospect and hope of overcoming the infectious disease."
• Dozens of protesters in a Ukraine town have mobbed buses carrying evacuees from coronavirus-hit China. The evacuees were being brought to a hospital in the central Poltava region, where they will be quarantine for 14 days.
Many residents fear the virus could spread through the town, which has a population of about 10,000. Earlier yesterday, 45 Ukrainians and 27 foreign nationals were flown from Wuhan in China, the epicentre of the deadly outbreak, to eastern Ukraine. Six buses then drove them to the hospital in Novi Sanzhary, where they were met by demonstrators lighting bonfires and hurling stones.
The country's health ministry says none of the passengers were sick, whilst the Ukraine PM has issued statements trying to calm the panic in the town.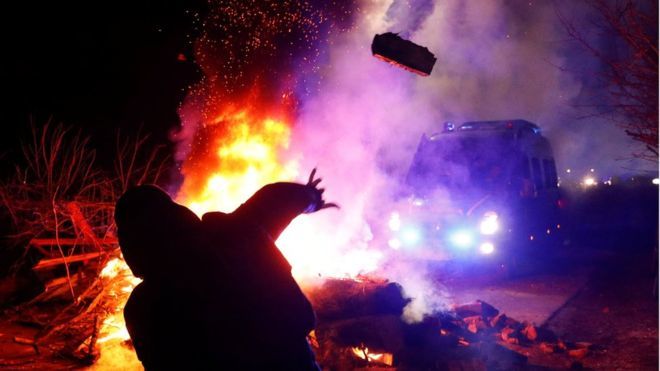 PHOTO: Protesters in the Ukraine react violently to the arrival of a bus load log evacuees from China
• 11 people evacuated from the Diamond Princess cruise ship, marooned in Yokohama Bay, and flown out by US authorities on February 17, have tested positive for the novel coronavirus. 13 of the US evacuees were taken to the University of Nebraska Medical Centre for testing. All but two tested positive.
Ten of the evacuees taken to UNMC remain in a quarantine unit, while three others are in a state Bio-containment unit, according to the release.
• Meanwhile, 2 passengers from Australia, also evacuated from the Diamond Princess cruise ship in Japan, have been diagnosed with the coronavirus. 164 evacuees from the cruise ship arrived at the Howard Springs Quarantine Facility yesterday to begin a 14 day quarantine period.
6 passengers were identified to have minor respiratory symptoms or fevers and were moved into isolation and tested. 2 tested positive for the virus.
Australia now has 17 confirmed cases of the novel coronavirus with 11 people registered as "recovered".
• In further scientific research, the new coronavirus (SARS-CoV-2) spreads mostly through respiratory droplets and contact with infected patients. But new research suggests that it can also spread through feces.
There are currently more cases of coronavirus than would be expected if the virus were spreading only through respiratory droplets and contact with infected patients. The report was published February 15 by the Chinese Centre for Disease Control and Prevention.
Previous tests have found that the coronavirus can be present in faeces, but it was unclear if the virus would be 'viable' and able to spread to another person, according to a previous Live Science report. So, a group of researchers analysed stool samples from patients with coronavirus.
According to the Live Sciencewebsite, they isolated the coronavirus from one patient who had severe pneumonia and examined the virus under an electron microscope. They found that the coronavirus was viable.
"This means that stool samples may contaminate hands, food, water, etc. People who use the bathroom and then don't wash their hands could spread the virus to others, for instance."
Keep in contact with The Thaiger by following our
Facebook page
.