Top Ten Things to know about taking a bus from Phuket to Bangkok (or back)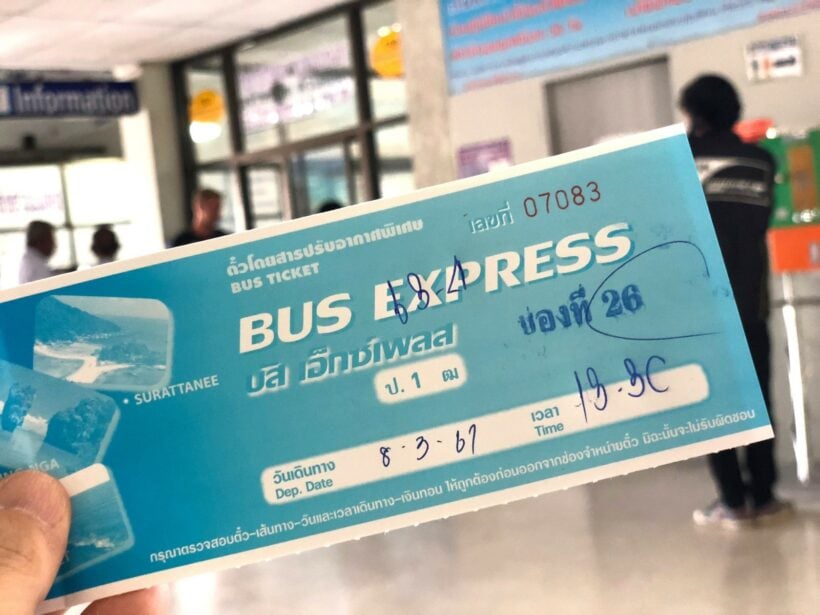 So you need to get from Phuket to Bangkok, or Bangkok to Phuket? You have choices of flying, driving or taking a bus. As the flight prices remain cheap and the services generally numerous and reliable, the buses have plenty of competition on their hands. But they are a cheaper option and you'll certainly see more of the countryside along the way. But there are few things you need to know…
1. Choices of bus
You have plenty of choice of style of buses, prices and times. Most of the bus services leave from the Phuket Bus Terminal in Thepkasatri Road, between Phuket Town and the Bang Khu intersection. We chose a VIP Express bus service (more about that later). The buses are generally in better condition than the one plying the island packed with Chinese tourists which seem to rely on a lick of paint and a few prayers to hold them together. Most of the buses we saw at the various terminals were in good condition and some of them fairly new. You will need a bit of patience to find the right window to buy your ticket and someone who speaks Thai will make your life a lot easier and get you on the right bus at the right price. They left the 'service' out of Bus Service here but was better at Bangkok than Phuket. There are a few food outlets around the terminals at both ends and eager car and motorbike taxi drivers to get you to your next location. The food outlets are there for a reason, you'll find out why later.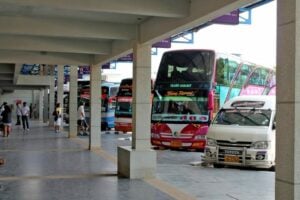 2. VIP buses
Growing up we though VIP stood for Very Important Person. When it comes to Thailand's buses VIP stands for Vague Inconsistent Pricing. There are a number of better buses with only three seats across, compared to the usual four across, but you'll have to ask a few questions to ascertain that you will actually be on one of the 'first class' buses or just an ordinary 'VIP' bus. All the buses heading to Bangkok are air-conditioned (more about that later too), usually have a small snack of biscuits and a bottle of water. The distinction between the three-seats across and four-seats-across buses was a bit difficult to figure out. Bottomline, the better, more comfortable seating costs more, up to 1,000 baht for the journey, depending on your chosen company. The 'usual' VIP tickets cost less than 700 baht. If your ticket is less than 700 baht you'll be in a four-seats-across bus.
3. Express buses
Again, my poor understanding of the word 'express' led to another surprise about the bus services to and from Bangkok and Phuket. I, stupidly, assumed that Express Bus Services would stop infrequently and zoom me to my destination on a magic flying carpet.
That, in fact, is not the case.
Express buses stop often and sometimes for no particular reason. The Mercedes bus (a VIP Express service) had 90% of the seating upstairs with the driver, his assistant, a toilet (ummm, more later as well), luggage, the engine and about 8 extra seats for those who were happy to travel directly behind the driver's curtain and were keen on listening to whatever was shuffling on his smartphone through very loud, but cheap, speakers. So, from the lofty heights of the top floor we knew little what was going on downstairs or why they needed to stop so frequently. But they did. Sometimes the driver leapt out of the coach and signed something, sometimes something suspicious was loaded into the back (mmmmm), sometimes a person appeared out of the darkness and jumped into a vacant seat. Sometime the bus just stopped for a few minutes. In all cases, none of the stops helped improve the reputation of the word 'Express'.
4. Glacial 1
I asked, when purchasing the ticked, how long it would take in the journey from Phuket to Hua Hin. 10 hours! It was around 8 or 9 according to Google Maps in a car so I thought that was reasonable. Try 12 hours! Don't think that I'm whinging here because Trip Advisor comments about the same services mostly make the same comments about the glacial pace of the buses and the later-than-anticipated arrival times. Just keep that in mind when planning your trip. Our journey north took us via Ranong – six hours up the west coast, through Khao Lak, before making a right hand turn and heading across the isthmus to Chumpon and then up the Gulf of Thailand coast from then on. Probably not the fastest route but understandable as it went through a lot of the tourist hot spots in Phang Nga and would be a popular way to get to Ranong for those doing a visa run (and I think a lot safer than the visa-run buses zooming up and down the same road). All said, our driver was excellent although he had a penchant for tooting his horn whenever passing a motorbike or when another bus came from the other direction, which was every 30 seconds or so!
5. Glacial 2
When Mr. Carrier invented air-conditioning in 1902 he surely had no idea how enthusiastically it would be applied by VIP Express buses plying the roads in the Land of Smiles. The operators provided each seat with a light blanket. When getting on the bus you look at the blanket thinking it might provide a nice little folded support for your lower back or your neck. But an hour into the ride you realise that the blanket is actually essential for your survival. Don't jump on board in your skimpy shorts, singlet and sandals without taking some accessories appropriate for an Arctic expedition. Again, Trip Advisor posters all raved about the high effectiveness of the air-conditioning. It was FREEZING and no amount of adjustment to the perfunctory vents above or sign-language to the bus assistant could improve the situation. Take a warm jacket and wear long pants – you've been warned!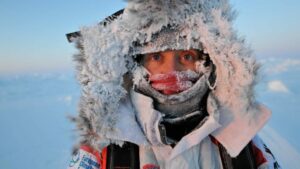 6. Snacks and eating
You would have thought, with all the stops, that there would be plenty of chances to jump out, stretch your legs and zoom around a local 7/11 for a quick snack. No. If you don't stock up with something to eat you will likely have to travel for 11 hours or more (travelling north from Phuket) before you get a chance to get off the bus. About an hour out of Hua Hin there is a large, and very 'Thai', bus stop-over where there were 40 or more similar coaches with semi-frozen, rather stunned, tourists and locals disembarking. As a farang you may be challenged to find something to eat unless you feel just a little adventurous. There wasn't even a 7/11. I found some delicious noodles. Then again, after 11 hours of rumbling away on the top floor wondering when the ordeal would end, I would have eaten anything. Take some provisions or become chummy with the person sitting next to you who was smart enough to pack something to eat. The packet or Oreos and single water bottle was never going to last the whole journey.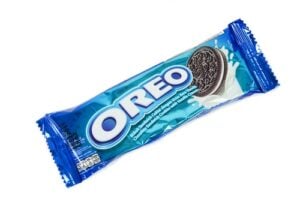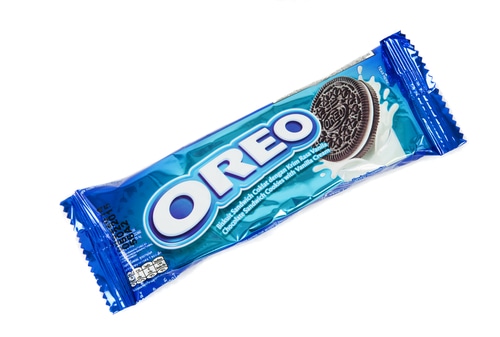 7. Toilets
Probably the less said the better. It seemed clean enough but nothing worked and the door wouldn't close. Probably going to vary a lot from bus to bus. I didn't have anything to eat or drink so it didn't really matter. The toilets at the bus stop about an hour out of Hua Hin had excellent and super clean toilets.
8. Seats for pygmies
I fly a lot. I am used to small budget airline seats. I am not particular tall, or large (173cm, 72 Kilos). But the seats on the buses were made for people a lot smaller than I. Now the seats on the three-across arrangement were better than the four-across arrangement. But both had a short squab – the bit you sit on. There was NO way I could get comfortable in these seats, no matter what I did. And you're sitting for a LONG time. Lumbar support was zero. The seats were clean. The mechanism for reclining on my seat didn't work despite 'experts' from the seats around me all giving it a try. The seats would recline, about 20 degrees, and a foot support would raise up to support your calves. Well all that probably worked well in the factory with Peter Drinklage as the test pilot. But they were just bloody uncomfortable for a short-than-normal farang. Take a pillow.
9. Value for money
On the plus side the seats are reasonably cheap, even if you score a real VIP bus with the better seating for less than 1000 baht (one way). The other obvious option is jumping on an aeroplane or driving. In both cases it's going to cost you more and, in the case of flying, you'll end up with a 30-60 minute trip into the middle of the island or the middle of the city (depending which direction you're travelling) from the airport. At least with the bus you are taken into the middle of the island or at least the outskirts of Bangkok. It's cheaper than driving yourself and probably a lot less stressful.
10. Options
There are more flights per day than there are buses per day so you'll have a lot more choice and probably be able to control your timing a lot more with the flying option. The bus arrival times were a long way from reality. BUT, if you have a strong bladder, don't mind freezing air-conditioning, have patience, will sleep through a nuclear war and are not particularly fussy, the bus is your cheapest option.
The roads, mostly are either perfectly good – it's mostly a dual carriage-way on the main Phuket-Surat Thani-Bangkok road – or under improvement. Our route through Khao Lak and Ranong was single lanes in both directions and the road across the isthmus from Ranong to Chumpon has a lot of roadworks going on as of March 2018. Don't expect a movie although. If your TV's actually work, I'm assured the movie does have English sub-titles. But, hey, you're not going for the movies, you're trying to get from A to B and, for that, the buses work perfectly well as long as you don't expect everything to be perfect along the way.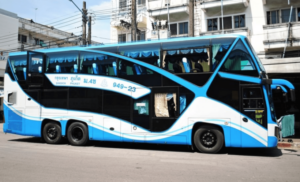 I travelled from Phuket to Hua Hin and then onward to Bangkok. The trip from Phuket to Hua Hin took a full 12 hours, and Hua Hin to Bangkok another 4.5 hours – it's a LOT of time. So take your snacks, plenty to drink, upload a few movies onto your laptop or phone, take some warm clothing and enjoy the ride! Tim
- Tim Newton
Bangkok: Female's head and body parts found in bags north-east of city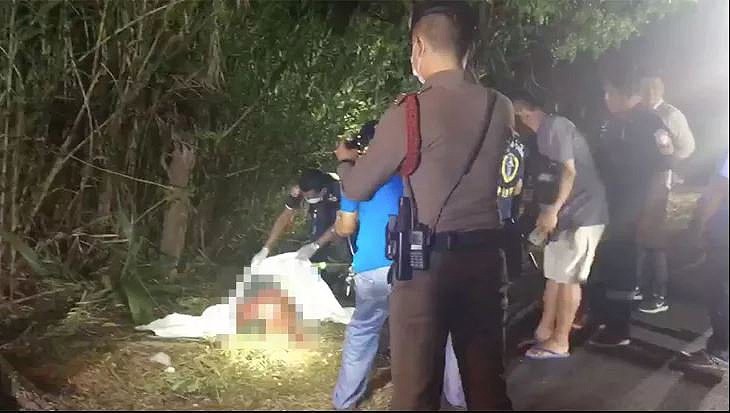 PHOTOS: Thai Rath
The mutilated body of a female has been found in the Soi Klong Samwa, in the north-eastern outer suburbs of Bangkok. Minburi police, forensic experts and members of the Por Teck Tung Foundation headed to the location where the body was found.
In a shoulder bag, wrapped in a black rubbish bin liner, was the head of a long haired woman.
Several metres away were two fertiliser sacks that police believe contains the torso and body parts of the victim. The body parts are believed to have been in the sack for three or four days. The location of the grisly find was about 1 kilometre down a small soi and was found after local residents smelt a bad odour.
Police are continuing their investigating.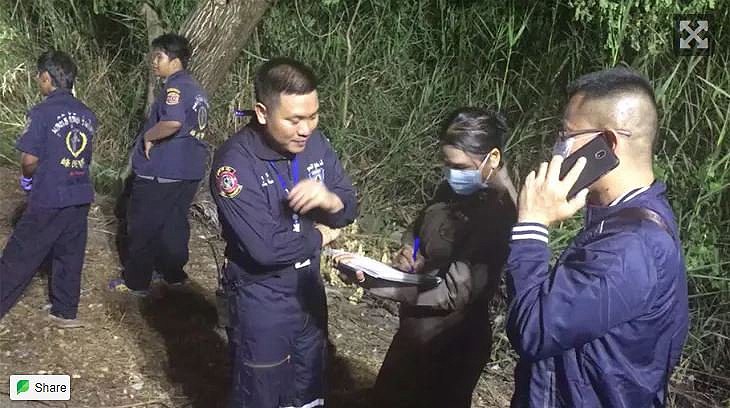 Ladyboy job applicant turned down over her sexuality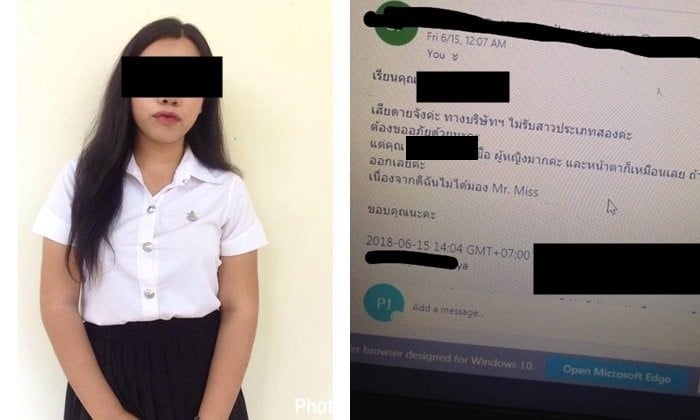 PHOTO: Sanook
A recently graduated lady boy has taken to Facebook to claim that she was turned down for a job at a trading company because she was discriminated against based on their sexuality.
She posted a screenshot of an email in which the company said "sorry but we don't accept type two women" ('Type Two Women' is the term used in Thai language for ladyboys.)
Reaction from friends and netizens was swift – they asked… "What era is this?" condemning the email and the company.
One poster said that they should be glad they turned them down – they are clearly not a professional company, reported Sanook.
Legislation exists in Thailand whereby those who believe they are the victim of sexual discrimination can make a case in such circumstances.
STORY: Sanook
Some of the responses on social media over this issue on ThaiVisa…
From 'Greenchair' – They are over 18, they are not boys at all. They are men. Or transgender men to be precise. Most understand this and prosper very well in the areas of life where they can excel. Such as healthcare services, in the beauty industry, elderly care, fashion, jewellery. A company that was involved in male body building might not be suitable. Be who you are and get over it for goodness sake. 
From 'Bluesofa' – Sexual prejudice. Perhaps the ladyboy might be taken to court for masquerading as a female?
From 'Bluebspunk' – People have the right to be identified as the gender they know them selves to be. It's not a choice, it's who they are. Companies should not be allowed to discriminate against someone because of who they are. This applies whether they are gay, straight, transgender, male, female.
Meet Bangkok's friendly neighbourhood midwife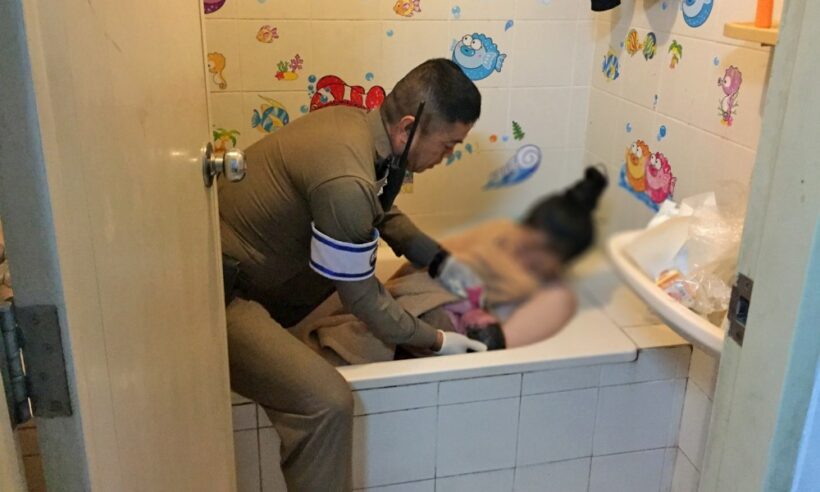 A traffic police captain, trained under a project initiated by HM the late King Bhumibhol Adulyadej, has helped another mother deliver a baby girl. This is the 33rd child born with his assistance.
Pol Captain Pichet Wisetchok, a deputy inspector of Traffic Police Sub-division 6, rushed to M Palace Apartment on Soi Chokchai 4 in Bangkok's Wang Thong Lang district at 6.20am yesterday morning when he was informed that a woman was in labour and might be unable to get to her local hospital in time.
Finding 27 year old Iraya Deeprasit in labour in her bathtub, he helped her give birth to a girl weighing 3.1 kilograms. After the girl – Iraya's second child – was delivered safely, a medical team from Rajvithi Hospital arrived and took care of the mother and baby, before taking them to Paolo Hospital on Soi Chokchai 4.
Pichet is well-known among social networkers who have been tracking his record of assisting mothers to delivery on roads or in other emergency cases. His fans say he is more capable than a gynaecologist.
Pichet was trained under a project initiated by the late King when Bangkok's traffic congestion had become so bad that pregnant women were often caught in traffic and had to give birth on the city's streets.

SOURCE: The Nation