Thousands of Japanese rescuers looking for survivors of Typhoon Hagibis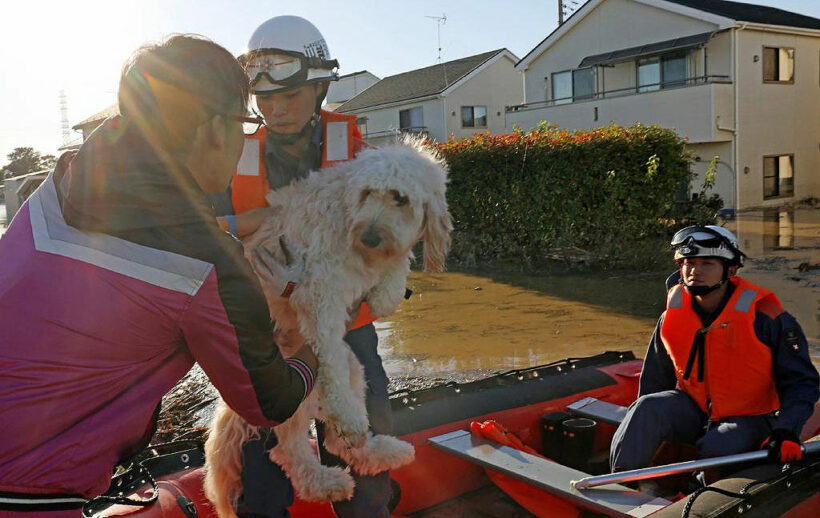 Thousands of rescue workers are searching for survivors from the fury of Typhoon Hagibis, two days after the storm slammed into Japan. As of the time of this post, the storm had killed at least 35 people.
(Video from Sky News below…)
Hagibis crashed into the country Saturday evening, but brought hours of torrential rains before it made landfall, causing landslides and filling rivers until they burst their banks.
More than 110,000 rescuers, including 31,000 troops, worked through the night searching for people trapped by the disaster. Local media report at least 35 people have been killed, with the Kyodo news agency reporting nearly 20 people were missing. Government figures from Sunday night were lower, though updates were expected throughout today.
While Hagibis, one of the most powerful storms to hit the Tokyo area in decades, packed wind gusts of up to 216 kilometres per hours (134 miles per hour), it was the heavy rains that caused most damage, with 21 rivers bursting their banks.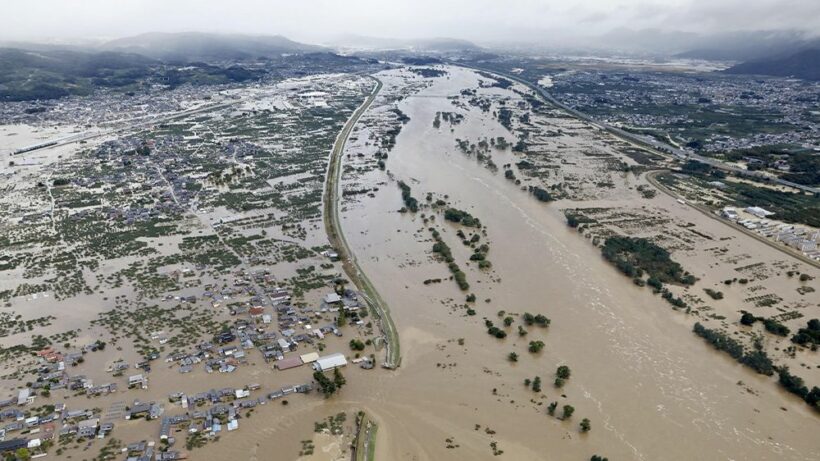 In central Nagano, a levee breach sent water from the Chikuma river gushing into residential neighbourhoods, flooding homes up to the second floor. Military and fire department helicopters winched survivors from roofs and balconies in several locations, but in Fukushima one operation went tragically awry when a woman died after falling while being rescued.
The destruction forced the Rugby World Cup being hosted by Japan to cancel several games, but the "Brave Blossoms", as the national team is known, lifted spirits with a stunning 28-21 victory over Scotland on Sunday that put them into the quarter-finals of the tournament for the first time.
Rescue efforts have been continuing this morning, with local television showing soldiers rowing a rubber rescue dingy through floodwaters in Fukushima, while elsewhere workers removed dirt with a digger.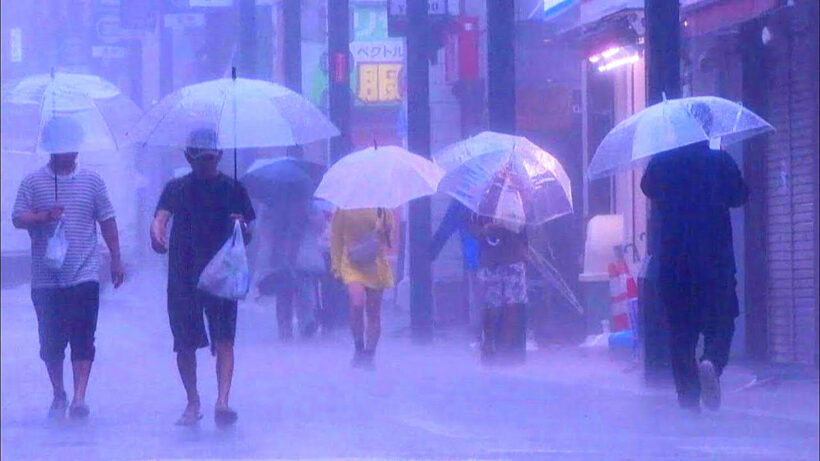 The death toll mounted throughout yesterday as bodies were recovered from flooded homes and cars, buildings caught in landslides, and swollen rivers.
The dead included a municipal worker whose car was overcome by floodwaters and at least five Chinese crew members aboard a boat that sank in Tokyo Bay on Saturday night.
As of this morning, some 57,500 households remained without power, with 120,000 experiencing water outages. The disaster left tens of thousands of people in shelters, with many unsure when they would be able to return home.
But most subway trains have resumed service, along with many bullet train lines, and flights had also restarted.
SOURCE: Agence France-Presse PHOTOS: AFP
Want more from the Thaiger family?
📱 Download our app on Android or iOS for instant updates on your mobile
📧 Subscribe to our daily email newsletter
👍 Like/Follow us on Facebook
🔔 Subscribe to or Join our YouTube channel for daily video updates


Find more SE Asian News courtesy of Thaiger.

Broke? Find employment in Southeast Asia with JobCute Thailand. Rich? Invest in real estate across Asia with FazWaz Property Group. Even book medical procedures worldwide with MyMediTravel, all powered by DB Ventures.

Today's Chinese rocket debris not expected to hit land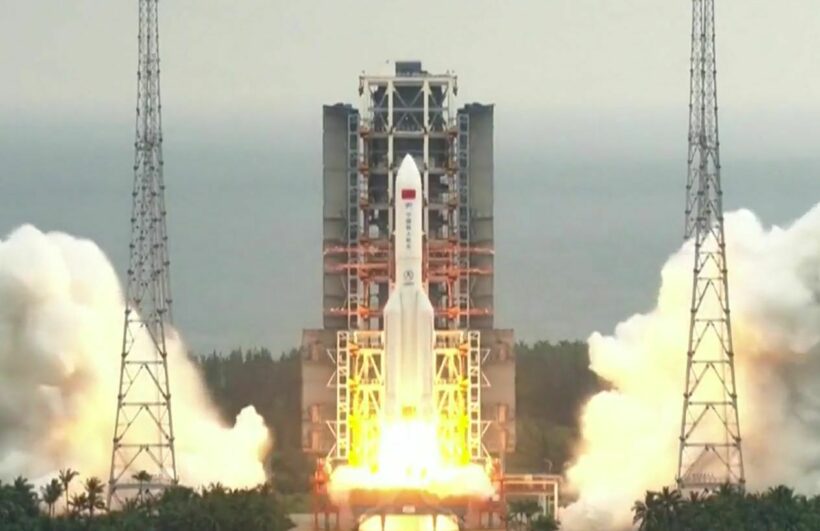 A Chinese Foreign Ministry spokesperson has assured the public that the debris from a large rocket re-entering the atmosphere today is not likely to do any harm. They said the majority of the Chinese rocket will mostly be burned up on re-entry. The Long March 5B rocket left the Earth on April 29th, launching from Hainan island in China.
This launch was the first part of an 11 part mission to construct China's own space station in Earth orbit. The Long March 5B rocket was carrying an unmanned Tianhe module as its payload, the first part of many to be constructed together in space. When attached as part of a permanent Chinese space station, it will serve as living quarters for future astronauts.
The Foreign Ministry spokesperson reassured that China is monitoring The rocket's journey very closely and that most parts of the spacecraft would burn up on re-entry. Any debris looks likely to land in international oceans, and the chances of damage being done on dry land is considered to be extremely low.
The re-entry is scheduled for today but the exact path of the rocket debris could not be completely determined in advance. The US military announced earlier in the week that the rocket would be tracked by US Space Command, calling it an uncontrolled re-entry. Statistically speaking, the debris is most likely to fall into an ocean somewhere as the Earth is 70% covered by water, but an astrophysicist at Harvard commented to Reuters that there is a chance that pieces would not burn up completely and would land on solid ground.
As the rocket tears at hypersonic speed into the Earth's atmosphere, most debris would be quickly incinerated by the heat generated from the re-entry. But another Chinese Long March 5B rocket fell to Earth last year in May 2020 and some parts did hit land, doing damage to some buildings in the Ivory Coast.
Projections based on the current orbit path yielded very broad results, with debris possibly landing anywhere in between Northern cities like Beijing, Madrid, or New York, to cities as far south as Wellington New Zealand or southern Chile. For now, Thailand seems safe from Chinese debris as they prepare for their own space programs.
SOURCE: Reuters
Want more from the Thaiger family?
📱 Download our app on Android or iOS for instant updates on your mobile
📧 Subscribe to our daily email newsletter
👍 Like/Follow us on Facebook
🔔 Subscribe to or Join our YouTube channel for daily video updates
Like Songkran, Sri Lanka New Year's brings Covid-19 wave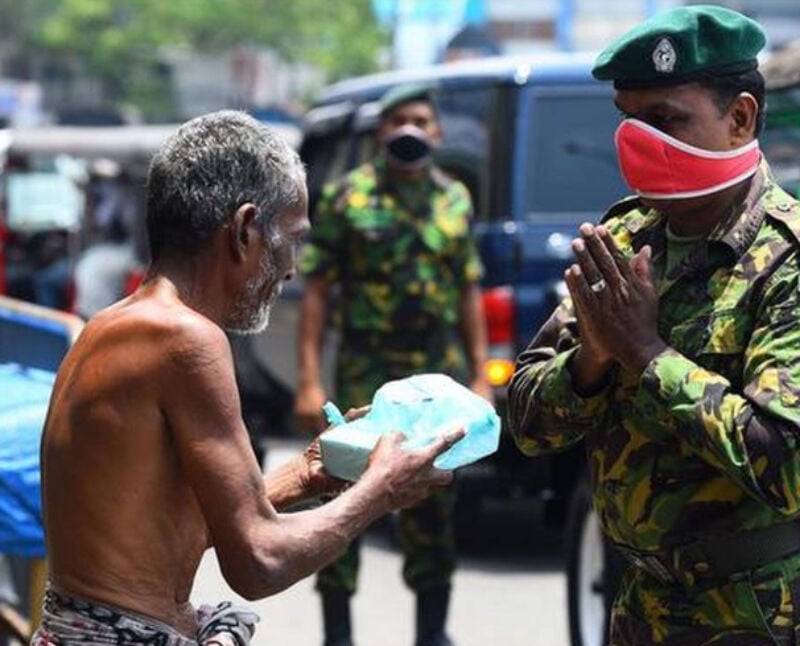 Sri Lanka has seen a huge wave of new Covid-19 infections in part due to large New Year's celebrations in mid-April at the same time as Thailand's Songkran Festival. From the beginning of April until now, the island nation has experienced a fivefold increase in daily cases, with 1,895 infections reported yesterday. February had previously been the worst month in Sri Lanka's Covid-19 history, but figures are much worse now.
On April 13 and 14, large gatherings crowded the street to celebrate Sri Lanka's New Year's holiday. The day before, Sri Lankan President Gotabaya Rajapaksa address the nation with hope, saying that after cancelling festivities the previous year, everyone working together to reduce Covid-19 had allowed New Year's activities to take place this year. Authorities felt that Covid-19 was contained in Sri Lanka and, while they did stress health and safety guidelines, the president encouraged the celebration of the holiday.
"It is my hope and expectation that all citizens without any discrimination will join the Sinhala and Tamil New Year celebrations with fresh hopes, determination, and righteous thoughts."
But the celebration was too soon, and by April 27, Sri Lanka was recording 1,000 Covid-19 infections per day, the first time this milestone had been reached since the Covid-19 first appeared. Lockdowns in more than 100 areas began, with private functions banned and school shuttered, but it was too little too late. 13 of the 25 administrative regions of Sri Lanka are now in lockdown, as the nation fights to rein in this Covid-19 wave.
As of now, the deadly Indian variant has not been found just across the water in Sri Lanka, but the B.1.1.7 variant has been prevalent in the recent quick spread of infections. Now Sri Lanka looks towards mass Covid-19 vaccination as the only solution, but jabs are in short supply. An order of 600,000 AstraZeneca vaccines from India's Serum Institute did not arrive and only 1 million out of 21 million Sri Lankans have been fully vaccinated. 5 jabs have been given per 100 people, less than half that of India, which has inoculated 12 out of every 100 people.
Sri Lanka has now isolated itself from neighbouring India, sealing its border. The Navy is patrolling the waters to keep Indian fishing boats away from their shores. All flights from India have been cancelled and banned as well. Sri Lanka has followed in the footsteps of Nepal and Bangladesh before them in closing itself off from their Covid-19 infested neighbour in hopes of limiting the spread and not reaching the levels of catastrophe that India has.
Read about the current Covid-19 situation in countries around South and Southeast Asia: Cambodia, India, Indonesia, The Maldives, Nepal, Sri Lanka and Thailand.
SOURCE: CNN
Want more from the Thaiger family?
📱 Download our app on Android or iOS for instant updates on your mobile
📧 Subscribe to our daily email newsletter
👍 Like/Follow us on Facebook
🔔 Subscribe to or Join our YouTube channel for daily video updates
With Indian neighbours sealing borders, Maldives welcomes tourists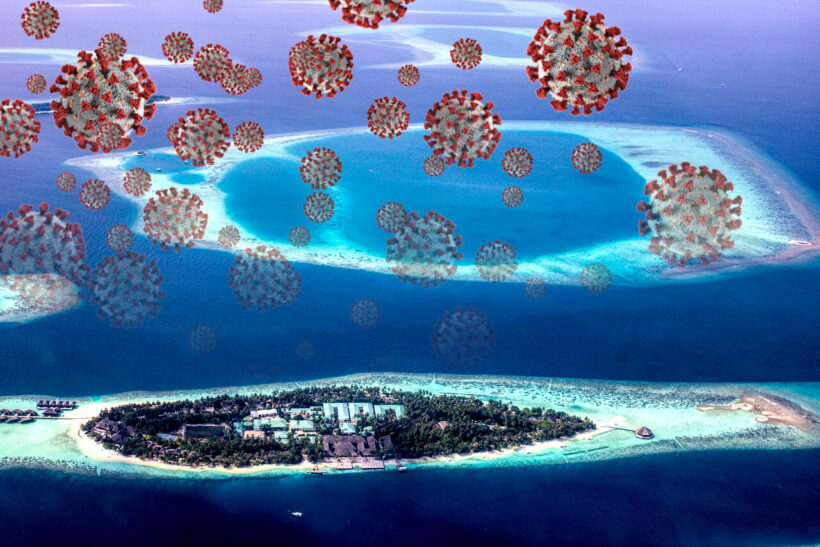 Tuesday saw a new Daily Record for Covid-19 cases in the 26 islands of the Maldives, with 601 new infections. The tiny nation's Health Emergency Operations Centre reported this week that hospitalisations due to Covid-19 had tripled in a few days and they suspect that a new variant may now be present in the country.
The capital city of Malé and the areas around it are by far the most densely populated part of the sparse country and has now enacted a curfew from 9 pm to 4 am. People can go out only for essential reasons, and delivery services are allowed to operate only with a permit from the police.
At just 298 square kilometres, the Maldives is Asia's smallest nation by land and its population of just over 557,000 people is the second smallest, bigger than only Brunei. The Maldives is doing better than neighbouring countries on its Covid-19 vaccination process, with more than 400,000 doses already administered. That's 76 vaccines per 100 people as compared to India's 12 jabs per 100. But still, only 21% of the Maldivians population has been fully vaccinated.
But the Maldives is a country extremely reliant on tourism and they were the first to triumphantly reopen their borders after 3 months of lockdown last July. Just last month, government officials had announced vaccines on arrival for travellers, in an effort to attract the so-called vaccine tourism market, where people from countries unable to provide vaccines have looked to go abroad to get their jab. The plan was to be implemented only after the citizens of the Maldives were fully vaccinated against Covid-19 though and has not taken effect yet.
Their biggest tourism problem though is that 23% of their visitors are from the Covid-19 plagued nation of India. According to the Maldives Ministry of Tourism, the neighbouring country has received 70,000 Indian visitors just in the first 3 months of 2021, more than double the total number of tourists from India in 2020. Even now, as all of India's neighbours rushed to seal their borders, the Maldives still has no restrictions from India, welcoming wealthy and elite travellers, including many Bollywood stars.
Read about the current Covid-19 situation in countries around South and Southeast Asia: Cambodia, India, Indonesia, The Maldives, Nepal, Sri Lanka and Thailand.
SOURCE: CNN
Want more from the Thaiger family?
📱 Download our app on Android or iOS for instant updates on your mobile
📧 Subscribe to our daily email newsletter
👍 Like/Follow us on Facebook
🔔 Subscribe to or Join our YouTube channel for daily video updates