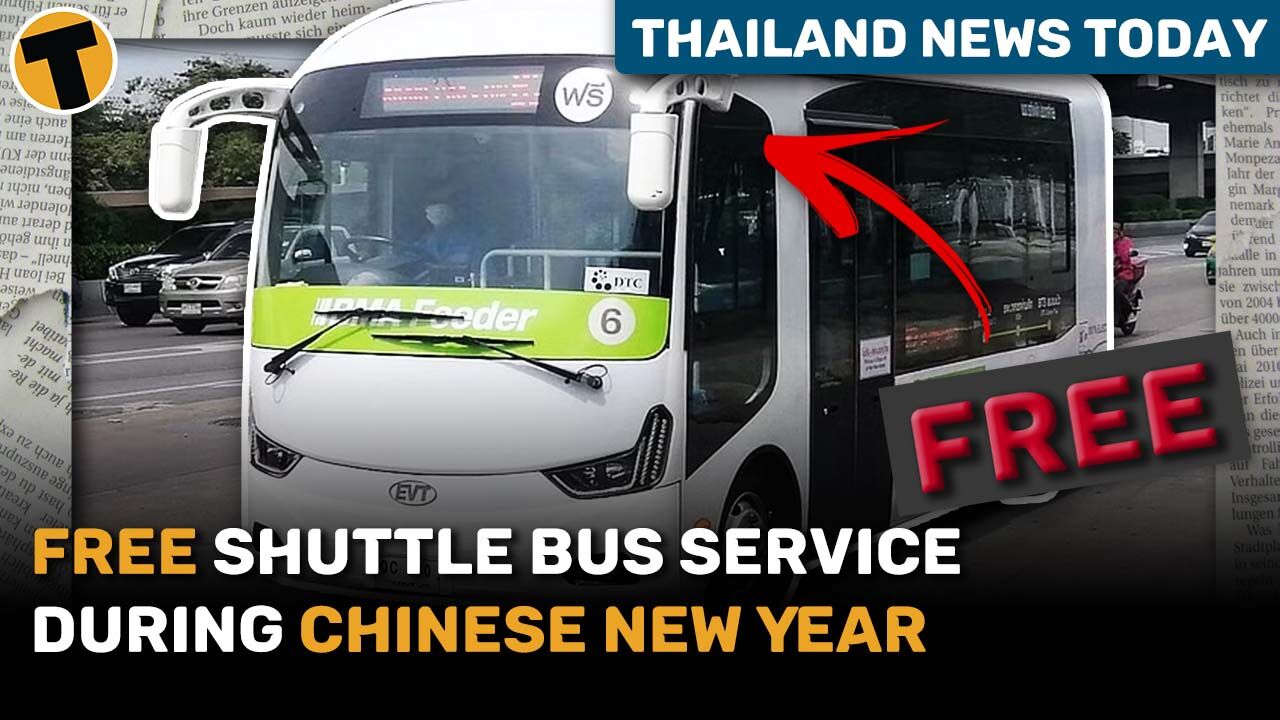 Free shuttle bus from Yaowarat to Khao San for Chinese New Year
The Bangkok Metropolitan Administration (BMA) is providing tourists with free shuttle buses between Yaowarat Road and Khao San Road from tomorrow until January 23 to celebrate the Chinese New Year.
Deputy Bangkok Governor Wissanu Subsomphon announced yesterday that the BMA would temporarily operate a Yaowarat-Khao San Road BMA Feeder to facilitate tourists and reduce traffic jams during the Chinese Spring Festival, also known as the Lunar New Year.
The BMA Feeder shuttle buses will be available for free from tomorrow, January 20 to Monday, January 23 from noon until midnight. The route starts at เยาวราช Road and ends at Khao San Road.
For the return trip, the bus departs from Khao San Road, and ends at Yaowarat Road.
The BMA Feeder is a trial project which is launched to facilitate residents who live far away from the main public transportation like the Airport Rail Link train, BTS, and MRT. BMA Feeder free shuttle buses will help facilitate those commuters, especially during rush hour.
————————————
Thailand tourism forum pushes innovation centerstage as industry leaders debate the future of hospitality
Thailand Tourism Forum (TTF 2023) returned to Bangkok on Monday 16th January 2023 for its 12th annual edition to debate the issues and inspire future concepts.
Running under the theme "Innovation in Hospitality", the creative half-day event featured top-level speakers and discussions on key issues set to influence the industry in the months and years to come.
An 800-strong crowd of travel and hospitality professionals took part and heard how Thailand's tourism machine needs to reinvent itself and become a pioneering force in branding, design and technology if it is to emerge stronger and more sustainable in the post-pandemic era.
The event was opened by Bill Barnett, Managing Director of C9 Hotelworks, who set the tone of the event with his speech explaining "Why Thailand Must Innovate".
————————————
Walk-in driving license services now available in Thailand
Obtaining a new driving license or renewing an old one just got easier in Thailand.
Walk-in services are now available at transport offices nationwide without the need to book an appointment.
Anyone wanting to renew their Thai driving license can obtain an 'eLearning' theoretical training certificate through the Department of Land Transport or DLT's website, which also has a "for foreigner" option.
To renew your license, bring your 'eLearning' certification and medical certificate to any transport office in the country. You are not required to book an appointment.
Alternatively, those wanting to renew their license without obtaining an eLearning theory certificate can train and take a test at any of the DLT's offices, so long as they bring their original driving license, ID, and medical certificate with them. However, it will take longer.
Additionally, holders of two-year driving licenses who wish to change to five-year driving licenses, as well as people needing replacements for lost or damaged licenses, and those applying for the first time in Thai or English, can use the walk-in service too.
Offices will serve those who booked an appointment in advance first. Walk-ins will first have their documentation examined by an officer before being given an appointment time to return.