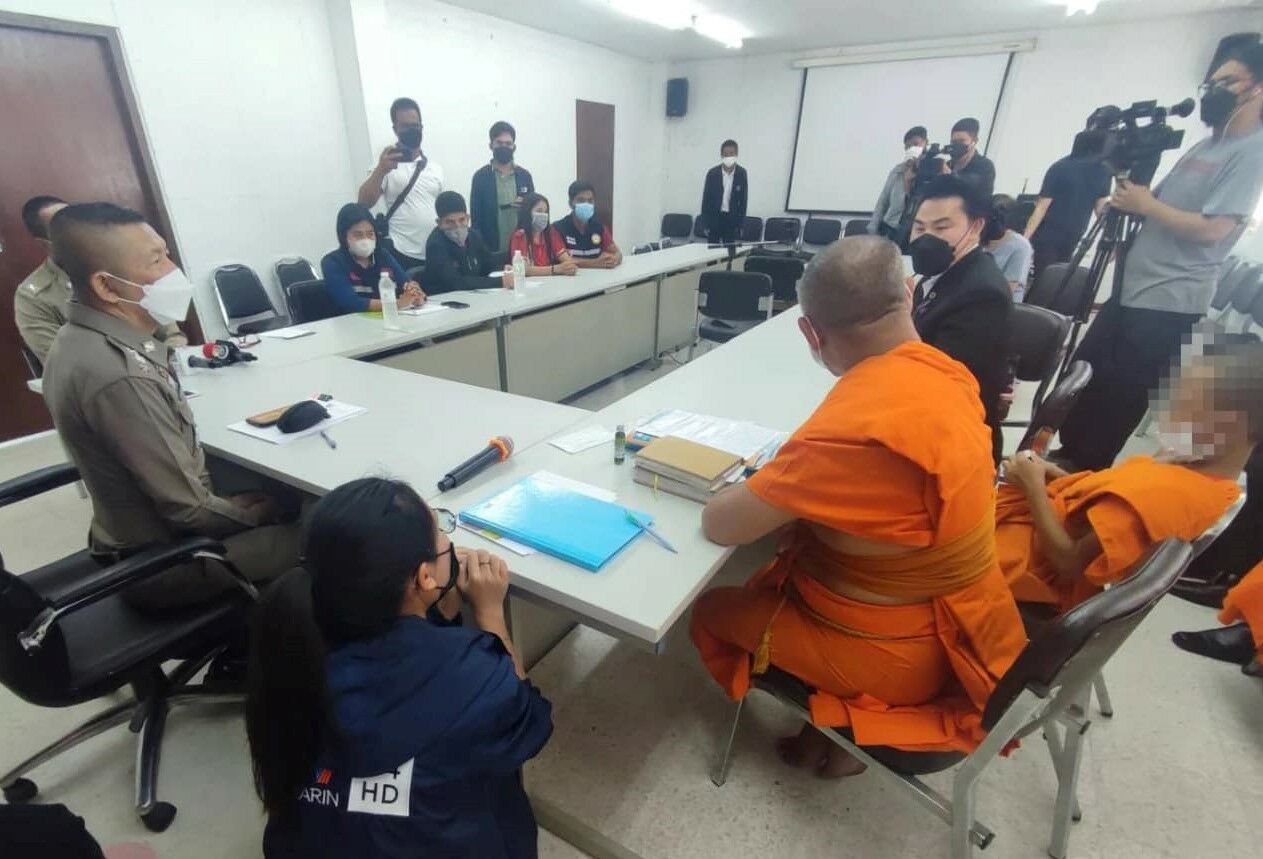 The wife of a police officer has been accused of swindling 110,000 baht from a 10 year old Burmese novice monk.
The Ministry of Justice awarded the child the allowance after his father was jailed for murdering his mother. The arresting officer took pity on the boy, named Marwin, and asked his wife to submit guardianship forms so they could look after him. They were approved by the Court and the couple was officially named as the child's guardians.
Channel 3 news reported that Marwin became a novice at the Udom Pararam Temple in the western province of Prachub Khiri Khan after his drug-addict father was arrested for murdering his mother.
The police officer, Sakesan, who arrested the boy's father felt sorry for the young boy and wanted to help take care of him. So, he urged his wife, On-anong, to submit a guardianship request to the Court, and it was approved.
The Ministry of Justice provided the Burmese boy with 110,000 baht in compensation. But, because the child does not have Thai citizenship he could not open a bank account to keep the money. So, On-anong presented herself as a money keeper and deposited the money into her bank account.
The abbot of the Udom Pararam Temple, who took care of Marwin, says he tried and failed to contact On-anong after she received the money. He said On-anong disappeared for four months so the abbot contacted the police and media.
Sakesan and On-anong spoke to the media and denied the accusation. On-anong said she did not spend Marwin's money.
On-anong revealed that she invested 30,000 baht in special Government Savings Bank lotteries so Marwin can earn more interest and have a chance to win a jackpot prize. The other 80,000 baht is still in her bank account.
On-anong added that she would return the money to the boy when his father is released from jail or gets a new guardian.
Sakesan said that he was working at the police station every day and the abbot could meet him there at any time if he wanted to discuss anything. He questioned why the abbot did not visit him at his office.
Kui Buri Police Station superintendent Pharuehat Sangprasert interviewed all parties and decided to open a new bank account for the money and the Kui Buri district chief would take care of the account until the novice has a new guardian.
The report did not reveal how long the novice's father would be jailed but according to Section 288 of the Criminal Act, he could face life imprisonment or imprisonment from 15 to 20 years.
After he is released, Marwin and his father could be deported from the country. The money is to assist Marwin with his studies and daily living until his father is released.