At least 6 deaths in Bangkok suspected to be caused by new illicit drug cocktail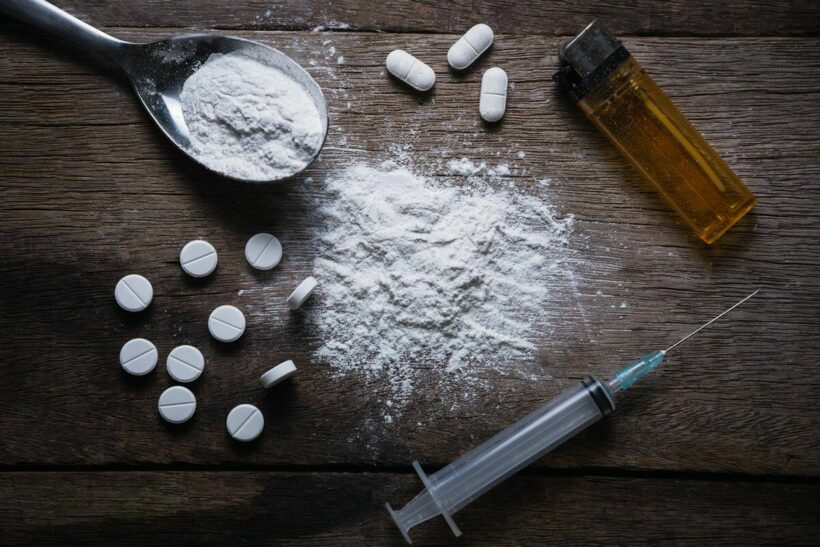 A cocktail of narcotics known as "K powdered milk" is suspected to be linked to a number of deaths among young Thais in Bangkok. Nation Thailand says the narcotic mix is suspected to have caused 6 deaths and others were found unconscious after taking the "K powdered milk." Thai PBS reports that 7 young Thais have died from unexplained reasons and at least one of them is believed to have overdosed on the drug cocktail.
The "K powdered milk," or "K Nompong" in Thai, is a mixture of ketamine, heroin, methamphetamine and a sleeping pill known as "Rose," police say. When crushed together, the drugs resemble milk powder. Police say the drug cocktail gives users a rapid high and it can be fatal if overused.
A 22 year old nightclub dancer died and police suspect she overdosed on the drug cocktail. Police say the woman was found at her home in the Bang Kho Laem area. Her boyfriend was found near her in serious condition. Police say narcotics were found at the scene.
A 22 year old man was found dead at a home in Bangkok's Rama 3 area. Rescuers say they found traces of "K powdered milk."
Police also got reports that some teenagers in Bangkok's Sai Mai district were hallucinating off the drug cocktail and had tried to kill people, according to Nation Thailand.
The deaths of 6 young people suspected to have overdosed on the drug cocktail were reported in different areas of Bangkok. The bodies were taken to Ramathibodi and Chulalongkorn hospitals for autopsies.
SOURCES: Thai PBS World | DMSC| Nation Thailand
Keep in contact with The Thaiger by following our Facebook page.
Never miss out on future posts by following The Thaiger.
Bangkok's air quality is 'unhealthy' today | VIDEO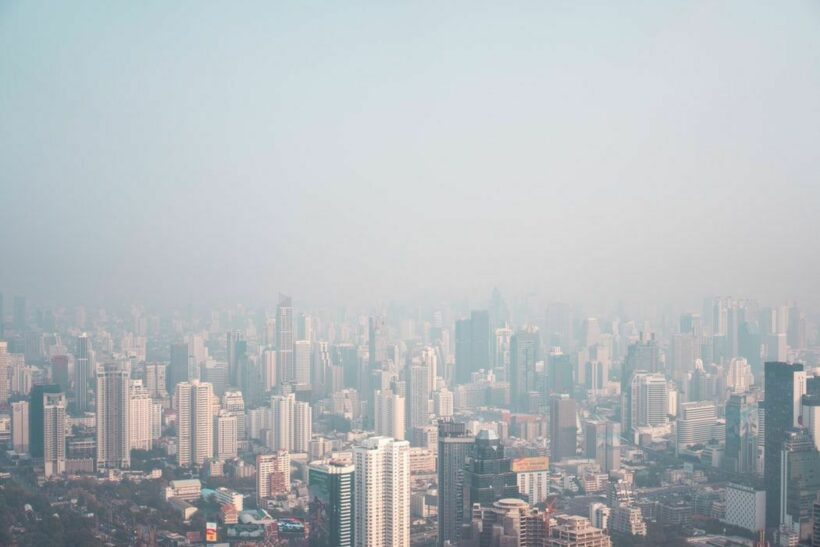 Air quality around Bangkok this morning is awful. Partly due to the lack of wind to blow the smog out of the area. To the south of Bangkok, Samut Prakan and Samut Sakhon, the air quality is even worse with visibility on the ground cut to less than a kilometre. You would be well advised to reduce you activities outside on a day of high air pollution in the capital. The rating by airvisual.com is 'unhealthy'.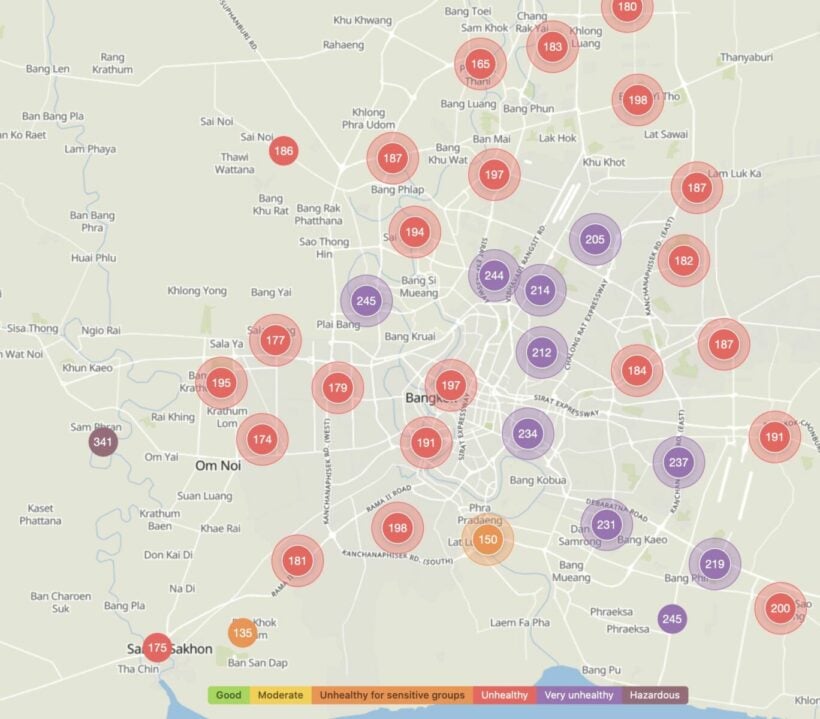 Readings around the inner city vary between 190 – 220. Areas to the east, including around Suvarnabhumi Airport, are higher.
A lot of the smog and smoke is flowing down from the north and north east where plantation fires rage, mostly unenforced, this time of the year, from December to May. Farmers have been told, repeatedly, to avoid buying off the waste after harvests of corn, rice and sugar cane but officials have been disinclined to enforce the laws. Many of the farmers have long-term contracts with some of Thailand's leading agri-business conglomerates.
Bangkok and the central region can expect many more months, especially as the temperatures rise throughout February, March and April and the winds remain low as the north-easterly monsoon weakens.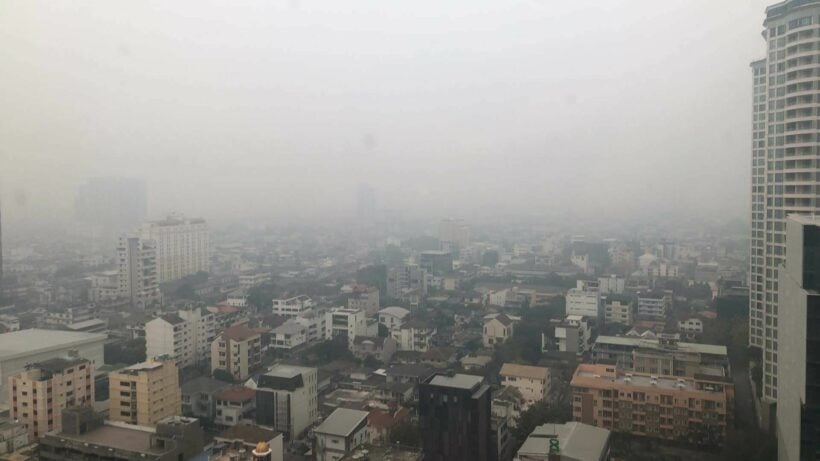 PHOTO: View across the Bangkok skyline from Sathorn this morning.
Keep in contact with The Thaiger by following our Facebook page.
Never miss out on future posts by following The Thaiger.
40 arrested in a suspected gambling house in Nonthaburi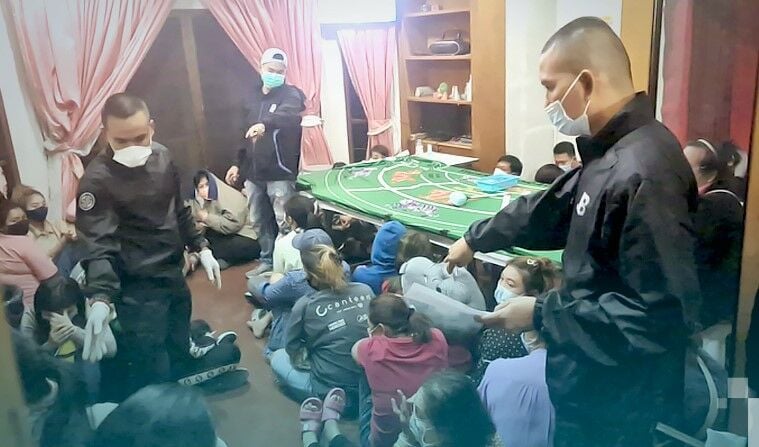 Last night, police raided a house in Nonthaburi and arrested 40 people for allegedly gambling.
According to the deputy chief of the Central Investigation Bureau, 33 are Thais and 7 are migrant workers of the casino. The officials also confiscated decks of cards of the Dragon-Tiger game, plastic chips and some cash as evidence.
During the raid, the migrant workers allegedly revealed that the gambling operations at the home had only been going on for 2 days and that the owner planned to move it to other locations.
Police have been cracking down on gambling after the Covid-19 outbreak at a Rayong gambling den in line with the PM's order made last week to shut down the illegal venues and tracking down "influential figures."
SOURCE: National Thailand
Keep in contact with The Thaiger by following our Facebook page.
Never miss out on future posts by following The Thaiger.
Former finance minister proposes legalisation of gambling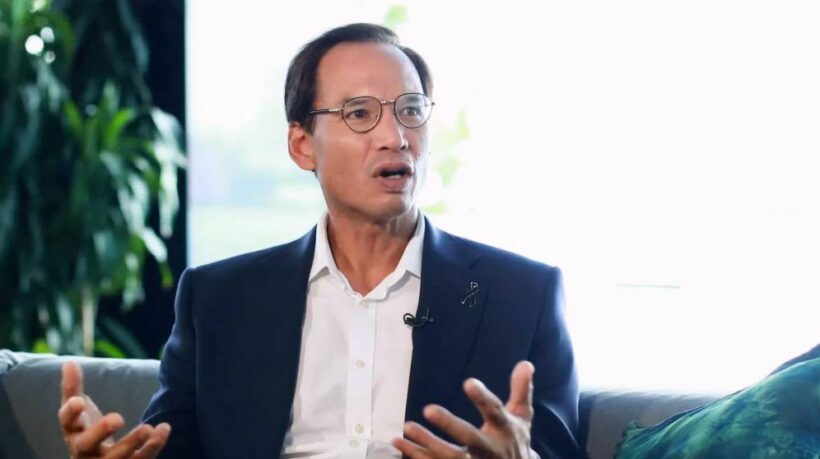 With Covid-19 cases linked to some illegal gambling dens, causing a headache for health officials trying to track down elusive gamblers to contain the virus, the former Finance Minister floated the idea to legalise gambling.
The former Finance Minister and current leader of the Kla Party, Korn Chaitkavanich, claims legalising gambling will help contain the spread of Covid-19. He also hinted that it will gain more tax revenue. If it's legalised, gamblers will spend their money in legal casinos that pay taxes, drawing in more money the government can use for public improvements, he says.
The Royal Thai Police spokesperson insists police are pursuing legal action against owners of the illegal gambling dens. Interior Minister Anuphong Paojinda has also told provincial governors to suppress illegal gambling dens and take responsibility if more gambling dens are found.
SOURCE: Bangkok Post
Keep in contact with The Thaiger by following our Facebook page.
Never miss out on future posts by following The Thaiger.