Tourism stakeholders commit to plastic-free future at PHIST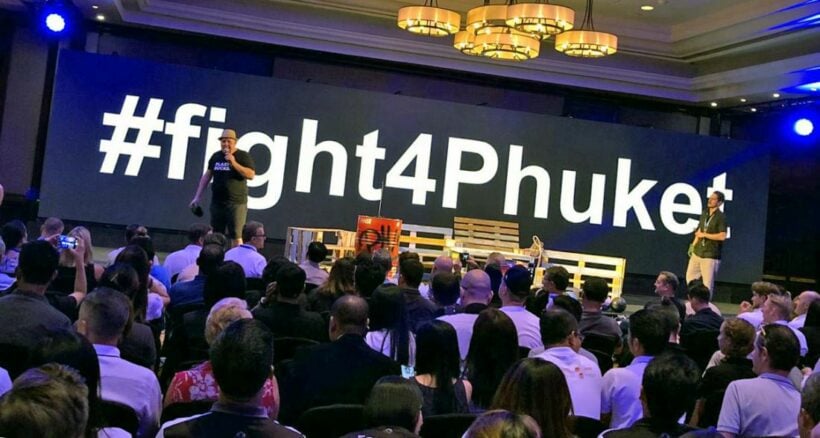 PHIST – Phuket Hotels for Island Sustaining Tourism Forum 2018
Leading hotels and tourism groups have signed the "Phuket Pledge" at Phuket Hotels for Islands Sustaining Tourism Forum 2018 (PHIST) establishing a model for the future development of islands throughout Asia that embraces sustainability as a core and sets urgent goals for long-term change.
The Phuket Pledge is a commitment to reducing, reusing and recycling single-use plastic in Phuket with the aim to eradicate it in all hotels and resorts. In addition, the stake-holders vowed to undertake a youth community education program to ensure grassroots awareness of the critical problems surrounding plastic usage on the island.
Bernhard Bohnenberger, President, Six Senses Hotels Resorts Spas;  Marisa Sukosol Nunbhakdi, Vice President & Environmental Chair — Thai Hotels Association and Executive Vice President — Sukosol Hotels; Wilaiporn Pitimanaaree, Senior Vice President, Central Pattana Public Company; Anthony Lark, President, Phuket Hotels Association and Managing Director, Trisara.

"Plastic reduction has been at the core of our company sustainability efforts for over a decade," said Six Senses Hotels Resorts and Spas President Bernhard Bohnenberger.
"The industry is finally waking up to this issue, but we need coordination and action to make tangible change and see results. This is what we hope PHIST will go a long way to achieving."
Supported by the Ministry of Sports and Tourism, PHIST is the largest hospitality event dedicated to sustainability in Asia, where over 550 delegates from countries including Thailand, Indonesia, the Philippines, Vietnam, Singapore and Hong Kong gathered at the JW Marriott Mai Khao in Phuket to debate key issues.
A Green Groove area added an extra dynamic to the event as regional suppliers headlined an innovative exhibition of Asia's cutting edge producers and inventors of sustainable products for the hospitality and tourism industries.


Environmental and sustainability storylines have been global press leads for the past six months, many of which have focused on islands in Asia. Earlier in the year, Thailand's booming industry made a stand with the closure of iconic tourism attractions such as Maya Bay in Phi Phi Island and the closure of Boracay in the Philippines. Both were shut to allow for environmental regeneration.
With the 10 Bali's campaign in Indonesia – an island focused tourism strategy that looks to leverage the expansive archipelago – and the emerging marine tourism industries in Vietnam, Myanmar and Cambodia – the issues of sustainable tourism in Asia's islands has shot to the top of the regional agenda.
"We need to fight for Phuket. It is as simple as that. And we can't do it alone. We need to do it together," said Phuket Hotel Association President and Managing Director of Trisara, Anthony Lark.
"We have worked to build an inclusive coalition of public and private sector tourism groups who understand the critical need to act and think long term. We hope the Phuket Pledge will be a start and ultimately become a model for us and other islands regionally to come together for the sake of sustainable island tourism in Asia."

PHIST was opened by the Deputy Governor of Phuket, Khun Prakob Wongmaneerung, and featured experts in their respective fields, focusing on marine and coastal tourism, sustainability, youth education and community tourism. These included Thai Hotels Association Vice President & Environmental Chairperson Marisa Sukosol Nunbhakdi, Central Pattana Senior Vice President Wilaiporn Pitimanaaree, Thailand Convention and Exhibition Bureau Senior Manager Pat Satkhum, Tajara Leisure & Hospitality Group CEO Cyndy Tan Jarabata from the Philippines and Horwath HTL Indonesia Matt Gebbie.
PHIST was co-organised by Phuket Hotels Association, C9 Hotelworks led by Managing Director Bill Barnett and Greenview CEO Eric Ricaurte. Sponsorship and endorsement is from the Ministry of Sports and Tourism, Tourism Authority of Thailand, Thailand Convention and Exhibition Bureau, Thai Hotel Association, Central Phuket, BMW, Blue Tree Phuket, C9 Hotelworks, Greenview, AmCham, QUO and Delivering Asia Communications.
PHIST – Interview with David Barrett, Events Co-ordinator with The Slate, Phuket

Posted by The Thaiger on Monday, September 24, 2018
PHIST – Interview with Eric Ricaurte – Founder and CEO Greenview

Posted by The Thaiger on Monday, September 24, 2018


Find more property for sale and rent across Thailand at Thaiger Property, powered by FazWaz. You can even list your property for free.

Do you need help with your business? Are you searching for a new job? Or an employer looking to hire? Try JobCute today.

Read more headlines, reports & breaking news in Phuket. Or catch up on your Thailand news.
Transport Ministry and State Railways told to pay HK company 11.9 billion baht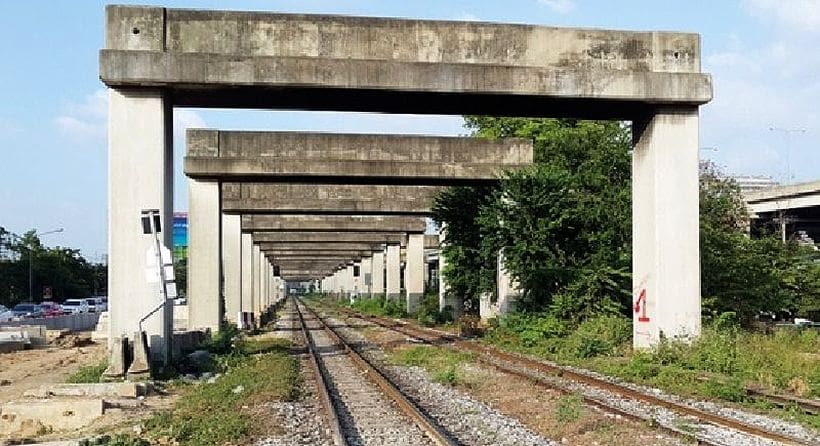 The long running issue of Bangkok's 'stonehenge' has been resolved after the Supreme Administrative Court handed down its findings today over the disputed contract of the 60 kilometre link from central Bangkok to Don Mueang Airport.
The Thai Ministry of Transport and the State Railway of Thailand have been dealt a costly blow after the Supreme Administrative Court today overturned the Administrative Court's verdict and ordered the two state agencies pay almost 11.9 billion baht in compensation to the Hong Kong-based Hopewell Holdings Company for the termination of the Hopewell project – a 60 kilometre elevated highway and rail line from central Bangkok to Don Meuang international airport back in the 90s.
Thai PBS reports that the compensation, plus another 500 million baht in bank guarantees put up by Hopewell Holdings Company, must be paid within 180 days of the verdict from the Supreme Administrative Court.
The Thai court's verdict will put an end to the long-running legal battle, between the Transport Ministry and the SRT on one side and HK's Hopewell Holdings on the other.
Hopewell Holding was granted the 30 year concession in 1990 to manage the project, given the nickname of the Thai "Stonehenge".  The project was riddled with difficulties and widely criticised, resulting in construction being suspended in 1992 and the eventual termination of the contract in 1998, with less than 20% of the work completed.
The dispute over compensation went through an arbitration process under the auspices of the Thai Arbitration Institute which in 2008 ruled in favour of Hopewell Holdings, with both the Transport Ministry and the SRT ordered to pay Hopewell about 12 billion baht in compensation for wrongful termination of the concession.
The two state agencies challenged the arbitration tribunal's ruling by taking the case to the Administrative Court which in October 2014 overturned the tribunal's ruling on the grounds that Hopewell's claim was barred by a time limitation.
Hopewell Holdings then successfully appealed the ruling to the Supreme Administrative Court.
SOURCE: The PBS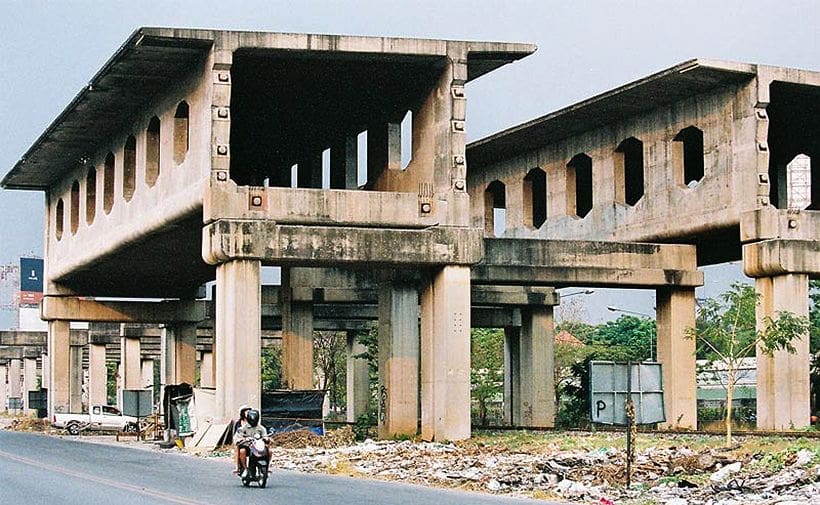 Phuket hotel watch – 3 months down, 9 to go in 2019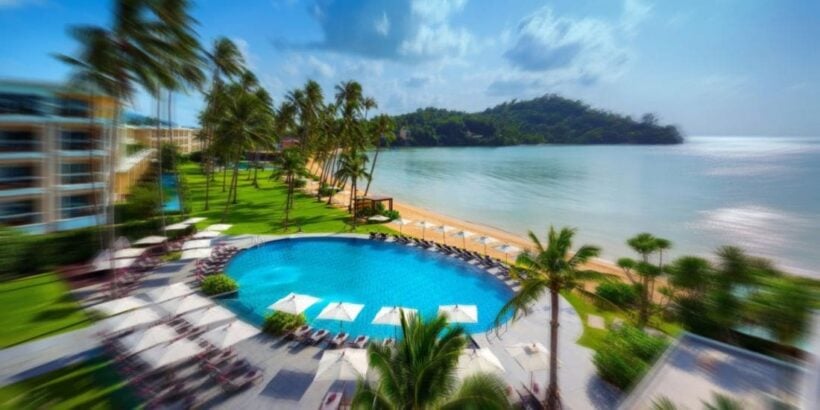 by Bill Barnett of C9Hotelworks.com
At the beginning of the year Phuket's tourism and hotel sector was cautiously optimistic after a strong first half of 2018 and humbling second half. Key terms that kept popping up were Mainland Chinese, Thai Baht Appreciation, Elections and Supply Concerns.
So today, with three months of performance under the belt in 2019 what are the key trends in hotel trading? These can best be compressed in the following points –
According to data from hotel benchmarking group STR, Thailand remains Southeast Asia's leading destination for Mainland Chinese, but the gloss is being diminished by Vietnam's meteoric rise, and strong numbers by the Philippines and Cambodia.
Market-wide RevPar shunk by 0.04% in 2018 and flat demand at the onset of the year is now shifting into negative territory moving into February and beyond. Turning back to last year, group demand is falling which is as key concern in a wholesale driven marketplace.
One stark positive is that RevPar is being propped up by rates and not occupancy. A key takeaway is that in peak and high season, Phuket hotels are able to drive rates up in key periods and continue to do so. This of course is a broad trend.  Good hotels tend to perform at higher levels, while poorly managed ones remain subpar.
Getting beyond the numbers, as I speak to hoteliers the expectation is that wholesalers remain a critical component of the island's hotel industry and despite the expected shift with technology to more direct bookings, the reality is that wholesale models are sensitive to demand volatility and the result of this feeding frenzy most often will be either flat rates for the year or in some cases a retraction.
We expect the remainder of 2019 to be challenging. Some hotels will look at this as an opportunity to reposition, renovate or cut costs. While others will look at new segments, niche offerings or emerging markets like India to regain momentum.
As for the top critical issues facing Phuket hotels, in my opinion these can be distilled in the following Top 3 Things Keep Me Awake at Night…
• Mainland Chinese – If tourism players or hotels believe the damage to Brand Phuket is over, think again. Talking to key tour operators there remains a hangover from last year's boat sinking incident and travellers remain keenly concerned over safety. Only time and more concentrated promotion will see a return of the numbers.
• Growing Supply and Demand Imbalance – The current pipeline is just over 8,000 keys in development on the island. What's more concerning is that projects in planning are not represented in this metric, and by our estimate there are approximately 5,000 more keys in planning. While both the pipeline and planning numbers will see some wash, the sum total exceeds current and forecasted demand.
Moreso, the rise of unlicensed condominiums, apartments, houses and villas is continuing unabated and is further exacerbating supply issues. Every time you see a group of tourists renting a 3 or 4 bedroom villa, that's three or four hotel rooms that lay empty. Government control of unlicensed properties is a key issue facing Phuket's tourism industry.
• Diminished Natural Resources and Strained Infrastructure – Water tops the list and there is little doubt we are reaching the tipping point with mounting shortages and soaring demand. Electricity is another concern. Lastly is a rising number of vehicles on the road, a urbanising trajectory and slow development of roads and public transport.
To these point's lets revisit the hotel development pipeline and reflect that a island long term master plan, zoning for new tourism expansion and requirements for developers to invest in public infrastructure to obtain operating licenses is sorely lacking. Something has to give on this front.
In conclusion am I pessimistic about Phuket's tourism and hotel future in 2019 and beyond? Absolutely not, direct airlinks are growing and the island has a well-structured capacity for handling tourism, but I firmly believe looking into our problems, discussing and finding ways to resolve these are critical to a sustainable growth pattern.
'Seastead' set up off coast of Phuket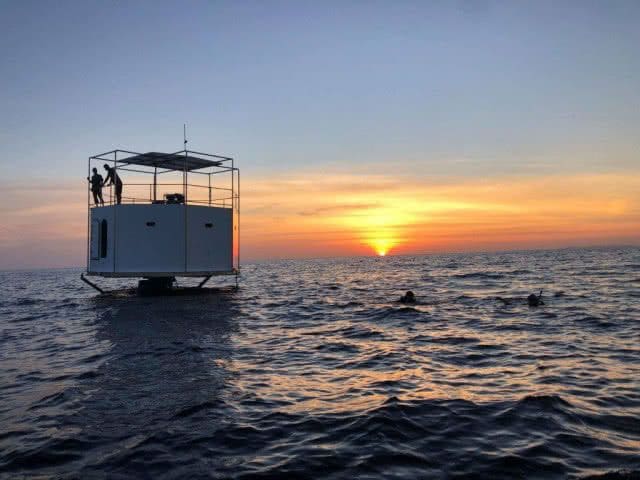 PHOTOS: Nation TV
A Thai couple has successfully set up a 'Seastead' near Phuket.
Seasteading is aiming to build floating societies with "significant political autonomy". Nearly half the world's surface is unclaimed by any nation-state, and many coastal nations can legislate "seasteads" in their territorial waters (like a "homestead" but wetter).
The nation TV reports that website 'Bitcoin.com' and 'Ocean.builders' report that the Thai couple Chad Elwartowski and Nadia Summergirl are are the first seasteaders who established a small seastead 12 nautical miles off Phuket.
Most of the construction of the Seasteading was built on the island of Phuket. The installation in the sea started on January 9.
Mr Elwartowski reveals that the reason that they have chosen to settle near Phuket as the construction price is cheap. The sea is suitable for the establishment as waves are not too high and can attract many tourists.
SOURCE: Nation TV