Tourism stakeholders commit to plastic-free future at PHIST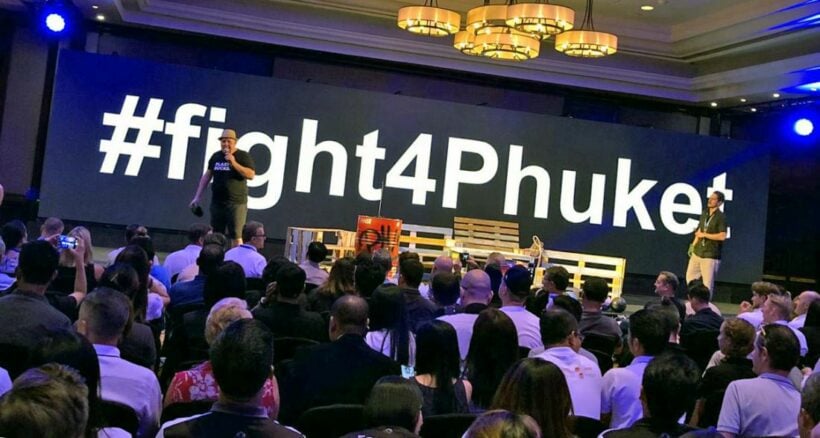 PHIST – Phuket Hotels for Island Sustaining Tourism Forum 2018
Leading hotels and tourism groups have signed the "Phuket Pledge" at Phuket Hotels for Islands Sustaining Tourism Forum 2018 (PHIST) establishing a model for the future development of islands throughout Asia that embraces sustainability as a core and sets urgent goals for long-term change.
The Phuket Pledge is a commitment to reducing, reusing and recycling single-use plastic in Phuket with the aim to eradicate it in all hotels and resorts. In addition, the stake-holders vowed to undertake a youth community education program to ensure grassroots awareness of the critical problems surrounding plastic usage on the island.
Bernhard Bohnenberger, President, Six Senses Hotels Resorts Spas;  Marisa Sukosol Nunbhakdi, Vice President & Environmental Chair — Thai Hotels Association and Executive Vice President — Sukosol Hotels; Wilaiporn Pitimanaaree, Senior Vice President, Central Pattana Public Company; Anthony Lark, President, Phuket Hotels Association and Managing Director, Trisara.

"Plastic reduction has been at the core of our company sustainability efforts for over a decade," said Six Senses Hotels Resorts and Spas President Bernhard Bohnenberger.
"The industry is finally waking up to this issue, but we need coordination and action to make tangible change and see results. This is what we hope PHIST will go a long way to achieving."
Supported by the Ministry of Sports and Tourism, PHIST is the largest hospitality event dedicated to sustainability in Asia, where over 550 delegates from countries including Thailand, Indonesia, the Philippines, Vietnam, Singapore and Hong Kong gathered at the JW Marriott Mai Khao in Phuket to debate key issues.
A Green Groove area added an extra dynamic to the event as regional suppliers headlined an innovative exhibition of Asia's cutting edge producers and inventors of sustainable products for the hospitality and tourism industries.


Environmental and sustainability storylines have been global press leads for the past six months, many of which have focused on islands in Asia. Earlier in the year, Thailand's booming industry made a stand with the closure of iconic tourism attractions such as Maya Bay in Phi Phi Island and the closure of Boracay in the Philippines. Both were shut to allow for environmental regeneration.
With the 10 Bali's campaign in Indonesia – an island focused tourism strategy that looks to leverage the expansive archipelago – and the emerging marine tourism industries in Vietnam, Myanmar and Cambodia – the issues of sustainable tourism in Asia's islands has shot to the top of the regional agenda.
"We need to fight for Phuket. It is as simple as that. And we can't do it alone. We need to do it together," said Phuket Hotel Association President and Managing Director of Trisara, Anthony Lark.
"We have worked to build an inclusive coalition of public and private sector tourism groups who understand the critical need to act and think long term. We hope the Phuket Pledge will be a start and ultimately become a model for us and other islands regionally to come together for the sake of sustainable island tourism in Asia."

PHIST was opened by the Deputy Governor of Phuket, Khun Prakob Wongmaneerung, and featured experts in their respective fields, focusing on marine and coastal tourism, sustainability, youth education and community tourism. These included Thai Hotels Association Vice President & Environmental Chairperson Marisa Sukosol Nunbhakdi, Central Pattana Senior Vice President Wilaiporn Pitimanaaree, Thailand Convention and Exhibition Bureau Senior Manager Pat Satkhum, Tajara Leisure & Hospitality Group CEO Cyndy Tan Jarabata from the Philippines and Horwath HTL Indonesia Matt Gebbie.
PHIST was co-organised by Phuket Hotels Association, C9 Hotelworks led by Managing Director Bill Barnett and Greenview CEO Eric Ricaurte. Sponsorship and endorsement is from the Ministry of Sports and Tourism, Tourism Authority of Thailand, Thailand Convention and Exhibition Bureau, Thai Hotel Association, Central Phuket, BMW, Blue Tree Phuket, C9 Hotelworks, Greenview, AmCham, QUO and Delivering Asia Communications.
PHIST – Interview with David Barrett, Events Co-ordinator with The Slate, Phuket

Posted by The Thaiger on Monday, September 24, 2018
PHIST – Interview with Eric Ricaurte – Founder and CEO Greenview

Posted by The Thaiger on Monday, September 24, 2018


Find more property for sale and rent across Thailand at Thaiger Property, powered by FazWaz. You can even list your property for free.

Do you need help with your business? Are you searching for a new job? Or an employer looking to hire? Try Thaiger Jobs today.

Read more headlines, reports & breaking news in Phuket. Or catch up on your Thailand news.

Government poised to cast tax net over online transactions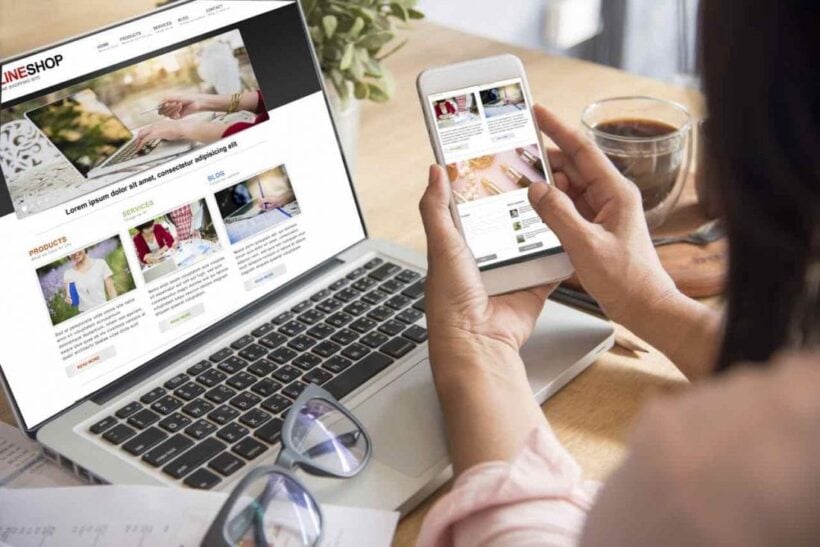 As the world continues its relentless move online, and away from traditional retail, governments are having to find new ways to track and tax online transactions.
The Thai Revenue Department is poised to cast a wider net over online vendors and other businesses that have been evading taxes. The National Legislative Assembly (NLA) is soon to approve amendments to the Revenue Code.
The amendment, which won 139 votes out of the 240-member NLA, will require banks and other financial institutions to report money transfers worth more than 2 million baht per recipient, per year, to tax authorities.
The Nation is reporting that the Deputy Finance Minister Wisut Srisuphan says the amendments will help the Revenue Department collect taxes for goods and services sold online, as sellers have been evading tax payment due to the use of electronic money transfers.
According to the proposed amendments, banks will have to report transfers totalling more than 400 transactions and worth over 2 million baht per year to the Revenue Department so authorities can investigate to see if these vendors paid taxes properly.
The Revenue Department had found it difficult to levy income and other taxes on e-commerce sites and online vendors due to a lack of information.
Most online vendors are individuals with no physical outlets, who sell their products via social and digital platforms. Buyers generally transfer money for the goods via banks' electronic payment service, so authorities have found it difficult to follow up on tax collection.
According to the Revenue Department's data, Thailand has 10.7 million citizens aged 30-39, of which 8.2 million are salaried workers, while the rest are self-employed. However, a large number of the self-employed do not pay taxes.
Thailand also has some 640,000 enterprises registered as 'juristic persons', of which only about 420,000 have filed tax returns.
But some NLA members are voicing opposition to the amendments, citing potential negative effects on other people, including NLA members, who themselves receive their meeting allowances via bank transfers.
Voraphol Sokatiyanuluk, an NLA member, said there were already other laws that empowered the Revenue Department to investigate tax evaders, so this amendment was unnecessary.
He added that the new requirements put additional burdens on financial institutions, as they will have to report transactions to the authorities.
ORIGINAL STORY: The Nation
Co-working space – not just for start-ups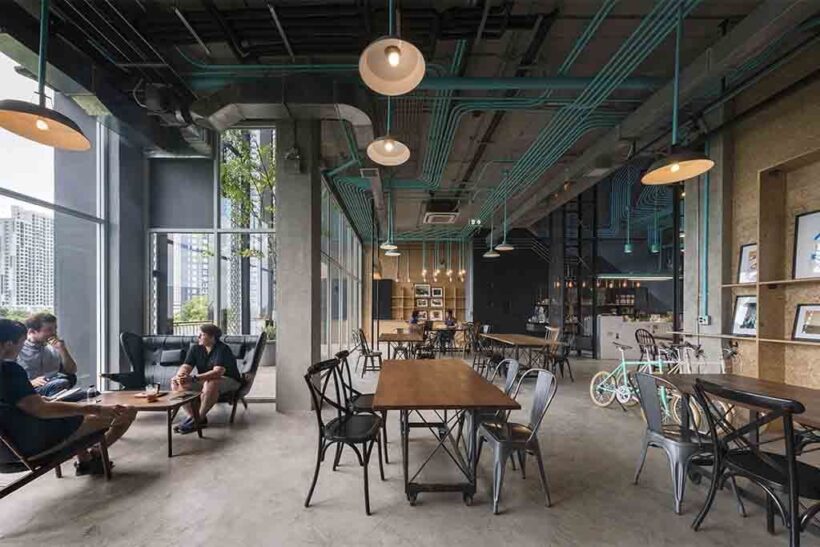 PHOTO: HUBBA-TO co-working space in Bangkok
by Thanchanok Phobut | Senior Coordinator, CBRE Thailand
CBRE, an international property consultancy company, reveals that co-working space seems to be on the tip of everyone's tongue these days. There was a time when no-one knew what the term "serviced office" meant or why someone would want such an option. But today, you can't open a business publication without seeing an article about co-working. Most people think of co-working spaces as being a thriving hub of young latte-sipping, technology entrepreneurs, coming up with the next big idea that will make them multi-millionaires.
While there is an element of truth to this image, the end-goal for many co-working space operators is to change the way that companies, not just start-ups, source their office space. They want companies to pay for office space as a service rather than follow the traditional route of signing a lease, fitting out their own space, having an office manager maintain the premises and hiring their own employees for reception and administrative duties.
Co-working office operators usually offer companies their own private space. It is most common to be offered an office based on the size you will need to fit in a set number of desks. For example, if your company has four employees, your package offer will include a furnished closed office with four desks, 4 chairs and optional telecommunications equipment for four people (internet service, phone number and a telephone handset).
There is usually a common kitchen area and spaces to meet and mingle. Think of it like a five-star hotel, you're not sharing a room, but you are getting a high level of service and amenities on the premises.
You usually have a short-term commitment, not signing a lease for years. The best deal is usually for a year or more, but you can lease your office for as short as one month. Starting and ending your relationship with an operator is most often quick and easy. Since the office is already outfitted and reception services provided, getting to work is much quicker than when you need to design your new space yourself or hire your own support staff.
"Competition in the space is red hot. As more and more offices pop up, the fight to achieve 100% occupancy is fierce. When shopping for your space, be sure to consider more than just price, as the services and reputation of your provider are just as important.
"If you do your homework, you'll avoid the pitfalls of co-working space, such as unreturned deposits, unexpectedly thin walls between units or fees for things like coffee and copying that you didn't expect. The great news is, changing providers is much easier than with traditional space," states Mr. Nithipat Tongpun, Head of Advisory & Transaction Services – Office, CBRE Thailand.
According to a recent CBRE report on the New York City office market:
While traditional long-term leases are the preferred model for business and the foundation of the commercial office market, the rapid growth of third-party flexible space operators provides occupiers with a wide variety of options for leasing office space. Since 2013, when the expansion of third-party flexible space began to gain significant traction, the sector has averaged an annual growth rate of 22 percent.
There are strong indicators of user demand for the services of the third-party space providers. In fact, 75 percent of corporate occupiers anticipate including co-working or flexible space in their occupancy portfolio over the next three years.
Smaller users also continue to be an important part of the target market; as the flexible space footprint has grown in Manhattan, the amount of traditional leasing among tenants under 5,000 sq. ft. has dropped off by 42 percent between 2013 and year-end 2017, suggesting that these users are migrating to flexible space solutions.
In Bangkok, four large co-working space operators are opening in multiple locations. JustCo, Spaces, The Great Room and WeWork leased a combined total of 25,000 square metres of space in some of Bangkok's best office buildings last year and they are still growing.
"I recently met Yvan Maillard, general manager of The Great Room's Singapore operation and he said that, in Singapore, 30% of his clients are late stage start-ups, 30 % are private investment family offices and 30% are mainstream corporates. In the case of corporates, they often lease co-working space as a stopgap before finding a larger permanent office for their expanding team," said Mr. James Pitchon, Head of Research and Consulting, CBRE Thailand.
It is not only the way companies source their office space that is changing. Even those companies who continue to lease office space directly are changing the way that they use the space – having your own office or even your own desk is out of fashion – agile working is all the rage.
Mr. Nihipat added, "Companies are providing employees with a daily choice of environments from quiet space to a layout that enables teams to collaborate. Employees are expected to move around the office, depending on their tasks. The objective is to create a workspace that fulfills the employees' needs in a high-quality environment, while minimizing the number of individual desks needed, effectively putting more people to work in less space."
Globally and in Bangkok, the office market will continue to evolve and while traditional leases are yet to be seen as a thing of the past, CBRE expects more companies to provide agile working environments. CBRE also expects to see significant growth in the amount of co-working spaces provided by third party suppliers.
"This will mean an increase in the demand for high quality buildings with flexible, column free floor plates, technically advanced air conditioning and temperature control, as well as sufficient lift capacity to deal with higher rates of occupation density.
Many of the new generation of buildings currently under construction or being planned in Bangkok will have these features and we won't be surprised to see more and more co-working spaces open their doors as companies weigh the real advantages of this option versus traditional space.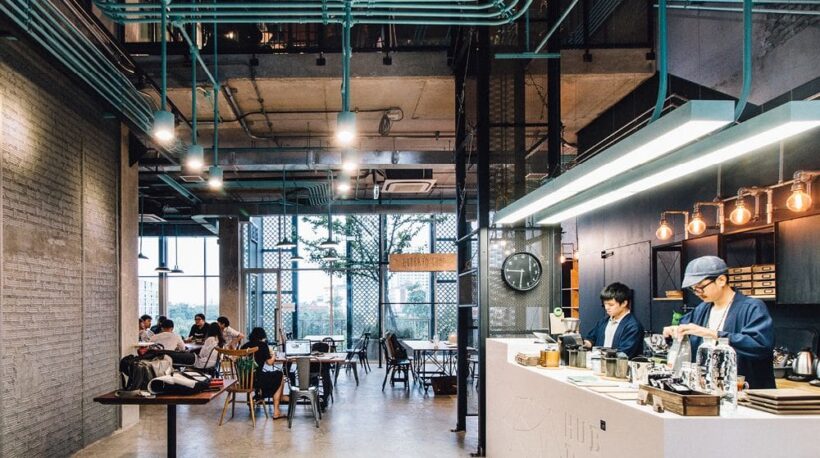 SHOW DC launches new 60,000 capacity outdoor SHOW DC Arena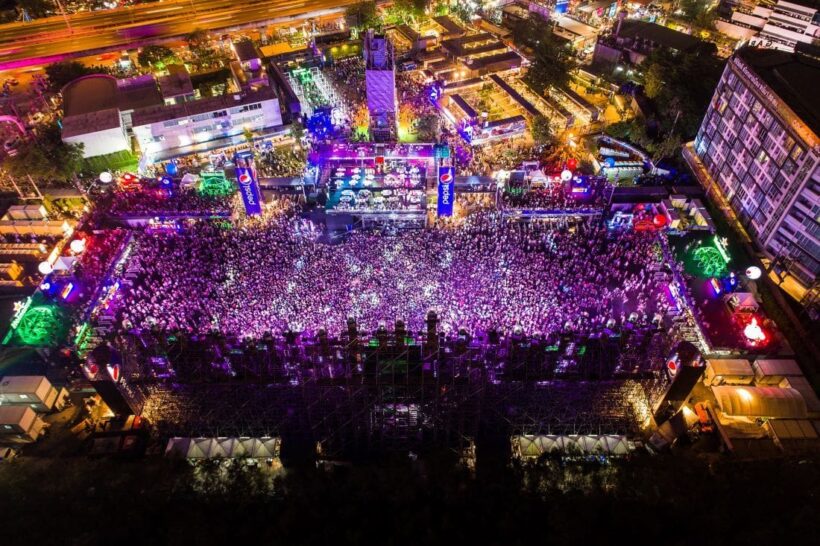 Latest event space establishes SHOW DC's positioning as the events venue of choice in downtown Bangkok with combined capacity of 90,000
Large scale events have a new stage in downtown Bangkok at SHOW DC, which has launched the biggest outdoor event venue in the city. Named SHOW DC Arena, the 120 million baht investment in a 31,790 sqm outdoor entertainment space that sits adjacent to the SHOW DC shopping centre, bolsters the retail complex's event offerings which already includes multiple indoor and outdoor event spaces, and has more than 40 event days booked through Q2 2019.
The new open entertainment space can cater to a 60,000 pax capacity event with 1,000 car parking spaces, a rarity in central Bangkok.
"There's huge demand for a large outdoor entertainment space in the centre of Bangkok, and SHOW DC Arena fulfils this need. Thailand's events and entertainment industry is robust and we are seeing increased inquiries from organisers.
"SHOW DC Arena offers a large, flexible event space that can cater to upto 60,000 people and I'm confident that our downtown location in Rama 9 area, combined with the availability of parking spaces and free shuttle service to MRT Petchaburi station, will help make events even more accessible and attractive to attendees and organisers alike," said Mr. Goh Soo Sing, Chief Executive Officer of SHOW DC.
SHOW DC Arena has already been chosen as the venue for several high profile events including the recent Chang Music Connection Musictropolis which Bodyslam and Potato headlined, and MAYA Music Festival 2018 on 8-9 December, which has a stellar line-up including global DJs, K-Pop and J-Pop superstars.
SHOW DC Arena can be booked in any combination with the 25,000 people capacity SHOW DC Oasis and 5,000 people capacity SHOW DC Garden to create an even larger outdoor event with a total capacity of 90,000.
In addition to offering the largest outdoor event space in the centre of Bangkok, SHOW DC also has numerous indoor spaces that can be used for many event formats, such as shows, product launches, parties, concerts, theatre performances and exhibitions. The large indoor Ultra Arena is a state-of-the-art performance arts theatre with VIP balcony seating and has a capacity to hold up to 1,000 attendees.
"Thailand's events and entertainment industry is a significant economic generator for the country. Through SHOW DC Arena and our additional event spaces at SHOW DC, we are well positioned to support domestic and international event organisers, and will work with organisers and brands to make Thailand a strategic events hub in the region," added Mr. Goh.