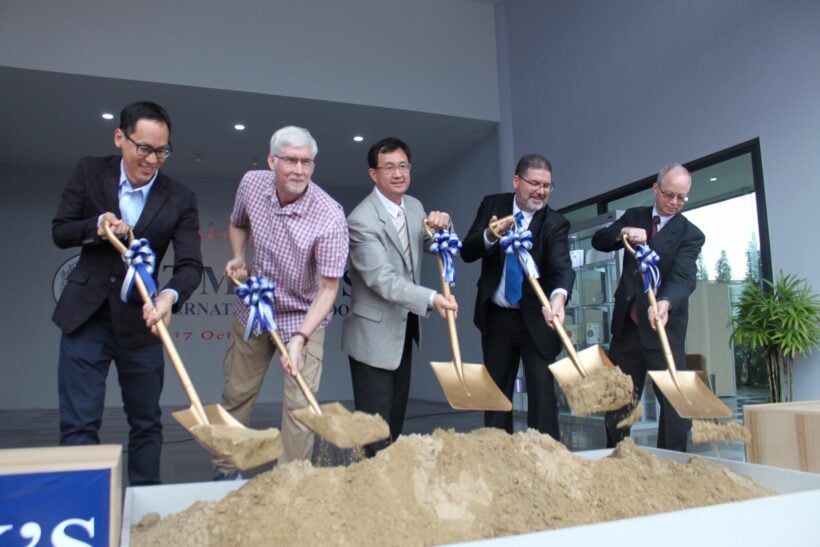 St Mark's International School celebrated a groundbreaking event last Saturday by literally 'breaking ground,' by conducting a ceremonial dig on their new proposed campus in Bangkok. The successful Christian International School has been operating out of their current Rama 9 Campus for the last 20 years and is now planning to expand exponentially when the new campus in Sri Nakarin Road to the east of Bangkok is completed in 2022.
David Jackson, the British Head of Primary said that this new development celebrates a positive milestone in our development.
"As a successful International school specialising in maths and science supported by our successful tri-lingual languages program the teaching team are looking forward to using our new state of the art facilities for the benefit of our students."
The event was attended by a number of dignitaries including Pastor Martin Chapel from the Calvary Baptist Church, Bangkok alongside Mr Owen Grant a representative from the Australian School Curriculum and Standards Authority plus former and current parents and students who were very complimentary of the school.
The school's director, John Ruangmenthanon explained how the school will be augmenting their existing IGCSE and A-level system by introducing the Australian Tertiary Admission Rank for senior students which will enable St Mark's International School pupils direct access to universities both in Australia and worldwide.
For more details please visit St Mark's International School website HERE.