Alcohol ban again this weekend around Thailand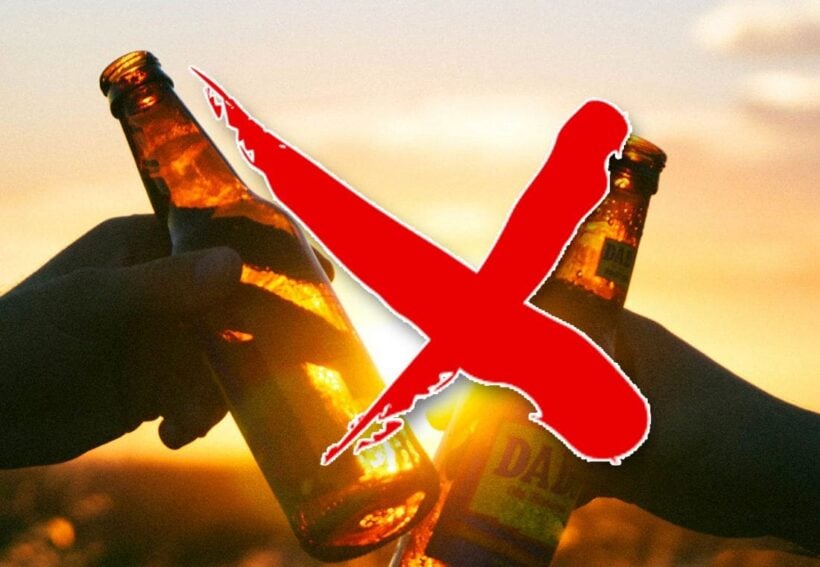 The election is two days away. That means Thais go to the polls for the first time since 2011. It also means there will be another 24 hour alcohol ban on this weekend.
Alcohol sales and distribution will be forbidden again from 6pm on Saturday, March 23 until 6pm on Sunday, March 24.
Officials say weddings, parties and other celebrations can still be organised for these dates but there must be no alcohol served or consumed.
International media, seemingly horrified by the prospect, have been getting all the headlines and stories wrong.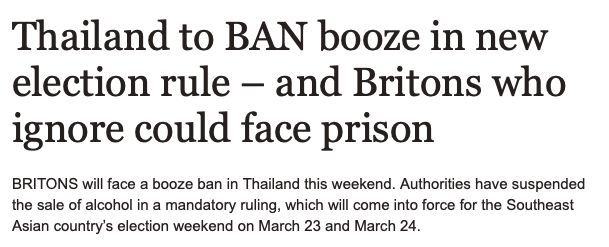 The election rule isn't new and affects everyone, not just British tourists.
Thai officials say the ban is partly to curb previous attempts by political parties to throw 'free booze' parties the night before to influence voters. This weekend's election will welcome seven million new voters who are eligible to vote in the first free election since 2011.


Read more headlines, reports & breaking news in Thailand. Or catch up on your Thailand news.
New Economics Party clarifies their support for pro-democracy coalition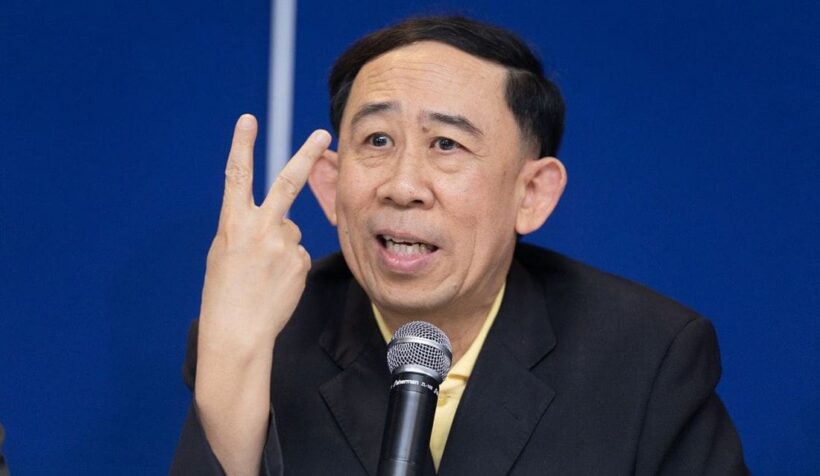 PHOTO: Mingkwan Sangsuwan, New Economics Party leader – The Nation
Leader of the New Economics Party Mingkwan Sangsuwan hasy reiterated his party's intention to join with the pro-democracy coalition (Pheu Thai, Future Forward) and against the pro-junta party, Phalang Pracharat.
Amid uncertainty over which camp New Economics would work with after the election, Mingkwan has clarified he would not join with Phalang Pracharat because of "ideological differences".
Six New Economics candidates were elected in the March 24 poll. Mingkwan gave assurances at today's press conference that none of the new MPs would defect. The party's deputy leader, Supadit Argadriks, also repeated the party's intent to help uphold democracy with a constitutional monarchy, and live up to its pledge to voters.
Some of the party's members yesterday petitioned the Election Commission to dissolve the party, alleging it had fallen under outside influences related to powerful business interests. But the deputy leader insisted today that the party was united. He said the complaint had stemmed from a misunderstanding.
Supadit said legal action would be taken against the plaintiffs who filed the petition with the EC.
SOURCE: The Nation
Junta warned to be careful targeting rivals with petty litigation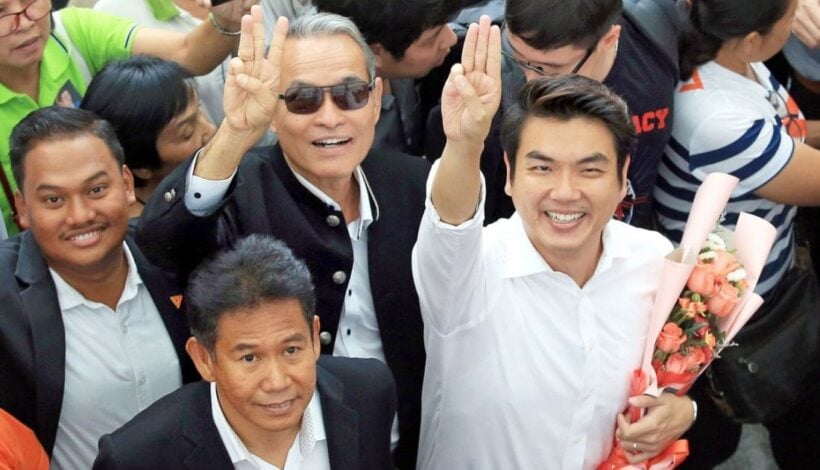 PHOTO: Piyabutr Sangkanokkul reports to police yesterday using the, now popular, anti-government three-finger salute – The Nation
by Kai Chanwanpen
While members of pro-democracy parties continue to be targeted with politically-motivated lawsuits, a political scientist is warning this tactic of eliminating political rivals through trivial matters of law could backfire and lead to a legitimacy crisis down the track.
In the latest case, the Future Forward Party secretary-general Piyabutr Sangkanokkul yesterday acknowledged the charges pressed against him by the ruling NCPO, whose chief is a prime ministerial candidate after the March 24 election.

"Seeking advantage over rivals is common in politics. But this cannot be without consequences. They could face questions of legitimacy even if they successfully conspire to attain their goal," said Attasit Pankaew, a political expert from Thammasat University.

"All the unfairness that can be seen right now will lead people to question if Piyabutr would have been hit with a lawsuit if he were not so popular in the election."

The pro- and anti-junta blocs have been going after each other since the election with politically motivated, and mostly relatively petty, lawsuits.

But when the court was petitioned to seek the disqualification of junta chief Prayut Chan-o-cha as a prime ministerial candidate because he was a public servant, the ruling went in favour of the incumbent.

While these kinds of political challenges are common around the world, Attasit said that public sentiment could play a major role in making any change.

"It's how the public responds to the treatment that could improve this culture," he said.

"Meanwhile, the authority has to provide an explanation and ensure that the due process of law is followed without victimising political rivals."

Piyabutr has been charged with contempt of court and breaching the computer crime law for reading out a statement in relation to the dissolution of Thai Raksa Chart Party in February.

Piyabutr, a former law lecturer at Thammasat University, yesterday denied the charges. He insisted on his innocence, saying as a law scholar the criticism was meant as an academic comment and that he believed in the justice system.

"The chief of the NCPO is the PM candidate of a political party, which was a rival of Future Forward Party in the election and he has assigned an official to prosecute me for contempt of court," he said.

"Let me make an observation: the judicial branch is a part of the sovereign state and cannot escape criticism, especially the Constitutional Court which rules on political conflicts and whose judgement is likely to be scrutinised," Piyabutr told reporters.

"Disagreement with a court judgement is not a crime."

SOURCE: The Nation
Pro-democracy coalition remains positive following weekend glitch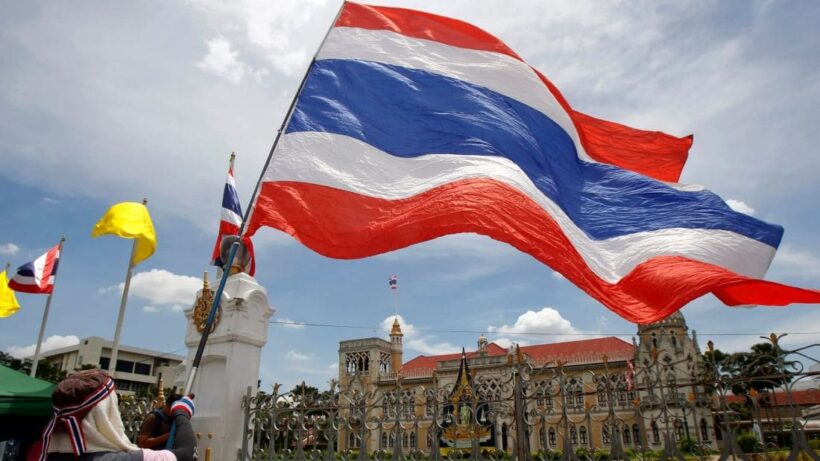 by Kai Chanwanpen
The see-saw continues as the anti and pro-junta groups continue to tussle to form a coalition government. Meanwhile the Election Commission (EC) is no closer to announcing the allocation of Lower House seats… three weeks after the vote! They maintain that May 9 is the day they will announce the results although this deadline has been muddied by the EC's own announcement that they seek clarification from the Constitutional Court over the allocation of votes to lower house seats.
Following a war of words over the weekend amid rumours that the minor New Economics Party had been won over by Phalang Pracharat (who support the return of General Prayut Chan-o-cha as premier), Pheu Thai Party leaders were quick to reiterate that the six-MP party remained firmly with the pro-democracy camp.
Pheu Thai's de facto leader Khunying Sudarat Keyuraphan posted on Facebook over the weekend that she believed New Economics leader Mingkwan Sangsuwan would not break his word to voters that he would not side with the junta.
Her colleague, party secretary-general Phumtham Wechayachai, delivered a similar message via Facebook, stressing he believed Mingkwan was a man of his word.
"I never believed the rumours that Phalang Pracharat is forming a coalition with support from parties that campaigned against the junta. I never did," he wrote.
News was swirling on Saturday that Phalang Pracharat had managed to gather over 250 MPs to set up a coalition government with the help of the New Economics Party, which had defected from the pro-democracy front.
Mingkwan issued a statement in the evening dismissing the news, saying he had never entered into any political negotiations with Phalang Pracharat.
Though Mingkwan had said on several occasions before and after the election that he was opposed to a military-led regime and would join the pro-democracy camp, public distrust grew after the New Economics Party failed to turn up at the democratic front's press conference, held to claim victory and to sign a pact to collaborate in opposing the junta.
Though the election results are yet to be confirmed by the poll agency, it is estimated that the pro-democracy league led by Pheu Thai and Future Forward has 247 to 255 seats – placing it in a grey area to claim legitimacy to form a government.
Hence, the camp's coalition must rely on MPs from smaller parties such as New Economics. Though New Economics may have only six MPs, its decision could make or break the Pheu Thai-led coalition.
There are other grey areas too: parties such as Democrat and Bhumjaithai, which have won over 30 and 50 seats respectively, have yet to commit to either side.
It might be unthinkable for the Democrats to join hands with old foes Pheu Thai but this does not necessarily mean it would side with Phalang Pracharat to support a Prayut-led government. The country's oldest and most established party is now divided into two factions: one backs support for Prayut to deter Pheu Thai while the other group wants the party to sit in opposition. The Democrats could remain on the backbenches as an independent voice in the new Parliament.
Bhumjaithai, meanwhile, remains non-committal while also being pressured by the Pheu Thai coalition interests.
SOURCE: The Nation