Thailand's Pulse Clinic now opens in Hong Kong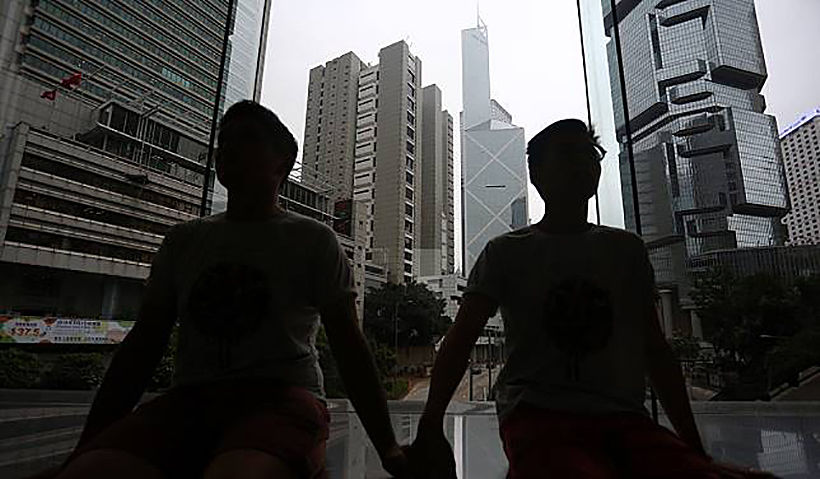 PHOTO: Jonathan Wong
Today is World Aids Day. Whilst the treatments and social acceptance of HIV and AIDS has come a long way since those scary days in the early 80s, stigmas remain, particularly in Asia. The Thaiger would like to commemorate the day by featuring a story about local Thai hero Dr Deyn Natthakhet Yaemim who has made knowledge about HIV/AIDS more available and modern treatments accessible in the Land of Smiles. And now Malaysia and Hong Kong as well.
Discrimination against sexual minorities remains rife in Asian health care. An encounter at a hospital in Thailand five years ago prompted Dr Deyn Natthakhet Yaemim to open a venue where LGBT community members are treated sensitively and, importantly, can access health care without discrimination, easily, and with the knowledge they'll be treated with the same respect as other hospital patient would expect.
An encounter with unprotected sex five years ago, found Deyn visiting a Bangkok hospital to get an emergency anti-HIV drug known as PEP, post-exposure prophylaxis. This antiretroviral medication significantly reduces, but doesn't eliminate, the chance of contracting the HIV, if taken within 72 hours of the sexual encounter. But the reaction from an attending nurse was a shock.
"Are you gay? How can you behave like that?" "Why are you gay?"
Deyn eventually received the PEP medication but not after being made to feel unwelcome and stigmatised.
The incident spurred him to open the Pulse Clinic in Bangkok in 2015.
"When we opened in Bangkok, it was like customers were coming to my family's house and we treated them that way, like you would a friend or a relative."
The first clinic in Thailand was a totally family affair. Deyn's mother was a nurse, his gay brother worked in reception, and his father in security.
In the first year the first Bangkok Pulse Clinic served 9,000 patients. Now there are three other Pulse Clinics in Thailand, another in Bangkok, one in Phuket, and another opening up in Kuala Lumpur, Malaysia, as well as the new clinic in Hong Kong. (Story continues below…)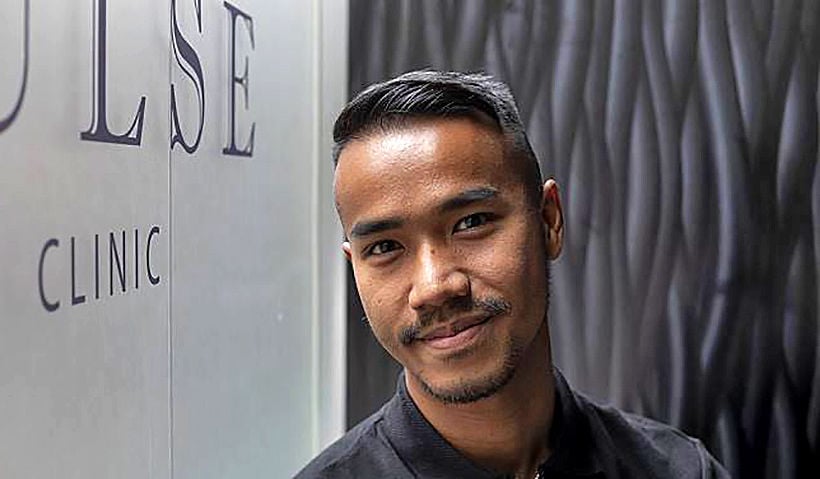 PHOTO: Local Thai hero Dr Deyn Natthakhet Yaemim, owner of Pulse Clinics
PEP and PrEP
PEP stands for post-exposure prophylaxis. It means taking antiretroviral medicines (ART) after being potentially exposed to HIV to prevent becoming infected. PEP must be started within 72 hours after a recent possible exposure to HIV, but the sooner you start PEP, the better. Every hour counts. If you're prescribed PEP, you'll need to take it once or twice daily for 28 days. PEP is effective in preventing HIV when administered correctly, but not 100%.
PrEP, on the other hand, (Pre-exposure prophylaxis) is when people at very high risk for HIV take HIV medicines daily to lower their chances of getting infected. A combination of two HIV medicines (tenofovir and emtricitabine), sold under the name Truvada® (pronounced tru vá duh), is approved for daily use as PrEP to help prevent an HIV-negative person from getting HIV from a sexual or injection-drug-using partner who's positive. Studies have shown that PrEP is highly effective for preventing HIV if it is used as prescribed. PrEP is much less effective when it is not taken consistently. www.cdc.gov
The recently opened Hong Kong outpost of the Pulse Clinic is in Central, where Deyn and staff welcome patients from the local LGBT community. But stigma against HIV still exists in Hong Kong forcing many Hongkongers living with HIV to go Thailand for treatment in the past.
"If they are HIV positive, they'd do treatment there as well because they feared their partner or anybody knowing about their status, and they didn't want to be registered in the government health care system there so they came to Bangkok."
Now Hongkongers can visit the clinic in Central, for sexual health services, STD screenings, HIV prevention and treatment strategies, and more. Importantly, confidentiality is assured.
HIV patients remain among the most unfairly demonised groups due to long-held, and mostly incorrect, misunderstandings about the virus. This, despite many medical advances including antiretroviral drugs that make patients highly unlikely to infect others.
While condoms remains the most popular barrier against HIV infection, Prep is also effective. PrEP (pre-exposure prophylaxis) is 99% effective at stopping the transmission of HIV through sex without condoms. Deyn cites partner studies (in which one is HIV positive, the other HIV negative) having almost "zero chance" of cross infection on this drug regimen.
"The protection would be 99% so it's even better than a condom. However, PrEP only prevents you from HIV, not other sexually transmitted diseases, so it is recommended you still use a condom."
A landmark study published in The Lancet in 2019 that tracked about 1,000 male couples across Europe for eight years (HIV positive gay men and their HIV negative partners) and found, thanks to antiretroviral drugs, there was no chance the HIV positive individual could infect the other, even though many participants reported having unprotected sex during that period.
SOURCE: South China Morning Post
Keep in contact with The Thaiger by following our
Facebook page
.
Bangkok plummets in popularity with expats. Taipei heads the list.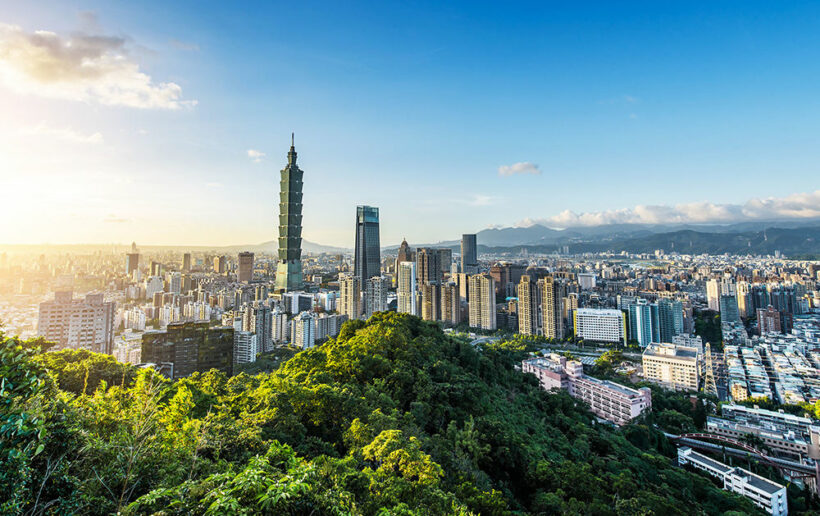 PHOTO: This year's #1 city for expats – Taipei, Taiwan – Time Out
Bangkok has dropped from #5 (in 2018) to #20 this year in the annual Expat City Ranking.
But Asian cities continue to dominate the annual global Top 5 in the Expat City Ranking 2019. Italian cities Rome and Milan join Kuwait City at the bottom of this year's rankings.
Taipei managed to defend its first place from last years list. Kuala Lumpur is rated the best city for getting settled and is second overall. Ho Chi Minh City ranks first in the Finance & Housing Index but third in the overall survey. Singapore and Montreal fill out the top five spots this year.
Bangkok experienced a significant drop compared to the 2018 edition of the list, where the Thai capital ranked 5th worldwide and 4th in Asia.
"Poor environmental management and horrendous traffic conditions eventually took a toll on Bangkok ratings."
Bangkok, as an "expat-friendly city", now faces fierce competition with Taipei, Kuala Lumpur and Ho Chi Minh City taking the lead ahead of the longtime favourite.
Ranking fifth out of all the cities surveyed in Asia, Bangkok ranks third in the Finance and Housing Index, but the Big Mango's rankings were shot down by poor scores for environmental quality and political stability. 59% of the respondents in the survey say Bangkok's environment is poor, and 36% worry about political stability.
Singapore's fourth place further adds to Asian destinations dominating the Expat City Ranking 2019. The four top cities all do very well regarding finance and housing, with Singapore receiving the "worst" result here – a 15th rank mostly due to the expensive housing in the city-state.
Bangkok, the Thai capital, stays in the top 3 in the Finance & Housing Index for another year although the city has dropped from second place in 2018 to third place in 2019.
With regards to how easy it is to find housing in Bangkok, 80% of respondents give agreeable answers. The ease of finding a new, reasonably priced home appears to be an attractive aspect for expats moving to Bangkok; 58% of respondents find that the housing in the city is affordable.
With its second place in the Expat City Ranking 2019, Kuala Lumpur makes it into the global top 3 after consistently ranking among the top 10 cities in the past few years. Expats rate Kuala Lumpur as the city where it's easiest to get settled, as well as one of the best cities worldwide when it comes to finance and housing.
Following a 4th place out of 72 cities in 2018, Ho Chi Minh City manages to further improve its result to rank 3rd out of 82 in 2019. Expats rate Vietnam's most populous city as the best place for finance and housing, with the city ranking first for all but one of the underlying factors. HCMC places second regarding the affordability of housing.
In the Expat Insider 2019 survey, over 20,000 participants were asked not only to rate their respective host country but also to share insights regarding their city of residence. Respondents rated more than 25 different aspects of urban life abroad on a scale of one to seven, with the rating process emphasising expats' personal satisfaction with these aspects.
SOURCE: Internations.org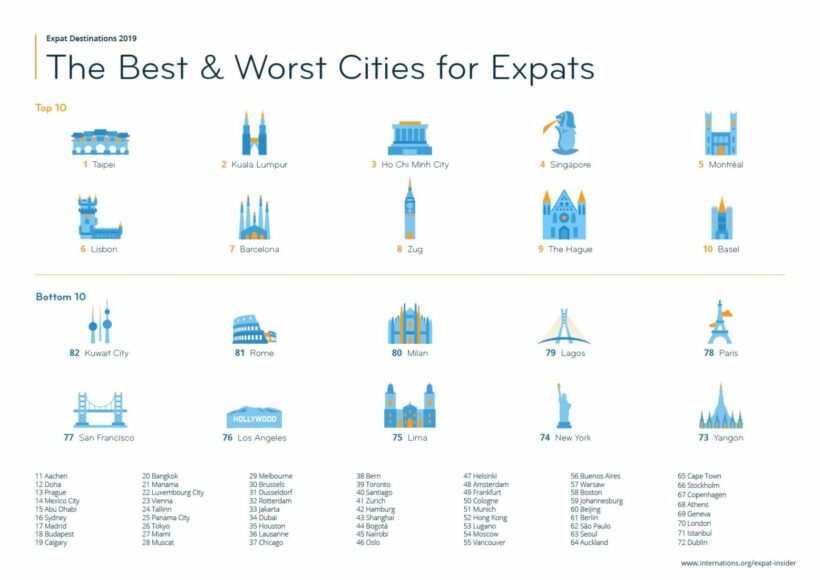 Keep in contact with The Thaiger by following our
Facebook page
.
Airport Link offers free rides on December 12 so people can watch the Royal Barge Procession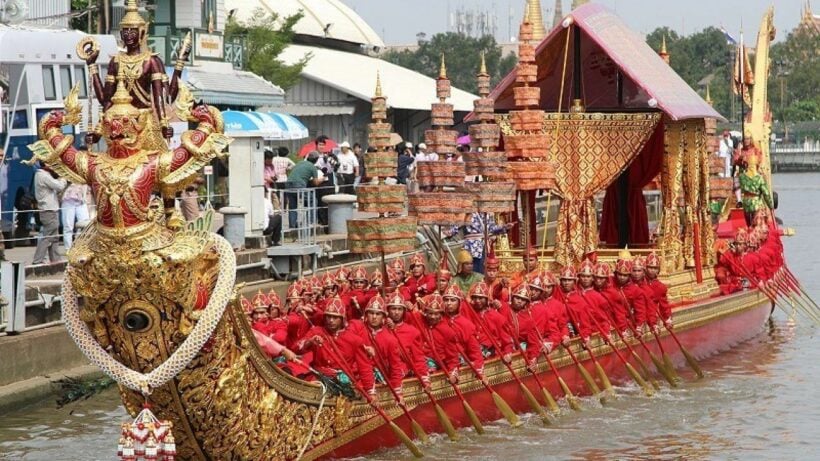 PHOTO: royalcoastreview.com
Bangkok's Airport Rail Link is offering free rides on December 12 to people heading to the shores of the Chao Phraya, and vantage points, to welcome His Majesty King Maha Vajiralongkorn in the final act of the Royal Coromnation.
The Royal Barge Procession is the final ceremony of his coronation which was held earlier this year between May 4-6.
The procession, which has taken place for nearly 700 years, will proceed along Chao Phraya River with the government setting up spectator location along the banks for this rare spectacle.
Some of the locations along the river will include Thammasat University, Santichaiprakarn Park, Nakapirom Park, Siriraj Hospital, and Wat Rakhang Khositaram.
The State Railway of Thailand's director-general, Suthep Panpeng says the Airport Rail Link, carrying passengers from Suvarnabhumi in the east to Phayathai in the centre of Bangkok, will offer free rides from 5.30am to midnight.
The free tickets will be available at all stations. It is envisaged that there will be other concessions and free transport available on the day to assist people getting around the city. The Thaiger will provide full information when it becomes available.
SOURCE: The Nation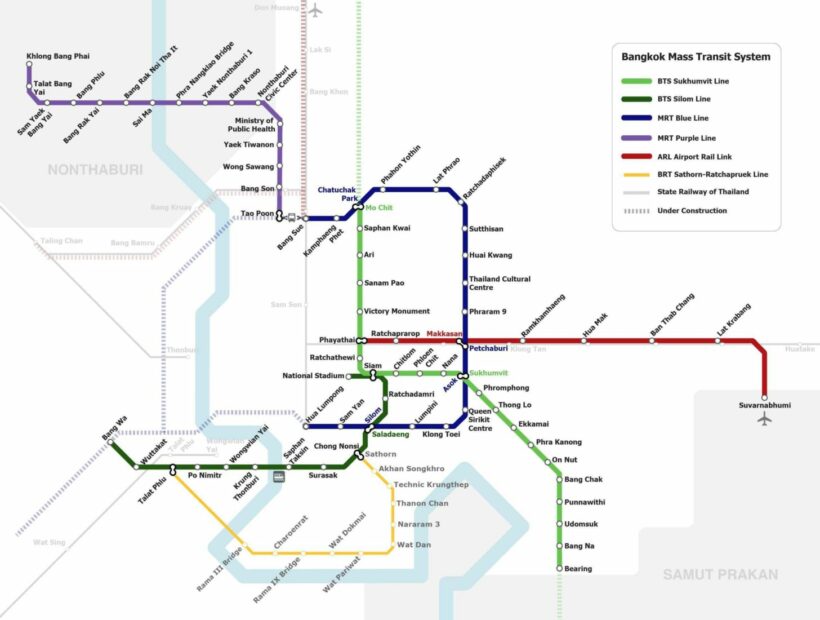 The Airport Rail Link is the Red Line, carrying passengers from Suvarnabhumi in the east to Phayathai in the centre of Bangkok, linking to the Green Line.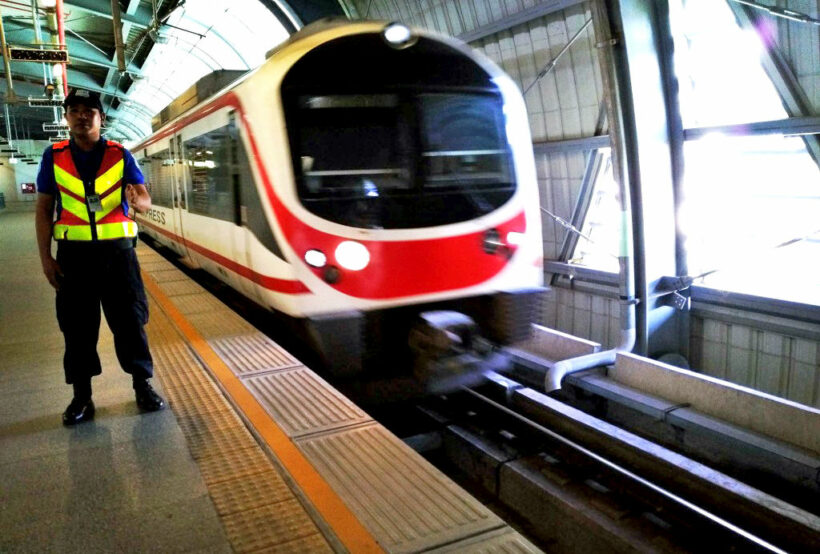 Keep in contact with The Thaiger by following our
Facebook page
.
Thai King and Queen to open Chinatown exhibition this evening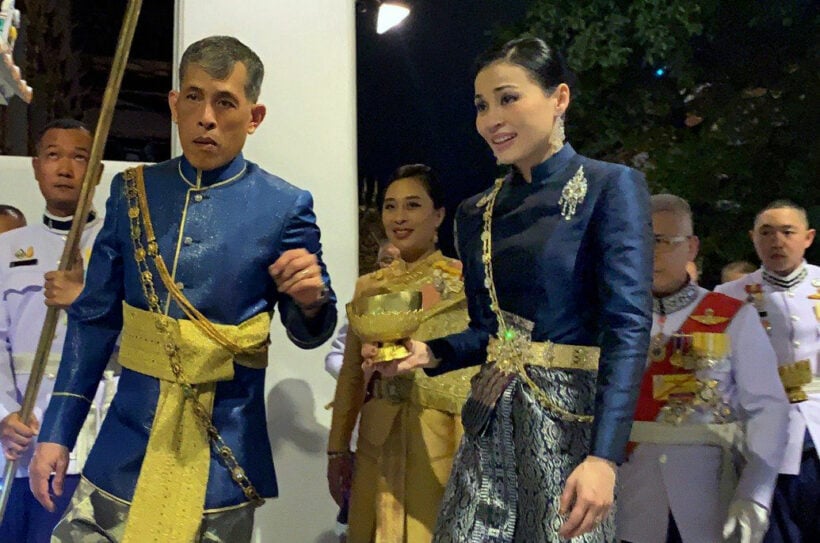 PHOTO: South China Morning Post
HM The King and HM The Queen will tour Chinatown in Bangkok this evening to preside over the opening of the Chalerm Phrakiat exhibition. The exhibition showcases the biographies and Royal activities of previous monarchs of the Chakri dynasty (Ramas 1-10).
Their Majesties are scheduled to leave the Ampornpaisarn Throne Hall in the Dusit Palace at 4.50pm and head to Trai Mitr Withayaram Temple where they will preside over the opening of the new exhibition.
They will tour the exhibition grounds and watch a documentary featuring the Royal activities of the former kings of the Chakri dynasty in the exhibition's 'LED tunnel'. Then the Royal couple will visit the Thienfah Foundation Hospital to pay respects to the statue of the Chinese goddess Guan Yin before meeting the people, mostly Thais of Chinese descent, along the Suapa and Charoen Krung roads and at Mangkorn Kamalawas Temple.
Yaowarat Road has been beautifully decorated with lighting, symbolic flags in yellow and blue, with banners reading "Long Live the King" hung across the road, to welcome Their Majesties to Bangkok's old Chinese community.
Mr. Jitti Tangsitpak, chairman of the Thai-Chinese chamber of commerce and chairman of the organising committee, said that officials are making the final touches to all the decorative arrangements to make sure they are perfect before the Royal visit.
SOURCE: Thai PBS World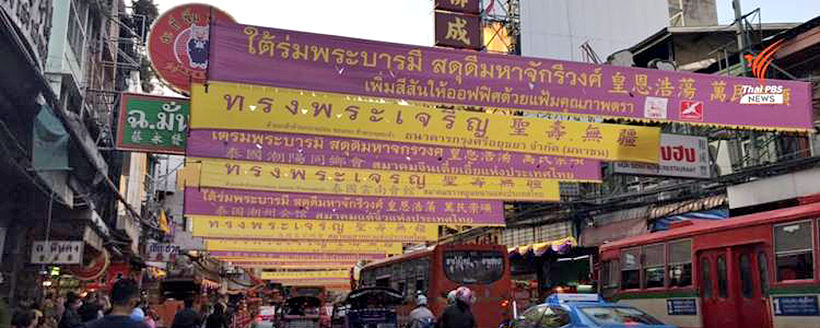 Keep in contact with The Thaiger by following our
Facebook page
.