Andamanda Phuket Waterpark: What to expect and how to prepare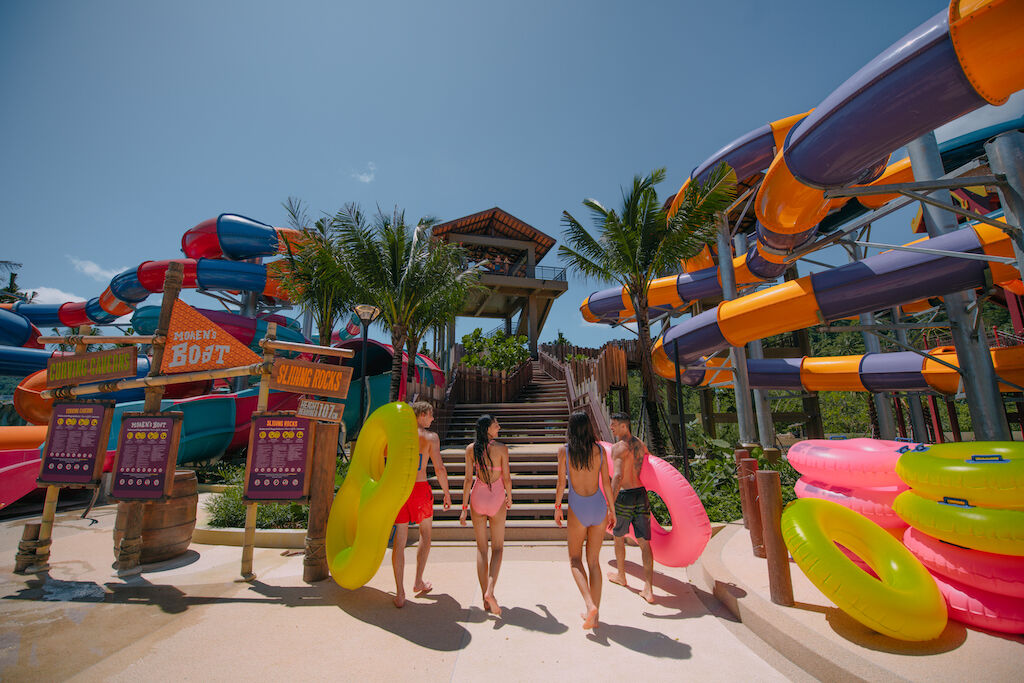 The sun is shining, the water is cool, the rides are thrilling, and you're ready to go to Andamanda Phuket Waterpark for a day of fun in the sun. Who doesn't love an exhilarating day of fun and thrills? But before you put on your swimsuit and hit the water slides, there are a few things you should know to ensure your day is full of nothing but good times!
From finding the perfect swimsuit to understanding a few safety tips, this article will help you make sure your splash-filled day in Andamanda Phuket goes just as planned.
The Great Water Kingdom
Andamanda Phuket Waterpark is a leisure and entertainment destination in Phuket that offers a wide range of slides, pools, and food. The park's design is inspired by Thai mythology legends, and hidden treasures and features Sino-Portuguese and Thai architecture. It blends famous Andaman landscapes with iconic Thai structures in a natural expression of uniqueness found in limestone cliffs, Koh Tapu, and Andaman bay. The park is the largest of its kind in Phuket and is ready to provide a perfect experience for everyone, regardless of age.
Andamanda Phuket Waterpark is where fun meets safety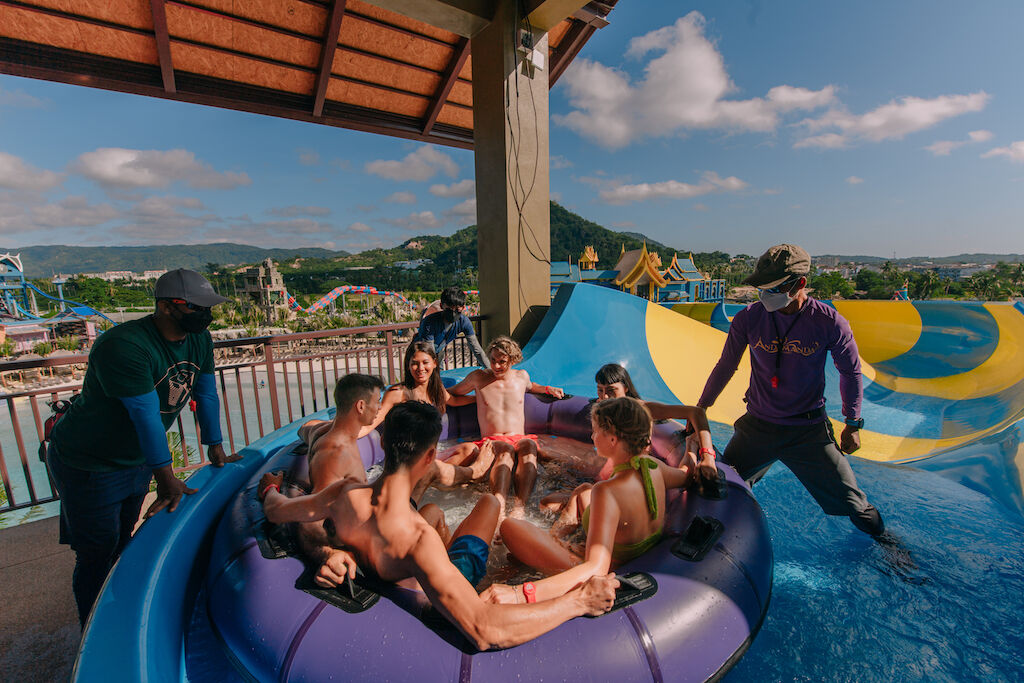 In Andamanda, safety is everything! They want you to have a fun, worry-free, and secure experience. That's why they're dedicated to ensure you're safe and sound at all times. Plus, they have a team of amazing lifeguards who are ready to jump into action at any moment, so you can rest easy knowing that they're always prepared for any situation.
But to make sure that you have the time of your life while also being safe, your contribution is just as crucial as the lifeguards and staff. That's why it's essential that you read all safety signs and listen to the staff at all times.
No running around and diving, please!
With so many thrilling rides to choose from, it's easy to get carried away and run from one to another. But hold your horses! Remember, this is a waterpark, which means things can get pretty wet and slippery. No one wants to slip and slide their way into an unfortunate accident, right?
And as much as we all love the idea of diving into the refreshing waters, safety is always the top priority. That's why the park has a strict no-diving policy in place, at all times, in all areas. So, let's stick to the rides and other fun activities and leave the diving to the pros.
Keep in mind that every ride has its own restrictions and safety requirements. For example, some attractions have specific height, weight, and health requirements. So please read the signs before taking the plunge. Everyone here wants you to have a blast without any potential injuries.
Keep an eye on your children
Don't forget to keep a close watch on your kiddos when they're making a splash in the water. Safety comes first, so don't sneak off to get another nugget! And if they need a little extra help staying afloat, make sure they've got the right gear.
Only use Andamanda's and approved life jackets
Nothing screams safety quite like Andamanda Phuket Waterpark's top-of-the-line life jackets. Their life jackets have earned the prestigious stamp of approval from the US Coast Guard – a badge of honour for any water activity enthusiast. These jackets are specially designed to withstand the rigours of cruising, racing, offshore fishing, and even the harshest weather conditions.
But wait, there's more! Their jackets also boast the coveted UL Listed Mark, which means that they have undergone rigorous testing and evaluation by a UL engineer at a UL-approved laboratory. Plus, their jackets have received the UL Marine certification, so you can rest assured that they're ready for action. Best of all, they're free to use throughout the park, so make sure to find one that fits you properly.
Tips for dressing at Andaman Phuket Waterpark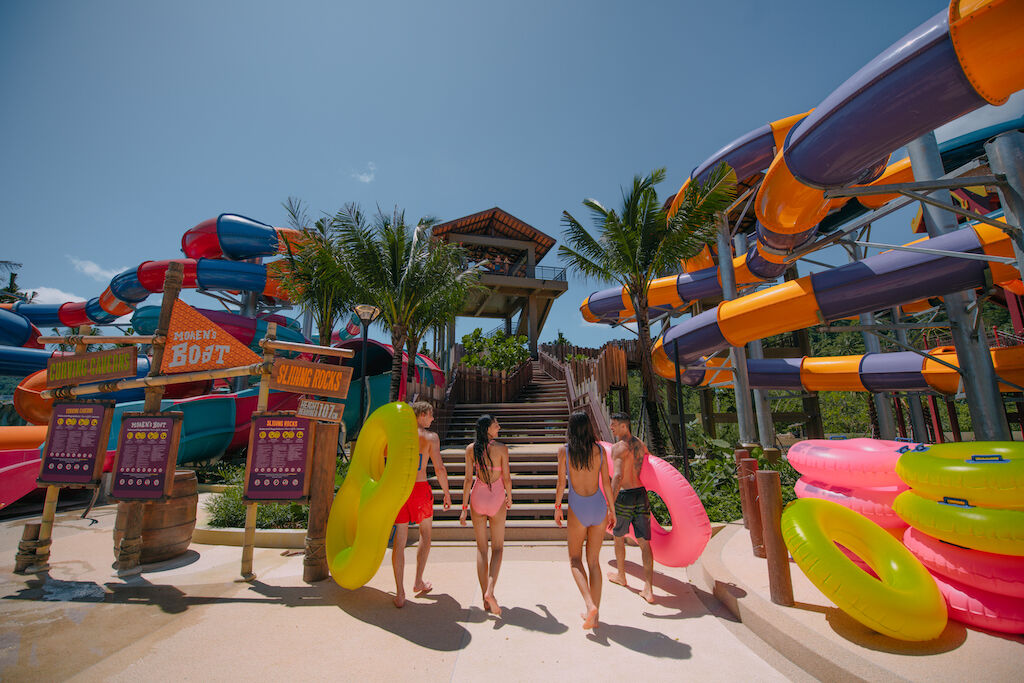 Andamanda Phuket Waterpark is pretty relaxed when it comes to dress code. However, there are a few guidelines to follow if you want to look cool and feel comfortable.
Their rules state that you need to wear appropriate swimwear – so leave your denim shorts and cut-offs at home. But don't worry if you don't have one, they offer a range of swimwear available in their retail store. From hijabs for Muslim guests to full bathing suits and bikinis, they've got every size and style at prices ranging from 450 to 1,500 baht.
Make sure to avoid swimsuits with plastic pieces, metal rivets, buckles, belts, grommets, or ornaments that could get stuck on the slides and cause some damage to you or the rides. And for your own safety, avoid wearing protruding or hanging jewellery at certain attractions. You don't want to be the one who caused a major splash – for all the wrong reasons!
What about toddlers and diapers?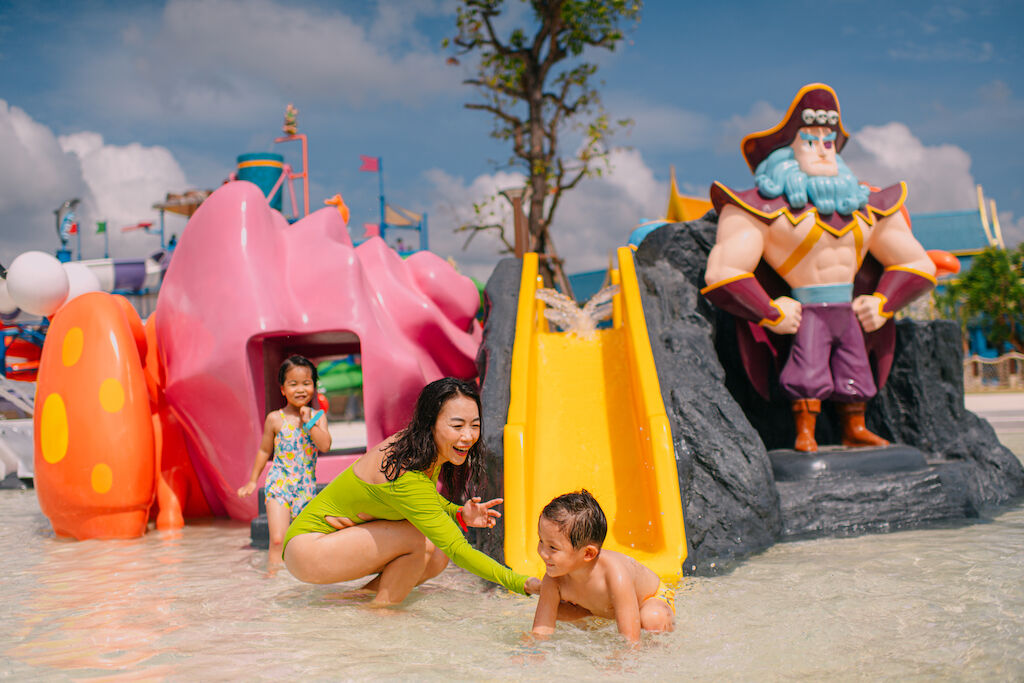 Toddlers are also welcome at Andamanda Phuket Waterpark. They can wear waterproof diapers for the whole day. If you don't have waterproof swimming diapers for your baby, you can grab some right next to the swimsuits at The Bazaar, their retail shop.
What not to bring to Andamanda Phuket Waterpark and why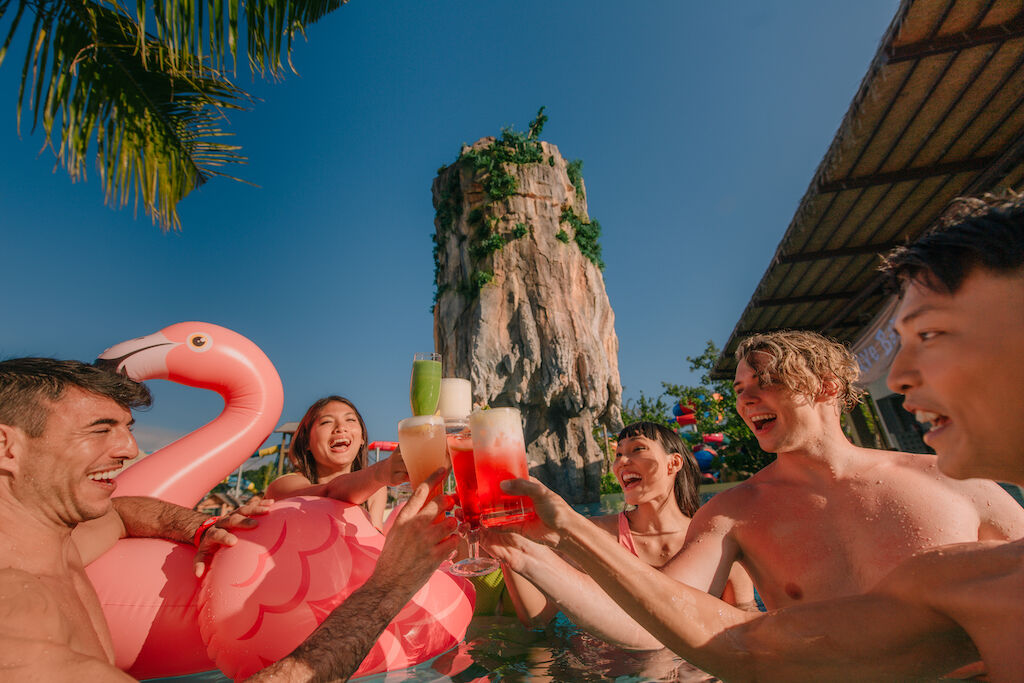 Before you pack your bags, make sure you know what you can and cannot bring with you. Some of the main items you shouldn't bring into the park include weapons, personal floatation devices, and snorkelling gear. Additionally, preventing your kids from bringing their toys into the pool is a wise decision. With exciting rides and attractions, they will have plenty of fun without relying on their lovely toys. It's a chance for them to take a break from their toys for a bit!

For your safety, the park doesn't allow hammocks or unsecured umbrellas in the park. Yes, it may sound relaxing to lounge in a hammock, but there are plenty of cosy spots in the park to relax and catch some rays. In addition, while we love our furry friends, pets cannot enter the park, except for service animals or guests with disabilities. And please, don't leave your pets in your vehicle. Lastly, you shouldn't bring outside food and drinks into the waterpark.
Why can't you bring food into the waterpark?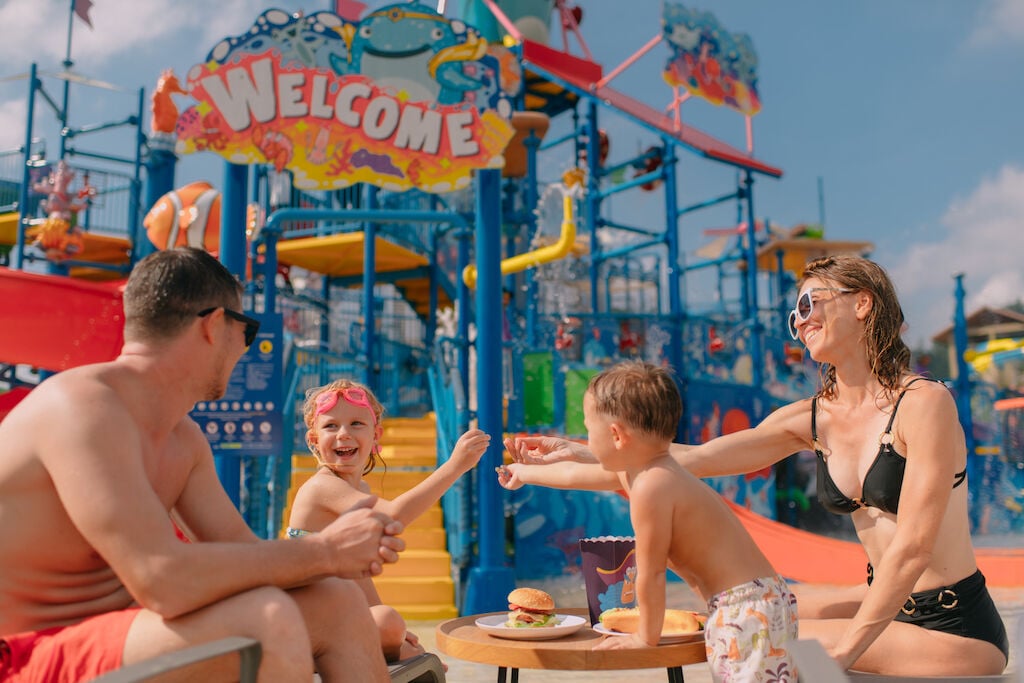 We know it can be a bummer to leave your favourite snacks behind, but it's for your own safety. You can't bring outside food or beverages since they can cause upset tummies (and nobody wants to deal with that). Instead, you can satisfy your cravings at one of their fantastic restaurants.
One of them is The Village, where they serve everything from American classics like burgers and fries. There are also Tropical Beach restaurants, which offer a wide range of delicious options, from vegetarian food, and American BBQ style to Indian cuisine. And if you're in the mood for a drink, head to the Wave Bar for a stunning view of James Bond Island or the Sand Bar for a dip in the coolest transparent pool.
Complete amenities to enhance your experience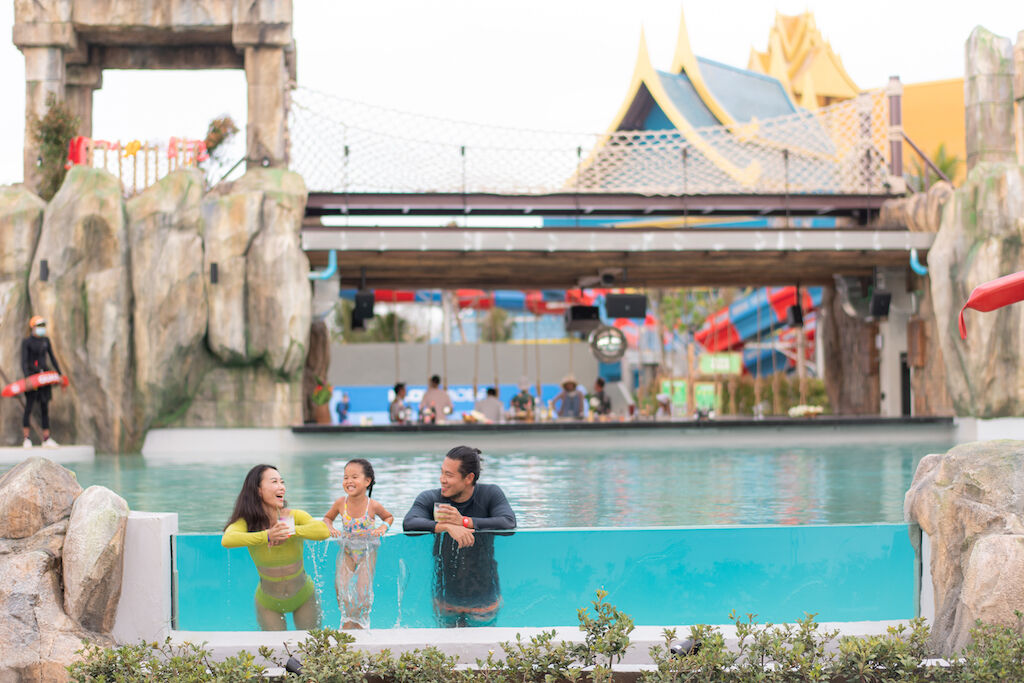 Get ready to experience a water park with all the amenities you could possibly need. From family changing rooms to shower rooms, and toilets, Andamanda Phuket Waterpark has got everything. You'll find 4 family changing rooms, 18 changing rooms, and 65 shower rooms. But let's not forget about the 38 toilets that even have designated kid-friendly and accessible options for those with physical disabilities.
Moreover, there's a whopping 1,100 lockers available. This means that you can keep your belongings safe while you enjoy the water park's amazing attractions. And if you happen to forget your towel, don't worry. They've got you covered for a small fee of 200 THB.
But that's not all, folks! The Andamanda Shop has a wide range of swimsuits for everyone, from toddlers to adults. They even have unique collection items from their adorable mascot that are sure to make you stand out. Whether you need a new swimsuit or just want to take home a souvenir to remember your fun-filled day, be sure to check out the Andamanda Shop.
With thrilling rides, wave pools, and plenty of sunshine, spending a day in Andamanda Phuket Waterpark is a great way to make unforgettable memories with friends or family. And with these insider tips, you can make the most of your day while also keeping yourself and others out of harm's way. So let's make a splash, but always remember to swim safe!
Now that you know how to have fun while keeping yourself and others safe, check out how to spend an awesome day at Andamanda Phuket Waterpark HERE.
Sponsored
Things To Do

Join the conversation and have your say on Thailand news published on The Thaiger.
Thaiger Talk is our new Thaiger Community where you can join the discussion on everything happening in Thailand right now.
Please note that articles are not posted to the forum instantly and can take up to 20 min before being visible. Click for more information and the Thaiger Talk Guidelines.