Airlines suspending flights – Thai Lion Air, Singapore Airlines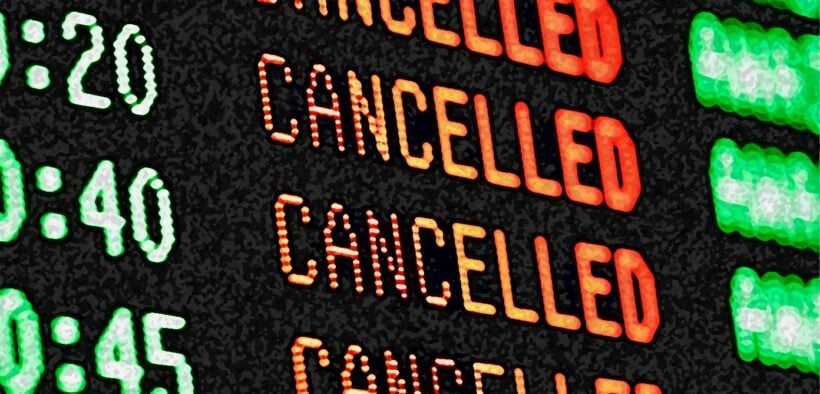 "The airline has been seriously affected by the coronavirus situation, with passenger loads dropping so sharply that, some days, there are no passengers at all."
This is a letter addressed to the director of the Civil Aviation Authority of Thailand (CAAT), Chula Sukmanop, sent from the CEO of Thai Lion Air Aswin Yongkiratikorn.
Thai Lion Air has formerly notified CAAT that it will temporarily suspend operations, for both domestic and international flights, effective March 25, until the Covid-19 outbreak situation eases off or May 1, whichever is later.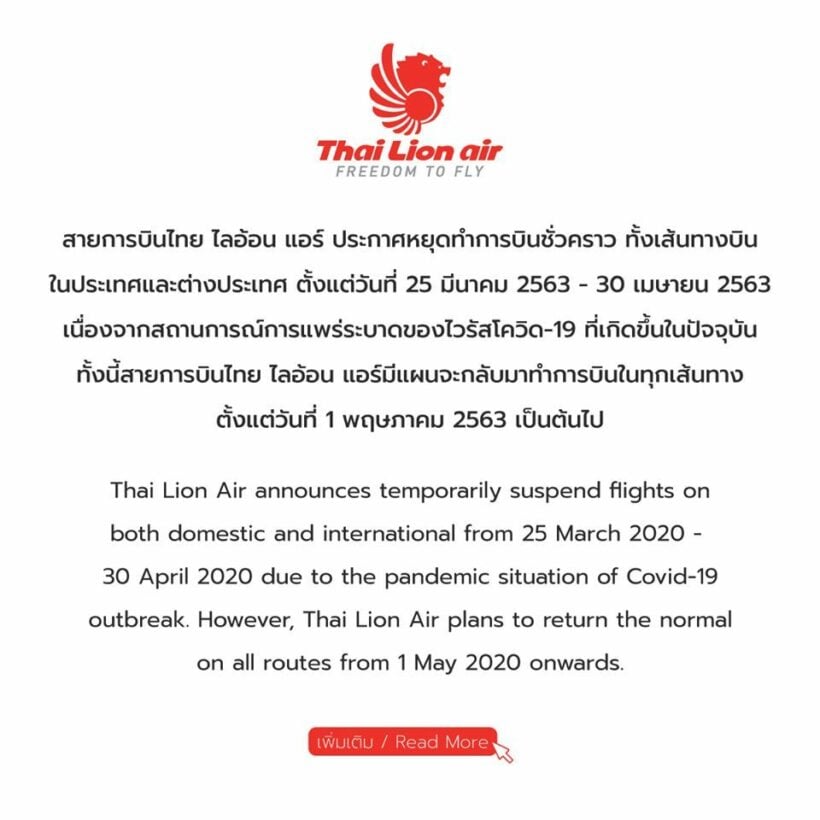 Today Singapore Airlines (SIA) announced that it will reduce more than 90% of its capacity as demand for air travel has dramatically declined due to coronavirus-related movement restrictions.
138 of the 147 aircraft in the airline's fleet, including those of group carrier SilkAir, and also Singapore Airlines' budget carrier 'Scoot,' will be grounded.
Travel restrictions imposed by governments around the world to slow down the spread of the virus "is the greatest challenge that the SIA Group has faced in its existence," the airline said in a statement today.
It is unclear when the SIA Group will begin to resume normal services, given the uncertainty of the situation both in Singapore, regional and world destinations.
SOURCE: Bangkok Post/ Thai PBS World
Keep in contact with The Thaiger by following our
Facebook page
.
Aviation industry estimates that 25 million jobs are in peril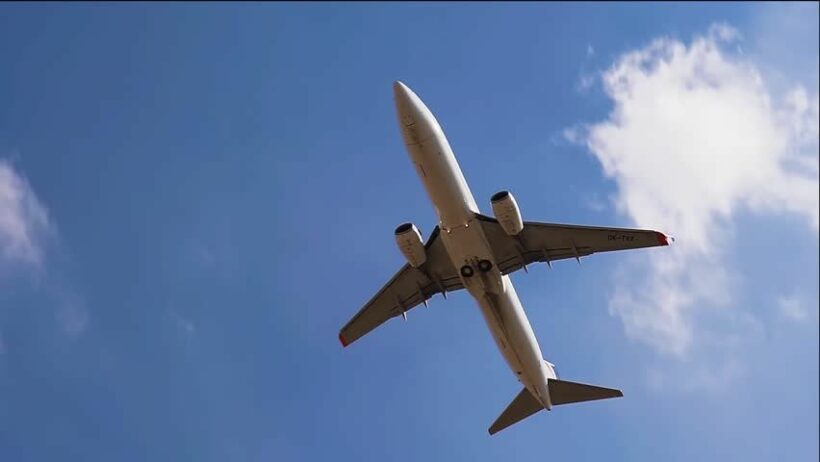 Amongst industries hit during the Covid-19 situation, the aviation industry has probably been hit harder than most with huge investments, millions of staff, complicated infrastructure, small margins and thousands of down-stream businesses. It will also take a lot longer to wind the whole aviation machine back up when things eventually settle down.
The International Air Transport Association estimates that some 25 million jobs are at risk due to the impact Covid-19 is having on the industry. It reports that the livelihoods of some 65.5 million people. dependent on the aviation industry, including sectors such as travel and tourism, are also at peril. Among these are 2.7 million airlines jobs.
In a bleak scenario, assuming travel restrictions could last for three months, the IATA report estimates that 25 million jobs in aviation and related sectors are endangered …
• 11.2 million jobs in Asia-Pacific
• 5.6 million jobs in Europe
• 2.9 million jobs in Latin America
• 2.0 million jobs in North America
• 2.0 million jobs in Africa
• 0.9 million jobs in the Middle East
Airlines could also expect to see full-year passenger revenues fall by US$252 billion, a whopping 44% drop for 2020, compared to 2019. It's also estimated that world airlines have burned through US$61 billion in cash during the past three months, limping along as countries close borders and airports shut down.
Airlines are now calling on governments for critical financial aid to help airlines to remain viable businesses. Clearly, whenever planes start taking to the sky again, there will be some brands missing who were unable to survive the financial impact of the industry collapse.
IATA is calling on governments to support local airlines with…
• Direct financial support
• Loans, loan guarantees and support for the corporate bond market
• Tax relief
Alongside vital financial relief, the industry will also need careful planning and coordination to ensure that airlines are ready when the pandemic is contained. It will be complicated. At the practical level airlines will need contingencies for licenses and certifications that have expired.
Planes, sitting gathering dust for months on end will need critical maintenance and testing before returning to service.
At the root of the industry's problems is that airlines have been such a vital part of the contagion's ability to spread. The popularity of plentiful, cheap, airfares, linking the world, has provided the perfect environment for the virus to spread. All those people waiting in queues, cooped up in a plane for hours creating the same air, sitting inches away from each other.
The industry will have to find a more predictable and efficient approach to managing travel restrictions which need to be lifted before we can get back to work. And there won't be a single day when the shutdown is magically lifted and all airlines leap back into the sky. It will be a lumpy lurch back into service as countries, one by one, start re-opening airports and borders.
These are just some of the major tasks that are ahead of us. And to be successful, industry and government must be aligned and working together," according to director general and CEO Alexandre de Juniac.
"We ended up with a mess of measures that we are still sorting out today. The 25 million people whose jobs are at risk by this crisis will depend on an efficient re-start of the industry."
Keep in contact with The Thaiger by following our
Facebook page
.
Visa amnesty for foreigners – but conditions apply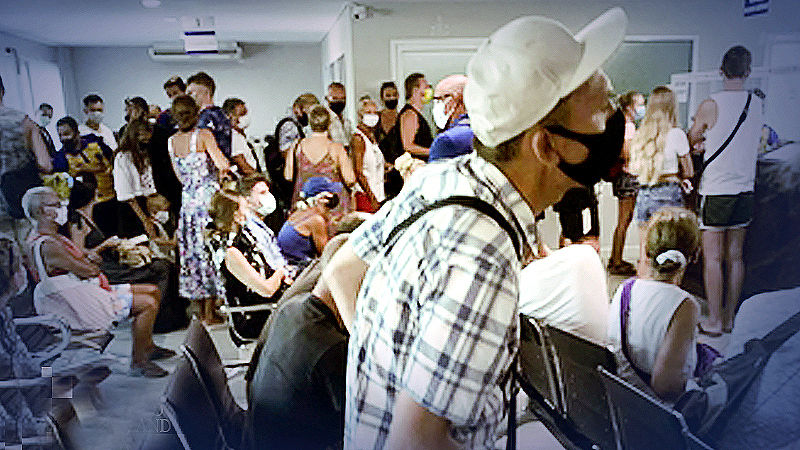 "All foreign nationals are advised to closely monitor the Immigration Bureau's website for updates, though the measures announced on Wednesday are valid until April 30 unless otherwise updated."
The visa amnesty has been announced, hopefully relieving some of the stress on stranded tourists and other foreigners that have ended up without flights or ways to get home. Many flights have been cancelled, confusion has made people miss flights or their home borders may have been closed.
The Immigration Bureau has now announced, after a few false starts, that it is granting visa relief for all foreign nationals who have found themselves marooned in Thailand. The announcement is now up on the bureau's website.
• Visas that have expired from March 26 onwards will be automatically extended to April 30.
• Foreigners are no longer required to apply in person for an extension at an immigration office
• They will not be charged 500 baht per day for overstaying their visa
• Foreigners who are due to file their 90 day reports, between March 26 and April 30, are also temporarily exempted.
• Foreigners with border passes will be allowed to stay in Thailand for now but will be required to leave Thailand within 7 days once the borders are opened again.
Tourists, expats and other visitors have been forced to queue up, sometimes in cramped or hot conditions, putting themselves and the immigration officials at risk.
Meanwhile, many Thais remain stranded overseas with the government's latest edict to allow only 200 Thais to re-enter the country each day so that quarantine facilities can be prepared for them – they will not be allowed to return to their homes until they have spent 14 days in a government-controlled quarantine area.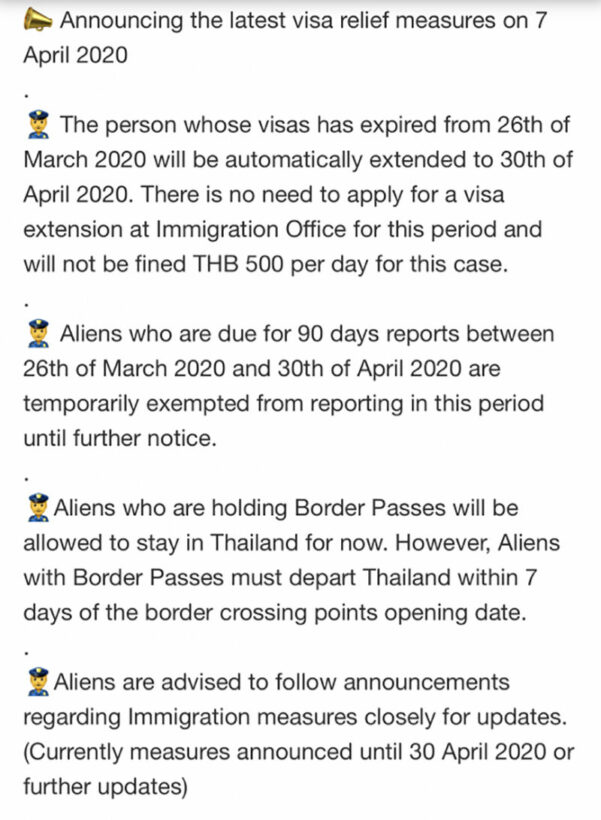 Keep in contact with The Thaiger by following our
Facebook page
.
BIG arrest on price gouging of Covid-19 safety gear and fake test kits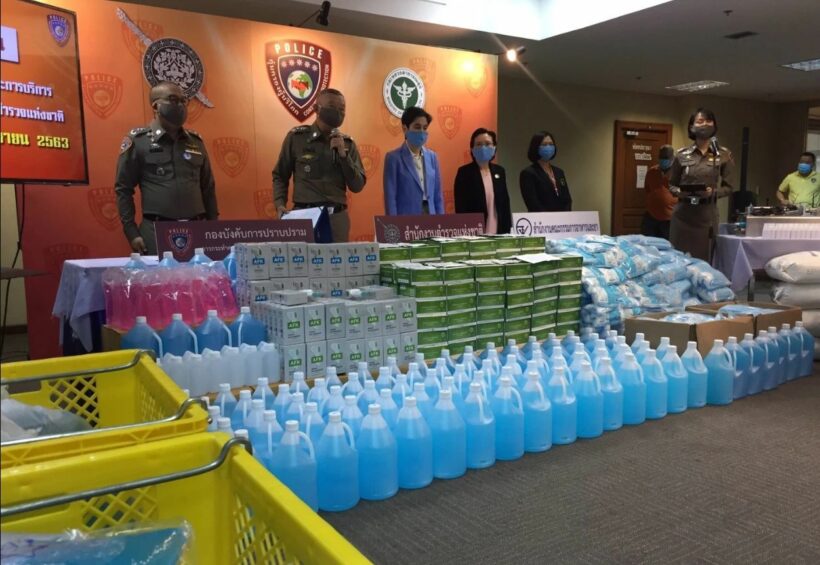 2 Chinese men identified as Chen Lei and Wein Pinpin have been arrested inside a home in Pra Khanong district, Bangkok, after officials received a tip-off that fake Covid-19 test kits were being smuggled into the country. 45,000 fake Covid-19 test kits, 350,000 medical masks, and 1,200 infrared thermometers were seized. The evidence was valued at 33,750,000 baht.
These items were being sold without permission at a extortionate prices in Bangkok area and nearby districts.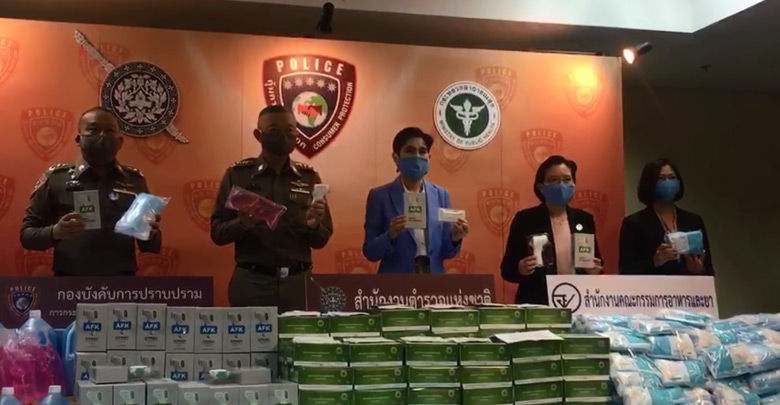 The Food and Drug Administration will be investigating to find out where the fake Covid-19 test kits were made, and who else is involved in importing them into the country.
Police and officials from the Consumer Protection Police Division and officials from the Food and Drug Administration have reported that a large pile of evidence is piling up as the crisis unfolds, including…
45,000 fake Covid-19 test kits, 350,000 medical masks, 1,200 infrared thermometers, 53,000 litres of alcohol, 7,896 bottles of fake hand sanitisers and 82,771 cosmetic items, valued around 50 million baht
The punishment for smuggling medical equipment is imprisonment of up to 1 year, and a fine not exceeding 100,000, or both.
All products claiming to be Covid-19 test kits online at the moment are all fake, according to the Thai FDA.
SOURCE: Thai Residents
Keep in contact with The Thaiger by following our
Facebook page
.