Thai teenager dreams of being an architect, sells his artwork to earn tuition fees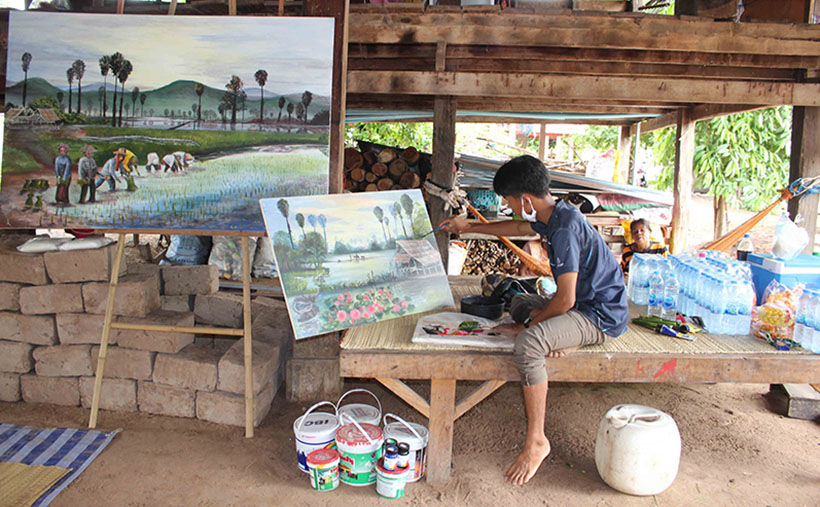 A talented teenager in the north-eastern province of Kalasin has taken to painting landscapes of his local area and selling them to earn his university fees. 18 year old Krittamet Saisaen, known as "Earth", dreams of being an architect, but the prohibitively expensive fees put that beyond his reach. Earth's mother died 2 years ago, at which point his father abandoned him and his brother to the care of their farmer grandparents.
While their mother was ill in hospital, Earth and his brother would alternate time in school with time spent looking after her. It was at this point that the young boy returned to his childhood passion of drawing in order to make some money. He started out by selling his work to neighbours for as little as 20 or 50 baht, all the time improving his skills with the help of You Tube videos and an art teacher at school.
The arrival of the Covid-19 lock-down provided him with extra time to focus on his art, reproducing more of his hometown's rural landscapes. A report in Khaosod English says Earth's long-term goal is to be an architect, but he found the Arsom Silp Institute of The Arts in Bangkok would cost 60,000 baht for his first term. In order to get a degree, he would be required to complete 10 terms, something his farmer grandparents could never afford.
"I would not have had money to go to school, unless my grandparents sold off their farmland, our family's last asset. I won't let them sell it because I love nature and I love the land. Although I have my dreams, if I can't go to school then I can let it go."
The teenager says a student loan is also out of the question as he couldn't afford the repayments. Instead, he is relying on his talent with a paintbrush, saying that in addition to landscapes, he can produce still-life work such as flowers and other objects, although he draws the line at doing portraits.
After his story was highlighted in various media outlets, orders have started to flood in for his work, with each piece priced between 1,000 – 2,000 baht. Earth is also hoping to use his newfound success to shine a light on the environmental challenges faced by Kalasin, and hopes to build an environmentally-friendly hut in which to teach others how to paint while caring for the environment.
"Maybe people pity me, because they heard about my story. But I want to raise the issue of the environment too, to put the focus on that. There are so many issues in this area, deforestation, trash pollution, burning trash, chemical fertilisers. The issue is about both the environment and art. I want children to care for nature and the environment."
Anyone interested in purchasing Earth's work can contact him through his Facebook page.
SOURCE: Khaosod English
Keep in contact with The Thaiger by following our Facebook page.
Never miss out on future posts by following The Thaiger.
Head of army band shot dead at military base in north-east Thailand – VIDEO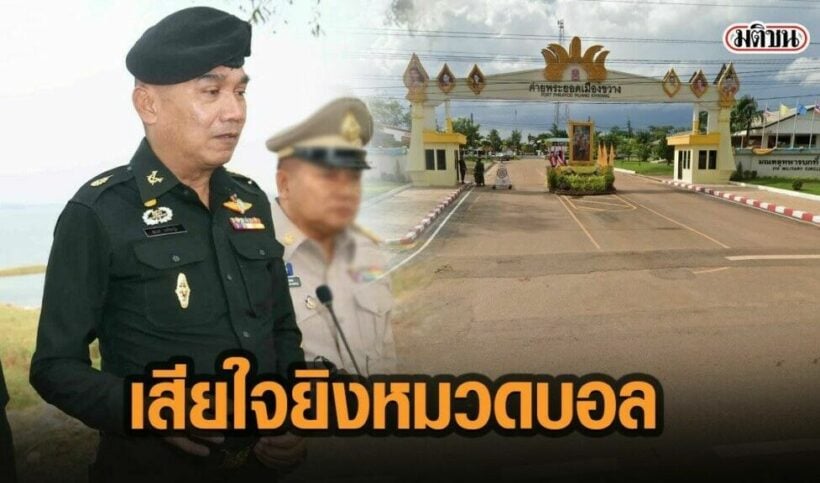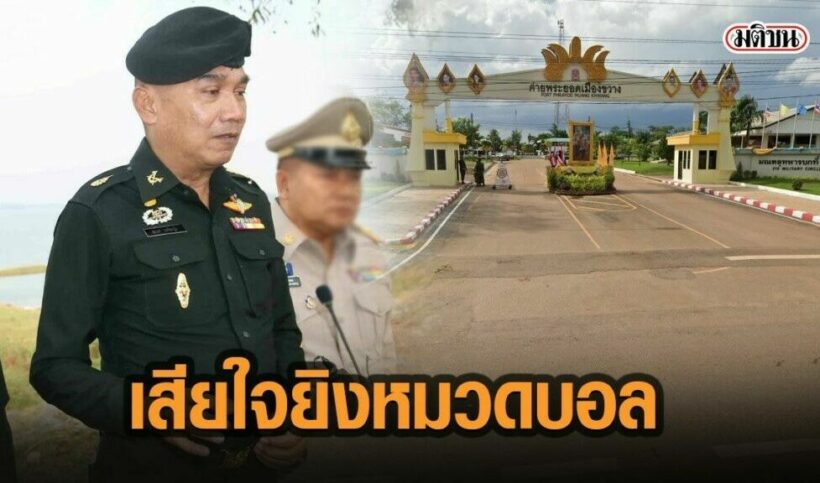 An army band leader has been shot dead at a military camp in the north-eastern province of Nakhon Phanom, with police launching a murder investigation. 34 year old Rungchalerm Pansawasdi was shot 3 times in the head and neck, at the Phra Yod Muang Kwang army base on Wednesday evening. He had just returned from having dinner with his wife, who had dropped him off and driven away.
Rungchalerm was getting on a motorbike when a man approached and shot him at point-blank range before running off. According to a Bangkok Post report, the victim was rushed to Nakhon Phanom Hospital but died a short while later.
Army commander Samart Jintasamit says the perpetrator is likely to be from the army base, adding that the gunman may have been following Rungchalerm for some time and may also have had someone else acting as a lookout. Samart says the gunman appeared to know that the back of the camp is currently being re-fenced, saying he could have escaped that way.
The police, who were at the camp the following afternoon to collect evidence, are working on the case with the help of the military. It's understood the victim had recently requested a transfer due to conflict with a colleague. An autopsy is being carried out at Srinagarind Hospital, in the north-eastern province of Khon Kaen.
SOURCE: Bangkok Post
Keep in contact with The Thaiger by following our Facebook page.
Never miss out on future posts by following The Thaiger.
Thai Public Health Ministry starts cannabis cultivation project in Buri Ram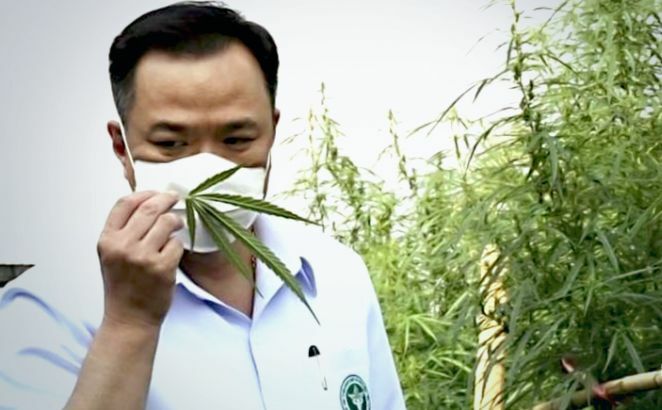 A cannabis cultivation project is being launched by Thailand's Public Health Ministry in the Isaan province Buri Ram. 6 cannabis plants will be given to each member of the local Non Malai Community Enterprise as a pilot project on commercial cultivation of cannabis, according to the director of the ministry's cannabis research group, Kitti Losuwannarak.
Cannabis flowers and buds will be sent to the Khu Muang Hospital in the province. Other parts of the plant will be processed as health products, according to Nation Thailand. Thailand recently removed parts of the cannabis plant with low levels of the psychoactive component tetrahydrocannabinol, aka THC, from the narcotic's list. Parts of the plant with high levels of THC, like the buds, are still classified as a Category 5 drug under Thailand's Narcotics Act.
Since the declassification of of cannabis leaves and stems with low levels of THC, a cannabis cafe opened up in Prachin Buri, east of Bangkok, serving dishes with cannabis leaves. A Bangkok dessert shop also announced it is adding cannabis leaves to their pandan and coconut pancakes.
SOURCE: Nation Thailand
Keep in contact with The Thaiger by following our Facebook page.
Never miss out on future posts by following The Thaiger.
Man arrested in northeast Thailand, accused of producing fake bank notes
Police in the north-eastern province of Si Sa Ket have arrested a 37 old man accused of producing counterfeit currency. Phichaphob Phankham was detained at a property in the Nong Phai district as part of an investigation into a trail of fake 100 baht notes in circulation in Si Sa Ket and neighbouring provinces. Police say his arrest follows the capture of 2 other suspects earlier this week.
"Earlier on Wednesday, we had arrested 2 suspects for using counterfeit bills at top-up kiosks in Si Sa Ket and seized over 300 fake bills."
Nation Thailand reports that during Phichaphob's arrest, police found a photocopier with 3 real 100 baht bills inside, as well as 45 fake 100 baht bills, a paper cutter, and packs of photocopier paper. The suspect has confessed to producing fake 100 baht bills, saying he would use them at phone top-up kiosks in Si Sa Ket and the neighbouring provinces of Surin and Yasothon.
It's understood the accused has only just come out of prison, having been released on December 25. He has confessed to producing the counterfeit currency since January 24. He has been charged with making and using fake currency, which carries a penalty of anything from 10 years to life in prison and fines of between 20,000 and 40,000 baht.
SOURCE: Nation Thailand
Keep in contact with The Thaiger by following our Facebook page.
Never miss out on future posts by following The Thaiger.