Thai teenager dreams of being an architect, sells his artwork to earn tuition fees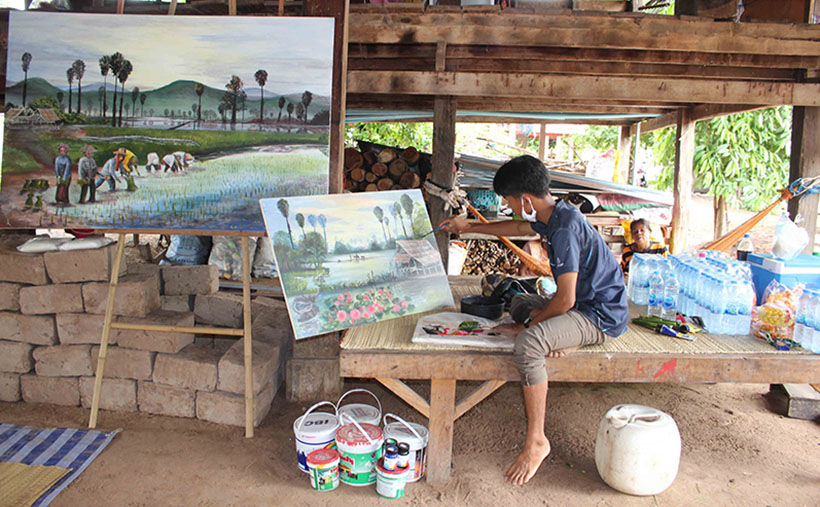 A talented teenager in the north-eastern province of Kalasin has taken to painting landscapes of his local area and selling them to earn his university fees. 18 year old Krittamet Saisaen, known as "Earth", dreams of being an architect, but the prohibitively expensive fees put that beyond his reach. Earth's mother died 2 years ago, at which point his father abandoned him and his brother to the care of their farmer grandparents.
While their mother was ill in hospital, Earth and his brother would alternate time in school with time spent looking after her. It was at this point that the young boy returned to his childhood passion of drawing in order to make some money. He started out by selling his work to neighbours for as little as 20 or 50 baht, all the time improving his skills with the help of You Tube videos and an art teacher at school.
The arrival of the Covid-19 lock-down provided him with extra time to focus on his art, reproducing more of his hometown's rural landscapes. A report in Khaosod English says Earth's long-term goal is to be an architect, but he found the Arsom Silp Institute of The Arts in Bangkok would cost 60,000 baht for his first term. In order to get a degree, he would be required to complete 10 terms, something his farmer grandparents could never afford.
"I would not have had money to go to school, unless my grandparents sold off their farmland, our family's last asset. I won't let them sell it because I love nature and I love the land. Although I have my dreams, if I can't go to school then I can let it go."
The teenager says a student loan is also out of the question as he couldn't afford the repayments. Instead, he is relying on his talent with a paintbrush, saying that in addition to landscapes, he can produce still-life work such as flowers and other objects, although he draws the line at doing portraits.
After his story was highlighted in various media outlets, orders have started to flood in for his work, with each piece priced between 1,000 – 2,000 baht. Earth is also hoping to use his newfound success to shine a light on the environmental challenges faced by Kalasin, and hopes to build an environmentally-friendly hut in which to teach others how to paint while caring for the environment.
"Maybe people pity me, because they heard about my story. But I want to raise the issue of the environment too, to put the focus on that. There are so many issues in this area, deforestation, trash pollution, burning trash, chemical fertilisers. The issue is about both the environment and art. I want children to care for nature and the environment."
Anyone interested in purchasing Earth's work can contact him through his Facebook page.
SOURCE: Khaosod English
Keep in contact with The Thaiger by following our
Facebook page
.
Millions of meth pills, tonnes of marijuana seized in 3 major drug hauls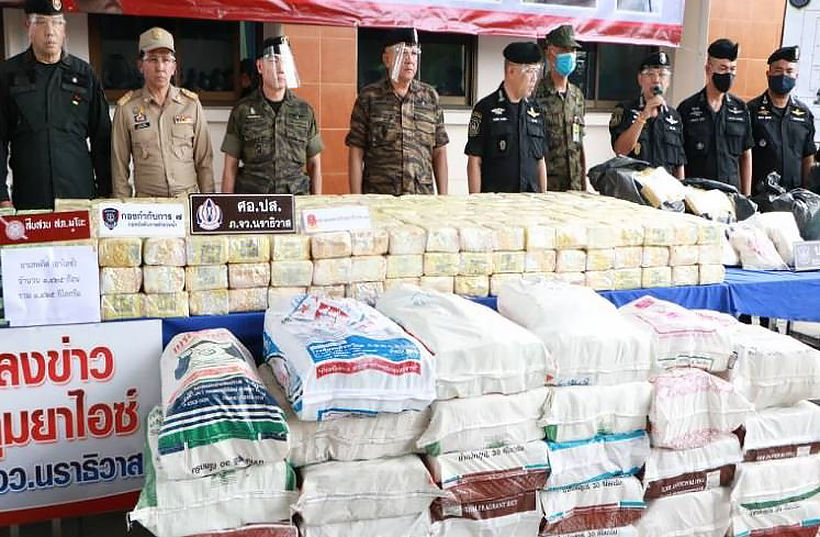 In what is becoming an increasingly common story, police have announced the seizure of millions of methamphetamine pills (ya ba) and more than 2 tonnes of marijuana, among other types of illicit drugs, in 3 major anti-drug operations last week. The head of the Narcotics Suppression Bureau told a press briefing that drug agencies confiscated nearly 1.5 million methamphetamine pills, 2.4 tonnes of cannabis and 6 kilograms of ketamine, and arrested about a dozen suspects.
He says that in the first bust, in Isaan's Sakon Nakhon province, officers seized about 400 kgs of marijuana, a Hyundai pickup, and arrested 24 year olds Peerapat Chaisunthorn and Chariya Niyompeng. In the second operation, police in Lampang province, near Chiang Rai, arrested 40 year old Songkod Sriharan, 63 year old Chaisri Kongauksorn, and Ratchanok Boonta after a traffic stop while they were making their way to Chiang Mai province. Around 1.5 million ya ba pills were confiscated.
The NSB chief says the 3 are believed to be connected to the same gang of smugglers arrested with 4 million methamphetamine pills in northern Thailand earlier this year.
In the third operation, police in Isaan's Udon Thani province nabbed 6 suspects and seized two tonnes of marijuana and 6 kgs of ketamine. They were identified as 31 year old Mongkol Chonthanasilp, 48 year old Thanabodee Yakasem, 36 year old Bussayaporn Rangvigee, 35 year old Niroj Mingkwan, 30 year old Boonprom Laknongbu and 38 year old Patracha Taweewan.
Police froze assets suspected to have come from the men's alleged drug dealings. In May, one of the biggest drug hauls in decades, was made in Myanmar's Shan state.
SOURCE: Bangkok Post
Keep in contact with The Thaiger by following our
Facebook page
.
Lucky escape for rafting group after dam floodgate opens – VIDEO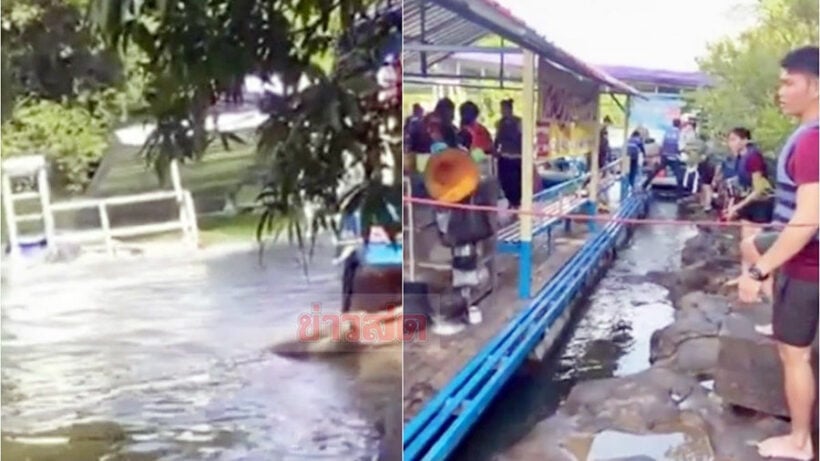 A group of tourists is lucky to be alive after a worker accidentally opened a dam floodgate nearby. The tourists had just seconds to get out of the way, as a tour guide who realised what was happening, yelled a warning at them. Thai Residents reports that the incident happened at the Sirindhorn Dam in Ubon Ratchathani, in the north-east of the country.
It's understood an employee at the dam opened the floodgate without realising there were people in the water. The rush of water caused one raft to break away from its mooring, as several others rammed into each other, with items on the rafts being flung into the water. Wuttichai Kumchul, a 33 year old tour guide and raft owner, yelled at tourists who were swimming or sitting on rafts, to get out immediately.
"I yelled to the tourists in the water and to those still on the raft to get out of the water. I rushed onto land for safety and told the tourists to do the same. The water was so strong one of the rafts got loose and crashed into other rafts nearby. There is about 10,000 baht in damages from the incident. The tourists that were in the dam are now terrified for their lives."
The floodgate at the dam is usually opened in the morning for electricity generation, with a warning message sent to raft operators beforehand. However, this time, the floodgate was opened at 3 pm without warning. It is not known if any disciplinary action is being taken against the employee who opened the floodgate.
SOURCE: Thai Residents
Keep in contact with The Thaiger by following our
Facebook page
.
Thailand teams with Laos to stop drug trafficking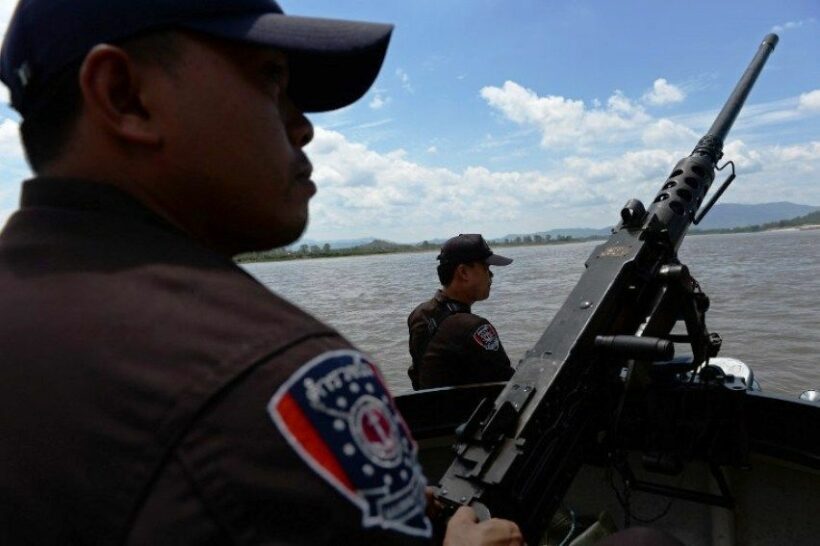 Thailand is reportedly teaming up with Laos to stop drug trafficking after drug syndicates have changed their routes from Myanmar to Laos.
Thailand Narcotics Control Board secretary-general Niyom Termsrisuk, says the direction change was due to heavy policing at the Myanmar-Thai border; causing traffickers to switch routes. The Royal Thai Armed Forces have formed a division to combat drug trafficking in the Thai provinces that border Laos, with 12 teams of officers being deployed.
The ONCB chief says a spike in smuggling was detected in the northeastern borders from Loei to Ubon Ratchathani provinces with Nong Khai, Mukdahan, Bung Kan and Nakhon Phanom provinces seeing the most trafficking.
Methamphetamine, crystal meth, or "ice," and marijuana were the main drugs being smuggled with 22 million meth pills, 638 kilograms of ice, and 6,240 kilograms of marijuana being seized by Thai authorities over the past year.
Despite the Thai government's efforts to try and stem smuggled drugs into the country, plenty of them find their way into the inner parts of the country. At the end of May this year, 1 million methamphetamine pills were confiscated in the capital, just one of many drug busts of multiple millions of pills and other illicit drugs.
According to the UNODC Representative for Southeast Asia and the Pacific…
"It is hard to imagine that organised crime have again managed to expand the drug market, but they have. While the world has shifted its attention to the Covid-19 pandemic, all indications are that production and trafficking of synthetic drugs and chemicals continue at record levels in the region."
Read more about that report HERE.
SOURCE: Chiang Rai Times
Keep in contact with The Thaiger by following our
Facebook page
.