Thailand News Today | Dinosaurs in BKK, BOT tackles Baht, Special K isn't special | November 23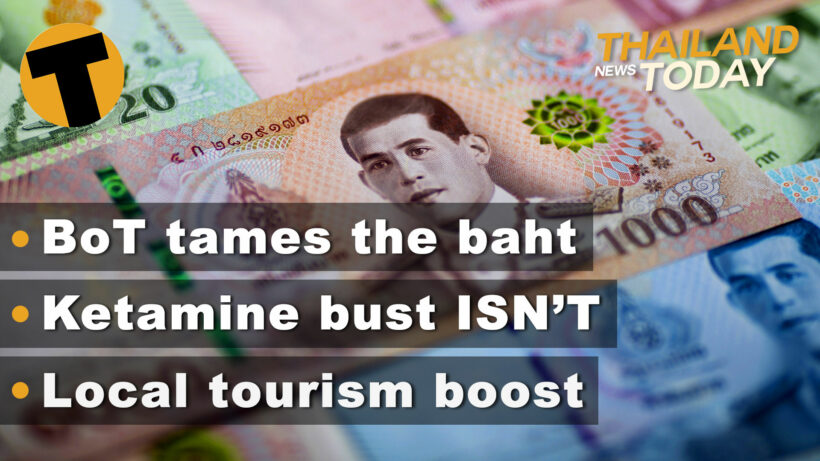 Start of the week, a busy day of news around Thailand with Tim Newton.
Bank of Thailand takes action to curb Thai baht's strength
The Bank of Thailand is moving forward measures, originally meant to begin early 2021, but most of which will now take effect from end of this month.
The end result is that the new rules will make it easier for Thais to shuffle money overseas and invest in foreign assets. It will also make is easier for Thai citizens to hold foreign currency in local banks. The new rules will also require the registration of local and overseas bond investors.
Last week the Bank of Thailand assessed that the Thai baht's recent rapid gains could affect the country's "fragile" economic recovery. The Thai government has called on the central bank to do its best to use what tools it has at its disposal to restrain the baht to protect exports.
Protests go west, up to 2,000 gather in Thonburi
The protests headed west over the weekend. A smaller but symbolic rally. There was also a rally held in central Bangkok on Saturday.
Fit for the end of a 4 day long weekend, the protest road show headed west yesterday, to a far western district of Bangkok, an hour's drive from the city centre. It turned into more of a festival than a political rally where up to 2,000 people gathered. A similar rally was held at the same location by then pro-government, pro-Thaksin, red-shirts one month before the May 2014 Army coup.
#ByeByeDinosaurs – Jurassic Park comes to Bangkok's streets
Meanwhile Jurassic Park clashed with Thai politics on Saturday. Some students attending yesterday's Bad Student protest in Bangkok dressed in dinosaur costumes to represent Thailand's establishment. The high school-aged students joined the calls for the Thai Prime Minister Prayut Chan-o-cha to resign and reform of the Thai monarchy. They are also demanding reform of Thailand's education system and an end to sexual abuse and harassment from the teachers and school officials.
The next protest will be This Wednesday outside the Royal Household Bureau.
Ketamine seized last week in "biggest drug bust ever" contains only chemical cleaning agents
That huge Ketamine bust in Chachoengsao province last week, some 11.5 tonnes (yes tonnes!) of the drug, has turned out to not be quite what it seems.
Originally drug officials seized 475 bags, each weighing 25 kilogram. 66 of these bags were tested. What was inside the bags wasn't Ketamine, as claimed by police, but trisodium phosphate instead.
TSP is used as a cleaning agent, builder, lubricant, food additive, stain remover, and degreaser.
It's certainly not Ketamine. The fact that the bags had great big labels saying TSP might have been a big clue the local drug squad had made a big, and embarrassing, mistake.
Phuket sees 300 million baht boost over long holiday weekend
The Tourism Authority of Thailand says that Phuket has received a much-needed 300 million baht boost over the 4 day long weekend with around 54,000 tourists flocking to the island.
The average expenditure per visitor was about 5,500 baht, which was higher than the average spend for a Thai tourist to Phuket 2 years ago. Random checks on hotels showed that occupancy rates climbed to about 35%, with most guests staying 2 nights. But most of Phuket's hotels still remain closed.
Some good tourist numbers were also reported in Chiang Mai, parts of Pattaya, Hua Hin and the north east. Bangkok, on the other hand, was very quiet.
German parliament clarifies its stance on HM the King's stays in Bavaria
The Bundestag, Germany's federal parliament, has announced that Thailand's King may face challenges if he wants to continue to conduct affairs of the Head of State from the German state of Bavaria.
Thailand's King Maha Vajiralongkorn could be expelled from Germany if he continues to conduct national business whilst staying in his Bavarian villa, a popular oversees stay for the Thai monarch. HM the King's long stays in Europe have come under scrutiny and criticism during the current spate of pro-democracy protests.
The German Parliament says that Thailand's King Maha Vajiralongkorn enjoys diplomatic immunity during his extended stays in his Bavarian hotel, but that the state does have the power to expel him from the country if it believes he is conducting affairs affecting Thailand during his extended stays.
On November 1, during a public audience following a ceremony, HM King Vajiralongkorn described Thailand as "the land of compromise" as thousands of people chanted "Long live the King" in front of the Royal Grand Palace. He was responding to a question posed from the crowd by a British Channel 4 journalist.
Thailand News
Video

Join the conversation and have your say on Thailand news published on The Thaiger.
Thaiger Talk is our new Thaiger Community where you can join the discussion on everything happening in Thailand right now.
Please note that articles are not posted to the forum instantly and can take up to 20 min before being visible. Click for more information and the Thaiger Talk Guidelines.