Thailand News Today | Dinosaurs in BKK, BOT tackles Baht, Special K isn't special | November 23
Start of the week, a busy day of news around Thailand with Tim Newton.
Bank of Thailand takes action to curb Thai baht's strength
The Bank of Thailand is moving forward measures, originally meant to begin early 2021, but most of which will now take effect from end of this month.
The end result is that the new rules will make it easier for Thais to shuffle money overseas and invest in foreign assets. It will also make is easier for Thai citizens to hold foreign currency in local banks. The new rules will also require the registration of local and overseas bond investors.
Last week the Bank of Thailand assessed that the Thai baht's recent rapid gains could affect the country's "fragile" economic recovery. The Thai government has called on the central bank to do its best to use what tools it has at its disposal to restrain the baht to protect exports.
Protests go west, up to 2,000 gather in Thonburi
The protests headed west over the weekend. A smaller but symbolic rally. There was also a rally held in central Bangkok on Saturday.
Fit for the end of a 4 day long weekend, the protest road show headed west yesterday, to a far western district of Bangkok, an hour's drive from the city centre. It turned into more of a festival than a political rally where up to 2,000 people gathered. A similar rally was held at the same location by then pro-government, pro-Thaksin, red-shirts one month before the May 2014 Army coup.
#ByeByeDinosaurs – Jurassic Park comes to Bangkok's streets
Meanwhile Jurassic Park clashed with Thai politics on Saturday. Some students attending yesterday's Bad Student protest in Bangkok dressed in dinosaur costumes to represent Thailand's establishment. The high school-aged students joined the calls for the Thai Prime Minister Prayut Chan-o-cha to resign and reform of the Thai monarchy. They are also demanding reform of Thailand's education system and an end to sexual abuse and harassment from the teachers and school officials.
The next protest will be This Wednesday outside the Royal Household Bureau.
Ketamine seized last week in "biggest drug bust ever" contains only chemical cleaning agents
That huge Ketamine bust in Chachoengsao province last week, some 11.5 tonnes (yes tonnes!) of the drug, has turned out to not be quite what it seems.
Originally drug officials seized 475 bags, each weighing 25 kilogram. 66 of these bags were tested. What was inside the bags wasn't Ketamine, as claimed by police, but trisodium phosphate instead.
TSP is used as a cleaning agent, builder, lubricant, food additive, stain remover, and degreaser.
It's certainly not Ketamine. The fact that the bags had great big labels saying TSP might have been a big clue the local drug squad had made a big, and embarrassing, mistake.
Phuket sees 300 million baht boost over long holiday weekend
The Tourism Authority of Thailand says that Phuket has received a much-needed 300 million baht boost over the 4 day long weekend with around 54,000 tourists flocking to the island.
The average expenditure per visitor was about 5,500 baht, which was higher than the average spend for a Thai tourist to Phuket 2 years ago. Random checks on hotels showed that occupancy rates climbed to about 35%, with most guests staying 2 nights. But most of Phuket's hotels still remain closed.
Some good tourist numbers were also reported in Chiang Mai, parts of Pattaya, Hua Hin and the north east. Bangkok, on the other hand, was very quiet.
German parliament clarifies its stance on HM the King's stays in Bavaria
The Bundestag, Germany's federal parliament, has announced that Thailand's King may face challenges if he wants to continue to conduct affairs of the Head of State from the German state of Bavaria.
Thailand's King Maha Vajiralongkorn could be expelled from Germany if he continues to conduct national business whilst staying in his Bavarian villa, a popular oversees stay for the Thai monarch. HM the King's long stays in Europe have come under scrutinyand criticism during the current spate of pro-democracy protests.
The German Parliament says that Thailand's King Maha Vajiralongkorn enjoys diplomatic immunity during his extended stays in his Bavarian hotel, but that the state does have the power to expel him from the country if it believes he is conducting affairs affecting Thailand during his extended stays.
On November 1, during a public audience following a ceremony, HM King Vajiralongkorn described Thailand as "the land of compromise" as thousands of people chanted "Long live the King" in front of the Royal Grand Palace. He was responding to a question posed from the crowd by a British Channel 4 journalist.
Keep in contact with The Thaiger by following our Facebook page.
Never miss out on future posts by following The Thaiger.
Thailand News Today | Covid testing for visas, Business impact, Vaccine approval | January 19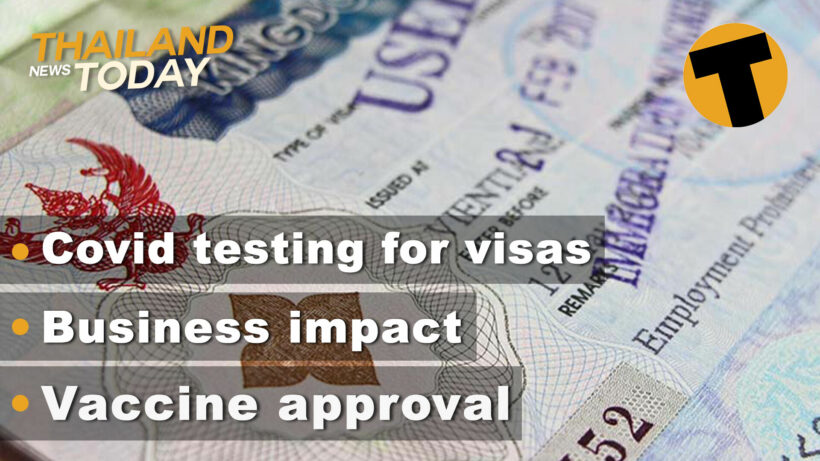 Confusion reigns today over if Covid-19 tests will be required for visa extensions.
While Phuket News spoke with an immigration official who said "no… you don't need a Covid-19 test to extend your visa or apply for a work permit", Khaosod English wrote an article headlined "Covid-19 test will be mandatory for all visa extension".
The Thaiger also contacted a respected visa agent who said Covid-19 tests are now required for applying for both visa extensions and work permits including renewals.
The Thai Immigration Bureau has not made any official announcement regarding mandatory Covid-19 tests. Talk about Covid-19 tests for foreigners was brought up after a rule was published in the Royal Gazette last month, officially adding Covid-19 to a list of dangerous diseases, prohibiting those infected with any of the listed illnesses from entering the country.
Immigration Police Bureau spokesperson Archayon Kraithong told Khaosod English that proof of a negative Covid-19 test will be required for visa extensions, regardless of how long a foreigner has stayed in Thailand.
Medical exams are currently already required for most work permit applicants (including tests for Syphilis and Elephantiasis). A visa agent told The Thaiger that Covid-19 tests have been added to the medical examination requirements.
We'll bring you any further clarification on that issue as it becomes available.
Research shows that online learning causes a 50% drop in mathematical comprehension, and a 30% drop in reading literacy among Thai students.
Research presented by the government's Equitable Education Fund indicates that months of home-learning cannot match in-school study and in fact, can cause a deterioration in students' ability. With schools currently closed in 28 Thai provinces, thousands of children across the country are joining in with online classes.
The EEF says home-schooling, with the use of screens, also has a negative effect on students' mental health and their social and emotional development. The research, carried out by the Northwest Evaluation Association, echoes a study done by Massachusetts' Institute of Technology, which demonstrates that learning through technology is no match for face-to-face learning in the classroom.
Home schooling has been shown to contribute to a decline in overall knowledge, as well as affecting access to quality nutrition, age-appropriate learning, and social experiences.
The EEF says online learning will only serve to widen the gap between rural children and those in the cities by about 2 years, potentially leading to economic disparity and fuelling a cycle of poverty for generations.
With the number of Covid-19 infections among migrant workers in Samut Sakhon failing to drop significantly, the PM is instructing officials to make sure companies are not still hiring illegal workers.
Prayut Chan-o-cha spoke to the deputy governor by video conference from Government House yesterday.
The central province of Samut Sakhon is considered the epicentre of Thailand's current surge of Covid-19 infections, following an outbreak at the provinces coastal fish markets last month.
The resurgence is linked to migrant workers who were smuggled into the Kingdom illegally, bypassing health checks and the mandatory quarantine requirements. The companies are always seeking cheap labour for the competitive seafood market and have long flouted Thailand's labour laws with hundreds of cases of forced labour and slavery coming out of the sector.
Samut Sakhon's own governor tested positive for the virus and remains under hospital care, although he's now off the ventilator.
As the devastating economic effects of Covid-19 restrictions persist, a record number of Thai tourism operators are quitting the sector for good.
The number of tourism companies surrendering their licences peaked last month, and around 70% of outbound agents have now shut up shop indefinitely. The final nail in their collective coffins has been the latest Covid-19 resurgence, which was detected on December 20 last year in the central province of Samut Sakhon and has now spread to over 60 Thai provinces.
The president of the Thai Travel Agents Association says around 10% of outbound tour operators have returned their licences to the Tourism Department. 2,598 tourism operators have left the sector for good, unable to survive having no international tourists for nearly a year now. The last quarter of 2020 also saw the highest number of companies de-registering, at 765. Of those, 293 quit last month.
Pundits predict that domestic tourism may pick up again by April, but this depends on how effective the government is at bringing the second wave of the virus under control. The TTAA adds, that with the arrival of spring in many parts of the world in the coming months, global infections may fall, but it's still a waiting game.
The TTAA says that in 2019, 11 million Thai tourists spent 430 billion baht on overseas trips. Last year, that plummeted to 1 million spending only 50 billion baht, and most of that was in the first couple of months of the year.
In the midst of a new wave of Covid-19 infections, the Oxford-AstraZeneca Covid-19 vaccine is expected to be approved for emergency use and injections could begin next month in Thailand.
The local roll out would start with vulnerable groups who are in the 5 coastal provinces under maximum control to contain the coronavirus – Samut Sakhon, Trat, Chon Buri, Chanthaburi and Rayong.
The Food and Drug Administration is expected to approve the vaccine for emergency use this week. The FDA is examining documents as part of the registration process and to declare the vaccine's efficacy and safety.
Thailand had earlier secured 26 million doses of the vaccine, which is developed by British-Swedish pharmaceutical giant AstraZeneca and the UK's Oxford University. The Thai company Siam Bioscience is also poided to produce the AstraZeneca vaccine. Injections for the general public are projected to start in the second half of 2021.
Thailand has also secured 2 million doses of China's Sinovac BioTech vaccine. The first batch of 200,000 doses is expected to arrive in February. 800,000 more doses will arrive in March and 1 million doses in April.
Keep in contact with The Thaiger by following our Facebook page.
Never miss out on future posts by following The Thaiger.
Thai FDA files complaint against TV celebrity for false advertising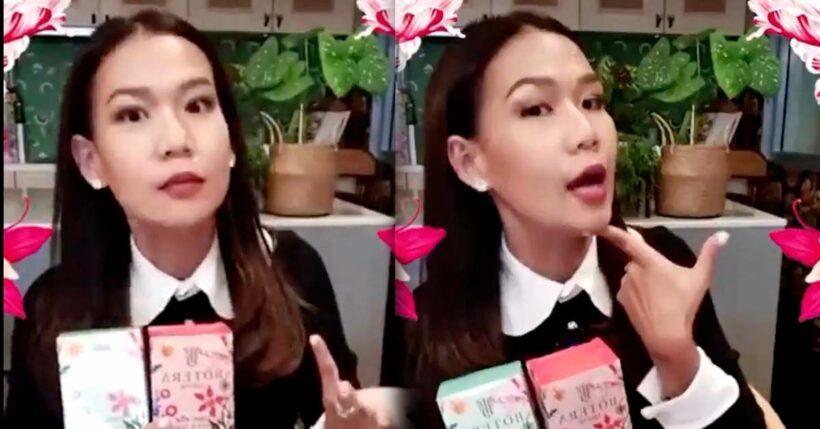 A well-known TV host in Thailand is under fire after she made advertisements saying health supplement products could change a person's face shape and even help people recover from Covid-19. The Thai Food and Drug Administration filed a complaint with the Consumer Protection Division against TV star Patcharasri "Kalamare" Benjamach for false advertising.
Kalamare advertised Botera "power shots." The drinks are said to promote healthy skin as well as overall health. According to the Nation Thailand, Kalamare is seen in video clips advertising the products, claiming the drinks can "sharpen" a person's facial features and even change the shape of the nose and eyelids. In other clips, she says the drinks can help people recover for Covid-19 and cancer, Nation Thailand reports.
The FDA say they want the celebrity to be charged with violating Thailand's Food Act for false and deceptive advertising. The law carries a penalty of up to 3 years in prison and a fine up to 30,000 baht.
SOURCE: Nation Thailand
Keep in contact with The Thaiger by following our Facebook page.
Never miss out on future posts by following The Thaiger.
Woman sentenced to 43 years in prison for violating lèse majesté law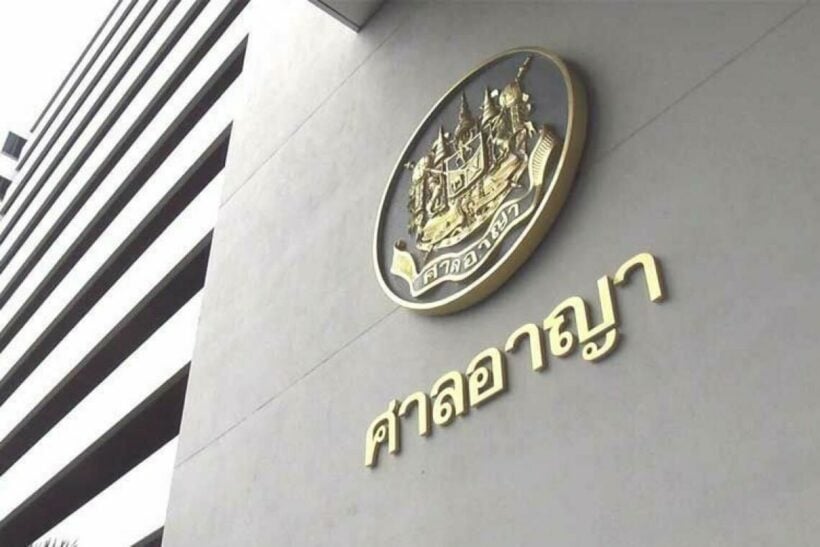 The Bangkok Criminal Court sentenced a former public official to more than 4 decades in prison for violating the country's strict lèse majesté law on insulting or defaming the Thai Monarchy.
The woman, a former Revenue Department official known as Anchan, was found guilty on 29 counts of violating Section 112 of the Criminal Code, known as the lèse majesté law, as well as the Computer Crime Act. She was sentenced to 43 years and 6 months in prison.
Anchan had posted audio clips on Facebook and YouTube of a man making comments considered critical of the Thai Monarchy. The man has been arrested, but officials haven't released any other details.
The ruling comes during an ongoing pro-democracy movement raising subjects that are considered taboo in Thai society. In recent months, dozens of protesters have been charged with violating the lèse majesté law. A senior researcher from the Human Rights Watch as the recent sentence sends a "spine-chilling" message.
"Today's court verdict is shocking and sends a spine-chilling signal that not only criticisms of the monarchy won't be tolerated, but they will also be severely punished."
Section 112 of the Criminal Code:
Those who defame, insult or threaten the King, the Queen, the Heir-apparent or the Regent shall be punished by a jail term of between three to 15 years.
SOURCES: Thai Enquirer | Bangkok Biz News| Independent
Keep in contact with The Thaiger by following our Facebook page.
Never miss out on future posts by following The Thaiger.