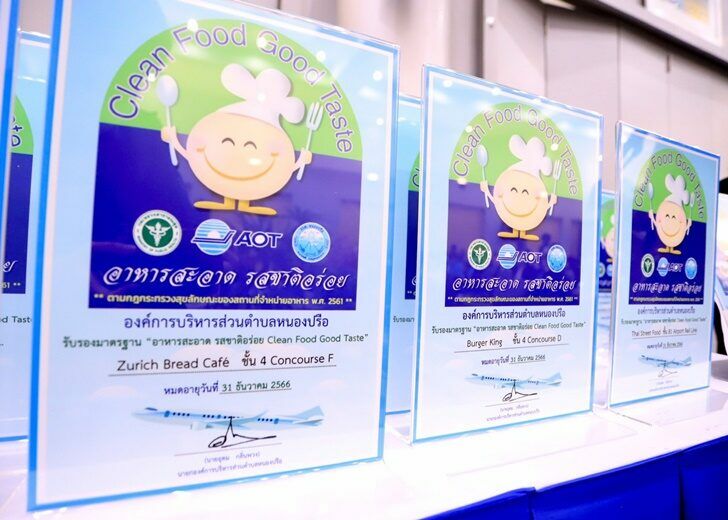 Thailand's Department of Health certified 85% of restaurants in the passenger terminal at Suvarnabhumi Airport as having "Clean Food, Good Taste," according to the department's director-general Suwanchai Wattana.
Suwanchai congratulated the operators of 58 restaurants (85.29% of restaurants in the terminal) who passed the health and safety standard with flying colours at an award ceremony yesterday.
Any hungry passengers waiting for their flight at Suvarnabhumi Airport can be sure that any restaurant displaying a 'Clean Food, Good Taste' certificate has certified high levels of hygiene.
As well as good hygiene, the 58 restaurants serve food that is high in nutritional value to ensure that tourists from around the world eat "Thai food that is clean, safe and healthy."
Suwanchai praised the eateries for helping "propel Thailand's society and economy."
The director-general did not name and shame the 15% of restaurants that were not "Clean Food, Good Taste" certified.
Department officials will further the project to five more airports operated by Airports of Thailand (AOT), namely Phuket International Airport, Don Mueang International Airport, Hat Yai International Airport, Samui Airport, and Chiang Rai International Airport.
The Department of Health said that seriously impressive restaurants can be awarded the "Clean Food Good Taste Plus" certificate.
Deputy Director of Suvarnabhumi Airport's Operations Line 2, Ratchanon Kittiphat, said that Suvarnabhumi has always held food sanitation standards to the utmost importance.
AOT is committed to continually developing and improving the standards of restaurants that do not yet meet the department's standards, added Ratchanon.
Operators will continue working to elevate the environmental health and safety standards of all businesses at Thailand's central airport and are prepared to serve the world's tourists.
AOT is planning expansions at both Suvarnabhumi Airport and Don Mueang to enhance the experience of the 28.3 million tourists predicted by the TAT to arrive in Thailand next year.