Thundershowers, more hot weather for the North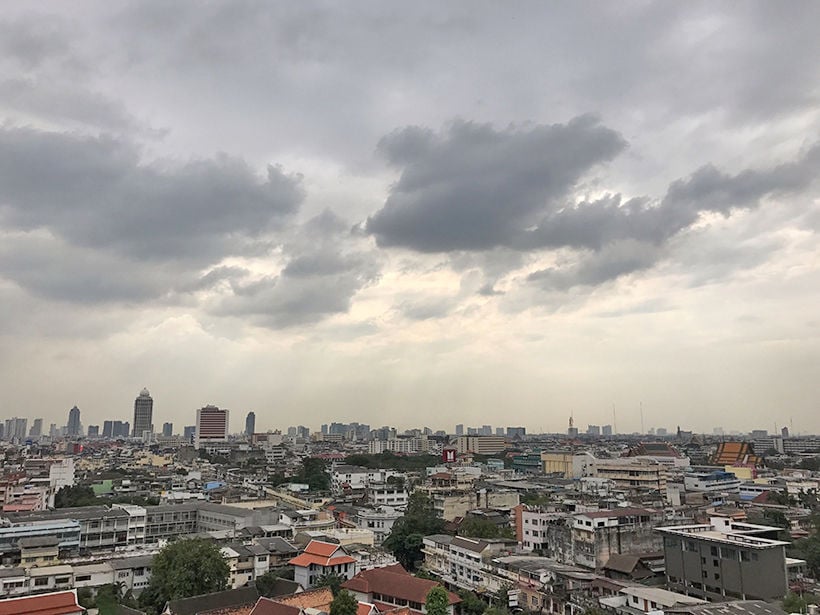 Thailand's Meteorological Department predicted today that a thermal low covering the North will bring "hot to very hot weather" to the region. Thundershowers are forecast in the North, the Northeast, the Central and the East. Meanwhile, a high pressure system from China is covering the Northeast, the East, the Central and the South China Sea. Southerly and southeasterly winds are bringing humidity to the Northeast, the East, the Central region and the lower North. People in upper Thailand have been advised to keep off unsecured buildings and outdoor installations and farmers should beware of crop damage.
The weather forecast for the next 24 hours:
Northern region: Hot to very hot in some areas with thundershowers in 20% of the areas; lows of 19-25 degrees Celsius and highs of 35-40℃.
Northeastern region: Isolated thundershowers in 10% of the areas; lows of 24-26℃ and highs of 32-35.
Central region: Isolated thundershowers in 10% of the areas; temperature lows of 24-27℃, highs of 32-35.
Eastern region: Isolated thundershowers in 10% of the areas; lows of 25-28℃, highs of 33-34; waves a metre high, and higher offshore.
Southern region (east coast): Partly cloudy with isolated thundershowers in 10% of the areas; lows of 23-28℃, highs of 32-36; waves 1-2 metres high.
Southern region (west coast): Partly cloudy with isolated thundershowers in 10% of the areas; lows of 24-28℃, highs of 35-38.; waves a metre high, higher than a metre offshore.
Bangkok and surrounding areas: Isolated thundershowers in 10% of the areas; lows of 27-28℃, highs of 32-33 degrees Celsius.
SOURCE: The Nation
Keep in contact with The Thaiger by following our
Facebook page
.
Thailand News Today – Friday, April 3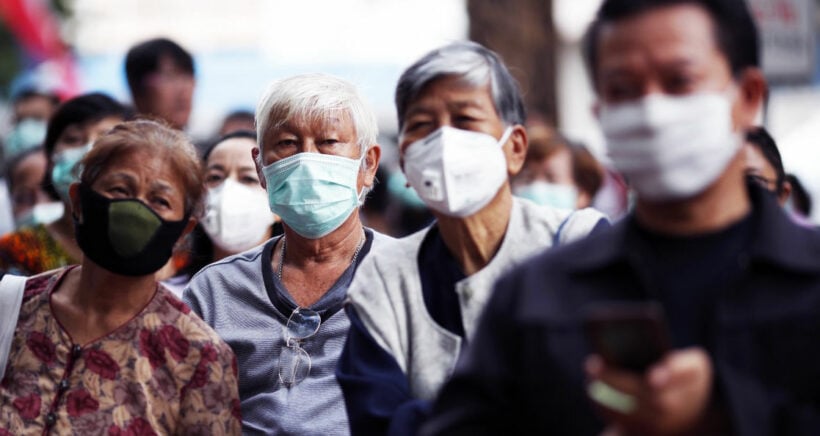 hosted by Tim Newton
103 new virus Covid-19 coronavirus cases confirmed, 4 more deaths
Covid-19 coronavirus cases in Thailand rose to 1,978 with 103 cases confirmed since yesterday, and another 4 patients dying. 
Today's number continues a the trend of new cases in Thailand levelling out. 104 new cases were reported yesterday, 120 on Wednesday, 127 on Tuesday.
Nationwide curfew goes into action from today
A nationwide curfew goes into effect in Thailand today.
The curfew will prohibit the public from leaving their homes between 10pm and 4am. All arrivals to Thailand are banned until April 15 while the government prepares quarantine centres and field hospitals.
Exemptions from the curfew include medical and banking personnel as well as logistics workers handling consumer goods, agricultural produce, pharmaceutical products, medical supplies and equipment, newspapers, fuel, post, products bound for export and imported goods. The latest details about that story at thethaiger.com
Massive pay cuts for Thai Airways staff
Beginning tomorrow, employees of Thai Airways will no longer work and will be forced to take a significant cut in pay – some up to 50%. The announcement comes after the airline said it would halt all flights due to the Covid-19 outbreak, which has forced many countries to close their borders. Airlines around the world are becoming increasingly grounded as international travel grinds to a halt.
All public transport in Bangkok to stop in time for nightly curfew
Public transport services in the Bangkok area will be closed from 9.30pm – 4am.
Normally service hours for the MRT, BTS and Airport Rail Link end at midnight but due to the current situation, services will cease at 9.30 so staff and passengers have time to make their way home.
Bus services will finish a bit earlier so buses can reach their depots by 9pm.
More than 100 horses dead as African Horse Sickness strikes Thailand
The director-general of the Department of Livestock Developmentsays more than 100 horses in Thailand have died from African Horse Sickness.
It's the country's first instance of the illness, which only affects animals. Latest government data show at least 131 horses have died across 4 provinces. The government has quarantined sick horses to limit the spread of the disease. Horses that contract the illness can have fevers of over 39C, difficulty breathing and bleeding in the eyes, according to officials.
Summer storm warning for 55 of Thailand's 76 provinces
Today Thailand's Meteorological Department warned people in 55 northern, north-eastern, central and eastern provinces to prepare for possible "strong winds and hail from summer storms", 
The storms are expected through to Sunday. This time of the year is also know as the bridging season between the annual dry and wet seasons. Weather can be unsettled in parts of Thailand during this time.
According to the forecast, the storms are due to the convergence of southerly and south-easterly winds, driven by the cold front over Vietnam, Laos and the South China Sea, and the increasingly warm weather over northern Thailand.
Keep in contact with The Thaiger by following our
Facebook page
.
Onerous new document requirements for stranded foreigners announced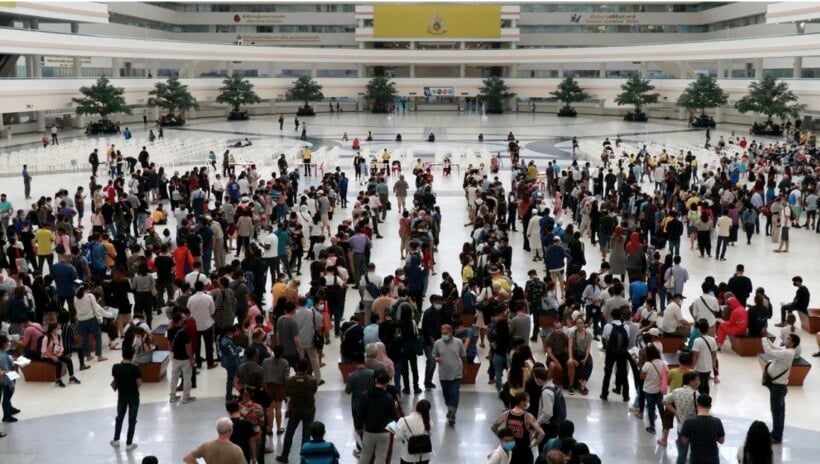 Thailand's Immigration Bureau announced yesterday that 9 separate documents are now required for foreigners stranded here to extend their stay for up to 30 days. New requirements include land deeds, rental contracts, even selfies of foreigners at their accommodations, even as scenes of chaos and massive queues at immigration continue unabated. A Thai Immigration spokesman defended the inconvenience on the grounds of "national security."
Countless long queues have been packing immigration offices around Thailand as foreigners scramble to sort out their visa situation and apply for extensions to avoid overstays. The long queues, many in stinking hot conditions around the country at the moment, are putting Thai immigration staff, and the applicants, in a dangerous NON social distancing situation.
Be aware that the same requirements may not be required at every immigration office on every day as the situation remains fluid and immigration officials are working hard to process all the paperwork and adapt to the changes in rules.
"Indeed, we are requiring more documents than usual because there are those who want to exploit the opportunity. We are doing our best to provide the best service, but bearing in mind that national security is our utmost priority."
The new rules were brought to public attention in a photo posted yesterday by longtime British expat Richard Barrow.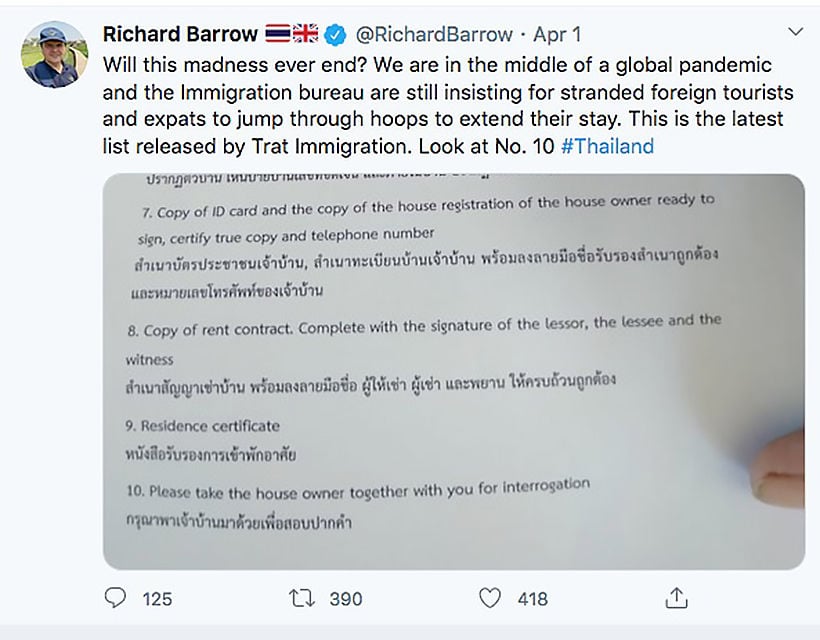 Apart from the usual TM7 application form, copies of passports, and applicants' photos, the new rules require a certificate from their respective embassies, a copy of a rental contract, a document confirming their stay at the accommodation, a copy of the landlord's ID card and house registration, and a map showing the location of their residence.
The landlord must accompany the applicant in person when submitting the documents (!!!??###!!!???) The applicant must also provide at least four photos of themselves at the accomodation, preferably showing the house or apartment number, to prove their residency.
The spokesman said these new regulations are "in accordance with immigration protocols."
Speaking by phone, the spokesman also shot down news reports that the Cabinet has approved automatic visa extensions for foreign tourists.
"In fact, the matter is still being deliberated."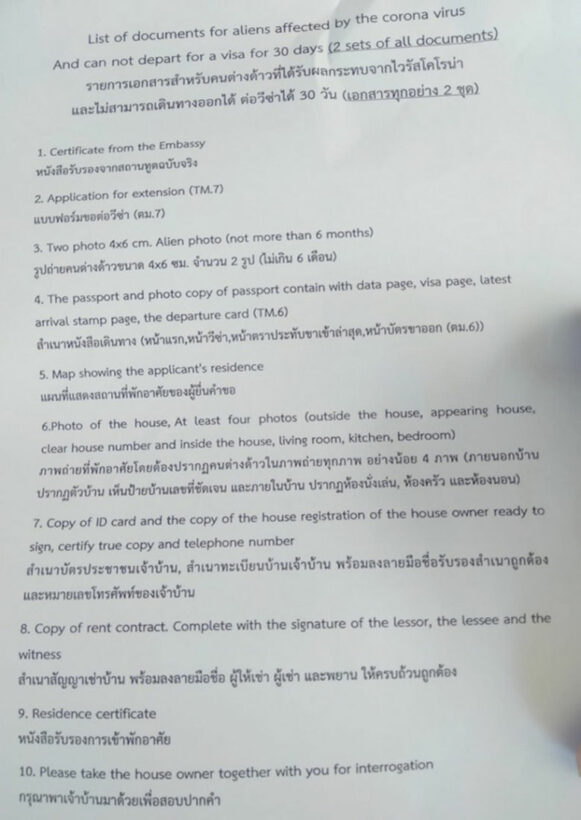 SOURCE: Khaosod English | Twitter/Richard Barrow
Keep in contact with The Thaiger by following our
Facebook page
.
30 arrested for violating emergency decree, 18 teens jailed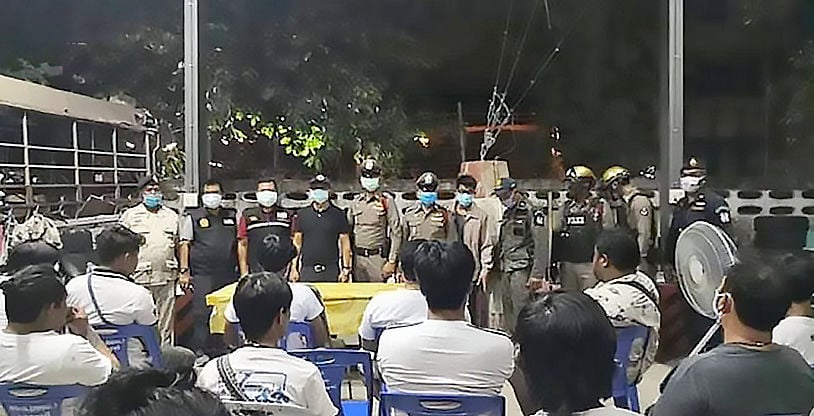 18 teenagers have been jailed for violating the Emergency Decree by holding a party and abusing drugs in Ayutthaya, north of Bangkok. Yesterday prosecutors indicted the teenagers for breaching the decree, taking part in a mass gathering and drug use.
The teens were arrested on Monday after officials got a tip off from local residents. Homeowners reported illegal drugs were being taken at a party held at a raft house on the Chao Phraya River. Authorities seized marijuana, ketamine, ecstasy pills and drug paraphernalia from the teens in the house.
The court sentenced two defendants to a month in jail for defying the Emergency Decree. The remainder got four month jail terms for violating the decree and drug abuse.
Meanwhile, police in in the northern Udon Thani province, near the Laos border, arrested 12 men yesterday for gathering and drinking in breach of thedecree on Thursday. Local officials went to a house Ban Na Sai after hearing about a group of men drinking together. Police say they were disturbing the neighbours by playing loud music from a car.
The men told officers that they were debt collectors but had been laid off due to the Covid-19 coronavirus outbreak. They said they were having a birthday party for a friend before they returned to their homes in Nakhon Ratchasima, Chaiyaphum, and Uthai Thani provinces .
The men at first resisted arrest, saying they only partied in the house, and didn't go out anywhere else. This prompted police to call for reinforcements to arrest them. They've now been charged with defying the emergency decree and face a jail term and/or a fine of no more than 40,000 baht each.
Source: Chiang Rai Times | Bangkok Post
Keep in contact with The Thaiger by following our
Facebook page
.