Domestic tourism stimulus package gets lukewarm response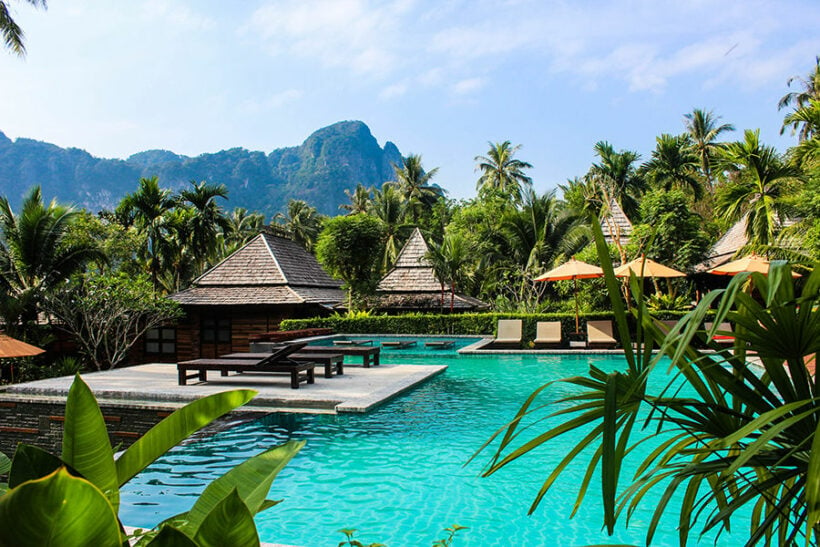 It appears the government's domestic tourism stimulus package is experiencing a significantly lower uptake than officials had anticipated. Yuthasak Supasorn, governor of the Tourism Authority of Thailand, says only around 10,000 tourists a day are availing of the perks on offer, well below the target officials had in mind. As a result, the campaign is now being extended to companies, enabling them to make discounted hotel bookings which can be used for business purposes or offered to employees or business partners. Yuthasak says this should increase demand for the 5 million room nights on offer. So far, fewer than 1 million have been used.
A report in the Bangkok Post says that although the scheme is expected to run until the end of October, there are calls from some quarters to extend it. However, Yuthasak insists an extension is not on the table and people need to avail of the offer now.
"We will not extend the campaign beyond October 31 as we want to speed up tourism expenditure during the low season. If the deadline is extended, people will wait until the end of the year."
However, the president of the Thai Hotels Association's northern division disagrees. La-Iad Bungsrithong says even with the inclusion of business travellers, it's extremely unlikely 5 million room nights will be used up between now and October 31. She says while the scheme might see hotels within 300 kilometres of Bangkok do well at weekends, those in the northern provinces are suffering, as their busy time is traditionally the winter season. In addition, the economic fall-out of Covid-19 has had a significant impact on people's spending power, with businesses having to introduce temporary lay-offs, meaning group bookings are being cancelled. La-Iad says all of this shows a need to extend the scheme through the high season, until March 2021.
"State agencies and financial institutions not affected by any cost reduction have to drive more domestic trips outside Bangkok to support the local economy."
However, the president of the Tourism Council of Thailand, Chairat Trirattanajarasporn, disagrees, saying that allowing businesses to avail of the scheme will create increased demand for hotel rooms and there should be no need to extend the campaign.
"I agree with tourism stimulus packages lasting until October 31. It should occur during low season to help operators gain cash during this tough time. Local tourists will continue their travel plans in the next high season even if there's no stimulus."
In further efforts to increase take-up, the maximum length of hotel stays has been increased from 5 nights to 10, while the air travel subsidy has been increased from 1,000 to 2,000 baht.
SOURCE: Bangkok Post
Keep in contact with The Thaiger by following our
Facebook page
.
Never miss out on future posts by
following The Thaiger
.
Koh Chang resort sues American over bad review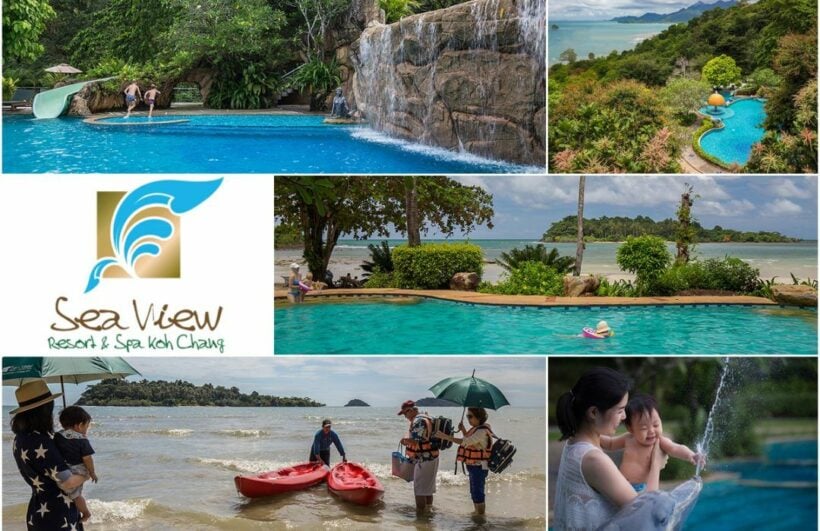 A Koh Chang resort is fighting back and, reportedly, suing an American citizen after posting a nasty online review on TripAdvisor. After recently visiting the Sea View Resort on Trat province island in the Gulf of Thailand, American Wesley Barnes wrote an unflattering, almost bitchy, account of his stay prompting the owner to file an official complaint over the 'unfair' review. Barnes is accused of causing "damage to the hotel's reputation" as well as fighting with hotel staff over refusing to pay a corkage fee for alcohol that he had brought into the hotel. Barnes' review on TripAdvisor below, has got him in hot water with police.
Wesley B wrote a review Jul 2020…
Unfriendly staff and horrible restaurant manager
Unfriendly staff, no one ever smiles. They act like they don't want anyone there. The restaurant manager was the worst. He is from the Czech Republic. He is extremely rude and impolite to guests. Find another place. There are plenty with nicer staff that are happy you are staying with them.
Immigration police detained and arrested Barnes, who works and lives in Thailand, took him back to the island where he was later freed on bail. If convicted, Barnes could face up to 2 years in jail along with up to a 200,000 baht fine under current defamation laws.
Sea View Resort is located on Kai Bae Beach currently ranks 10th out of 85 properties on the island that have been reviewed on TripAdvisor. Out of 1,922 reviews, 1,090 rate the resort as excellent, 580 rate it as very good, 170 as average, 48 as poor and 32 as terrible.
They have published a reaction to the case, featured on Richard Barrow's Facebook page…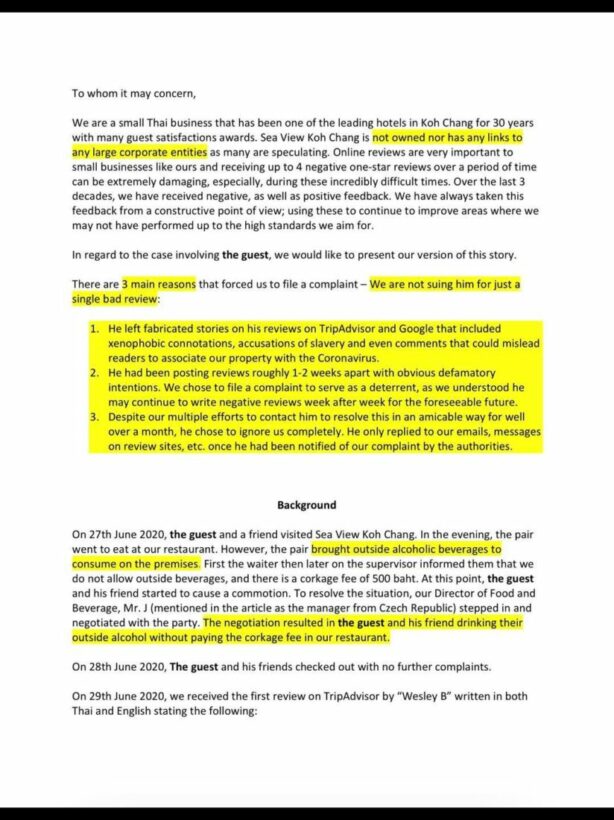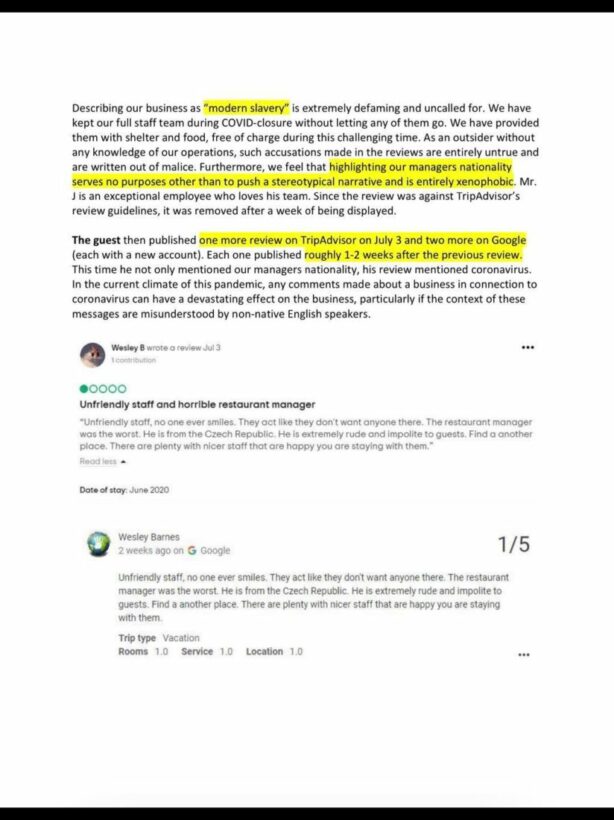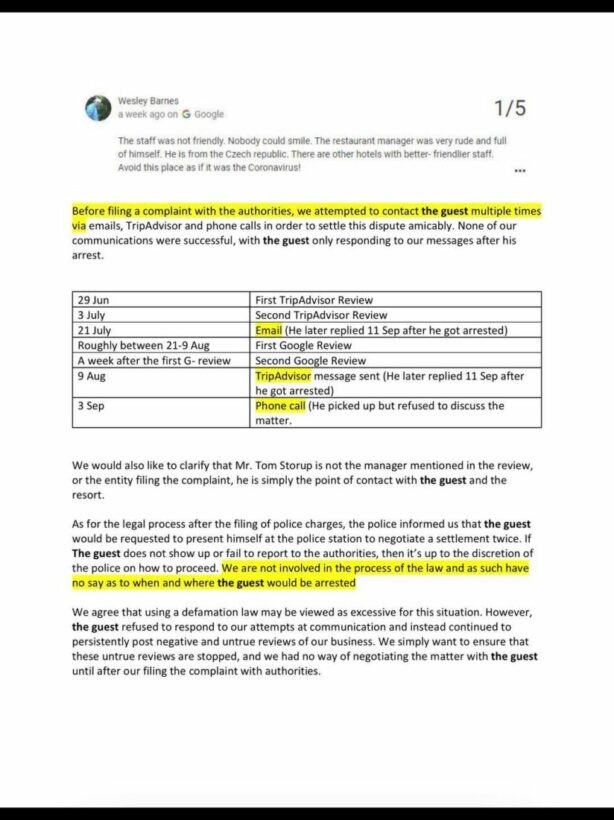 And then….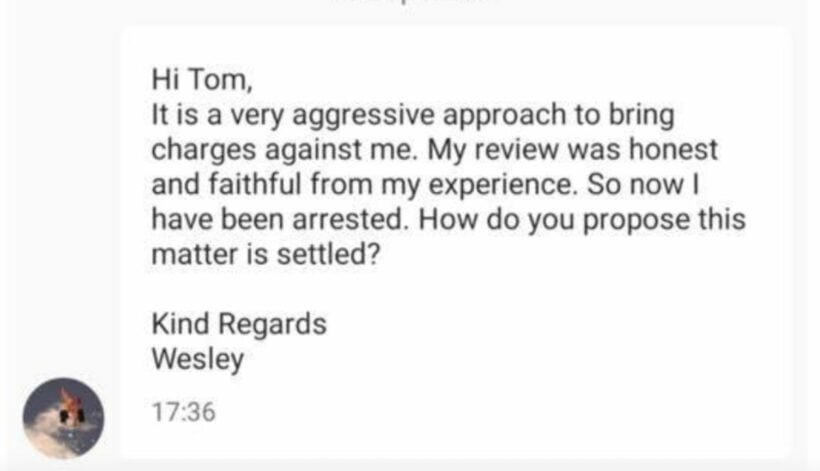 Thailand's defamation laws have often been used as weapons to silence people and are used by businesses and influential figures to intimidate detractors, sometimes over trivial matters.
Keep in contact with The Thaiger by following our
Facebook page
.
Never miss out on future posts by
following The Thaiger
.
Thai Air Asia returns to Suvarnabhumi in addition to its Don Mueang hub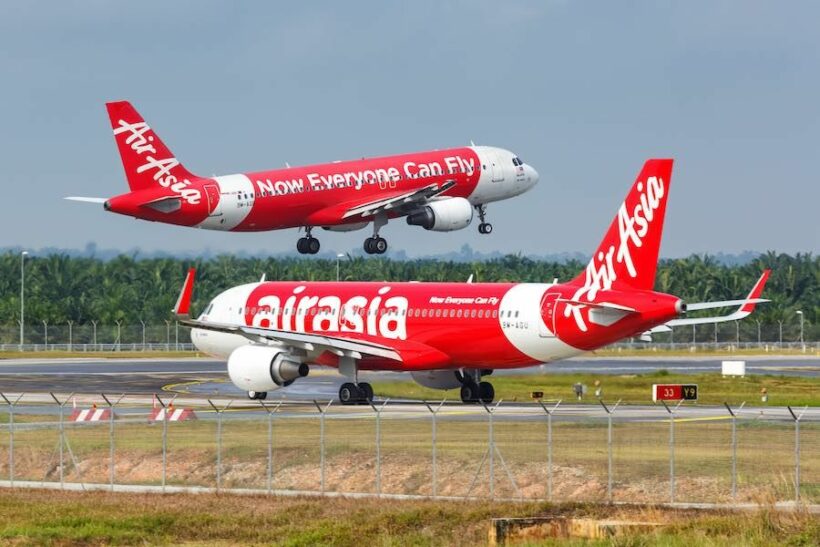 Thai AirAsia is spreading its Bangkok wings and opening up a secondary hub at the main Suvarnabhumi airport (BKK), to help broaden its attraction and bolster its bottomline. Thai Air Asia was the first airline to head back to the moth-balled Don Mueang in 2012 to re-establish the older airport after all the airlines moved across to the new Suvarnabhumi and discount airlines were seeking a lower-cost base.
Although Thai Air Asia carried 22.15 million passengers last year, this year's total will fall a long way short, just 6 million for 2020 up to date. Under the new set up, Thai AirAsia will have resumed nearly 90% of its pre-Covid domestic services, a total of 109 daily flights to 39 destinations. There will be 97 flights from Don Mueang Airport and 12 from Suvarnabhumi Airport.
With only a handful of international traffic, Suvarnabhumi officials are keen to re-kindle revenue for the massive airport and have struck a deal with Thai Air Asia to trial operations from BKK. They will be the only domestic carrier to operate flights from the two airports.
If the 2 month trial at Suvarnabhumi is successful, Thai AirAsia plans to add another plane to the BKK fleet by the end of the year. At this stage the trial is only approved up to the end of November.
Thai Air Asia have been concentrating on their 'bus' model to ferry passengers from the terminals to their aircraft waiting on remote airport aprons, and visa versa, to avoid some of the landing charges and using the sky-bridges. Some passengers have been complaining about the long trips in crowded buses, wild rides and over-enthusiastic air conditioning, whilst being told to strictly adhere to social distancing.
This week the Malaysian parent company Air Asia, announced the introduction of a 'super app', in an attempt to off-set the significant financial losses brought about by the Covid-19 pandemic. The mobile application shuffles Air Asia's model as a flight and accommodation provider, to a broader platform of complimentary services. The app will offer users a variety of options, including digital payment services, delivery services, and an e-commerce platform. Air Asia Chief Executive and founder, Tony Fernandes, says the idea for the app was floated prior to the pandemic, but Covid-19 hastened its development.
Keep in contact with The Thaiger by following our
Facebook page
.
Never miss out on future posts by
following The Thaiger
.
Flights to nowhere. The latest 'cunning plan' by Thai Airways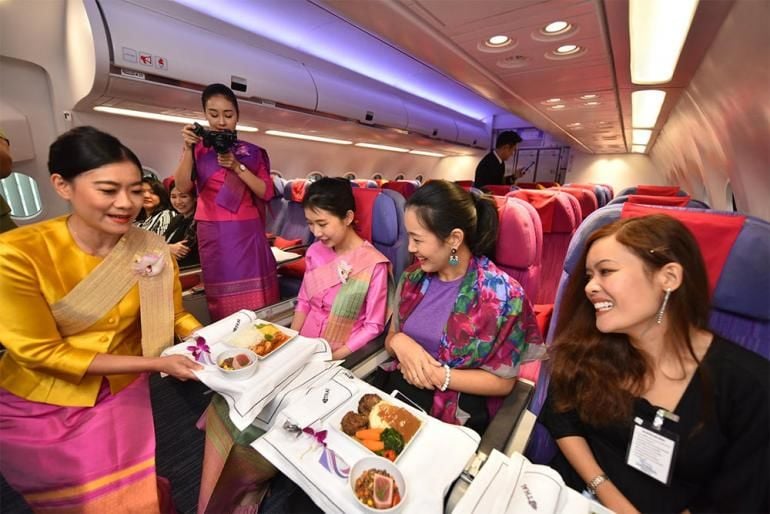 Sort of counter-intuitive, but you get on a plane, take off, and land at the same airport. Not usually the way it's meant to work, but that's the latest brain child of the Thai Airways management, via their budget Thai Smile brand, who are already back in the air.
The idea is to offer people who have missed the experience of flying to get back into the sky and fly around for a few hours, including an airline meal (because we know HOW much you've missed those!), and then return back to the airport they took off from. We hate to remind the braintrust at Thai Airways that you can already get that experience on an aeroplane, and actually go somewhere at the moment. Then again, as a novelty, it might just get a few takers.
The national carrier has gone from being a much-loved flag bearer to a national disgrace as decades of mismanagement have racked up debt totalling 352.4 billion baht. Rather than reaching back into their pockets again, the Thai government sold off a number of shares and sent the company for a major restructure and bankruptcy proceedings.
The ailing airline's management have already launched pop-up cafes at the Bangkok HQ for a grounded 'flight' experience, complete with aircraft seating and an airline meal, but the new joy flights will use more of the current unused resources, including planes and staff, and flight training simulators.
Australia's QANTAS Airways launched the same idea earlier this month, also called the "flight to nowhere" and discovered it was one of the fastest-selling flights in the airline's history. All the tickets snapped up in 10 minutes with passengers throwing between A$575 and A$2,765 at seats on the Boeing 787.
The Aussie flag carrier launched a 7 hour scenic route around the country, taking off and landing in Sydney, as the usual schedule of flights around the country remains restricted.
The flights are on October 10, the flight won't stop anywhere, but gives passengers the change to enjoy views over Uluru, the Great Barrier Reef, and other landmarks.
There were 134 seats up for grabs on the Boeing 787 aircraft, priced between depending on the class of ticket.
Thai Airways is preparing to operate its own 'flights to nowhere' and 'rides' in the airlies' flight simulator under a program called 'Thai Flying Experience & Beyond'.
Thai Airways is going through the permissions from the Civil Aviation Authority of Thailand to conduct the scenic aircraft 'flights to nowhere' .
A Thai Smile Airbus A320 will be in use for the flight which would include the beautiful aerial scenery of popular tourist destinations across the country such as Phra That Doi Suthep in Chiang Mai.
The 'Thai Flying Experience & Beyond' flights to nowhere program features 3 packages starting from 16,000 – 36,000 baht. For the flight simulator experience budding pilots can select their preferred aircraft between Airbus A380, Boeing 777-300ER, Boeing B747-400, and Boeing 737-400. The 'flight to nowhere' would approximately cost about 5,000 baht/person.
"Thai Airways has come up with this idea to adjust itself and to earn more income during the financial crisis. We believed that both programs would catch public attention especially for those who would like to try sitting and flying in an aviator operating room."
By the way, if you're in Australia and want to participate in a slightly colder round trip, QANTAS is running "joy flights" to Antarctica.
Planes, originally delivered to fly UK-Australia non-stop are being redeployed on the 13 hour roundtrip from Melbourne. Passengers are paying from A$1,199 for the flight to the frozen continent and back. Around one-third of it spent above the Antarctic continent.
Keep in contact with The Thaiger by following our
Facebook page
.
Never miss out on future posts by
following The Thaiger
.