Probe finds 20 police officers allegedly mishandled 'Boss' report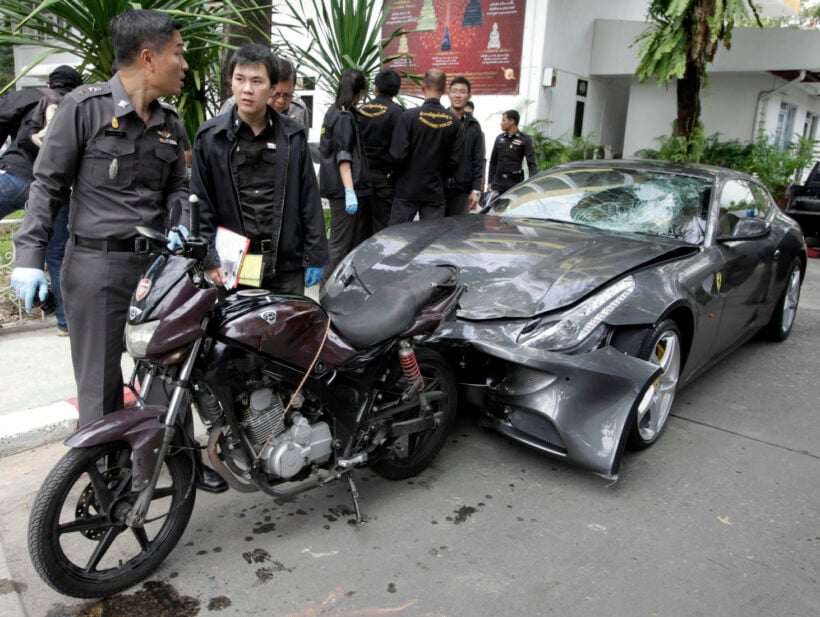 20 police officers are accused of allegedly produced a misleading report about the Vorayuth "Boss" Yoovidhya hit-and-run case, a Royal Thai Police panel announced. In 2012, the Red Bull heir allegedly ran over and killed a police officer in Thong Lor, Bangkok.
An independent, government-appointed panel says, due to a botched police report, the office of the attorney general, under the direction of the deputy-general, dropped a charge of reckless driving causing death in late July.
A police lieutenant general and a police major general allegedly have been accused of failing to properly investigate the incident and produce a complete report, according to the assistant national police chief and deputy chairman of the panel Jaruwat Waisaya. The independent panel closed its investigation into the police's alleged mishandling yesterday.
The findings are now being sent to the national police chief to consider disciplinary action against the officers who are being accused of negligence, although some of the officers involved are already retired. Panel Chairman Waisaya says some officers could face criminal charges if the mishandling of evidence is proved.
2 other panels have investigated the police involvement in Boss's case. The National Anti-Corruption Commission investigated the case and filed charges against 11 police officers and former police officers. Waisaya says now there might be a further investigation by the commission. Another probe is by the Office of the Attorney-General.
The case has been broiling for nearly 8 years. During that time Boss, and his lawyers, have successfully evaded facing court more than 8 times. Boss eventually fled the country in 2017 by using the family private jet, flying to Singapore, and then abandoning the plane. He has been seen and several Red Bull events since and, despite Thai police insisting they are unaware of his whereabouts, photographers have been able to track him down and take photos of him a number of times.
Boss has become a figure of derision in Thailand after his immensely rich family stand accused of using their wealth and power to allegedly assist him to evade charges and punishment for the hit and run incident, He was allegedly under the influence of alcohol and drugs, specifically cocaine, at the time he was driving a Ferrari.
Boss was 27 years old at the time of the incident and is the grandson of the co-founder of the Red Bull brand, Chaleo Yoovidhya.
SOURCE: Bangkok Post
Keep in contact with The Thaiger by following our
Facebook page
.
Never miss out on future posts by
following The Thaiger
.
188 new total of Bangkok clinics accused of defrauding healthcare system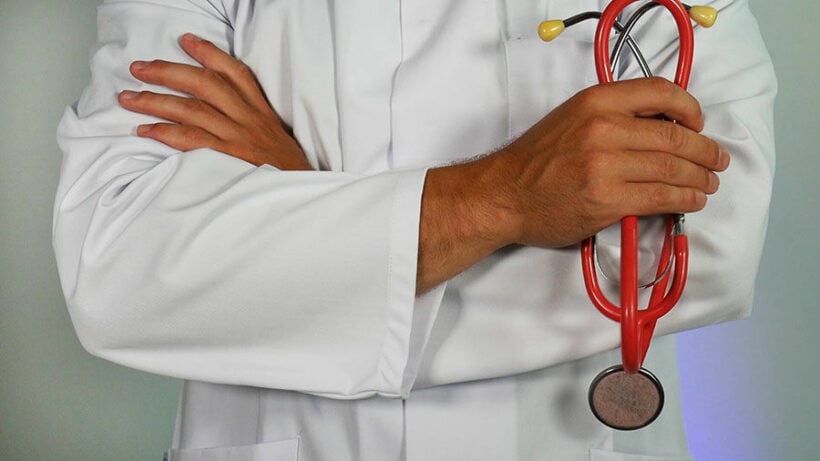 Officials say they have found evidence of fraudulent claims at an additional 106 hospitals and health clinics in Bangkok. This follows an initial investigation by the National Health Security Office that uncovered corruption at 18 Bangkok healthcare facilities, which was then increased to 64 upon further scrutiny. The latest discovery brings to 188 the number of clinics and hospitals accused of defrauding Thailand's universal healthcare system.
The scandal, involving around 1 million fake services, and costing the state an estimated 195 million baht, is laid bare in a report in Nation Thailand today. The NHSO has already cancelled contracts with 64 healthcare facilities, accusing them of inventing patient details to defraud the government. It's understood all 188 hospitals and clinics will be made to repay the money, with the NHSO lodging a civil case with the Department of Special Investigation, who will carry out an investigation into all medical records from the last 10 years.
The deputy secretary-general of the NHSO, Karoon Kuntiranont, says that of 800,000 claims from gold cardholders, around 70% have been found to be false. He says the 30% of patients whose cases are genuine will now be cared for by other facilities. These include HIV patients, patients awaiting surgery, those being treated for kidney disease, and those suffering from chronic illnesses.
Karoon says the corruption is limited to clinics and hospitals in the greater Bangkok area, with a loophole that allowed the fraud to take place now being closed.
SOURCE: Nation Thailand
Catch up with the latest daily "Thailand News Today" here on The Thaiger.
Keep in contact with The Thaiger by following our
Facebook page
.
Never miss out on future posts by
following The Thaiger
.
PM orders Thai police to collaborate with Interpol to bring Boss back to Thailand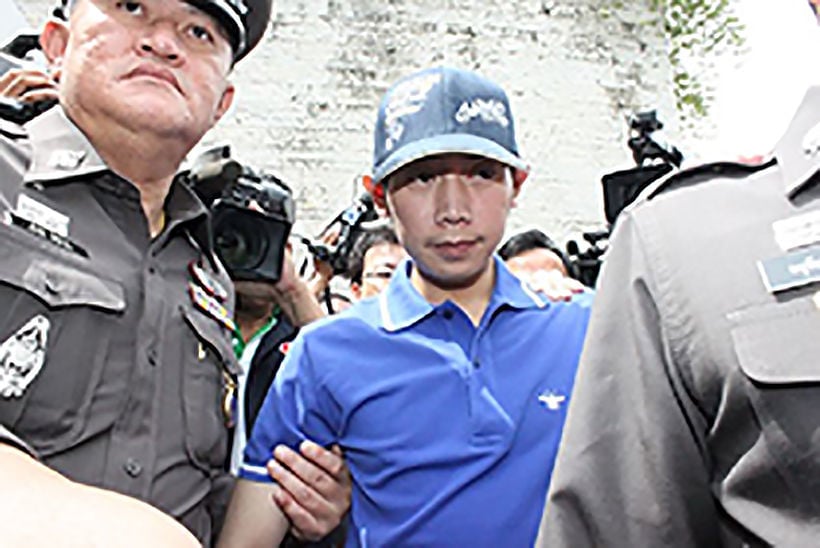 The Thai PM is ordering Thai police to work with Interpol, the International Criminal Police Organisation, to find Vorayuth "Boss" Yoovidhya and bring him back to Thailand for prosecution. The Red Bull heir has been on the run since 2017 and faces charges reckless driving causing death and using cocaine, charges which date back to the incident in 2012 in Bangkok.
In 2012, Boss allegedly sped his Ferrari down Sukhumvit Road in Thong Lor, running over and dragging a 47 year old police officer 100 metres down the road, killing him.
Prosecutors have now officially indicted Boss on the reckless driving causing death and drugs charges, the Office of the Attorney General announced last Friday. The recent indictment, more than 8 years after the fatal crash, follows public backlash after Boss's cases were dropped altogether in July by the deputy attorney general.
PM Prayut Chan-o-cha made a post on his Facebook page saying he ordered police to work with international authorities to find Boss and bring him back to Thailand for trial. He says a Red Notice has been issued and he expects an update by next week.
"I ask every officer to handle this matter correctly and effectively."
Boss, the son of the co-owner of the Red Bull energy drink empire, fled the country in 2017. His hearings were delayed 7 times. He reportedly packed up and fled to Singapore on his family's private jet just 2 days before he was due to face charges. Since then, Boss has been seen and photographed at his family home in London as well as at Red Bull events.
The story has caused ongoing rage in Thai social media with people using the cases as proof Thailand's warped justice system where wealth and power can help you bypass official investigations.
There has been no comment from the Yoovidhya family, Boss or his legal representation since last week's official prosecution.
SOURCES: Nation Thailand | Thai PBS
Keep in contact with The Thaiger by following our
Facebook page
.
Never miss out on future posts by
following The Thaiger
.
Bangkok nightclub busted for underage drinking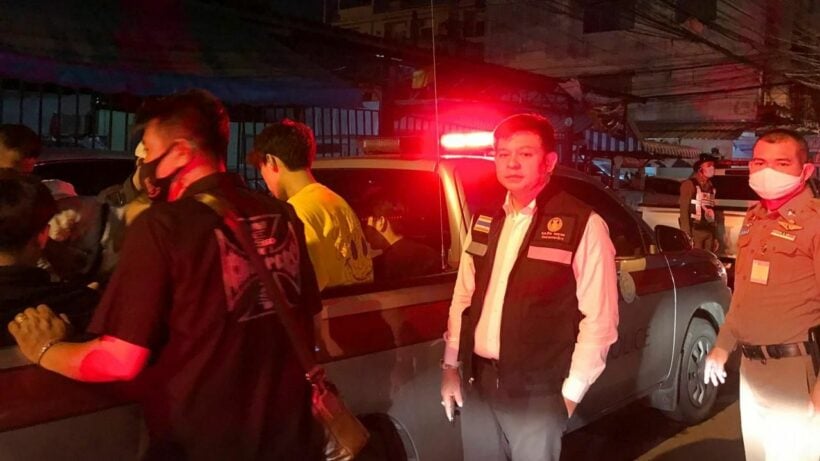 A Bangkok nightclub was raided last night when police arrested numerous underage drinkers after city officials received a complaint about "unlawful assembly". Police say many of the 50 people at the nightclub were under Thailand's legal drinking age of 20 years old. They added that the patrons at the venue did not abide by Covid-19 prevention rules like wearing a mask, social distancing, and that the venue's management didn't limit the number of people at a social gathering.
The venue, known as "Peak" in Bangkok's Lak Si district, north of the city centre, was ordered by police to close down because it served alcohol to underage customers and the venue did not abide by Covid-19 prevention measures.
Police raided the venue and were then waiting outside as partygoers tried to flee to provide free drug tests. Along with arresting the alleged underage drinkers, the police also arrested a young man for alleged drug use after a test for illicit drug use came up positive. Police did not specify what drugs they tested for. Reports also fail to say how many people were arrested, but Pattaya News says all the underage drinkers were arrested.
Palang Pracharath's Bangkok MP Sira Jenjakha was reportedly also involved in the raid. He told Pattaya News that he is dedicated to eradicating social issues involving adolescents, and venues that serve alcohol to underage youth will face charges.
SOURCE: Pattaya News
Catch up with the latest daily "Thailand News Today" here on The Thaiger.
Keep in contact with The Thaiger by following our
Facebook page
.
Never miss out on future posts by
following The Thaiger
.