Baby elephants abused to "break" them for tourism- VIDEO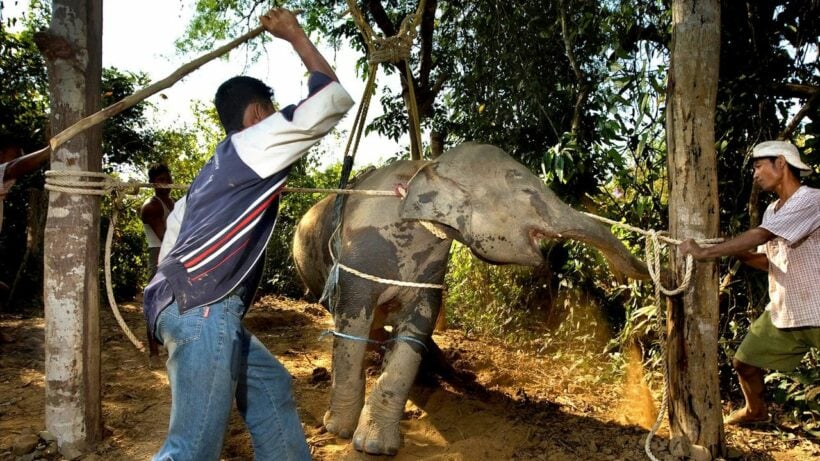 The plight of Thailand's many elephants has made plenty of headlines since the beginning of the Covid-19 outbreak in January, especially in the North, where the many elephant camps and "sanctuaries" were the a major draw for tourist revenue until the Emergency Decree and travel ban forced many to close. To avoid starvation, thousands made the long journey back to their home villages, where their arrival often caused more problems.
Now, footage of an abused baby elephant being jabbed by bullhooks – long metal rods with sharpened tips – to tame it before forcing it to join the tourist industry has been released by conservationists, in a bid to end the practice. The footage, taken on a hidden camera last year and published yesterday by UK-based animal rights group World Animal Protection, shows what they say is the forced separation of a 2 year old female elephant from her mother.
The distraught, disoriented calf can be seen confined to a small space known as the "crush box," and held by chains and ropes for days as she struggles to escape. Calves are jabbed with bullhooks to get them to understand basic commands, sometimes drawing blood.
About 3,000 domesticated elephants worked in Thailand's tourism sector, used for rides and performing tricks for travellers. Animal rights activists have long argued that elephants endure abuse in the tourism industry, starting with the so-called "crush" process to tame them when they're young. Jan Schmidt-Burbach, a wildlife veterinarian with WAP, told AFP:
"We need to ensure that this is the last generation of elephants used for commercial tourism,"
WAP has not released details of the location of the camp to avoid repercussions for the people who took the video. But Thailand's plans to relax some travel restrictions in the coming weeks, if the virus remains contained, have conservationists fearing the return of "the crush."
SOURCE: Bangkok Post | AFP
Keep in contact with The Thaiger by following our
Facebook page
.
Citylife magazine employee hacks editor's bank account, steals 4 million baht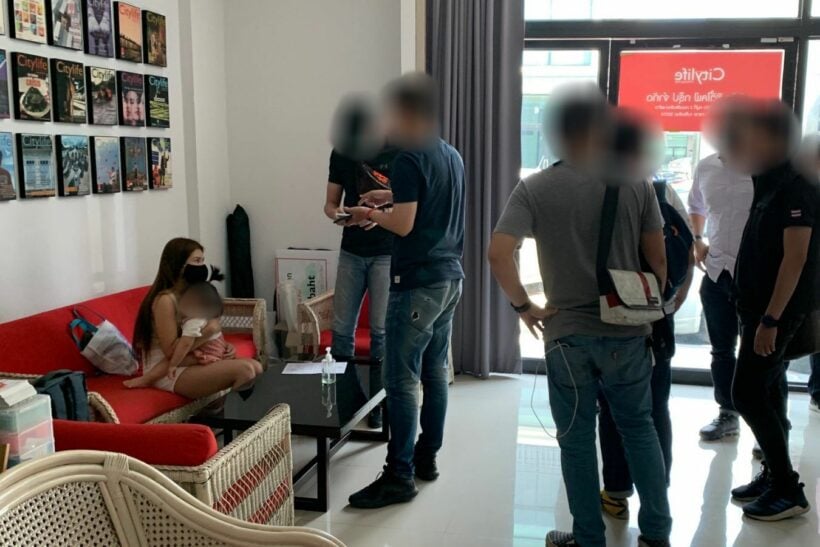 Police arrested a Chiang Mai-based English magazine employee yesterday for allegedly hacking and stealing nearly 4 million baht from her editor's account. On Friday, Citylife Media Group editor-in-chief Pim Kemasingki noticed that her bank account only had 24 baht left, millions short of what she should've had.
After requesting a bank statement from the Siam Commercial Bank, Kemasingki received a call from one of the bank's investigators who found the media company's junior clerk, 26 year old Jessadaporn Khamtong, had been transferring to her accounts.
Khamtong, who worked for SCB in the past, allegedly started withdrawing funds in mid-April using the online wallet application AirPay, and transferred the money into her SCB and Kasikorn Bank accounts. In 2 months, she did 115 transfers which totalled at 3,975,841 baht. The money was allegedly then spent on online gambling.
While Khamtong had access to her editor's ID card, phone number and bank account number, no one knows how she accessed the money. Khamtongh's husband is also being investigated by police. Khamtong could face 3 to 5 years in prison for each of the transactions, and could spend life in prison.
The magazine started in 1992 as 'The Chiang Mai Newsletter & Advertiser.' The media company says they now reach 2 million people each year.
SOURCES: Chiang Mai Citylife |Chiang Mai Citylife | Chiang Rai Times
Keep in contact with The Thaiger by following our
Facebook page
.
Dozens arrested in money laundering and drugs case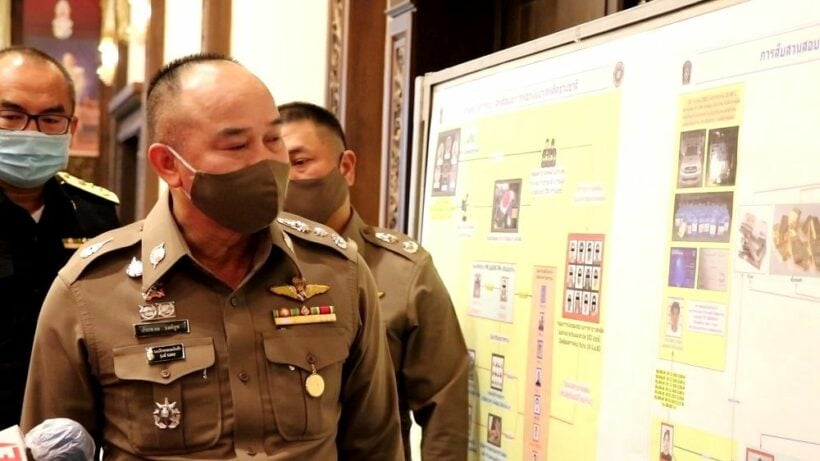 61 people have been arrested in one of Thailand's biggest money laundering cases of the year, said to be worth more than 10 billion baht. The suspects are believed to be part of a drug syndicate and money laundering network, allegedly run by a 45 year old Chinese man identified as "Chien Ma," who was caught earlier in Bangkok.
Provincial police say the arrest of the 61, some of whom were flown from the southern province of Trang to Chiang Mai yesterday, is the culmination of an investigation that's lasted more than a year. At a media briefing by the Provincial Police Region 5, which covers northern Thailand, officers reported seizing more than 700 passbooks with 10.1 billion baht in assets.
The PPR5 commissioner says the investigation was launched on March 28 last year when police seized millions of meth pills from suspects in Chiang Rai's Ban Du village. The money trail linked the suspects to another drug ring based in the Central region.
Evidence proved the ring transferred large sums to buy drugs from the suspects, and the transfers implicated a number of import/export firms. Police believe they were created as fronts to launder drug money. 49 bank accounts held by the firms were all traced back to Chien.
The implicated businesses imported foreign goods and exported commodities including farm products, seafood and meat. The police commissioner says the businesses were set up to launder money generated by the drug syndicate. After the firms exported goods to China, they were later re-exported to companies which belonged to drug syndicate in Myanmar. It's not known whether the probe will extend to that country.
Chien's alleged network collaborated with at least 3 smaller drug gangs run by a female former model, a temple abbot in Myanmar and an influential businesswoman in Trang. The commisioner says police arrested the 61 in a series of raids over 6 days starting June 16 in Trang. In addition to the 61 suspects, police also identified 13 prison inmates belonging to Chien's alleged network.
Police in northern Thailand say they're still tracking 35 others in the gang, and that Chien confessed to managing the transfers of the money, both before and after it was laundered. They say many people were paid 1,000 baht by Chien's network to open bank accounts to facilitate the transfers.
They will also face charges as accessories to money laundering money and possibly be investigated by the Revenue Department.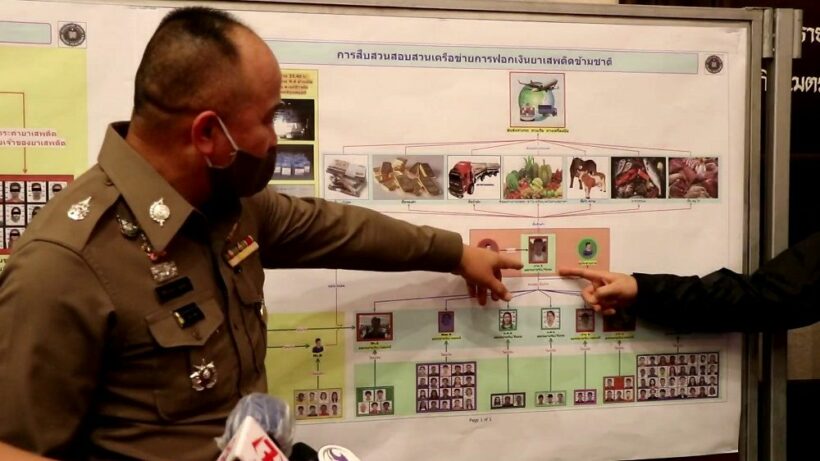 SOURCE: Chiang Rai Times
Keep in contact with The Thaiger by following our
Facebook page
.
Stranded Russian and friends help monk build houses in Chiang Mai – VIDEO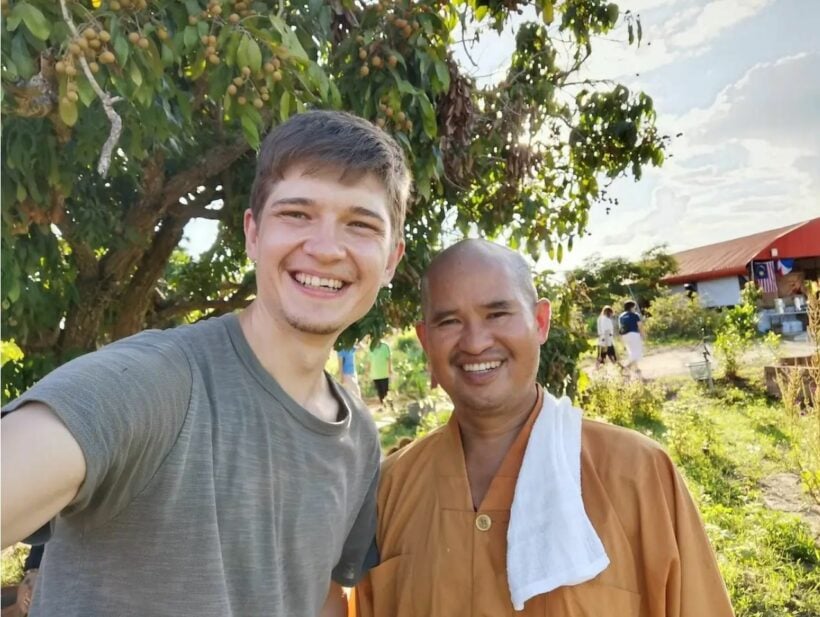 When Nikita Proshin left his home in Russia in January to travel for a year, he had no idea he would spend the last 5 months in Thailand. Although he ended up stranded in the Kingdom, through a work-exchange program, he's helping a Buddhist monk build houses. The 25 year old says he doesn't know what will happen next, but he plans to "go with the flow" to meet his 2020 goal of travelling a year without going home.
When the virus began spreading across the world, borders closed, flights were cancelled, and travel, for most people, was put on pause. While many travellers packed their bags and headed back home while they could, Proshin decided to continue his adventure, even if it meant staying in a single destination for months. He settled in Thailand, where he's recently moved into a monk's home to help him build houses.
Originally from Omsk, Russia, Proshin travelled to China 5 years ago where he discovered his passion for exploring.
"An average vacation, like 2 or 3 weeks long, is not enough for me. I wanted more."
Check out the video, it's very entertaining…
He lived in China for 4 years, eventually travelling back home. This year he made a New Year's resolution to travel for the entire year. He left with a few thousand dollars with a plan to journey across Asia and Europe.
As the coronavirus spread, countries began closing their borders. Proshin needed to choose a destination where he could stay and ride out the closures in safety. He initially planned to visit Vietnam, but because he was travelling from China, Vietnam wouldn't let him in. So he headed to Thailand at the beginning of February. He travelled around the country and eventually settled in a hostel in Chiang Mai.
"I made a promise to myself that I would travel the entire year, and I didn't want to break it."
While he had some savings, he was quickly running out of money staying at the hostel. A few new friends he'd made at the hostel heard about a work-exchange program outside the city. So they all packed their bags and moved into a local Buddhist monk's home.
Work exchanges are common for travellers because they offer a chance to learn about a region's culture through experience. In exchange for a room and food, the traveller offers work. In this case, Proshin and his friends would build homes.
Proshin says the monk, 'Pongmia', heard about the travellers' struggles getting flights home due to the coronavirus. Many were getting stuck in Thailand with no place to stay and dwindling budgets. Pongmia launched a work-exchange program to help. Currently, there are about 10 travellers living with the monk's family.
Every day starts before sunrise. On a rotating chore chart, Proshin makes breakfast several times a week with the monk's mother, and although they don't speak the same language, Proshin says they can still understand each other.
SOURCE: insider.com
Keep in contact with The Thaiger by following our
Facebook page
.