Where to get the finest cannabis in Phuket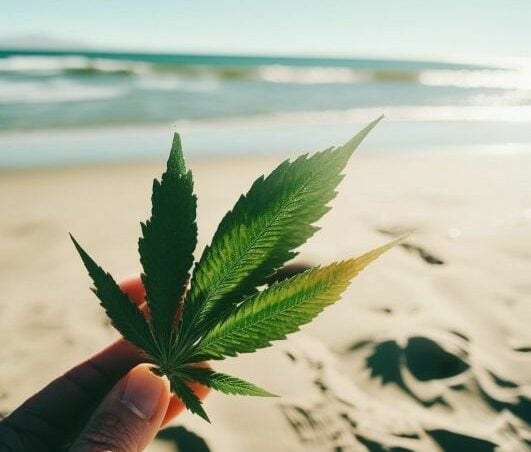 Seeking a taste of the vibrant cannabis culture in Phuket? Following the decriminalization of weed in Thailand, cannabis dispensaries have popped up all over the nation, and Phuket is no exception. While you could just waltz into any old cannabis store and buy weed in Phuket, not all of them offer high-quality products. But don't worry because we've got the lowdown on where to score some of that sweet, sweet herb in Phuket. So, if you're looking for a little green fun on the island, we have scoured for the best places where you can buy weed in Phuket. From Patong, Phuket Town to Rawai here is where you can get the finest cannabis in Phuket.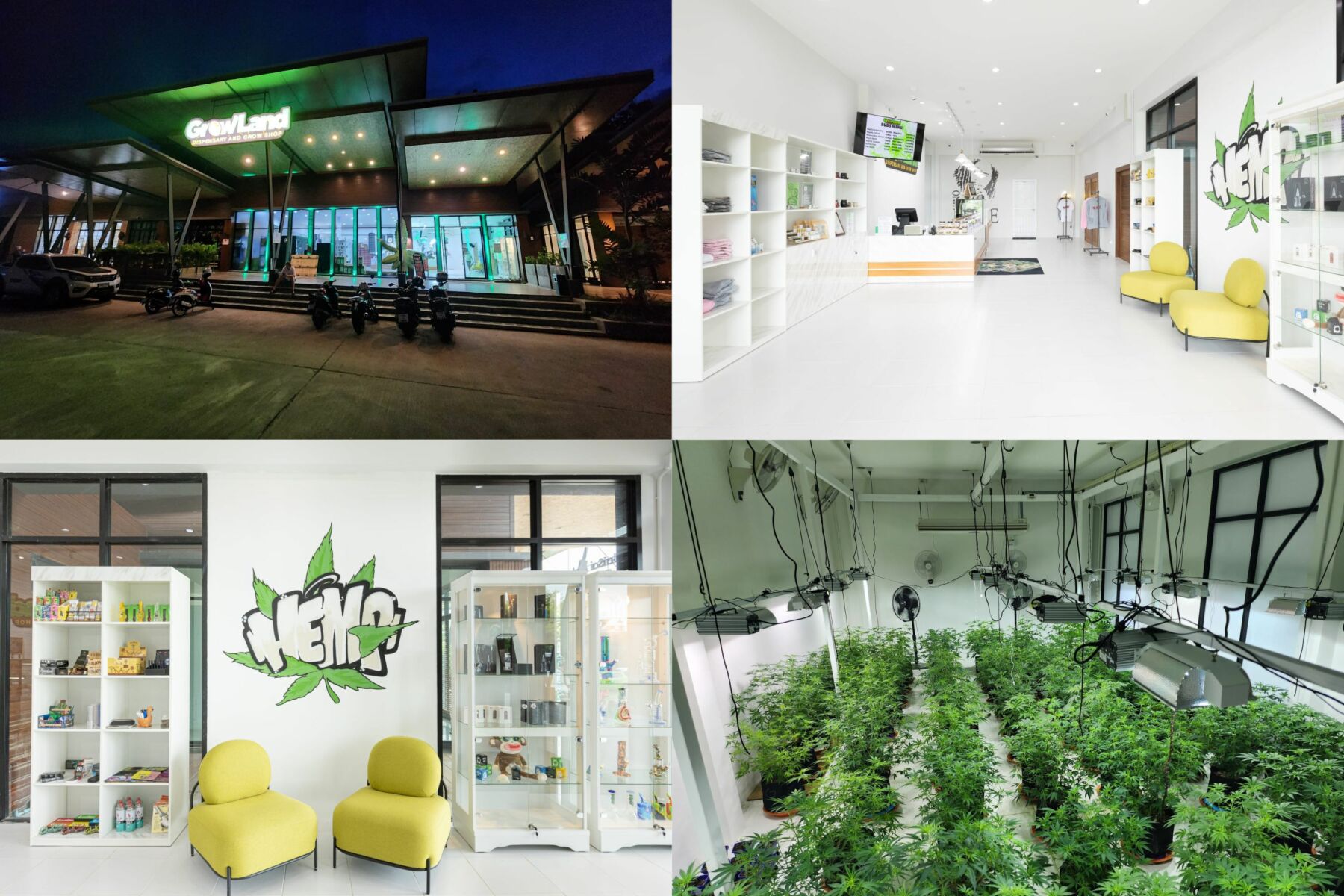 As Phuket's premier cannabis dispensary and grow shop, GrowLand offers an unbeatable selection of flower strains, clones, and all the accessories you need to elevate your cannabis experience.
They have a range of 50 premium flower strains on site, all competitively priced. So trust that they offer the best value per gram price in Phuket! Moreover, they're always on the hunt for the best genetics, so you can be sure to get the best buds on the whole island.
If you're a grower, their shop also has everything you need to get started, from lights and nutrients to tents and drying nets. And with their knowledgeable staff, you'll never grow alone! They're always ready to answer any questions you might have and make you feel welcome.
When you visit their shop on Patak Road, you are welcome to explore their impressive Mother Room, where they cultivate and nurture the highest quality cannabis plants for cuttings and clones. At GrowLand, they're dedicated to supporting the local growers movement, exchanging knowledge and expertise to ensure the highest standards. Plus, with their 100% legal certification, you can trust that their products are safe and reliable.
Opening hours: Everyday, 11:00 am – 9:00 pm
Address: 82/26 Patak Road Rawai, Mueang Phuket District, Phuket 83100
Telephone: 098 739 1999
Email: contact@growland.com
Website: https://growland.asia/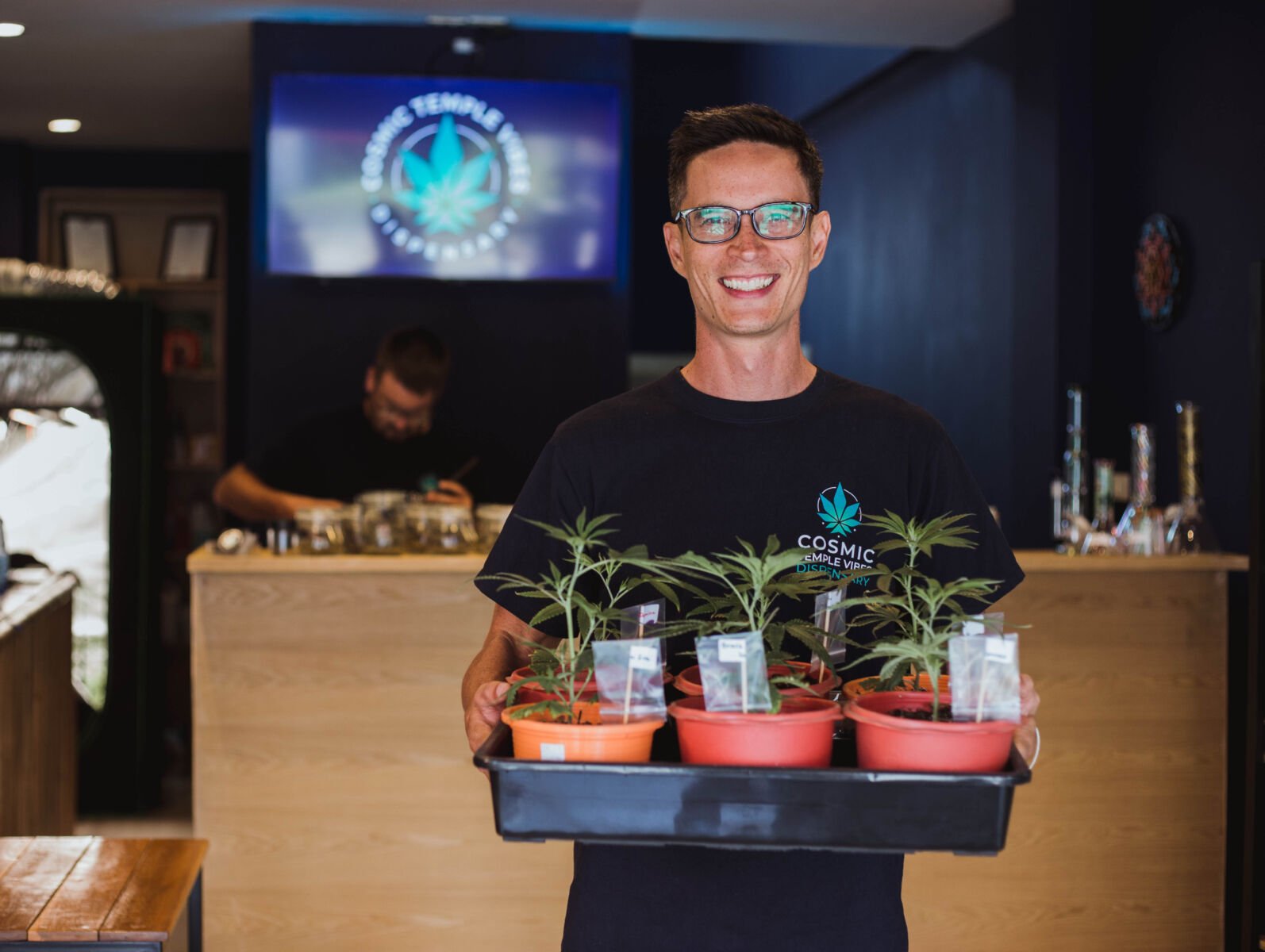 Meet Aric, the half-Thai, half-American visionary who found his calling in Phuket. With a passion for cannabis that spans over 15 years, Aric's journey began in California back in 2009 when weed first became legal.
In 2018, Aric moved to Thailand to discover his roots, and that's when he started Cosmic Temple Vibes, an online shop selling yoga and meditation-inspired clothing, art, and accessories. But Aric's vision didn't stop there. When he moved to Phuket, he began Cosmic Temple Vibe's journey as a leading cannabis brand in Thailand. He stumbled upon an old mystic shop in Rawai during the COVID-19 pandemic and saw an opportunity to bring his vision to life.
With the shop in need of new energy, Aric bought the location and transformed it into a cafe. His shop started to sell cannabis and coffee back in March 2022. He was only selling edibles then, since flowers weren't legal yet. However, when cannabis became legal in 2022, he saw it as a blessing and an opportunity to expand his brand. Today, Cosmic Temple Vibes is a full-stack indoor farm and dispensary with two locations in Rawai. Aside from their amazing farm and dispensary, they also offer delivery services.
Aric and his team at Cosmic Temple Vibes aim to source, grow and create their offerings to the highest level to heal and inspire people through cannabis and other products. So head over to Cosmic Temple Vibes, where the cosmic vibe, high energy, and deep roots will greet you.
Opening Hours: 10:00 am – 10:00 pm
Address: 30/63, Soi Saiyuan, Rawai, Phuket 83130
Website: https://cosmictemplevibes.com/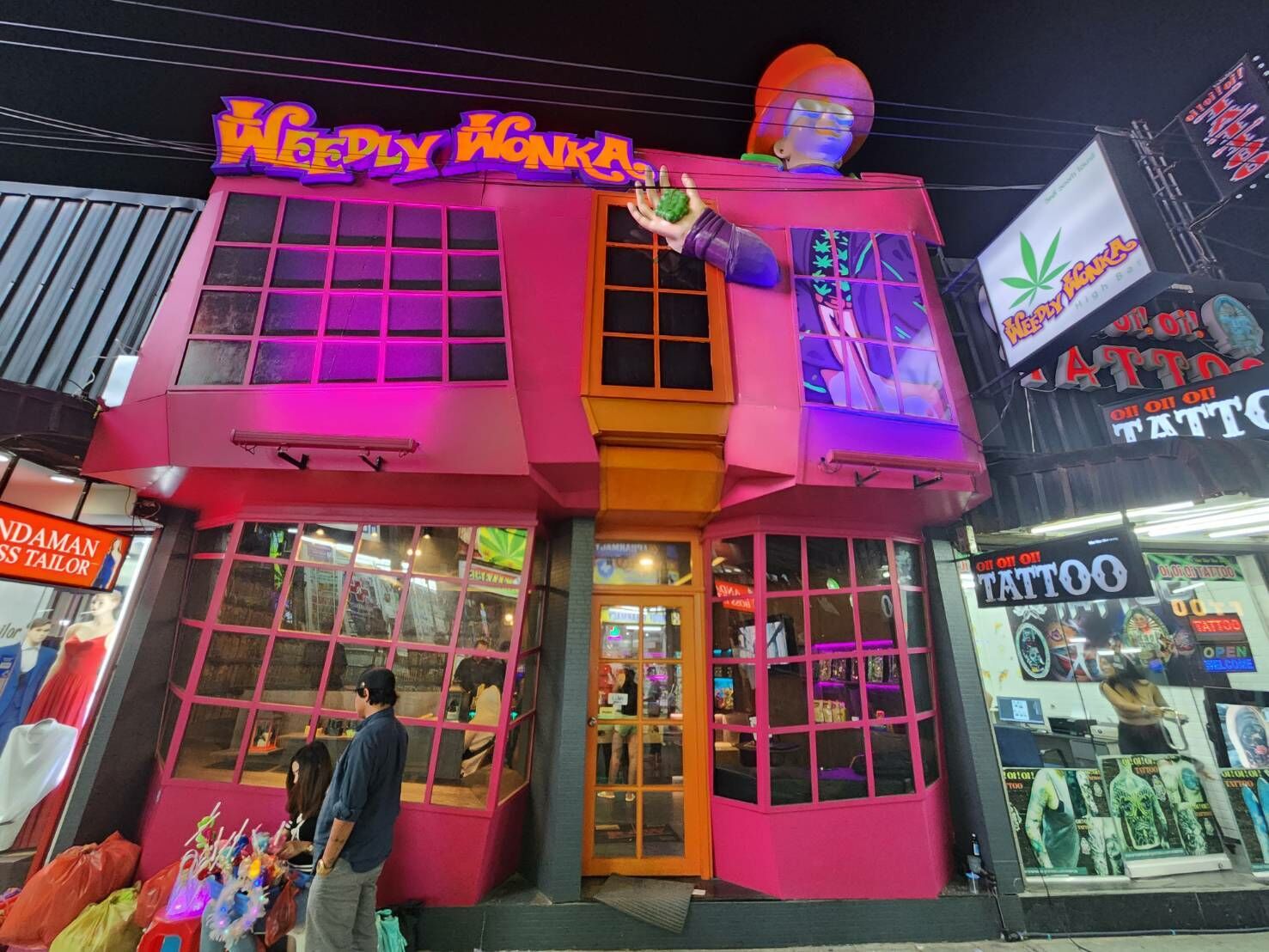 Whether you're visiting for a night out or coming to after parties, Weedly Wonka is the ideal place to visit. The shop boasts expert budtenders who have been crafting the finest cannabis for over a decade. Located in the heart of Phuket's prime party location, Bangla Road, their shop is the perfect place to unwind after a night out or gear up for a wild time ahead. On top of it, it's open from 1:00 pm to 3:00 am, so you can stop by whenever you need a little pick-me-up.
Weedly Wonka prides themselves on sourcing only the highest quality flowers to guarantee you the best experience.Therefore, their strains are always fresh and updated to ensure the best experience possible.
When you visit, you can relax in their cosy environment equipped with everything you need and sip on essential beverages within arm's reach. Their cannabis experts will also enlighten you about the origin and source of their products, delivering the best experience possible. Additionally, their shop's distinct theme is an experience in itself. It will transport you into Willy Wonka's chocolate factory – only this time, it's weed instead of chocolate!
Opening Hours: 1:00 pm – 3:00 am
Address: 22 Bangla Rd, Pa Tong, Kathu Phuket 83150
Facebook: https://www.facebook.com/weedlywonkafactory/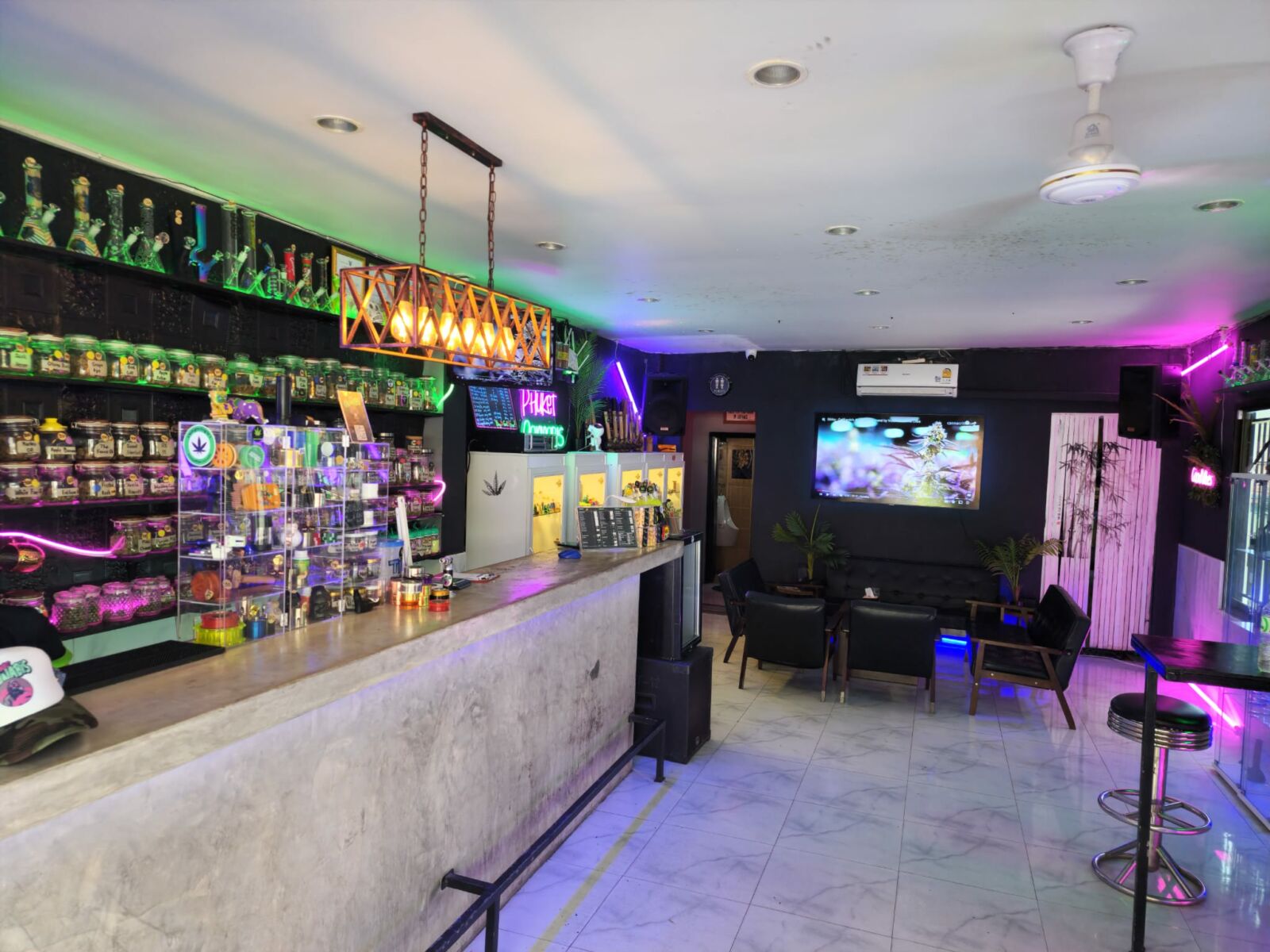 Jump on an adventure of a lifetime at Phuket Cannabis, the finest cannabis shop in Patong! With over 100 different premium high-grade cannabis buds, exotic imports, indoor and outdoor strains, and much more, you're sure to find your perfect match.
There an extensive variety of indica and sativa strains available. They've also got you covered with papers, weed crushers, rips, pre-rolled joints, cones, bongs, pipes, handmade bamboo pipes, rolling trays, scales, and more!
But that's not all. For those who prefer edibles, Phuket Cannabis is a great place to go because they have a mouthwatering range of treats that will leave you wanting more. From scrumptious cookies to chewy gummy bears and even fluffy pancakes, they have it all. And don't worry if you haven't tried cannabis before or you're trying to explore more options, their knowledgeable staff are always happy to assist you. So, go give their store a visit at 90/2 Nanai Road and experience the magic for yourself.
Opening Hours: 10:00 am – 2:00 am
Address: Phuket Cannabis, 90/2 Nanai Road, 83150 Patong, Phuket
Website: https://www.patong-cannabis.com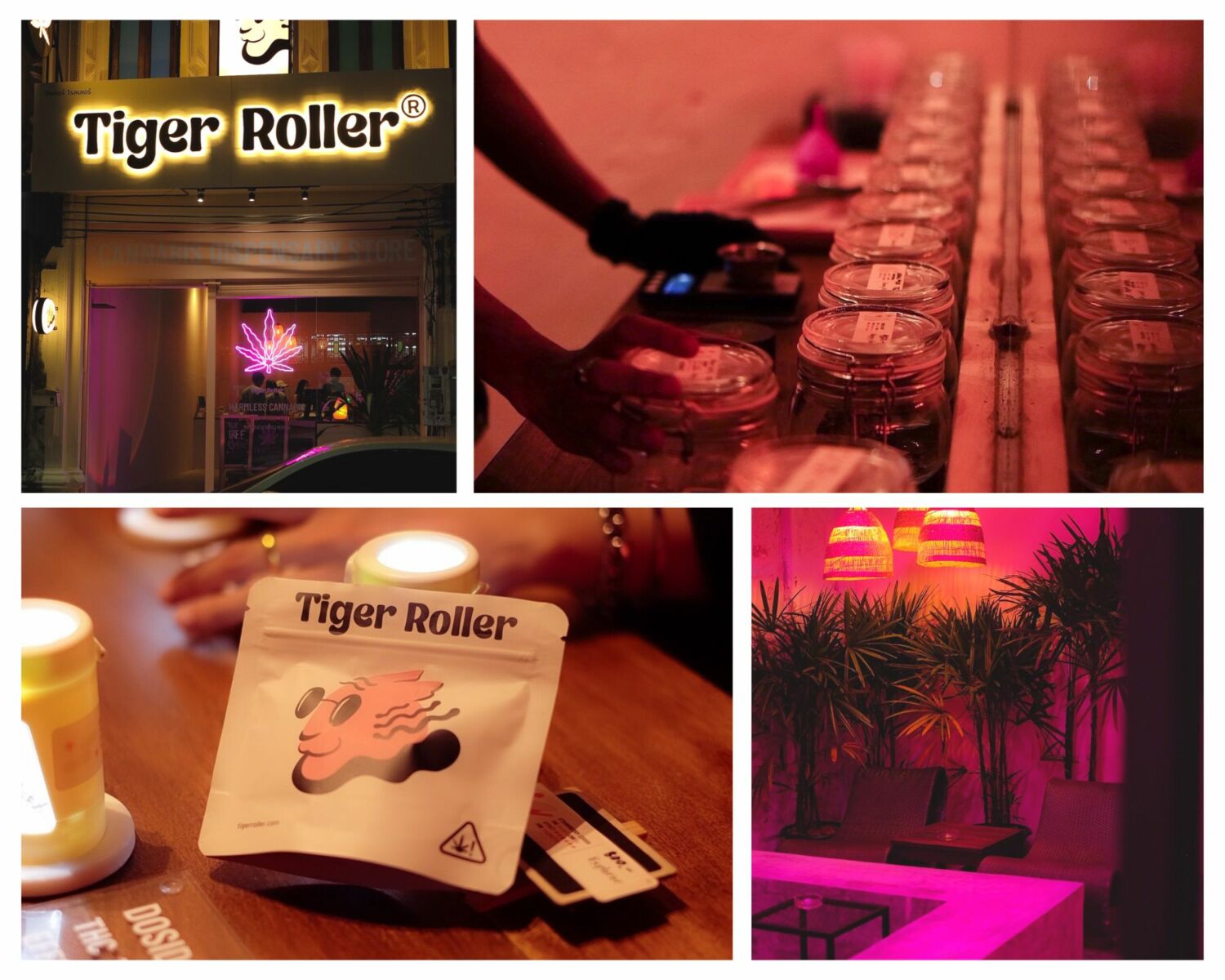 Get ready to embark on a cannabis journey like no other at Tiger Roller – your go-to destination for high-quality sativa, indica, and hybrid cannabis strains. Their extensive selection of premium cannabis strains comes at unbeatable prices. Besides, they have knowledgeable staff on hand to guide you every step of the way.
They understand that purchasing cannabis can be intimidating. That's why they've created a relaxed and stress-free environment for their guests. Take your time browsing their many selections with free WiFi, or hang out with friends in their on-site smoking lounge.
Located in the heart of Phuket, Tiger Roller is the perfect place to unwind and explore the world of cannabis. No matter where you are on your cannabis journey, Tiger Roller's welcoming team is here to help you with all of your needs. From seasoned smokers to those new to the game, their staff is eager to provide guidance and assistance.
With an impressive array of strains to choose from, unbeatable prices, and a friendly atmosphere, Tiger Roller offers an unparalleled cannabis shopping experience.
Opening Hours: 1:00 pm – 12:00 am
Address: 76 Yaowarad Rd, Talat Yai, Mueang Phuket District, Phuket 83000
Telephone: 0619694698
Facebook: https://www.facebook.com/tigerroller.official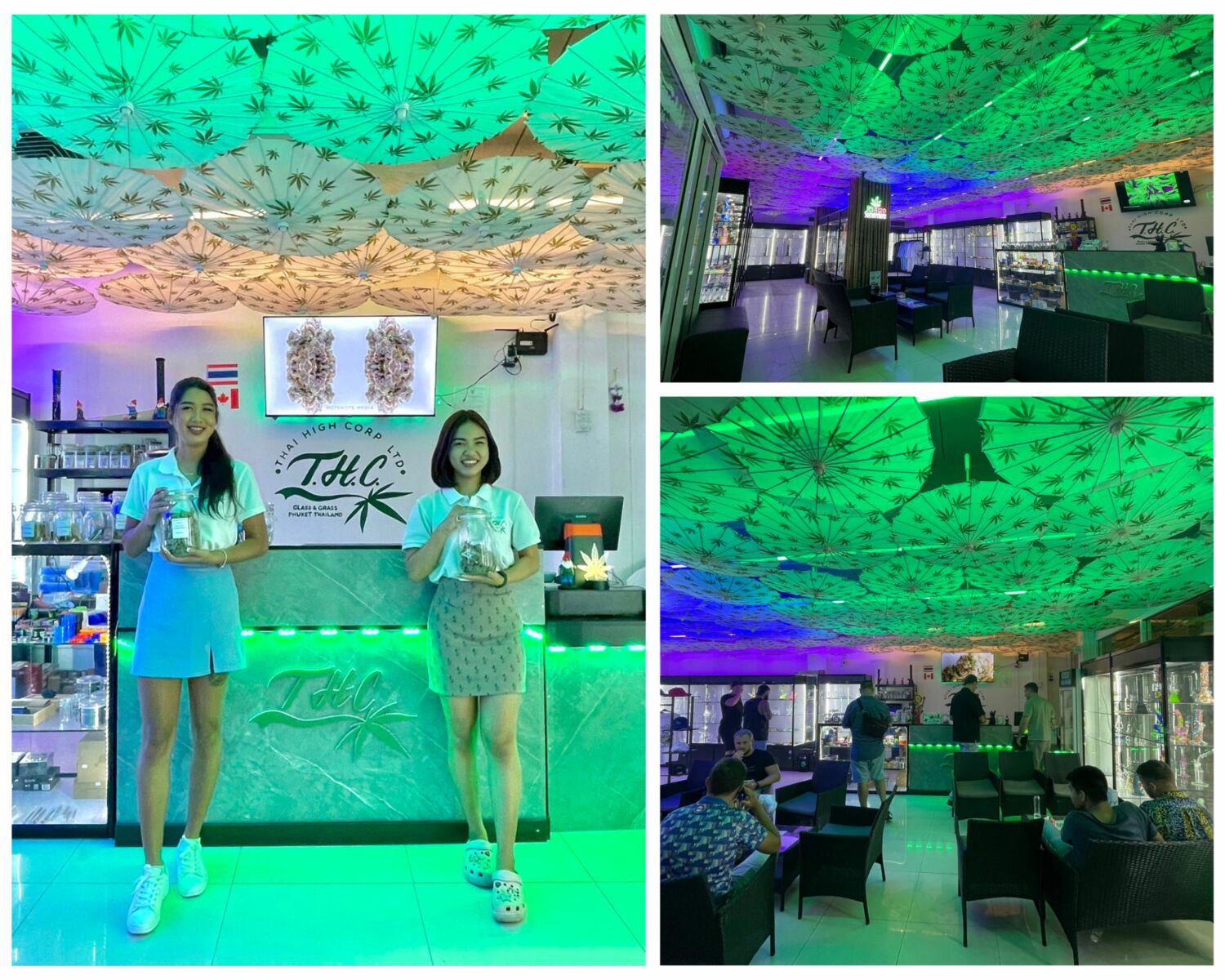 Next on our list is THC Thai High Corporation, the premier destination for top-shelf cannabis strains and smoking accessories in all of Phuket. Their collection of exotic strains is sure to get your taste buds dancing with happiness. Moreover, if you're in the market for bongs, pipes, or any other smoking accessories, the dispensary has everything you need for a good time.
Located on the beach road, THC Thai High Corporation is a must-visit for anyone curious about cannabis or seeking the ultimate smoking experience. As soon as you step into THC Thai High Corporation, you'll instantly feel the welcoming atmosphere. In addition, their knowledgeable staff are eager to answer your every cannabis question. They'll even give you a personalized consultation and let you see and smell the premium cannabis buds available for purchase.
But even if you're not a cannabis connoisseur, you won't want to miss this shop's impressive collection of silicon, glass bongs, and pipes. THC boasts the largest selection of these smoking devices in all of Thailand, and at amazing prices. On top of it, they also offer a range of quality merchandise, from hats and t-shirts to bikinis and board shorts. You won't want to leave empty-handed!
Opening Hours: 12:00 pm – 1:00 am
Address: 1 Soi Dr. Watthana, Pa Tong, Kathu District, Phuket 83150
Telephone: 098 874 6980
Email: Info@thaihighcorp.com
Instagram: https://www.instagram.com/thc_phuket/?igshid=YmMyMTA2M2Y%3D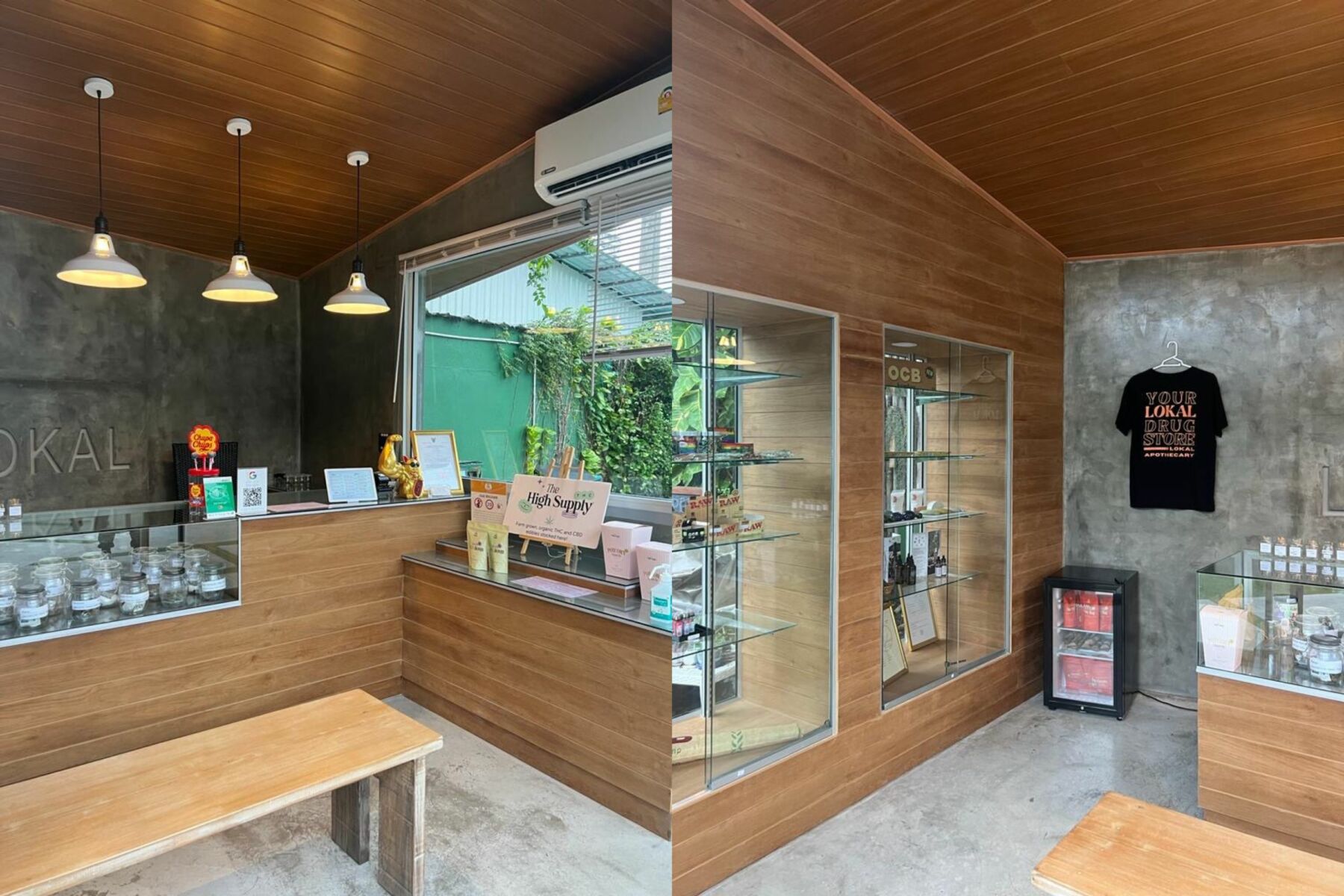 Amidst the bustling streets of Patong lies Lokal Apothecary – the ultimate cannabis destination. Here, the passion for quality cannabis is evident in every aspect. As its name suggests, Lokal Apothecary is run by local cannabis enthusiasts. Moreover, it's committed to providing only the best products to its customers.
At Lokal Apothecary, customer satisfaction is the top priority. Their is friendly and knowledgeable, so you don't have to hesitate if you have any questions or need assistance. They're committed to ensuring that your cannabis experience is as seamless and enjoyable as possible. If you're new to cannabis, they're happy to share a wealth of information about their strains and products to help you make informed decisions. However, their team is always available to answer your questions and engage in friendly conversation even if you're already familiar with different cannabis strains.
Aside from providing the best quality cannabis, Lokal Apothecary also offers a safe and comfortable experience with its welcoming atmosphere and clean, well-maintained space.
Therefore, if you're looking for a top-quality medical cannabis dispensary that truly cares about its customers, head to Lokal Apothecary. With their welcoming atmosphere, unbeatable quality, and exceptional customer service, their dispensary is the perfect place to discover new cannabis products or simply unwind with like-minded enthusiasts.
Opening Hours: 10:00 am – 12:00 am
Address: 180 Rat U Tit, Songroipee Road, Patong, Kathu, 83150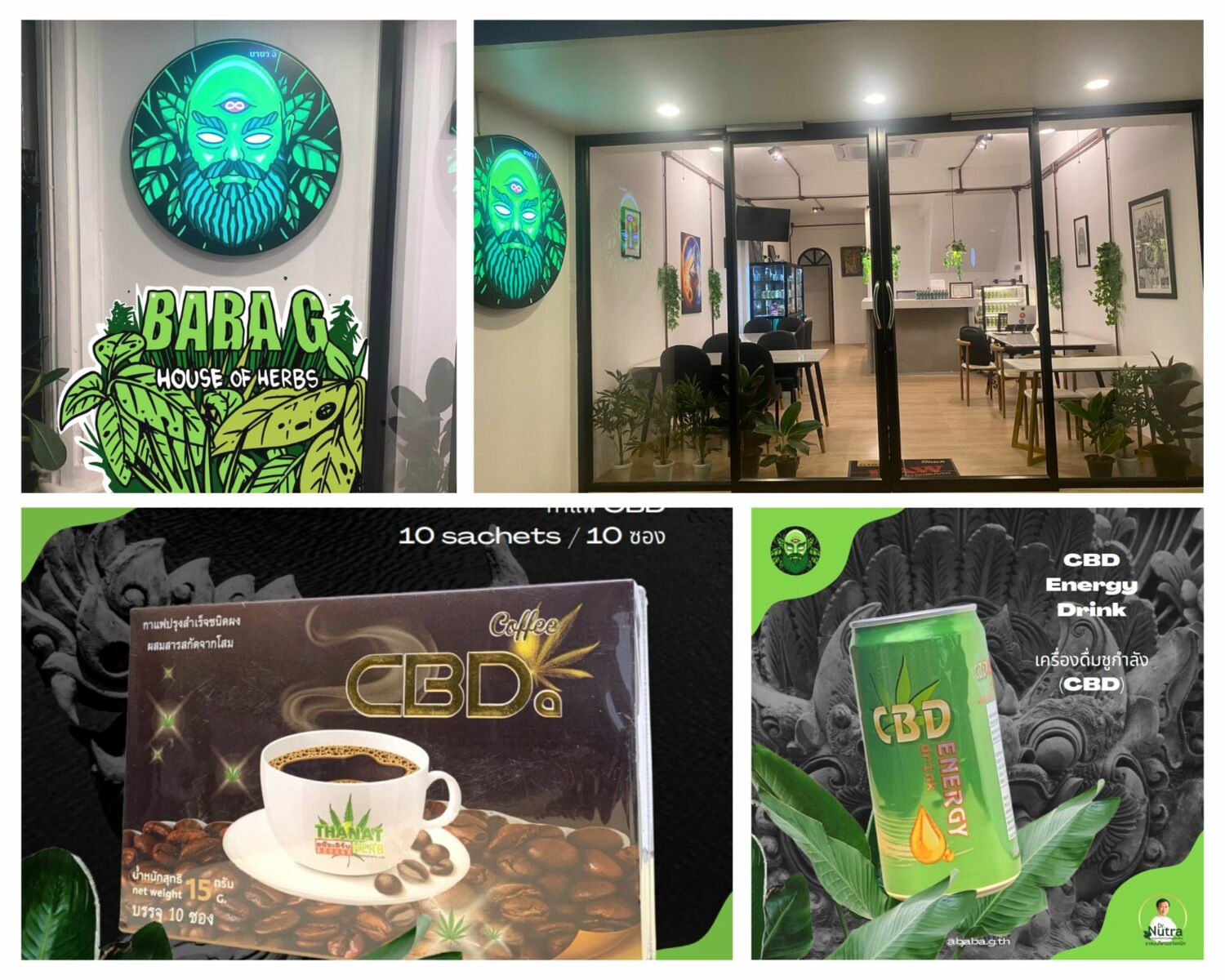 Nestled in the heart of Phuket lies a hidden gem – Baba G – House of Herb. The term 'Baba G' (ਬਾਬਾ ਜੀ) in the Punjabi language means God. This premier cannabis dispensary offers an unparalleled selection of premium cannabis strains, CBD products, herbal teas, and coffees that will leave you in a state of bliss. From the rarest and best cannabis flowers to the most delicious edibles on the island, Baba G has it all! They even go the extra mile by encouraging their customers to bring in better weed – if they can find it.
Baba G – House of Herbs is an exclusive dealer of S-Med Group in Phuket and Khaolak, and it's quickly becoming the go-to place for medical-grade kratom and cannabis. They ship worldwide and their medical goods are FDA approved. The warm and inviting atmosphere and the experienced and knowledgeable owner and his staff make it different from other cannabis dispensaries.
For cannabis connoisseurs, Baba G offers a wide selection of premium strains, edibles, and topicals from their farms and direct suppliers where you can get them for very good value. They also showcase stunning artwork from local artisans that can be purchased alongside your preferred cannabis product. Whether you're a first-time user or a cannabis enthusiast, Baba G is the ultimate destination to discover and experience cannabis in Phuket.
Baba G -House of Herbs – "God Made Herbs, We Bring Them to You"
Opening Hours: 11am – 2am
Phuket Address: 100, 23 Thawewong Rd, Pa Tong, Kathu District, Phuket 831500
Telephone: +66 86 280 9019 (Whatsapp)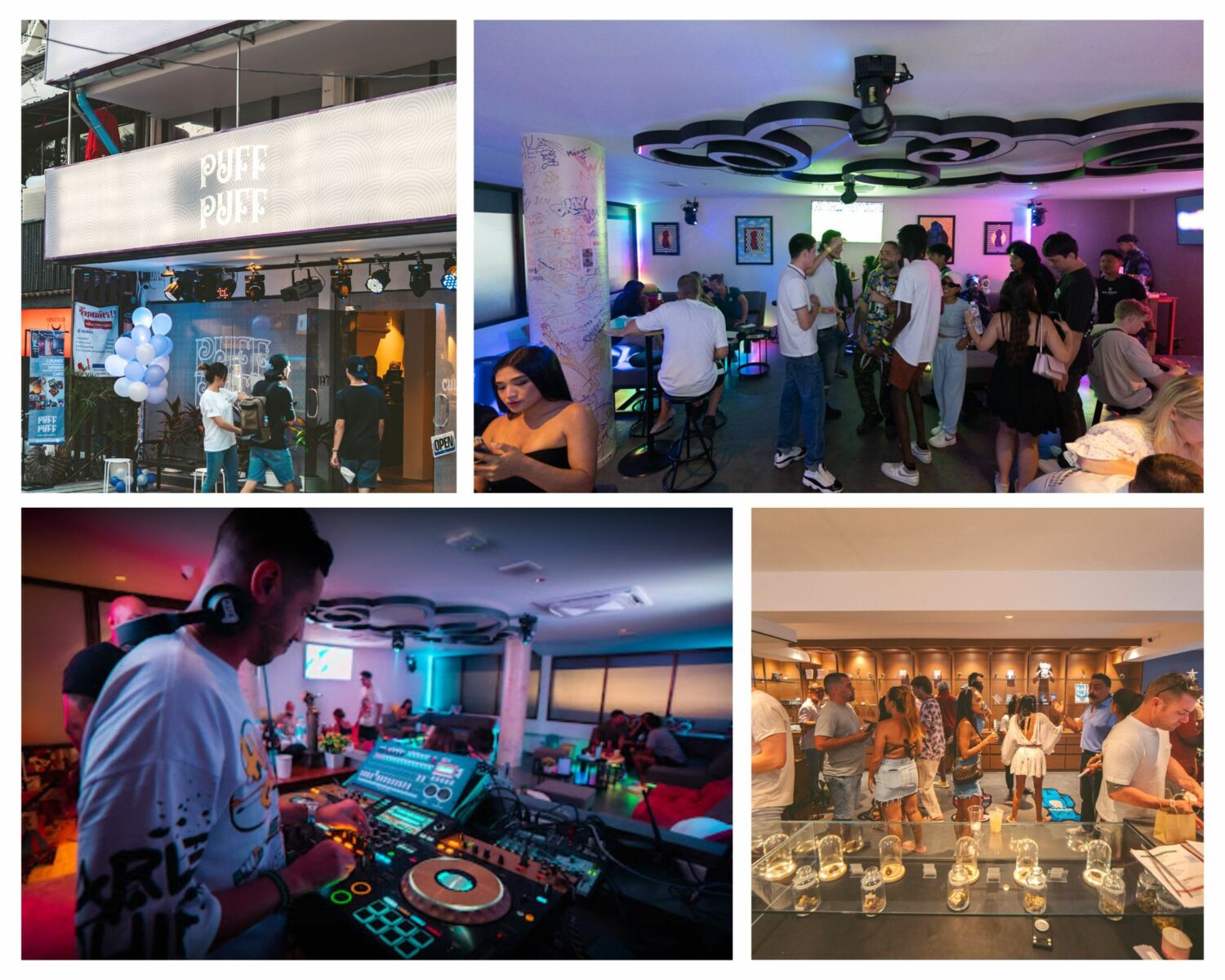 Puff Puff is all about diversity, prestige, and care. Their mission is to redefine the streets of Thailand by elevating your mind, body, and soul. And with their motto "Stay Elevated," they're here to make sure you do just that.
When it comes to the Puff Puff experience, they've created a safe and welcoming environment where you can enjoy their products to the fullest. If you find yourself craving a morning espresso, homemade pastries for lunch, a cocktail to unwind during happy hour, or a taste of their top-notch strains, they've got you covered. Their team is always ready to assist you in finding the perfect item to satisfy your appetite or indulge in some high-quality cannabis.
Moreover, what sets them apart from other cannabis brands is their second-floor lounge, LIFT, where they host events. Here, they also let customers indulge in their products while sipping cocktails and enjoying live DJ sets on the weekends.
But let's talk about their strains. Locally grown in Phuket, Thailand, their parent farm has carefully crafted a wide range of strains tailored to the tastes of every smoker. From RS11 to Super Sour Diesel, Sweetie to Mimosa Cream, they've got something for everyone. So why settle for an ordinary cannabis experience when you can elevate it with Puff Puff? See for yourself what makes them truly unique.
Puff Puff's events:
Fridays from 9:00 pm – HAZE with Music by: Baby Yu & DJ Lil Dew
Saturdays from 9:00 pm – THE AFTER PARTY with Music by Baby Yu & Chris Yaw – Hosted by: Daniela & Josh
Sundays from 11:00 pm – R&B ON A SUNDAY with Music by: Baby Yu live on www.twitch.tv/djbabyyu
Opening Hours: 3 pm – 2 am
Address: 54 9 Bangla Rd, Pa Tong, Kathu District, Phuket 83150
E-mail: hub.puffpuff@gmail.com
Phone: 0633429835
Linktree I Instagram I Facebook I Twitter I Telegram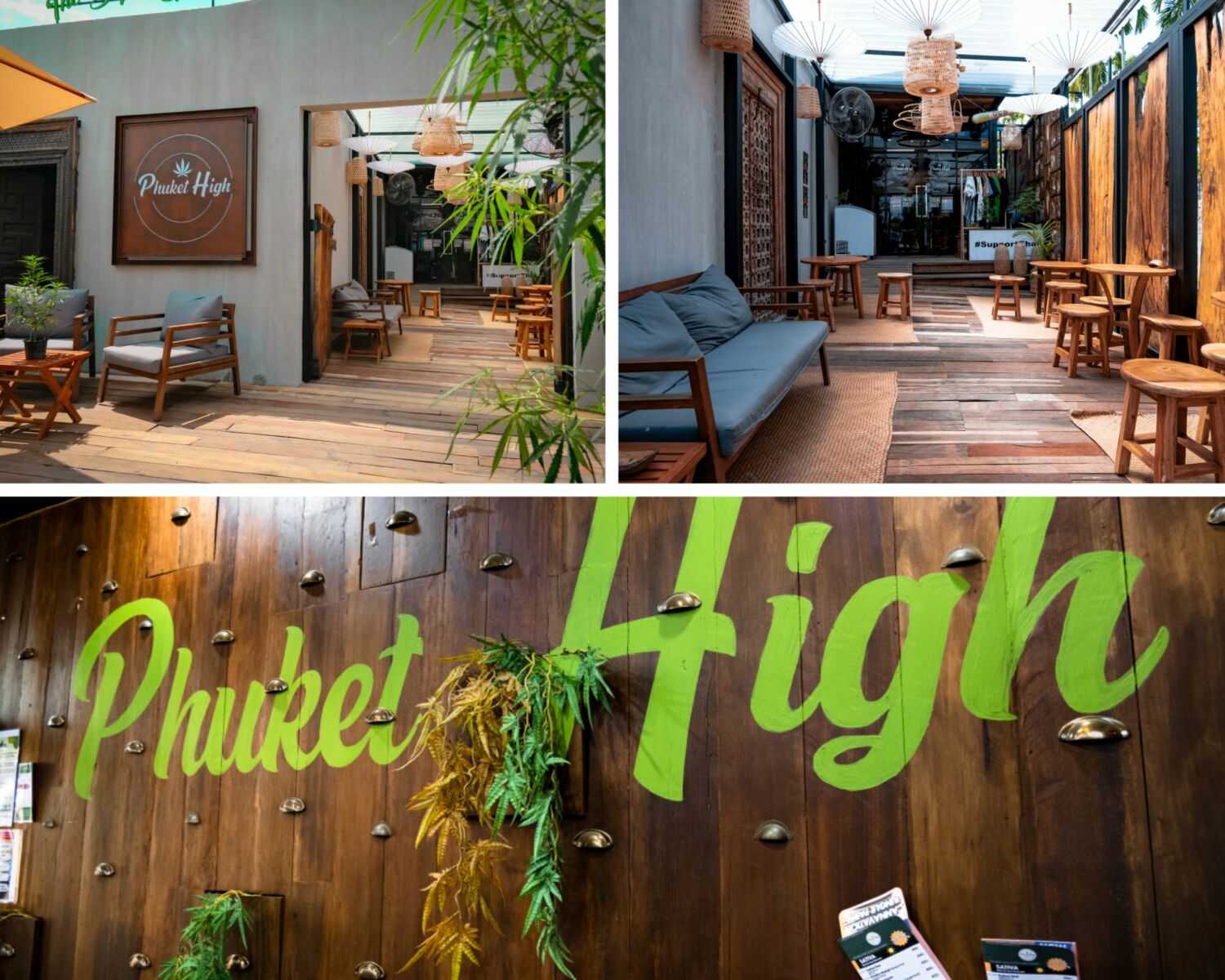 Find a world of locally-sourced cannabis products at Phuket High, the island's premiere legal registered dispensary. With five locations including Nai Harn, Rawai, Kata, Bang Tao, and Koh Tao this dispensary provides a comfortable environment for people of all walks of life to socialize and relax, as they explore a range of high-quality, safe and local cannabis products.
Phuket High sources their products from the best cultivators and manufacturers in Thailand. Thus, ensuring a truly authentic Thai cannabis experience. Their partner farms at Phuket Original focus on developing genetics that thrives in Thailand's unique microclimate, providing top-shelf cannabis that's unmatched in quality. Putting community first, Phuket High provides a comfortable and welcoming environment for customers to socialize and enjoy their products. They aim to build a supportive community centred around cannabis in Phuket by representing local culture and providing authentic experiences.
Korn, Co-Founder says, "We opened Phuket High because of our passion for cannabis and what this industry represents for Thailand. I really believe cannabis will feed many Thai families, put kids through school, and bring so many people to a better position than they are in today. From the first day we started, our goal has been to represent local culture and build a supportive community around cannabis in Phuket."
Opening Hours: 10 am – 8 pm
Address: 28/85 Moo.1 Rawai Muang Phuket, Rawai, 83100
Contact: 097 317 1791
Email: andrew@phukethigh.co
Website I Youtube I Instagram I Cannabox I Telegram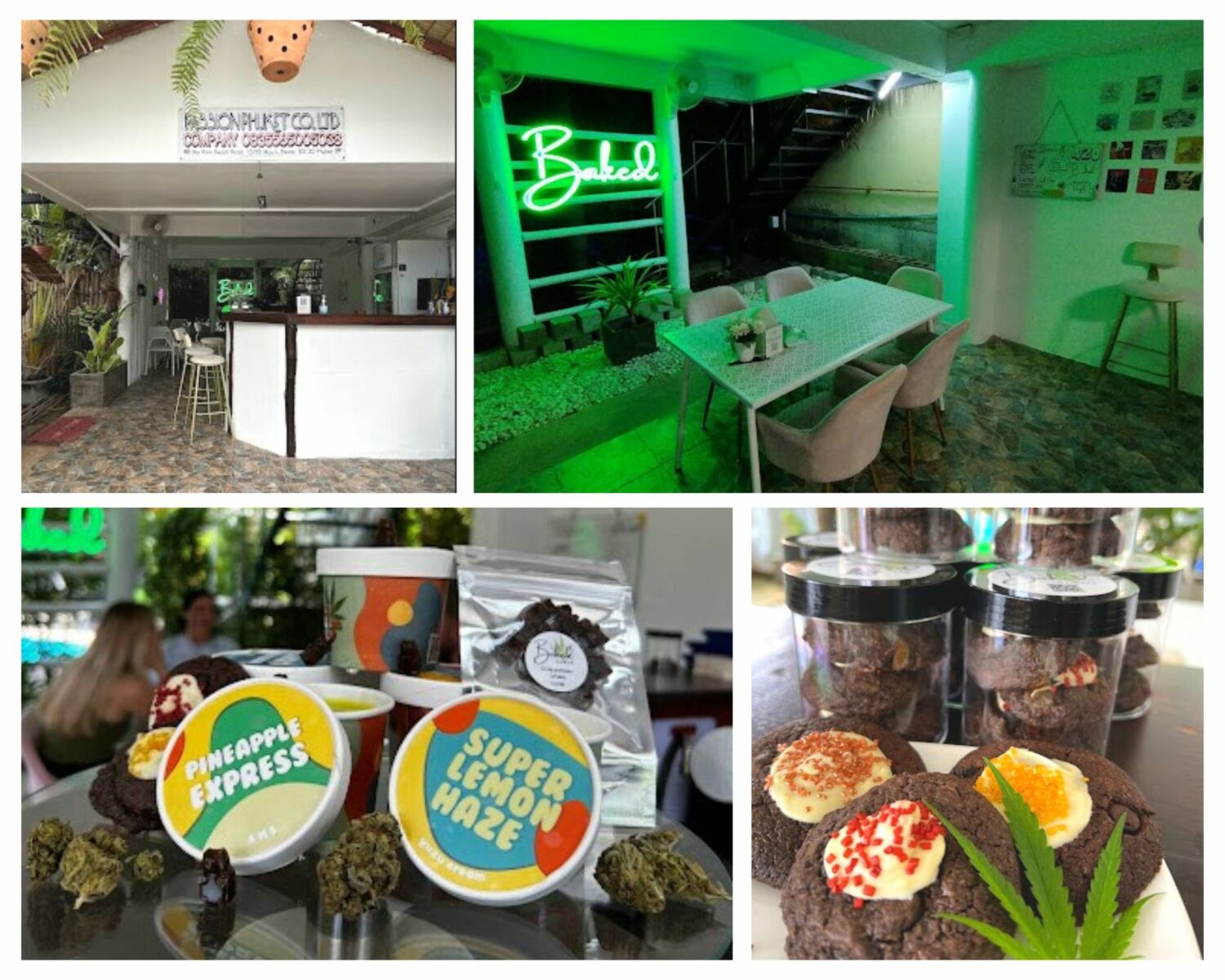 Baked Nai Harn is the ultimate destination for cannabis enthusiasts looking for an unforgettable experience. Located in the heart of Naiharn, Rawai area, this open-air cannabis café offers everything from edibles to flowers to smoking supplies.
You'll be spoiled for choice with Baked Nai Harn wide selection of edibles and flowers. From prerolls to CBD, they have it all. Moreover, if you need smoking supplies, they have everything you can possibly need, such as gravity bongs, bing torches, pipes, joint cases, and more. You can even satisfy your sweet tooth with their delicious brownies that are sure to leave you wanting more.
What's more, Baked Nai Harn also offers both alcoholic and alcohol-free beverages for sale. That's why it's the perfect place to be if you want to quench your thirst after a long day. And the best part? You can enjoy all this in their smoking lounge, one of the few places on the island where you can freely smoke up.
Too busy to visit the café? No problem. Baked Nai Harn offers local instant delivery and delivery by mail, ensuring you can enjoy their amazing products wherever you are. Additionally, with PromptPay/QR Pay, you can easily pay for your order without any hassle. Be sure to head over to Baked Nai Harn today and indulge in their excellent selection of products, friendly staff, and smoking lounge. We promise you won't regret it!
Opening Hours: 11:00 am – 12:00 am
Address: 13/43 Moo.1 Rawai Muangphuket, Mueang Phuket District, 831300
Contact: 063 367 8080
We hope that our guide has left you feeling inspired, excited, and ready to take on the world (or at least Phuket) with a little help from our green friend. Just remember to stay safe, respect the local laws and customs, and most importantly, have fun!
Eager to find out the best places to find cannabis in Bangkok? Click HERE. Or are you in Pattaya? Click HERE to see the best weed dispensaries in Pattaya.
Cannabis Regulations you might want to know in Phuket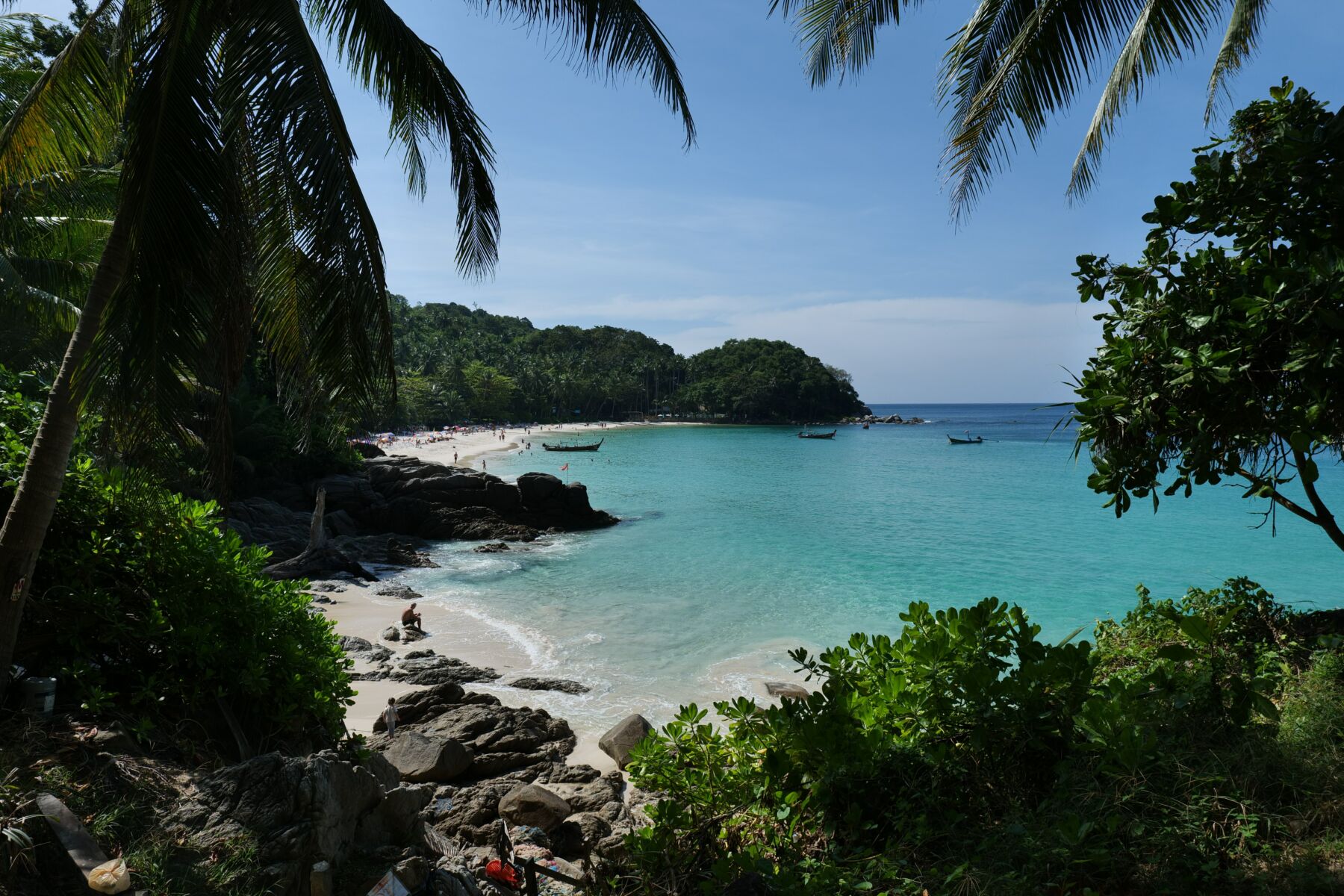 Is cannabis legal in Phuket?
Since the marijuana plant ("Gancha" in Thai language) was removed from Thailand's list of Category 5 Narcotics on June 9 this year, Thailand has cannabis dispensaries and stores popping up all over the kingdom, including Phuket.
Cannabis is a "controlled herb," meaning that it cannot be sold to anyone under 20 years old, cannot be sold to pregnant or breastfeeding women, and cannot be sold via vending machines or via online channels.
Extracts made from cannabis cannot have a THC content higher than 0.2%, such as oils or food products.
Where can I use cannabis in Phuket?
Smoking cannabis recreationally in public is punishable by imprisonment of up to three months, a fine of up to 25,000 baht, or both. Currently, cannabis use is permitted in private spaces and medical settings.
Click to read our Cannabis Tourist Guide HERE to navigate cannabis laws as a tourist in Thailand.
Cannabis
Featured Dispensaries
Guides
Sponsored
Thailand Cannabis Guide
Thailand News
Things To Do

Join the conversation and have your say on Thailand news published on The Thaiger.
Thaiger Talk is our new Thaiger Community where you can join the discussion on everything happening in Thailand right now.
Please note that articles are not posted to the forum instantly and can take up to 20 min before being visible. Click for more information and the Thaiger Talk Guidelines.