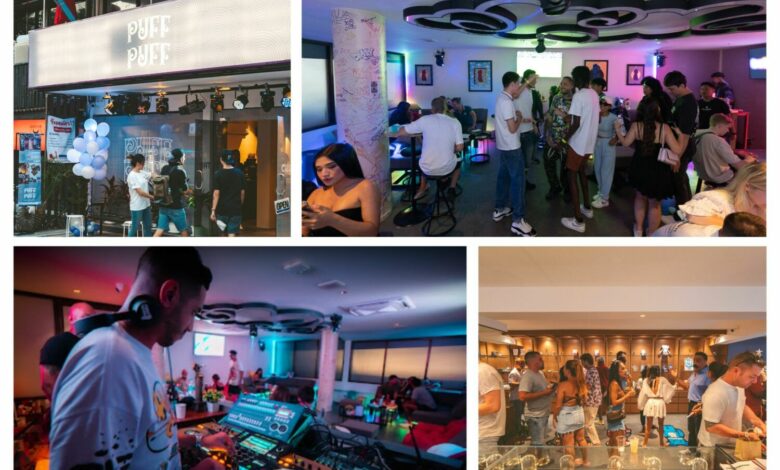 Puff Puff is all about diversity, prestige, and care. Their mission is to redefine the streets of Thailand by elevating your mind, body, and soul. And with their motto "Stay Elevated," they're here to make sure you do just that.
When it comes to the Puff Puff experience, they've created a safe and welcoming environment where you can enjoy their products to the fullest. If you find yourself craving a morning espresso, homemade pastries for lunch, a cocktail to unwind during happy hour, or a taste of their top-notch strains, they've got you covered. Their team is always ready to assist you in finding the perfect item to satisfy your appetite or indulge in some high-quality cannabis.
Moreover, what sets them apart from other cannabis brands is their second-floor lounge, LIFT, where they host events. Here, they also let customers indulge in their products while sipping cocktails and enjoying live DJ sets on the weekends.
But let's talk about their strains. Locally grown in Phuket, Thailand, their parent farm has carefully crafted a wide range of strains tailored to the tastes of every smoker. From RS11 to Super Sour Diesel, Sweetie to Mimosa Cream, they've got something for everyone. So why settle for an ordinary cannabis experience when you can elevate it with Puff Puff? See for yourself what makes them truly unique.
Puff Puff's events:
Fridays from 9:00 pm – HAZE with Music by: Baby Yu & DJ Lil Dew
Saturdays from 9:00 pm – THE AFTER PARTY with Music by Baby Yu & Chris Yaw – Hosted by: Daniela & Josh
Sundays from 11:00 pm – R&B ON A SUNDAY with Music by: Baby Yu live on www.twitch.tv/djbabyyu
Check out: Island highs: Where to score the best cannabis in Phuket