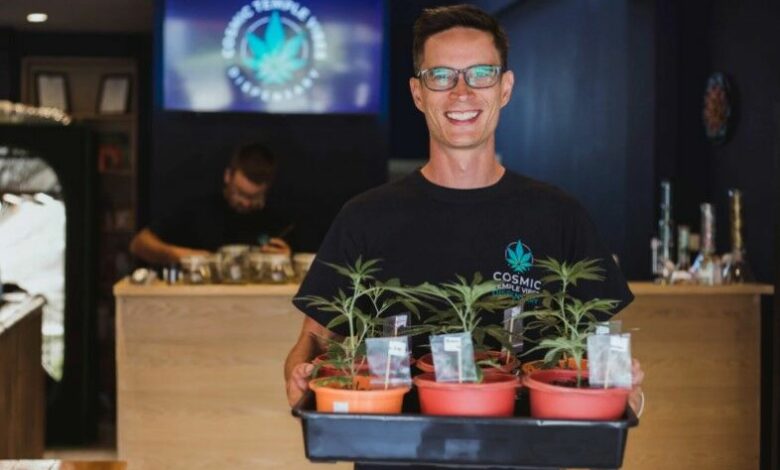 Meet Aric, the half-Thai, half-American visionary who found his calling in Phuket. With a passion for cannabis that spans over 15 years, Aric's journey began in California back in 2009 when weed first became legal.
In 2018, Aric moved to Thailand to discover his roots, and that's when he started Cosmic Temple Vibes, an online shop selling yoga and meditation-inspired clothing, art, and accessories. But Aric's vision didn't stop there. When he moved to Phuket, he began Cosmic Temple Vibe's journey as a leading cannabis brand in Thailand. He stumbled upon an old mystic shop in Rawai during the COVID-19 pandemic and saw an opportunity to bring his vision to life.
With the shop in need of new energy, Aric bought the location and transformed it into a cafe. His shop started to sell cannabis and coffee back in March 2022. He was only selling edibles then, since flowers weren't legal yet. However, when cannabis became legal in 2022, he saw it as a blessing and an opportunity to expand his brand. Today, Cosmic Temple Vibes is a full-stack indoor farm and dispensary with two locations in Rawai. Aside from their amazing farm and dispensary, they also offer delivery services.
Aric and his team at Cosmic Temple Vibes aim to source, grow and create their offerings to the highest level to heal and inspire people through cannabis and other products. So head over to Cosmic Temple Vibes, where the cosmic vibe, high energy, and deep roots will greet you.
Check out: Island highs: Where to score the best cannabis in Phuket
Details
30/63, Soi Saiyuan, Rawai, Phuket 83130
Contact:
Working hours:
Opening hours: 10:00 am – 10:00 pm