Singaporean woman gives birth to baby with Covid antibodies in system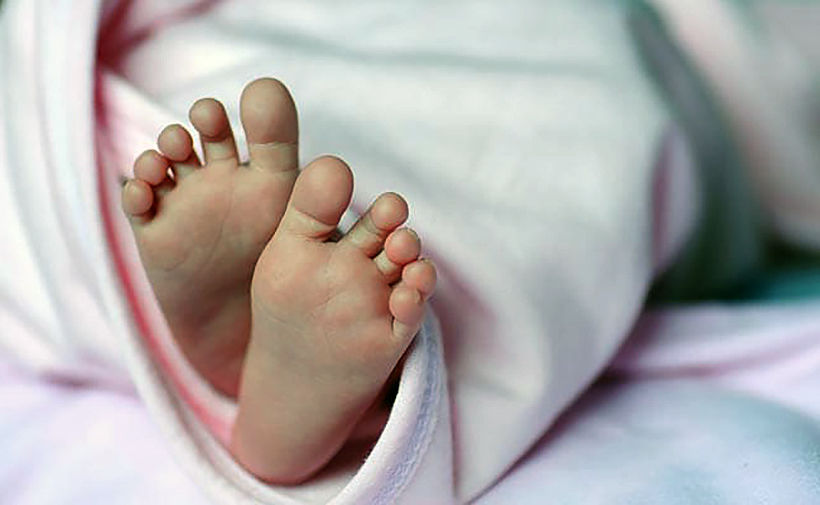 A Singaporean woman has given birth to a baby with Covid antibodies in its system, giving new clues into whether Covid can be transferred from mother to child. The woman, Celine Ng-Chan, was infected with the virus in March during her pregnancy, and gave birth this month to her Covid-free baby.
"My doctor suspects I have transferred my Covid-19 antibodies to him during my pregnancy."
The World Health Organisation says it is not yet known whether a pregnant woman with Covid-19 can pass the virus to her foetus or baby during pregnancy or delivery.
Ng-Chan became mildly sick from the virus, but was discharged from the National University Hospital after 2.5 weeks. So far, the World Health Organisation says it is not yet known whether a pregnant woman can pass the virus to her fetus or baby during pregnancy or delivery, but this new finding helps researchers with new information. The active virus has not been found in samples of fluid around the fetus in the womb or in breast milk as of now, with Chinese doctors reporting such detection of antibodies in babies born to women, who have been infected with the virus, has been shown to decline over time.
New York Presbyterian/Columia University Irving Medical Centre has also reported in October, in JAMA Pediatrics, that the transmission of the virus from mothers to babies is rare, further pointing towards the risks being minimal of the possible transmission from mother to baby either in the womb, during delivery, or in breastfeeding.
Meanwhile, a 29 year old female Thai returnee from Myanmar has tested positive for Covid in Chiang Mai, after visiting the hospital with flu-like symptoms. She was the only local case reported, out of 5 other positive tests, with officials saying she is believed to have contracted the virus in Myanmar.
The positive test on November 27, came after she was out and about, with authorities saying 326 people are suspected of coming in contact with the woman. The woman reportedly visited a mall to eat Japanese shabu, watched a movie, visited a karaoke bar, and used public transportation before her positive diagnosis.
SOURCE: NDTV.com
Keep in contact with The Thaiger by following our Facebook page.
Never miss out on future posts by following The Thaiger.
Singapore robot patrols park with polite social distancing reminder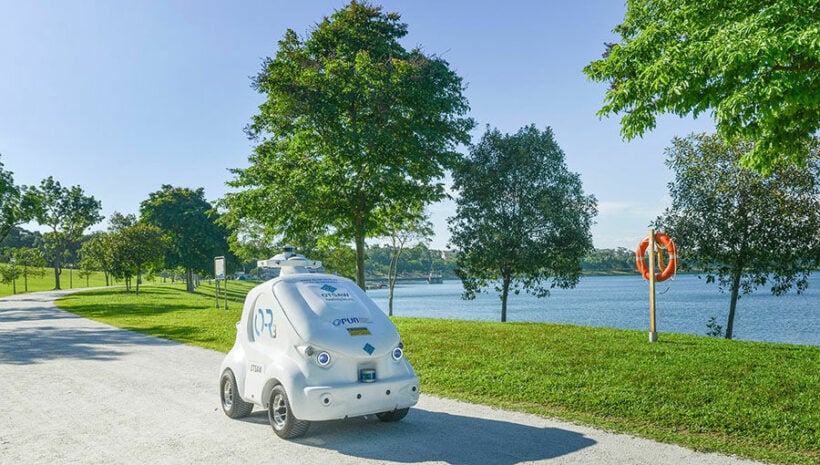 "Do not loiter at this park. Stay safe, stay home."
A robot, originally procured a year ago to monitor plants and reservoirs in Singapore, is being put to a different use in these strange new Covid-19 times. Boasting a 360 degree, high-definition camera and facial recognition sensors, the robot, known as O-R3, patrols Bedok Reservoir park, politely telling off anyone caught violating social distancing rules or "lingering unnecessarily".
Coconuts reports that the self-driving, autonomous vehicle, the property of Singapore's Public Utilities Board, has been given a temporary new job description, helping to flatten the Covid-19 curve in the city-state. Singapore originally appeared to have done this quite successfully, but a big spike in infections among the migrant worker community has resulted in nearly 15,000 cases as of today.
A Reuters video shows the robot making its way around the park, issuing the important safety message we're all too familiar with now.
"To curb the spread of Covid-19, gatherings at this park are not allowed. Please practice safe distancing at all times and do not loiter at this park. Stay safe, stay home."
The Thaiger suggests that the "broken record" repetition may be all the deterrent that's needed …
SOURCE: Coconuts
Keep in contact with The Thaiger by following our Facebook page.
Never miss out on future posts by following The Thaiger.
320,000 of Singapore's migrant workers living in Covid-19 limbo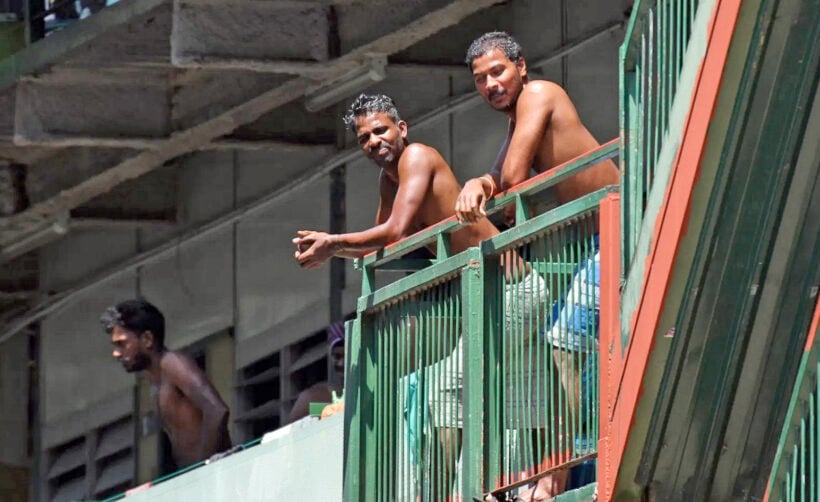 As the Covid-19 pandemic sweeps the world, some countries are faring better than others. Hong Kong, Taiwan, South Korea, and as late as March, Singapore, had all been hailed for using the hard-won lessons of the 2003-04 SARS outbreak to combat the new virus, a relative of SARS.
For Singapore, Taiwan and Hong Kong, the story might well have been one of immense tragedy, the timing was bad. The virus emerged just before the Chinese New Year, when millions travel on home visits across the region in the world's largest annual human migration. All three territories are closely interconnected with mainland China, where the outbreak began, and all 3 began aggressive measures to contain the spread.
But things are different now. Singapore's confirmed cases have blown past 10,000 from just 1,000 at the beginning of this month and as of this morning stood at 11,178 and rising, the highest number in south east Asia. The city state is regularly posting over 1,000 new cases per day, the vast majority among its estimated 320,000 migrant workers living in cramped conditions. Almost 80% of new infections are linked to migrant workers living in 43 mega-dormitories across the country.
Singapore was lauded by the World Health Organisation for its swift action to suppress infections but the crisis has shone a spotlight on how it treats marginalised migrants
On Tuesday this week, Singapore said it would stop the daily movements of workers in and out of all dormitories, including those that are purpose built, factory-owned or temporary quarters for construction workers. Workers in essential services, who've tested negative, have been moved to other accommodations. The rest will remain in virtual concentration camps, where the risk of infection has been evaluated as "extremely high".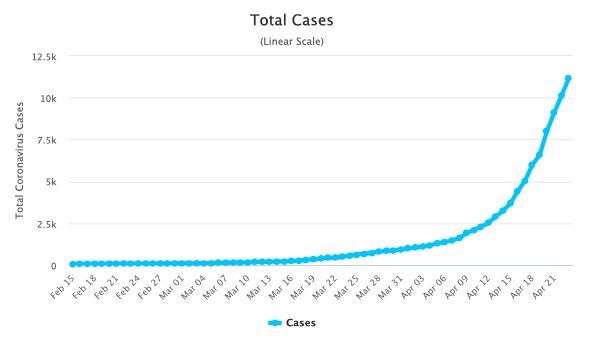 GRAPH: Worldometers.info
The pandemic exposes the gross inequality in Singapore, which relies heavily on a workforce of about a million migrant workers to build the country's shiny skyscrapers and clean its sprawling shopping malls. Most of the migrant workers come from Bangladesh, India and other South Asian countries hoping of sending money back home. Their lifestyles are in stark contrast to the country's wealthy elites and financial workers and live in separate communities and remote villages, away from the tourist areas and busy shopping malls.
A video report from the BBC.
SOURCES: BBC | Technology Review | Bangkok Post | The Guardian
Keep in contact with The Thaiger by following our Facebook page.
Never miss out on future posts by following The Thaiger.
Thai companies urged to tighten up Covid-19 measures for migrant workers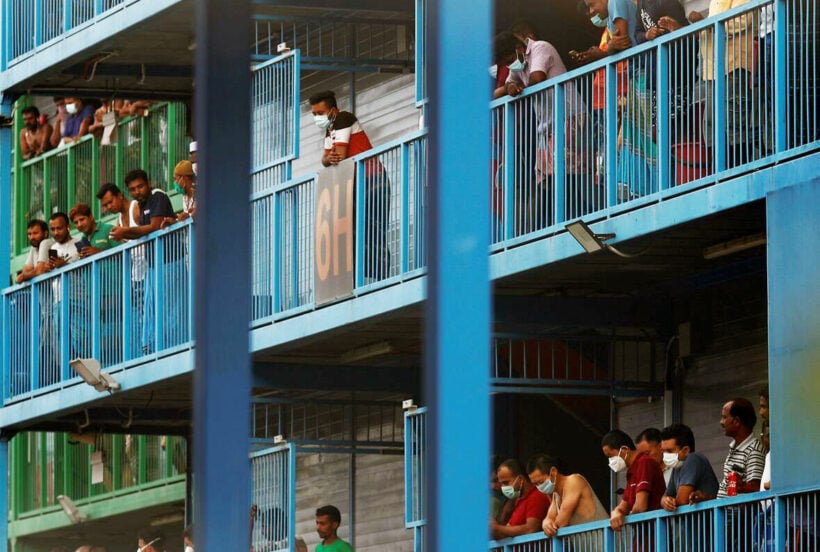 The Director General of the Department of Employment Suchat Pornchaiwiseskul says that he has sent an urgent letter to companies asking them to ensure stricter disease control measures for migrant workers from neighbouring countries.
The letter follows a serious outbreak of more than 7,000 confirmed cases of Covid-19 among migrant workers living in cramped conditions in Singapore.
"The Centre for Covid-19 Situation Administration has cited the outbreak of Covid-19 in Singapore among migrant workers."
"Having monitored this significant development, our department has issued preventive measures against the spread of Covid-19 among migrant workers by requesting that employers be responsible for their foreign workers and ensure they strictly comply with disease prevention measures and regulations."
The newly enforced disease prevention measurements are as follows:
Wipe work surfaces clean and dispose of waste every day.
Wear sanitary masks or cloth masks and wash your hands with soap, hand sanitiser, or antiseptic solution.
Maintain social distancing by working at least 1 metre apart.
Avoid crowding by controlling the number of workers at a site or reducing the time needed for work activities.
According to the Labour Ministry's Foreign Workers Administration Thailand currently has about 2,660,000 registered migrant workers.
SOURCE: The Nation
Keep in contact with The Thaiger by following our Facebook page.
Never miss out on future posts by following The Thaiger.