Eating your way around Songkhla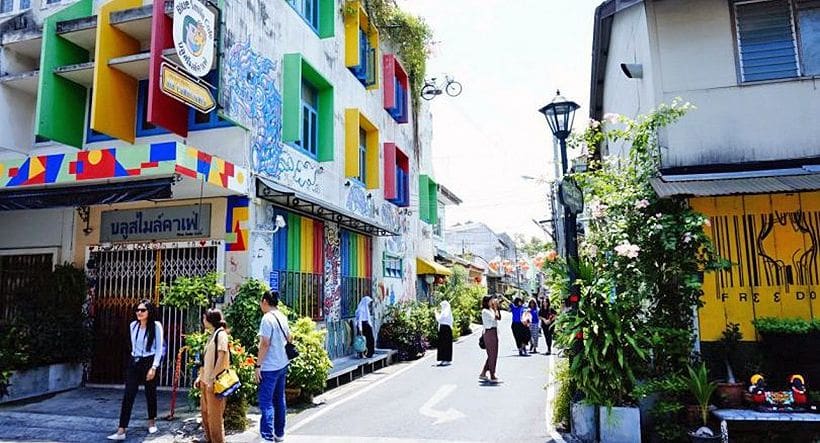 by Pattarawadee Saengmanee – The Nation Weekend
As we come in for landing at Hat Yai International Airport, I see clear sky reflected in the azure waters of the Gulf of Thailand. Despite the weather App warnings, the sun was out. 
Sightseeing is first on the agenda though and after a pleasant 40-minute drive from the airport to Songkhla Old Town, I find myself seated in a classic Singora Tram travelling back almost 500 years to the days when this southern city was a major trading port for sea merchants from Portugal, Holland and China. Perched on the east shore of the Isthmus of Kra, this area is famous for its unique local cuisine, beautiful architecture, striking street art and chic hostels.
At the corner of Nakhon Nok Road, the 105 year old Hub Hoe Hin rice mill has been transformed into the headquarters of the Songkhla Heritage Club and showcases the exhibitions of its founders and of the town. It was opened in 1914 by Ministerial Marshall Khun Rajagitgaree (Junliang Lim-saowapreuk) and was used as a Japanese medical storage facility during World War II. Later, the Lim-saowapreuk family closed the mill and shifted their business to a small ice factory and to exporting para-rubber.
In 1982, this site was converted into a pier for small fishing boats and is now in the capable hands of Rangsi, an engineer and a third generation member of the family. Singora Tram Tour takes visitors to explore the Songkhla Old Town and the beaches.
"Formerly known as Singora, Songkhla boasts the ruins of archaic towering city walls, fortresses and sanctuaries, testaments to the unique multicultural communities where Muslims, Thai and Chinese have been living together for several centuries.
Four years ago, Rangsi returned to his hometown and set up the Songkhla Heritage Society Club to promote cultural tourism," says Professor Seubsakul Srisuk, a member of the club.
"We teamed up with artists and local residents to create street art to draw the attention of tourists. Our aim is to have Songkhla join Malacca and Penang on the Unesco list of World Heritage Sites."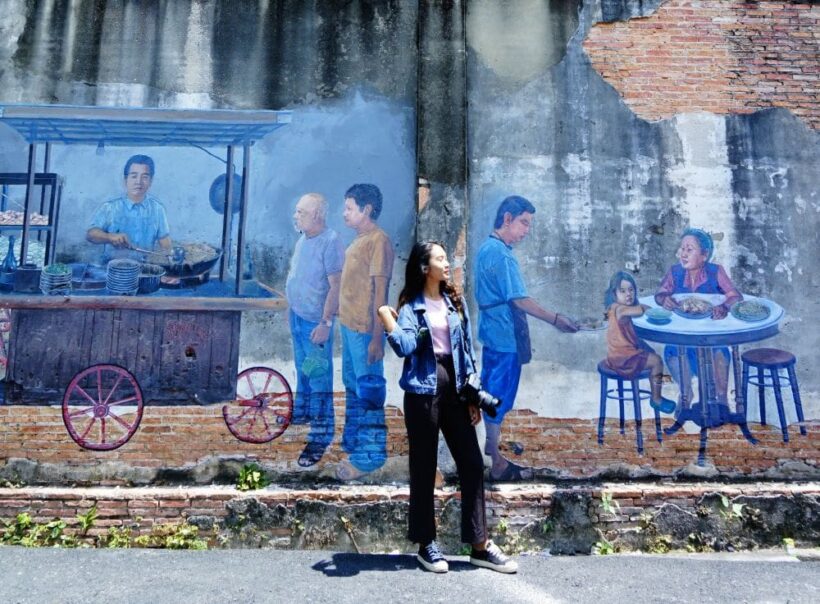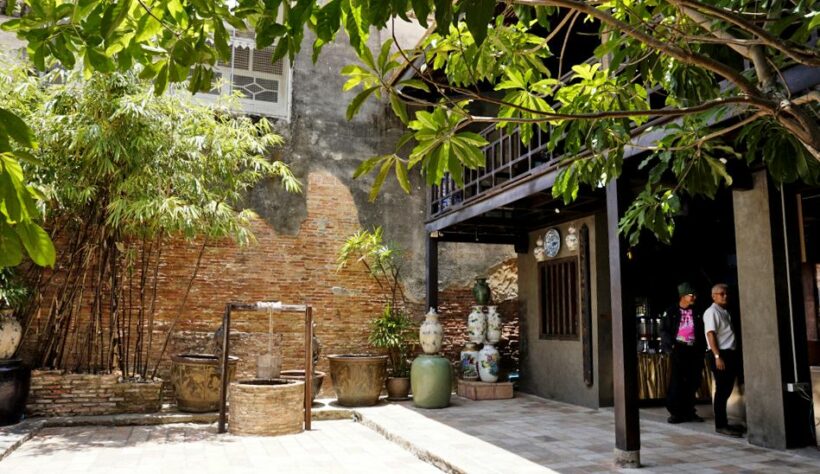 A short walk from the mill is the Apothecary of Singora. This 150 year old Chinese-Hokkian-style house has undergone a modern overhaul but retained its old structure. Herbal inhalants jostle for space with handicrafts created by local residents, all of them for sale.
The tram driver rings the bell as the vehicle turns right into Nakhon Nai Road, which is home to attractive Sino-Portuguese and Sino-European buildings, similar to the ones on Phuket's Thalang Road and Bangkok's Charoen Krung's Road.Baan Nakhon Nai promotes itself as a community museum. "In terms of location, Songkhla can be divided into three periods – Ban Pha Daeng, Ban Laem on the Sathing Phra Peninsula and Bo Yang – dating back more than 300 years.
The Old Town has long been a business district for Chinese residents and the merchant traders from Holland, Portugal and Malayu," a local guide says. Mostly built in the reign of King Rama V, Nakhon Nai Road is home to Baan Nakhon Nai, a luxury residential compound that's been turned into a community museum and boutique hotel.
Featuring a two-storey Chinese-style wooden house and a four-floor Sino-European building, it presents a large collection of black-and-white photographs and sculptures of His Majesty the late King Bhumibol Adulyadej that trace his life and works throughout his 70 years on the throne. Rare editions of ancient Chinese-style wood beds, wooden furniture and elegant ceramic ware are on view in the museum and the hotel offers six well-designed guestrooms.
A little further on, Nang Ngam Road's shophouses, teahouses and Thai bakeries make it a popular dining venue for both locals and visitors. The 81 year old Kiat Fang eatery specialises in making oversize buns and Songkhla-style hot stew with pork, liver and offal cooked in coconut milk and herbs. The classic teahouse called Hub Seng serves dumplings and a breakfast set with tea and coffee though most people seem to be tucking into home-made kaya toasts.
The Mae Chawee Dessert House is famous for sticky rice stuffed with shredded pork and egg yolk and Ice Cream Oang is a hit with kids and adults alike with its wide variety of toppings and the ice cream served in a lovely painted jar. In the narrow alleys of Yala, Pattani and Raman Roads, colourful street art covers the walls of many old residences and portrays the daily life of Muslim fishermen and the Thai-Chinese cuisine scene including a Thai sweet house and Chinese noodle pushcart.An iconic mermaid status has sat on the rock for 52 years.
The tram trundles on to Chana Road and deposits our group at Songkhla Phra Thammarong Museum, the former residence of former prime minister and respected statesman General Prem Tinsulanonda, who was born in Songkhla. Established in1987, it's a traditional Southern-style Panya-style wood house with a trapezoidal roof to resist against storms. Inside visitors admire the family antiques and learn about his early life.
The tram tour ends at the nine kilometre stretch of four beaches – Kao Seng, Chalaphat, Samila and Laem Suan On, where an iconic mermaid status has sat on the rock for 52 years. Students are forming a long queue to take selfies with her and some tourists touch her breast following a local belief that those groping a mermaid's breast will meet their soul mate in Songkhla or get a chance to come back here.
Khao Kho Hong offers the striking views of the Hat Yai landscapes.I look longingly at the beach but before long we are in a van heading back towards Hat Yai to climb up the peak of Khao Kho Hong, where a towering Buddha status stands. This is the best viewpoint to admire the sunset and views of Hat Yai landscapes, though our attention is somewhat distracted by a villager putting on an adorable bird show.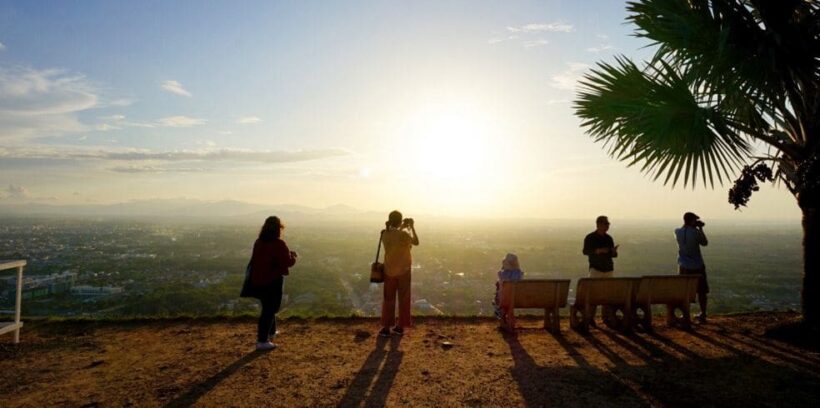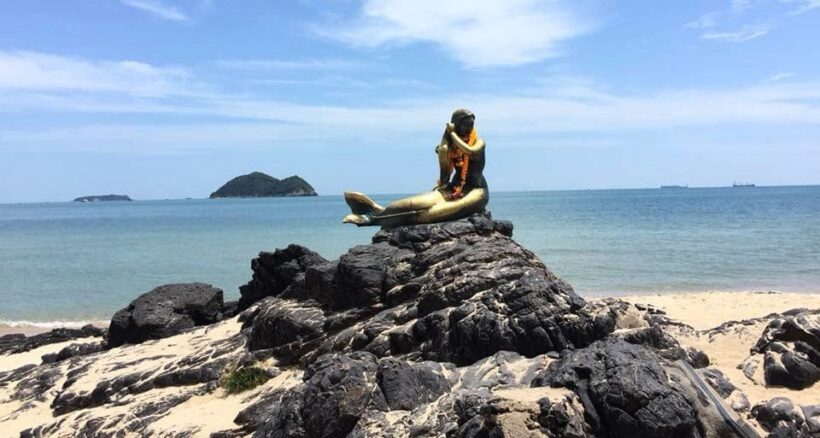 SOURCE: The Nation Weekend


Looking to jettison some items before jetsetting away or chartering a yacht? Look no further than Thaiger Classifieds where you can find and post items, work, property and more for free. Be sure to check out YonderTours for things to do in Thailand and tours across the country.

Read more headlines, reports & breaking news in South Thailand. Or catch up on your Thailand news.
Commerce Ministry talks up benefits of palm oil for generating power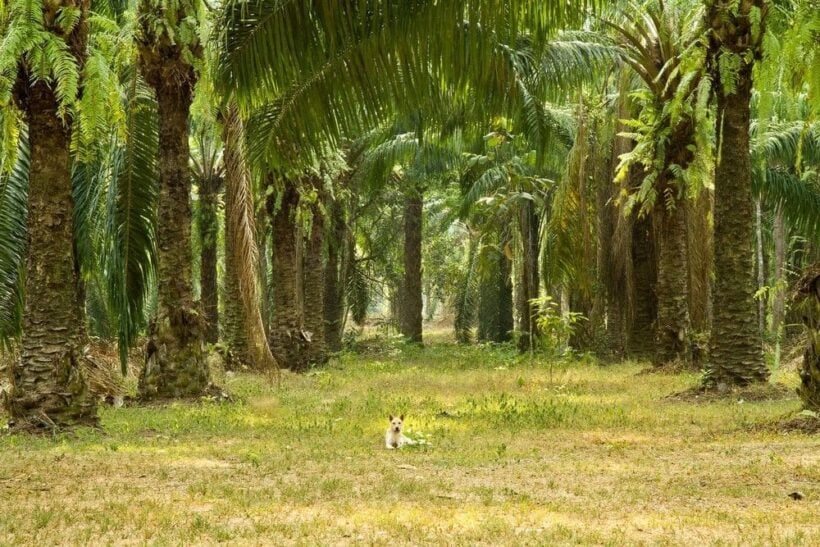 While the Thai government is promoting the use of palm oil to produce power, the latest price of the oil remains lower than the cost of producing it because the volume of output was 30% more than the expected quantity.
The Ministry of Agriculture and Cooperatives will survey the real quantity of palm oil to be released onto the market to determine a solution to the problem.
Deputy Commerce Minister Chutima Bunyapraphasara says apart from being used for electricity production, the Ministry of Energy has also extracted a bio-diesel oil B20 from the palm oil.
It was found that the amount of B20 usage had increased from 10 million litres per month to 20 million litres but is still below the intended target.
The Ministry of Agriculture and Cooperatives will explore palm growing areas to survey the quantity of production that will be released onto the market at this time. If the number seems likely to fall in May, the situation may improve.
The oversupply of palm oil earlier this year, despite the production area not increasing, was caused by farmers growing additional palms on existing farms instead of rubber, meaning their output grew this year though it was not included in the initial forecast.
The palm kernel product is turned into crude palm oil. It is mainly used for consumption. Some of it is processed in industrial factories and is used in the energy field. However, the use of palm oil for consumption and in the industrial sector cannot be increased anymore.
Therefore, the Ministry says, the only option is to use it to produce energy which is considered a long-term solution to the problem.
However, using palm oil as a fuel to produce power may not be such a good choice because the high cost might affect consumers and exports, as Thai exporters cannot compete with rival countries in terms of price at the present time.
SOURCE: National News Bureau of Thailand
Eight fishing tour boats destroyed at southern pier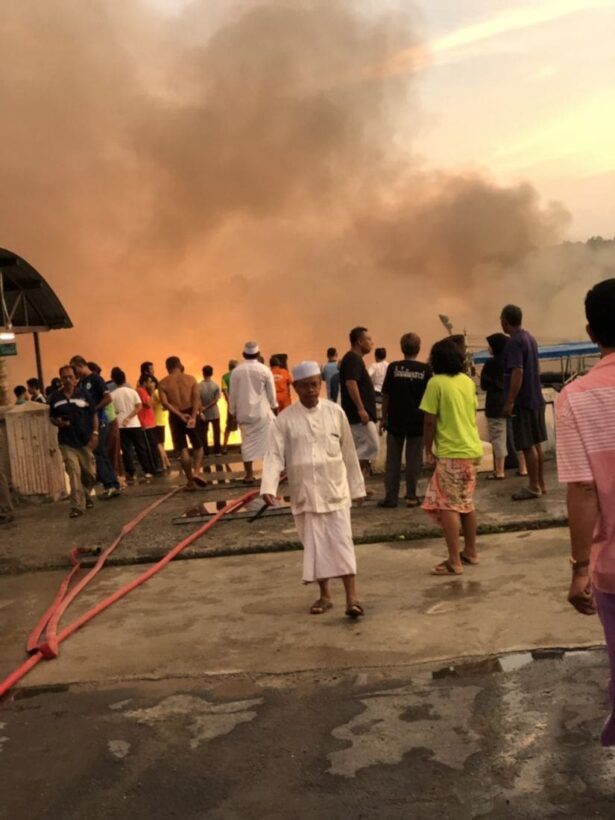 PHOTOS: The Nation
A fire has destroyed eight tourist fishing boats in Satun province earlier today.
Police report that the fire broke out at the Pak Bara pier and spread quickly from a fishing boat to seven other adjacent boats. The boats were used to take tourists out to fish in the sea. The pier is the take-off point for boats heading from the Satun mainland out to the nearby islands.
La-ngu district chief Thani Hayimasa rushed to the scene to direct the firefighting operation but the eight boats were completely gutted before he arrived.
The cause of the fire is being investigated.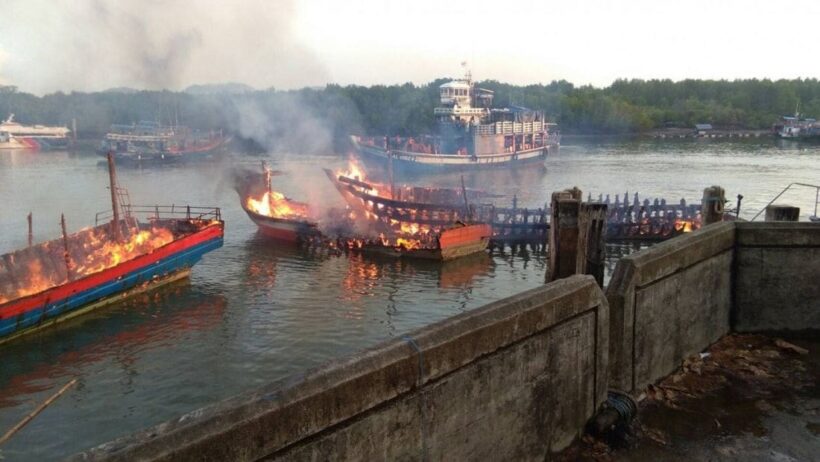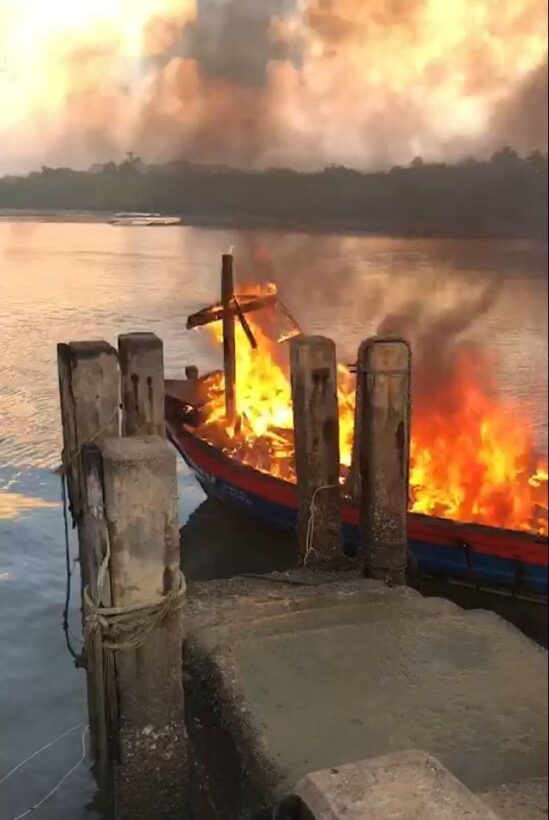 SOURCE: The Nation
Boonrod gets his own Facebook page – VIDEO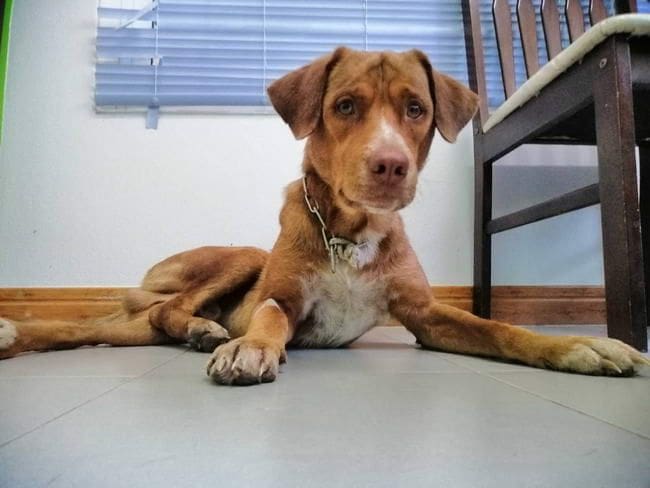 Boonrod, the dog rescued this week from an oil rig the middle of the Gulf of Thailand, can now show off his own Facebook page with more than 6,000 followers.
Launched just yesterday, Boonrod บุญรอดหมาอ่าวไทย (Boonrod Gulf of Thailand dog), has Facebook user Vitisak Payalaw serving as an administrator.
The rescue of the tan-coloured dog, named Boonrod ("Survivor" in Thai) by oil rig workers, hit both domestic and international headlines after he was fished out of the gulf last Friday by Chevron rig workers 220 kilometres from the shore.
บุญรอดเป็นหมาเรียบร้อยไม่สู้หมาตัวอื่น กับแมวก็ไม่ทำ วันนี้โดนแมวตบไป 5 ที ทำหน้า งงไปเลย#บุญรอดหมาอ่าวไทย#บุญรอด135ไมล์#Boonrod135milesWATCHDOG THAILAND#บ้านหมายิ้มหาดใหญ่

Posted by บ้านหมายิ้ม by หมาที่คอกนรกหาดใหญ่ on Friday, April 19, 2019
Boonrod recovering and meeting a few new friends
They spotted his head bobbing between the waves. How he got there and how long he had been lost at sea remains a mystery.
Boonrod was brought back to the Songkhla province to be under a vet's care and is said to be recovering well. His sad eyes, clearly visible exhaustion and quiet appearance pulled at the hearts of many who followed the rescue.
Boonrod will enjoy a new life, as the Chevron worker who rescued him has decided to adopt him. His Facebook page is now full of drawings and paintings of him made by his followers. Boonrod has been reported as being a girl dog in past articles but Boonrod is definitely a happy boy!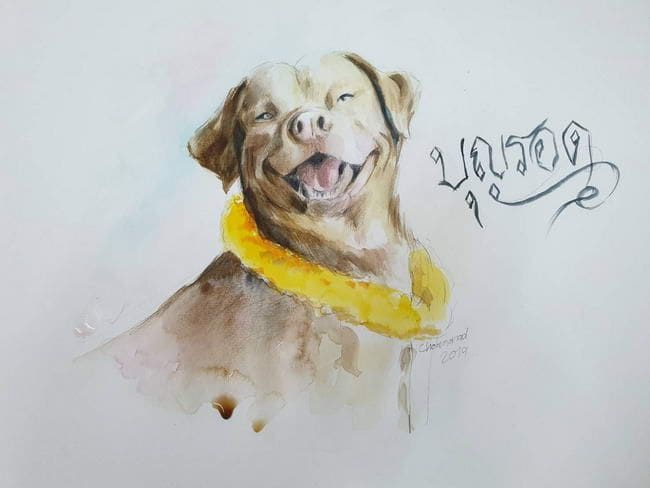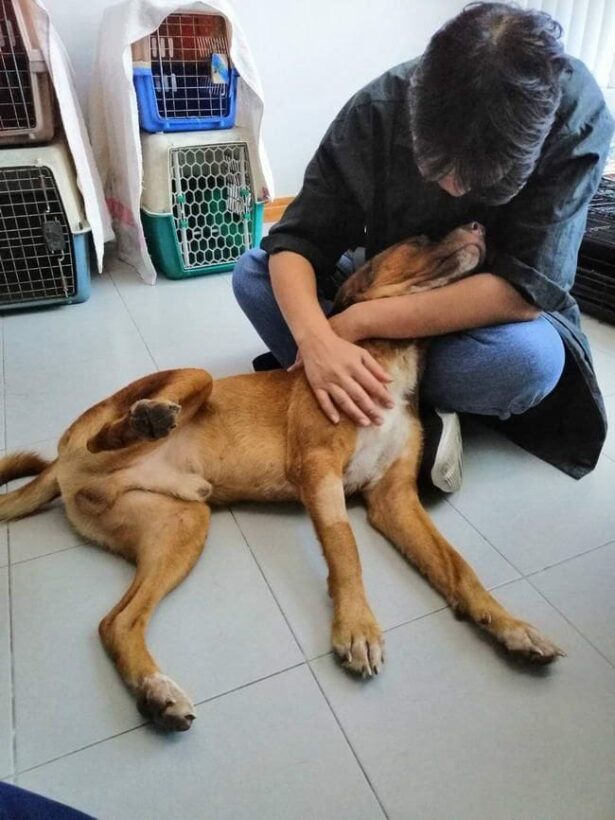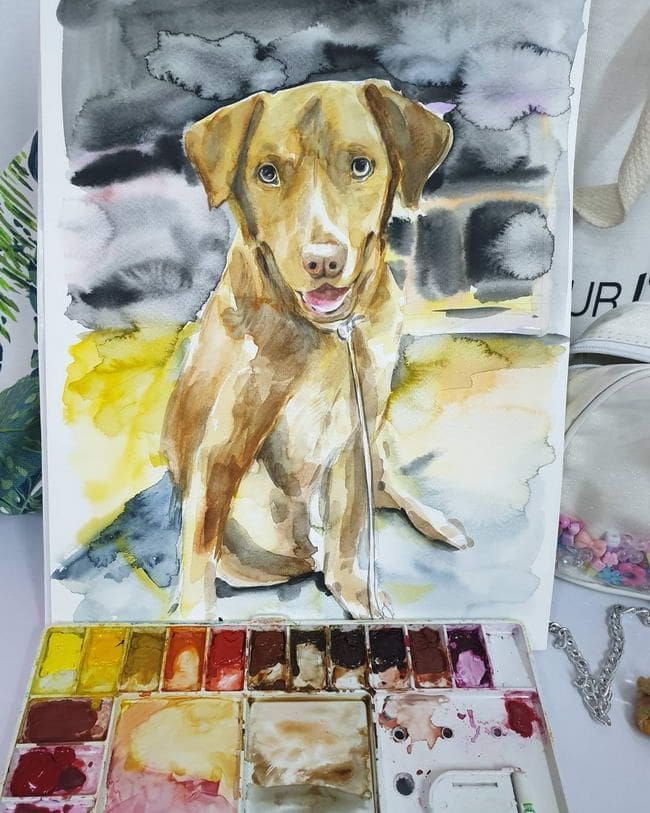 SOURCE: The Nation