Phuket
Phuket – BISP – Cruzeiro football academy announced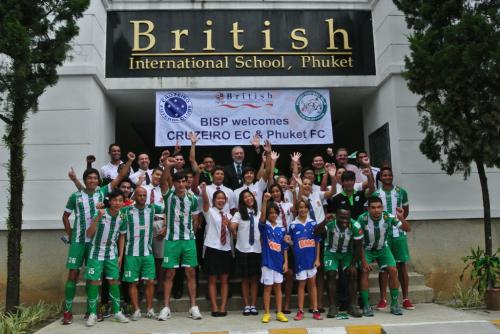 PHUKET: British International School Phuket (BISP) have officially announced plans to launch an unprecedented football academy in collaboration with Phuket FC and top-tier Brazilian football club, Cruizeiro EC.
The plans (story here) were formally presented to local media at a press conference held this afternoon at the expansive BISP campus in Koh Kaeo, just north of Phuket Town.
Presiding over the conference were representatives from the academy's three main stakeholders, including BISP Headmaster Neil Richards; Phuket FC's President Pamuke Achiriyachai and Vice President Eam Thavornwongvongse; and Cruzeiro EC Youth Coach Jonathas Candido and International Business Manager Pedro Moreira.
Also representing Phuket FC at the conference were Brazilian Head Coach, Stefano "Teco" Cugura – who was confirmed by Pamuke to continue in his position next season – along with Cameroonian goalkeeper coach Kam Arthur Philippe, and a number of the local squad's popular Thai and international players – Brazilian forwards, Luiz "Dudu" Purcino and Cruzeiro loan, Cristian Alex; Cameroonian striker Ludovick "Bull Dog" Takam, Japanese defender Yusuke Sato, French midfielder Geoffrey Doumeng, Giorgian striker Giorgia Tsimakuridze and Thai striker Eakartit Somjit, among them.
In addition to confirming that Jonathas has been put on the BISP payroll to lead the academy, the talented coach set to take up residence at BISP starting this Monday, the conference was also given a teaser about the full scholarships that will be made available for local youth with potential.
In their opening speeches, Mr Pamuke, Mr Richards and Mr Moreira reinforced each others' sentiments that the three sides would work closely together to build the footballing infrastructure in Phuket. They also spoke about their plan to develop a local youth league that is hoped to ultimately feed talent to the pro clubs of the province, country, region and world.
The executives also acknowledged local expat and businessman, Bobby Duchowny for his pivitol role in bringing all the stakeholders together in what is an unprecedented partnership.
Bobby's two talented sons, Micah and Jonah recently took part in a training course with the Cruizeiro EC Academy in Brazil.
Although scouts from major Thai clubs have eyed the two boys, Bobby (as well as Mr Richards) insists that the boys will be staying in Phuket, with the aim of ultimately joining Phuket FC.
Full details about the other scholarships to be offered will be announced at BISP's forthcoming international seven-a-side football tournament on November 8-9.
— Steven Layne