Phuket Gazette World News: US to keep spying; Syrian chemical weapons destroyed; Congo rebels on brink of defeat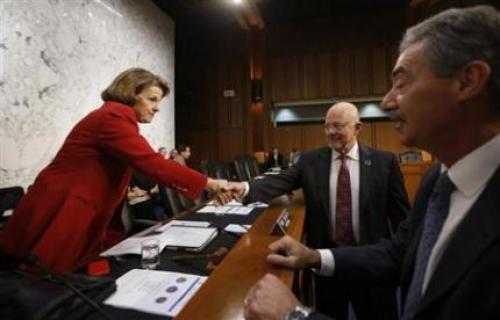 PHUKET MEDIA WATCH
– World news compiled by Gazette editors for Phuket's international community
U.S. Senate panel passes plan to restrict but keep mass surveillance
Reuters / Phuket Gazette
PHUKET: The U.S. Senate Intelligence Committee approved legislation yesterday that would tighten controls on the government's sweeping electronic eavesdropping programs but allow them to continue.
In a classified hearing, the panel voted 11-4 for a measure that puts new limits on what intelligence agencies can do with bulk communications records and imposes a five-year limit on how long they can be retained.
Despite growing national concern about surveillance, the "FISA Improvements Act" would not eliminate programs that became public this year after former National Security Agency contractor Edward Snowden leaked documents describing how the government collects far more Internet and telephone data than previously known.
"The NSA call-records program is legal and subject to extensive congressional and judicial oversight, and I believe it contributes to our national security. But more can and should be done to increase transparency and build public support for privacy protections in place," Senator Dianne Feinstein, chairwoman of the committee, said in a statement.
If approved by the full Senate and the House and signed by the president, the act would require the special court that oversees the collection programs to designate outside officials to provide independent perspective and assist in reviewing matters that present novel or significant interpretations of the law.
It also requires Senate confirmation of the NSA director and inspector general.
However, the bill ran into immediate opposition from technology companies, civil-liberties groups and another chairman in the majority Democratic Senate.
Democratic Senator Patrick Leahy and Republican Representative James Sensenbrenner this week introduced a bill to end what they termed the government's "dragnet collection" of information.
Sensenbrenner and Leahy, the chairman of the Senate Judiciary Committee which also oversees the Foreign Intelligence Surveillance Act, were the primary authors of the USA Patriot Act implemented after the September 11, 2001, which gave law enforcement and intelligence agencies much more authority.
Codify surveillance practices

Democratic Senator Ron Wyden, one of the four intelligence committee members voting against their panel's legislation, said it would codify surveillance practices that are too broad.
"More and more Americans are saying that they refuse to give up their constitutionally guaranteed liberties for the appearance of security; the intelligence committee has passed a bill that ignores this message," Wyden said in a statement.
A critical role in the debate may be played by Google Inc, Facebook Inc, Apple Inc and other big technology companies, which have been whipsawed by intelligence agency collection of their data and the concerns of users, especially those overseas with little protection from U.S. spying.
Yesterday, those three companies, joined by Microsoft Corp, Yahoo Inc and AOL Inc, wrote to Leahy and other members of Congress to "applaud" the contributions of his bill.
They repeated earlier calls that they be allowed to disclose the scope of their cooperation, adding that "our companies believe that government surveillance practices should also be reformed to include substantial enhancements to privacy protections and appropriate oversight and accountability mechanisms."
The tech companies' anger mounted after a report in Wednesday's Washington Post that the NSA had intercepted massive internal transfers of Google and Yahoo data overseas.
In an unusually long response to that report and others this week, the NSA said it must collect information of foreign intelligence value "irrespective of the provider that carries them."
It said it follows "minimization" procedures approved by the attorney general to avoid disseminating data on U.S. residents.
"In addition, NSA is very motivated and actively works to remove as much extraneous data as early in the process possible – to include data of innocent foreign citizens," the agency's public affairs office wrote.
Keep checking the Phuket Gazette's world news pages, join our Facebook fan page or follow us on Twitter @PhuketGazette for international news updates.
Syria meets deadline to destroy chemical production facilities
Reuters / Phuket Gazette
PHUKET: Syria has destroyed or rendered inoperable all of its declared chemical weapons production and mixing facilities, meeting a major deadline in an ambitious disarmament programme, the international chemical weapons watchdog said.
The Organization for the Prohibition of Chemical Weapons, which won the Nobel Peace prize this month, said its teams had inspected 21 out of 23 chemical weapons sites across the country. The other two were too dangerous to inspect, but the chemical equipment had already been moved to other sites that experts had visited, it said.
Syria "has completed the functional destruction of critical equipment for all of its declared chemical weapons production facilities and mixing/filling plants, rendering them inoperable," it said, meeting a deadline to do so no later than November 1.
The next deadline is November 15, by when the OPCW and Syria must agree to a detailed plan of destruction, including how and where to destroy more than 1,000 metric tonnes of toxic agents and munitions.
Under a Russian-American brokered deal, Damascus agreed to destroy all its chemical weapons after Washington threatened to use force in response to the killing of hundreds of people in a sarin attack on the outskirts of Damascus on August 21.
It was the world's deadliest chemical weapons incident since Saddam Hussein's forces used poison gas against the Kurdish town of Halabja 25 years ago.
"This was a major milestone in the effort to eliminate Syria's chemical weapons program," Ralf Trapp, an independent chemical weapons disarmament specialist, said.
"Most of the sites and facilities declared by Syria to the OPCW have been inspected, their inventories verified, equipment for chemical weapons production disabled and put beyond use, and some of the unfilled weapons have also been disabled."
At one of those locations the OPCW said it was able to verify destruction work remotely, while Syrian forces had abandoned the other two sites.
Trapp said it was "important to ensure that the remaining facilities can be inspected and their equipment and weapons inventoried and prepared for destruction as soon as possible".
The United States and its allies blamed Assad's forces for the attack and several earlier incidents. The Syrian president has rejected the charge, blaming rebel brigades.
Under the disarmament timetable, Syria was due to render unusable all production and chemical weapons filling facilities by November 1 – a target it has now met. By mid-2014 it must hav

Join the conversation and have your say on Thailand news published on The Thaiger.
Thaiger Talk is our new Thaiger Community where you can join the discussion on everything happening in Thailand right now.
Please note that articles are not posted to the forum instantly and can take up to 20 min before being visible. Click for more information and the Thaiger Talk Guidelines.