Phuket
Illegal Phuket taxi drivers beg military to call off metered-taxi project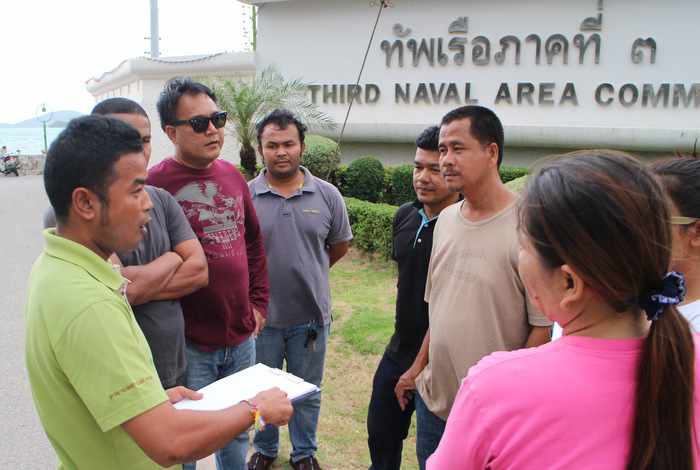 PHUKET: About 30 illegal Phuket taxi drivers from Kata-Karon yesterday appealed to the military to call off the launch of a fleet of metered taxis to serve the island's tourists and residents.
The drivers gathered at the Royal Thai Navy Third Area Command at Cape Panwa, on Phuket's east coast, late yesterday afternoon to "seek assistance" from the military in becoming legal.
The drivers also lodged a complaint over a taxi stand being torn down that was reportedly built on private land (story here).
The complaint was to be lodged on Friday, but the drivers moved up their timetable after learning that Col Somchai Ponatong, the top-ranking soldier on the island, was at the naval base yesterday (story here).
The drivers requested an audience with Col Somchai, who currently resides at the base while posted in Phuket.
After being ushered off the base by security personnel, the drivers were permitted to re-enter, but were required to sit on a helipad until Col Somchai arrived.
"We couldn't register as 'green plate' [non-metered] taxis last year because we could not get the finances," one driver told the Phuket Gazette.
The Phuket Land Transport Office (PLTO) no longer grants registrations for "green plate taxis" as authorities believe there are enough on the island.
"Our cars are more than six years old, which means they are too old to be registered as metered taxis," added the driver.
Worse, since their illegal taxi stands were torn down earlier this year (story here), the drivers now have no way of making a living, he said.
"Businesses do not want to hire illegal taxis, and that leaves us with no income to make our car payments," he said. "All we can do now is pick up passengers through voucher systems used at hotels and restaurants."
When Col Somchai arrived, the drivers requested that the PLTO re-open registration for green plate taxis and that the military help drivers to obtain finance and find suitable locations to open legal taxi stands.
They also asked that the authorities be "flexible" about arresting them if they continued to work illegally and called on the Army to cancel the metered-taxi project (story here).
Although a Gazette reporter was at the scene, she was escorted off the base when Col Somchai arrived to speak with the drivers.
The Gazette was also ordered not to publish any photos taken while on naval grounds.