Owner of dogs who attacked a 3 year old last week claims he can't pay any more compensation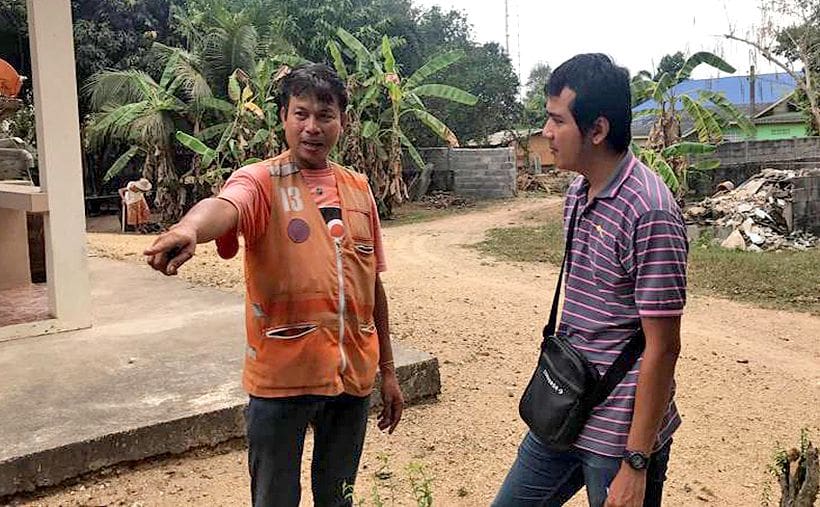 PHOTO: Daily News
The 'owner' of of dogs that attacked a three year old in Sri Racha last week claims he has run out of money and can't continue paying compensation. At this stage the man has already paid over 100,000 baht for the boys's treatment.
The 3 year old, Namning, is still receiving daily treatment for his wounds after falling over and being mauled by Praphan Phromprasert's ten dogs outside the man's home.
Read the original story HERE.
Daily News reports that Praphan works as a 52 year old motorcycle taxi driver.
He at first took responsibility by paying a 50,000 baht deposit to the hospital from his savings. He then borrowed 50,000 baht more. Then he claims he had to find another 10,300 baht to complete the bill.
The mother of the victim is demanding that he keep paying for the boy's recovery and treatment. 41 year old Patsana also says she had to stop work to care for her young child. But Praphan says he has run out of money.
Police are hoping to get the two together to negotiate a satisfactory outcome.
SOURCE: Daily News


Read more headlines, reports & breaking news in Pattaya. Or catch up on your Thailand news.
Pattaya officials help a Finnish tourist sort out a lost passport and luggage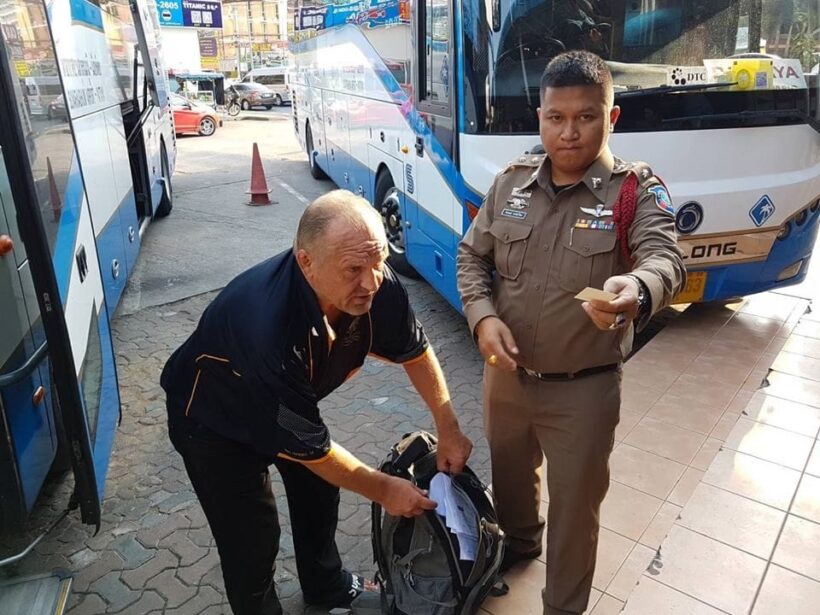 PHOTOS: Tourist Police Bureau
Pattaya Tourist Police have coordinated with local agencies to help a 53 year old Finnish tourist Jussi Harri Tuokkola. He'd lost his passport, luggage, cash and other valuable items on Tuesday.
The manager of the Grand Palazzo Hotel alerted Pattaya Tourist Police that Mr Tuokkola had sought help from the hotel as his luggage and passport were missing.
The tourist police contacted related agencies to help sort out his dilemma. Mr Tuokkola had neither cash nor any documents. The tourist police then coordinated with the Finnish consulate to help him as well.
The officers questioned him and found out that a friend of the tourist had earlier alerted Pattaya Police that Mr Tuokkola's luggage had disappeared. The luggage was later found and taken to Pattaya Police to help find the owner.
The tourist police then took the the man to Pattaya Police Station to identify his lost luggage. At the same time, officers contacted Finnair Airlines to book a flight for him as the tourist used to work at the airline and had an open-ended ticket.
The Pattaya Tourist Police also coordinated with tourist police based at Suvarnabhumi airport and the Tourist Assistance Centre to help contact staff at the Finnair Airlines counter for him.
After everything was arranged, Tourist Police and patrol officers accompanied Mr Tuokkola to a bus terminal to board a tour bus, operated by Rungruang Tour Company, to Suvarnabhumi airport.
Good news all around for Pattaya officials in helping Mr Tuokkola get his luggage back and get to the airport.
Contact 1155 for Tourism Police anywhere in Thailand.
SOURCE: Tourist Police Bureau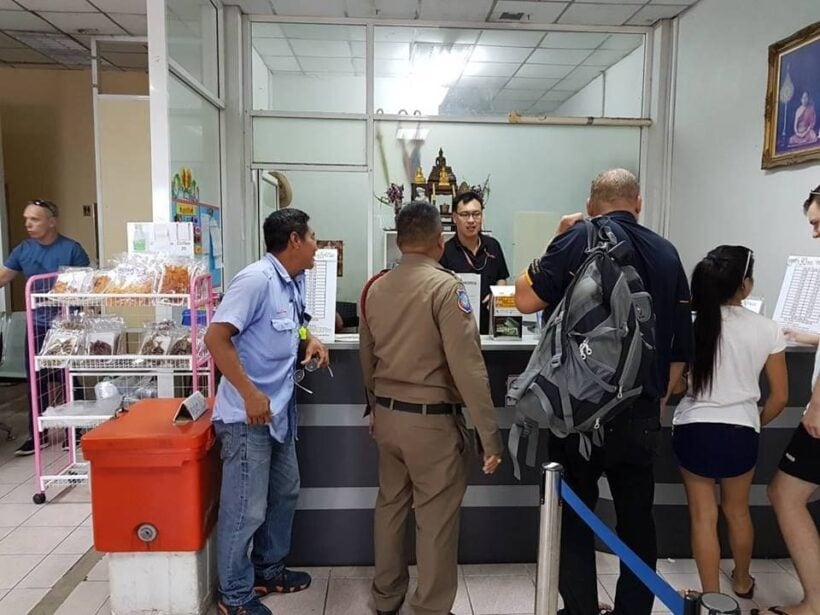 Man stabbed at a Chon Buri karaoke lounge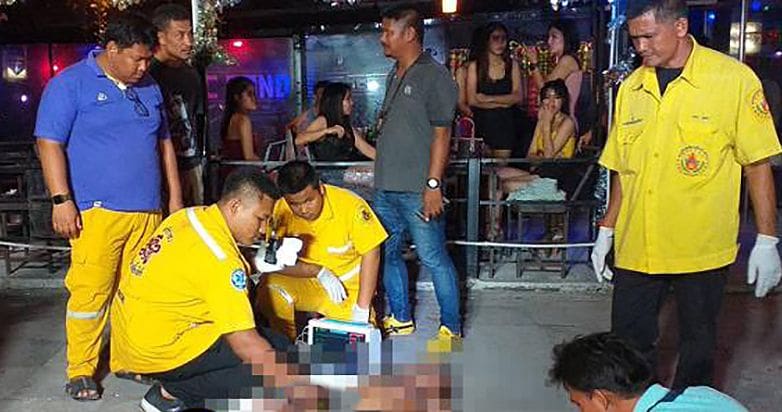 PHOTO: Thai Rath
Police were called to a karaoke lounge in Sri Racha, Chon Buri last night after a man was stabbed following an argument.
39 year old Chuchart Kamngern was found outside the lounge with a serious stab wound to the left side of his chest and was rushed to hospital in Sri Racha.
Thai Rath reports that staff at the lounge on Nong Khor – Sri Racha Road told police that two men had had an argument in the toilets before one returned to the counter, and the other person to the VIP room.
Witnesses say the man sitting by the counter then got a wooden club and hit the victim over the head. As staff tried to intervene, and the victim tried to run out, the assailant stabbed him in the left side of his chest.
The attacker fled the scene and police are now hunting for him.
SOURCE: Thai Rath
Japanese tourist re-united with his bag and valuables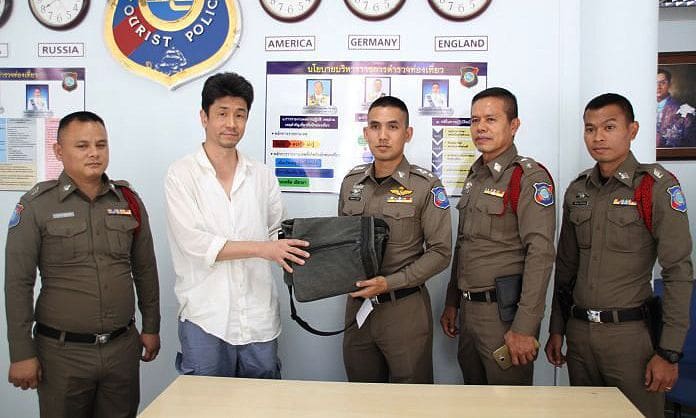 PHOTO: The Pattaya News
A Japanese tourist has offered his sincere thanks to a minivan driver, Pattaya's Tourist Police and the Department of Land Transport.
The Pattaya News reports that 46 year old Japanese tourist Ryochi Mihashi had taken a minivan ride from Rayong to South Pattaya but left his bag in the van. The bag contained 4,100 baht, US$440, 56,000 yen, his phone and notebook.
The driver Somchai Bunsiri handed the bag into the Land Transport offices on Sunday after finding bag left in his van. The Japanese Embassy and local tourist police were able to help track down Ryochi and re-unite him with his lost bag.
Chief of the Pattaya Tourist police Lt-Col Piyapong Ensarn hosted a quick photo opportunity with Ryochi  confirming that all was in order.
The Japanese tourist expressed his gratitude to the driver for his honesty, and the DLT and police for being able to find him.
SOURCE: The Pattaya News