Woman found hanged in Nakhon Ratchasima, son found drowned nearby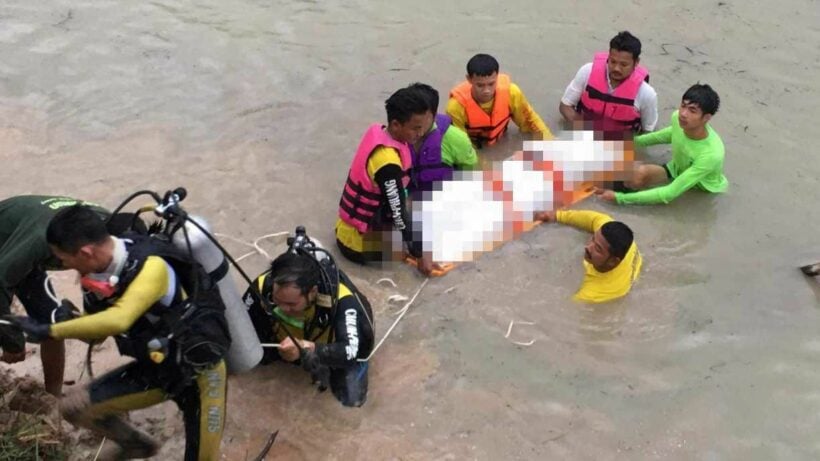 Police in the northeastern province of Nakhon Ratchasima report that a woman was found hanged in a workers' shelter and her 12 year old son drowned in a nearby pond at a sand depot yesterday. Workers arriving in the morning discovered the woman, hanged with electric wires from the beam of the shelter in tambon Chum Phuang, according to the district police chief.
After police and rescue workers arrived, the body was taken to Chum Phuang Hospital for an autopsy. The dead woman's parents went to the hospital to inspect the body, and confirmed it was their daughter, 33 year old Tukta Thongkasem.
They said Tukta's son, Surasak Thongkasem, who normally stayed by his mother's side, had also gone missing, prompting police and rescue workers to go to the sand depot for a search. They found a pair of yellow sandals near a pond about 2 metres deep. They scoured the pond and found the boy's body, which was also sent to the hospital for autopsy.
Prasan, the dead woman's father, said Tukta had married a Swedish man, and their son Surasak was a sixth-grader at a local school. The husband returned to Sweden 3 or 4 years ago and never returned. He occasionally contacted Tukta but never sent her any money, according to Prasan.
After her husband abandoned her and the boy, he said that Tukta had suffered from deep depression. Prasan said he and his wife went to work in nearby village about a month ago, leaving Tukta and her son at their home. They returned home yesterday to discover they were both dead.
It's believed Tukta had committed suicide, but Surasak's drowning is still a mystery. Police are investigating the causes of death of the mother and son.
If you or anyone you know is in emotional distress, please contact the Samaritans of Thailand 24-hour hotline: 02 713 6791 (English), 02 713 6793 (Thai) or the Thai Mental Health Hotline at 1323 (Thai).
SOURCE: Bangkok Post
Keep in contact with The Thaiger by following our
Facebook page
.
Report alleges man exposing genitals in viral clip is local government official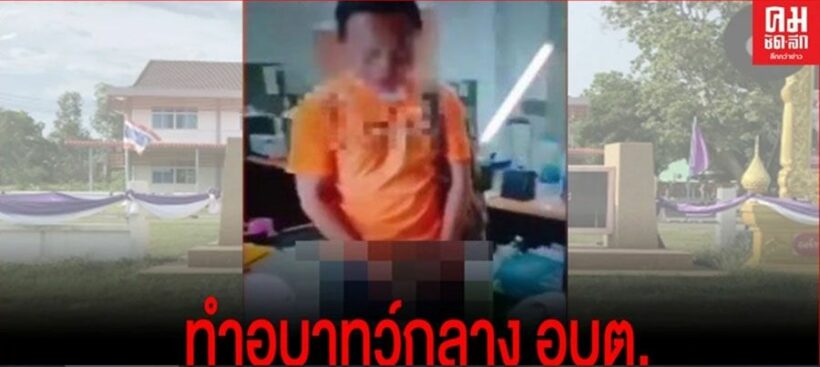 A video of a man exposing his genitals while alone in an office setting has gone viral on Thai social media as rumours abound that the man in question is a local administration official in north-east Thailand.
A report in Nation Thailand today says the man is thought to be a permanent secretary in a local administration office in Ubon Ratchathani, in the north east of the country. Thai-language newspaper Kom Chad Luek alleges the man is employed at the Khok Cham Rae sub-district administration organisation, where the video appears to have been made late last week.
It's understood the official has previously undergone psychiatric treatment. He was also transferred to another government office in 2014 following complaints of corruption from local residents. As part of an investigation into claims of shady procurement dealings and budget misappropriation, the man was transferred but later allowed to return to his former office. The results of the investigation are not known.
SOURCE: Nation Thailand
Keep in contact with The Thaiger by following our
Facebook page
.
2 arrested in Isaan for methamphetamines, assets seized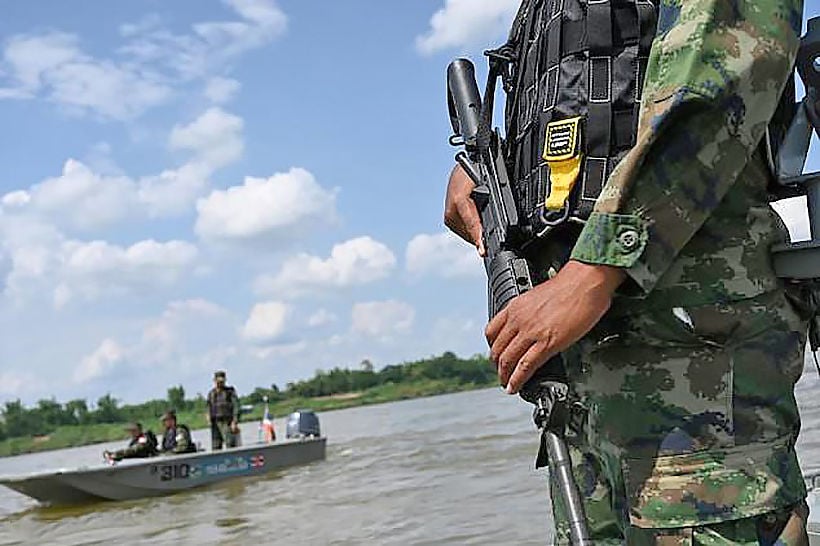 Police in Isaan's Nakhon Phanom province say they've arrested 2 men with 42,000 methamphetamine pills ("yaba") and 100 grams of crystal methamphetamine ("ice") in their possession, and seized their assets. The deputy provincial governor identified the pair as 29 year old Vichai Niwongsa and 45 year old Veerapong Ngaonoi, both from the Tha Uthen district.
He says authorities followed the pair's activities for a considerable time before obtaining solid evidence, leading to their arrests with last night. Police also seized several gold necklaces from the suspects, 500,000 baht in cash and title deeds to 29 rai of land, which they suspect was acquired through the drug trade.
Authorities say Veerapong is a Mekong river fisherman who acted as a go-between for a drug ring in Laos, to smuggle drugs on a longtail boat across the border to Vichai, allegedly a major drug agent in Nakhon Phanom. Veerachai was reportedly paid about 50,000 baht for each delivery. The Lao border at Nakhon Phanom is well known for drug smuggling activity.
Authorities are tracing the pair's's financial records, which could potentially lead to more arrests.
SOURCE: Bangkok Post
Keep in contact with The Thaiger by following our
Facebook page
.
1 dead, another injured in Nakhon Ratchasima shootings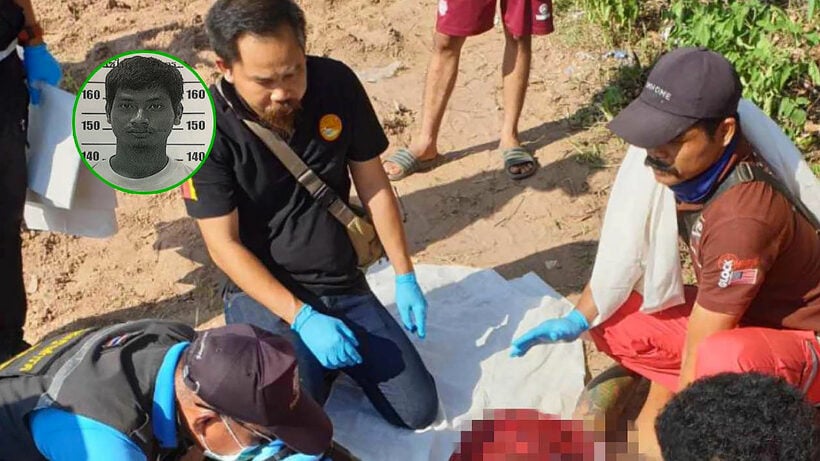 One man is dead and another seriously wounded in separate shooting incidents this morning in the Khong district of the northeastern province of Nakhon Ratchasima, aka Korat. A suspect was detained for questioning who police believe committed both shootings in a drug deal gone bad.
At about 4am police at Khong station learned a man had been shot and wounded in tambon Wang Ma Nao. They rushed to the village with emergency volunteers and a doctor from Khong Hospital. On the way, they found a pickup truck had crashed on the roadside. The driver, later identified as 25 year old Jaturong Sosomboon, was found dead. He'd been shot in the back, with the bullet exiting through his belly.
Police cordoned off the spot before proceeding to a house in Nong Muang village, where they found a man identified as Yingyos Phuwongsa, who had been shot in the knee and the face. He was rushed to hospital for treatment.
After investigation, police believed both crimes were committed by 37 year old Tawatchai Saeng-arun. Jaturong, Yingyos and Tawatchai were on police record as being involved in the drug trade together. Police then went to Tawatchai's house where he was detained for questioning.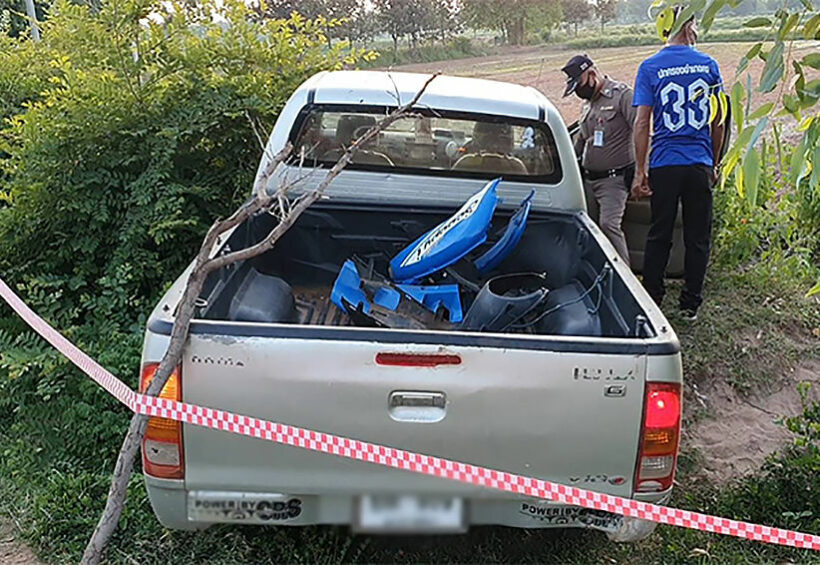 SOURCES: Bangkok Post | Thairath
Keep in contact with The Thaiger by following our
Facebook page
.