New Bangkok clinic dedicated to fixing surgery gone wrong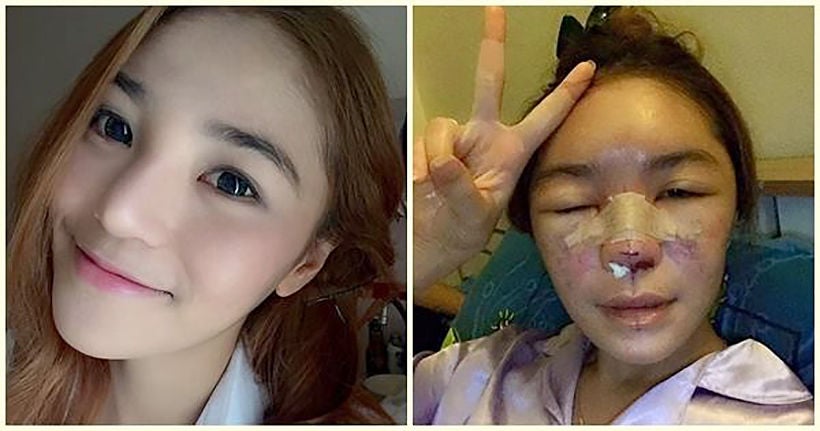 PHOTO: PlastyTalk
The director of Yanhee Hospital in Bangkok says 50 million baht is being invested to create a centre dedicated to fixing botched surgical procedures. Dr Supot Sumritvanitcha says Yahnee Hospital will be the first facility in Thailand to offer this service.
The Nation reports that the need has arisen due to illegal beauty clinics and other underground facilities offering procedures carried out by unqualified surgeons that endanger health, put people's lives at risk and waste their money.
Now Dr Supot says a team of fifteen doctors based at the Yahnee Hospital centre can fix surgery that's gone wrong, including double eyelid surgery (popular in Asian countries), nose jobs, breast surgery, facelifts, chin augmentation, and liquid silicone injections.
"The centre is expected to gain around 1,000 customers in the first year of its opening, or approximately 10 million baht. Our doctors are experts in plastic surgery and members of the Society of Plastic and Reconstructive Surgeons of Thailand. Meanwhile, the hospital's quality standards are guaranteed by the Joint Commission International."
SOURCE: The Nation
Keep in contact with The Thaiger by following our
Facebook page
.


Do you need help with your business? Are you searching for a new job? Or an employer looking to hire? Try JobCute today.

Read more headlines, reports & breaking news in Bangkok. Or catch up on your Thailand news.

Video of couple having sex in Bangkok tuk-tuk goes viral – VIDEO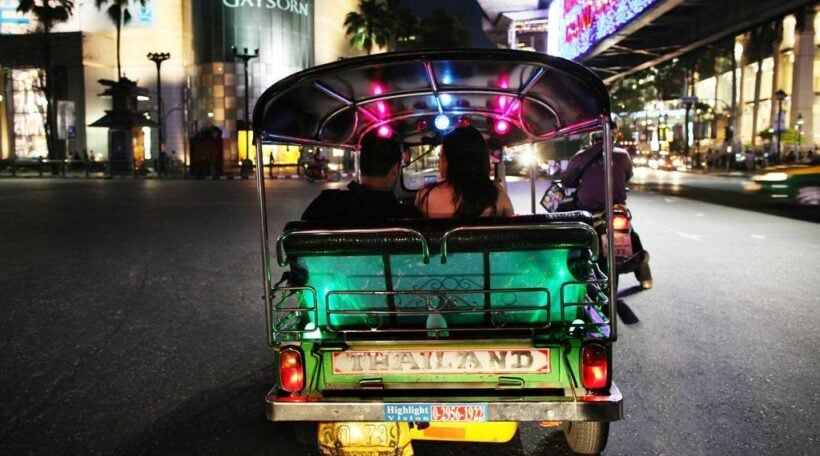 Social media users in Thailand have had plenty to say about a video that appears to show a couple having sex in the back of a tuk-tuk speeding through Bangkok.
Some would say using this particular mode of Bangkok transport is exhilarating enough without adding anything else into the mix, but the Chiang Rai Times reports that one couple decided to spice up their journey.
That decision has sent Thailand's social media users into meltdown as they shared their collecting outrage the inappropriateness of the couple's behaviour.
The video shows five passengers, three men and two women, travelling in a tuk-tuk as it travels through Bangkok in the early hours of the morning. One of the women can be seen sitting on the lap of one of the men, apparently without any underwear and apparently enjoy the intimate moment.
(We hope the tuk tuk didn't hit any speed bumps, or worse, a pot hole)
The video was widely shared online, where it garnered over 200,000 views and earned the couple some harsh criticism from Thais. Social media users are calling on police to investigate the matter, saying the couple's behaviour was disrespectful in a Buddhist country.
The video has now been removed from Facebook. But at the time of writing, it's still available on YouTube (below).
SOURCE: Chiang Rai Times
Keep in contact with The Thaiger by following our
Facebook page
.
Grateful woman tries to find foreigner who saved the life of her boyfriend's father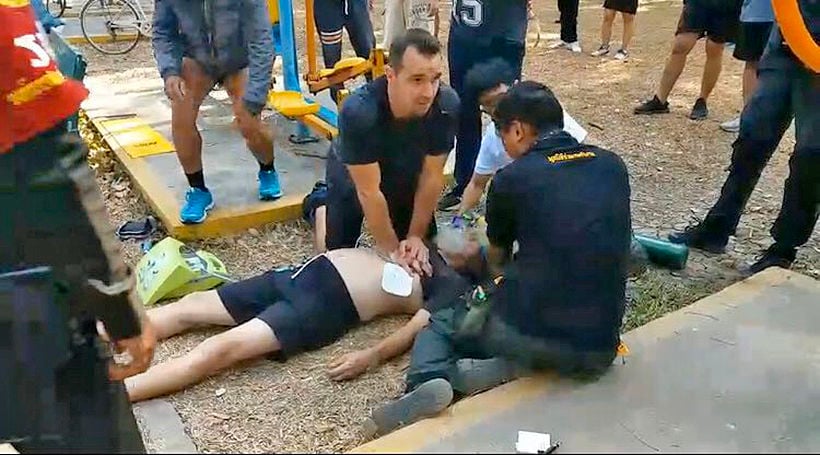 A Thai woman has taken to social media in an attempt to track down the foreign man who saved her boyfriend's father after he had chest pains and an apparent heart attack in Bangkok's Lumpini Park. The Bangkok Post reports that a foreign man performed CPR on the man after he fell unconscious and his heart stopped beating.
Now the family wants him to know the patient is alive and recovering at King Chulalongkorn Memorial Hospital. They credit the foreigner with saving his life and wish to meet him to express their gratitude.
The girlfriend of the patient's son has taken to Twitter in her quest to track him down, posting a photo taken as the foreign man performed CPR on her boyfriend's father.
"I am looking for the foreigner in this photo. Please tell me if you find him. He is the one who saved the life of my boyfriend's father on the afternoon of December 6. My boyfriend's father had passed out and his heart had stopped beating. This foreigner performed CPR on him until his heart started beating. Rescue volunteers then rushed him to King Chulalongkorn Memorial Hospital. We want to thank him and tell him that the man he helped is now safe."
Her message has been widely shared as other netizens help her in her bid to find the Good Samaritan.
SOURCE: Bangkok Post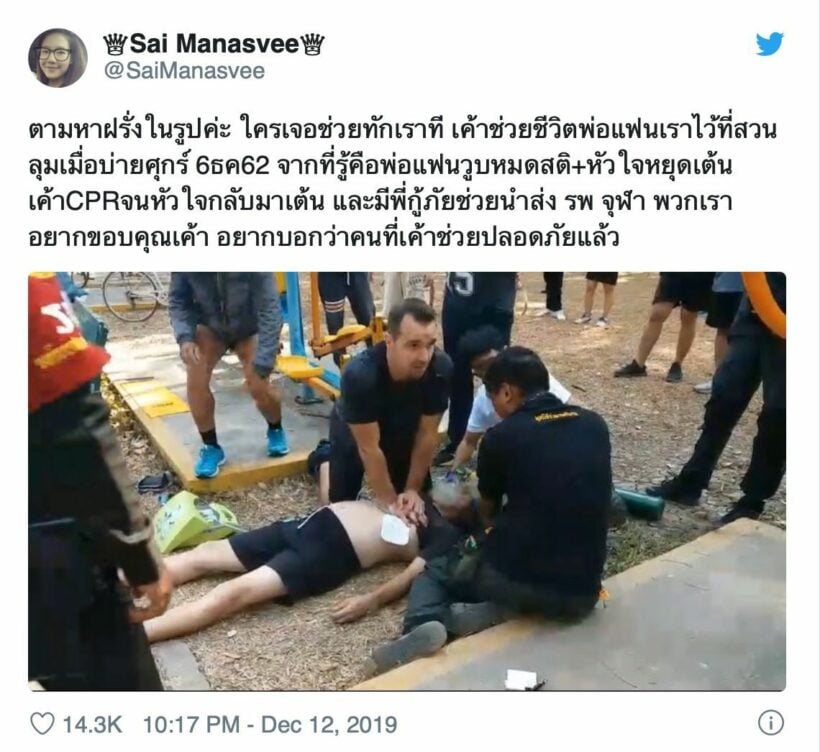 Keep in contact with The Thaiger by following our
Facebook page
.
Social media meltdown over tuk-tuk sex trip in Bangkok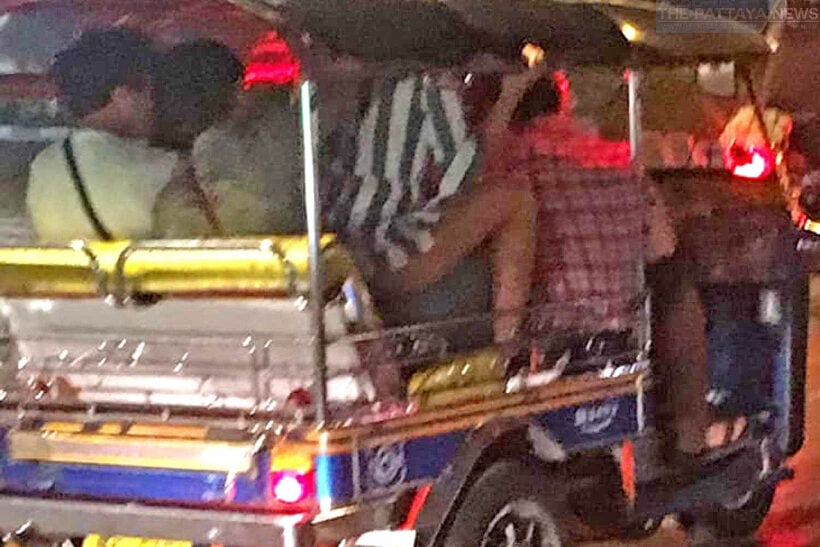 PHOTO: Facebook/Khun-Khachen
Thai netizens are in a frenzy over two posted video clips showing a woman sitting on a male passenger's lap and, it appears, enjoying sex with him in a the back of the tuk-tuk on a Bangkok street early in the morning. The videos have since been taken down (just to save you the effort).
There are two clips. The first one shows five passengers – three men and two women – travelling in the back of the tuk-tuk. One woman was seen sitting on a man's lap, lifting her skirt and appearing to be having sex. The clip was posted by Facebook user Khun-Khachen.
Then there's a second video showing the woman doing the same thing again. A voice was heard in the clip exclaiming, "No underwear?''
The two clips were widely shared online and drew sharp criticism of the woman and the man, saying their actions were inappropriate in a Buddhist country (but apparently topless bar girls are OK). The outraged netizens demanded police should investigate the incident.
The videos ended up with more than 200,000 views before they were removed from the Facebook page. Thai media reported the incident and police say they will follow it up.
SOURCE: The Pattaya News | Bangkok Post
Keep in contact with The Thaiger by following our
Facebook page
.