Thai PM says he supports changes to Constitution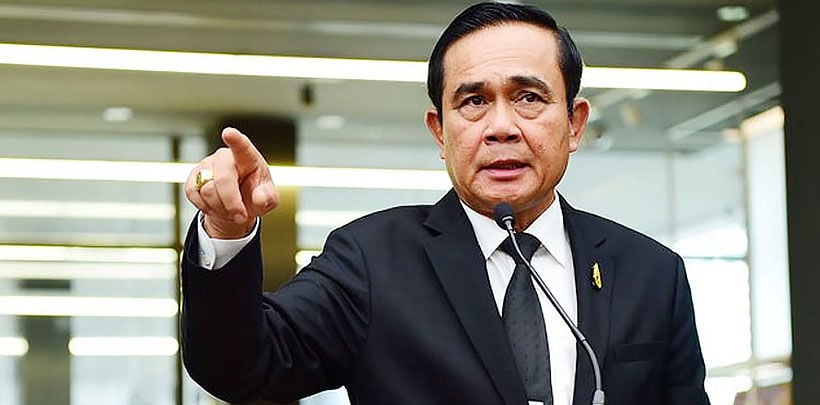 In an apparent nod to the student protests which have swept the nation for over 2 weeks, Thai PM Prayut Chan-o-cha has promised to push for constitutional amendments, saying the government will present its version of a charter rewrite bill in the next parliamentary session. Speaking after yesterday's weekly cabinet meeting, Prayut said his position has been to support the House committee assigned to study charter amendments, and that if and when the opposition submits a change bill to parliament, the government will present its version.
"We will have to wait for the proposals from the committee. The government is already preparing its own version of the bill. I expect that constitutional amendments will be considered at the next parliament session. The government is ready to cooperate fully."
The premier's move comes amid mounting calls for constitutional changes, particularly from the opposition and student activists, who are also demanding the PM's resignation and an end to what they see as official and unofficial harassment and intimidation of oppositionists.
Prayut says he has supported charter amendments where necessary. He will discuss change proposals with the House committee, and the ruling Palang Pracharat Party and its coalition partners will then work together on their own bill.
"This is the correct mechanism, so don't stir up too much trouble at this time. We are trying to solve several problems at the same time."
He also said the government will hold forums this month for "new-generation people" to voice opinions on Thailand's future. The National Economic and Social Development Council and relevant ministries will be responsible for organising these forums.
One legal expert and former adviser to the Constitution Drafting Committee told the Bangkok Post he's doubtful about the use of the parliamentary mechanisms to amend the charter:
"This means the people will be sidelined from the process, and it's likely that any changes to controversial provisions, particularly those associated with the Senate, will be left untouched. If this mechanism is used, the scope of amendments will be limited. Parliament will not discuss the power of the Senate because those involved will try to stand in the way. In the end, nothing will be changed."
The Free Youth group and the Student Union of Thailand, which staged a massive anti-government protest in Bangkok on July 18, setting off a wave of similar demonstrations across the country, demanded the government dissolve parliament, stop using oppressive laws against opponents and rewrite the Constitution.
"To show his sincerity in supporting the constitutional amendments, the PM must be more specific about what charter change proposals the government will present to parliament."
SOURCE: Bangkok Post
Keep in contact with The Thaiger by following our
Facebook page
.
Never miss out on future posts by
following The Thaiger
.
Protesters place plaque declaring Thailand "belongs to the people"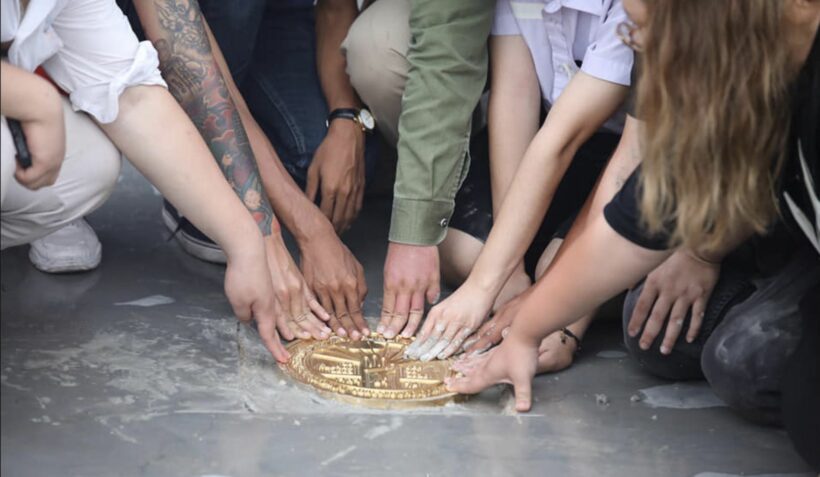 Protesters today have placed a plaque, in the area next to the Grand Palace, declaring Thailand "belongs to the people". The declaration comes after anti-government sentiment has risen prompting rallies to take place in the capital hoping to oust the government and demand constituional changes. The plaque was cemented in the perimeter of the Royal Field, known locally as Sanam Luang, reading, "At this place the people have expressed their will: that this country belongs to the people and is not the property of the monarch as they have deceived us." The provocative wording is likely to elicit a response, […]
Anti-government rally a victory for progressive Thais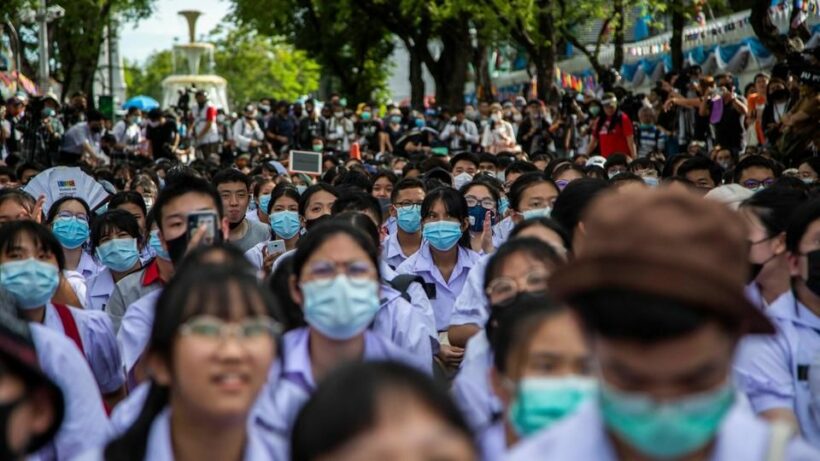 An important figure in Thailand's Progressive Movement says the anti-government rally this weekend is a victory for Thais pushing for democracy in the Kingdom. Yesterday's rally, the largest yet in the anti-government demonstrations that started in July, attracted up to 30,000 people although Thai security officials put the number around 18,000. Either figure makes the protest the biggest so far and punctuates the government's headache about how to work around or respond the demands. Thanathorn Juangroongruangkit, a fierce opponent of the military, and past leader of the now disbanded Future Forward Party (which attracted the third highest vote of any party […]
Protesters flood Thammasat University for major anti-government rally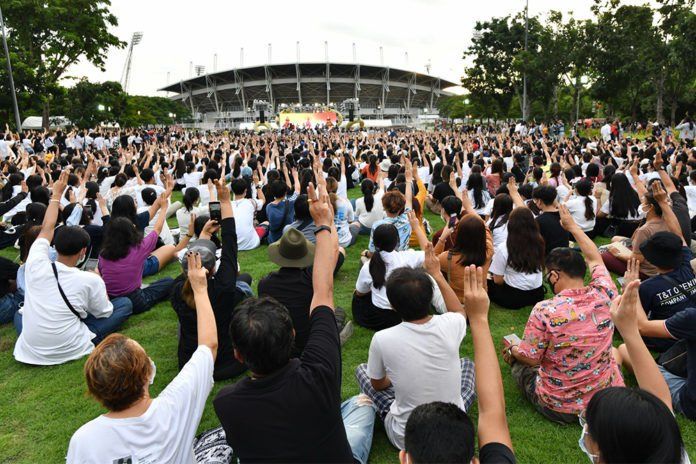 Today, Thammasat University's Tha Prachan campus in Bangkok is seeing thousands of protesters flood its campus in what they say is the biggest rally yet against the Prayut-led Thai government. After unsuccessfully trying to gain permission from university officials, the protesters broke through the gates of the history-laden university and are now gathering for the schedule of anti-government speeches. Earlier this week protesters were hoping for around 50,000 demonstrators with security officials saying it would more likely to be around 20,000. Today's poor Bangkok weather is likely to make a crowd size more the latter than the former. Security officials […]