Coronavirus could cause huge damage to ASEAN economies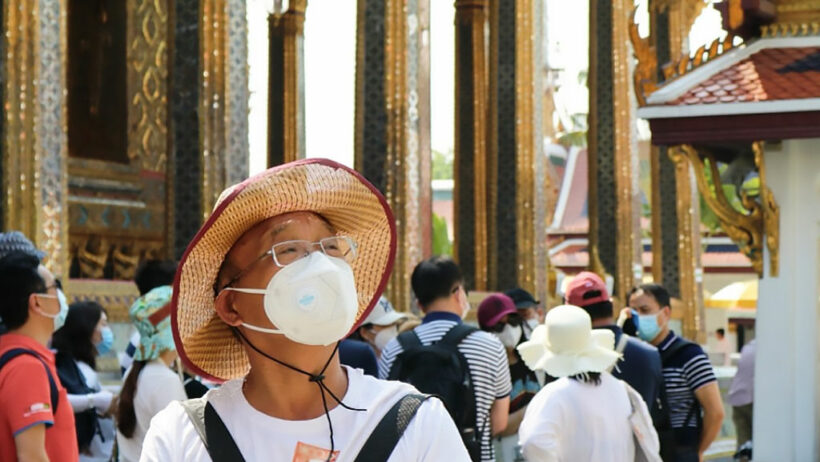 The Covid-19 coronavirus is expected to cause damage valued at US$2.4-3.4 billion (74.6-105.7 billion baht) to ASEAN economies, according to estimates from the Kasikorn Research Centre. The jolt will likely result from a virus-related economic slowdown in China, which has close trade ties with ASEAN nations as well as investment and tourism, the centre reports.
If the outbreak can be contained within 6 months, Chinese economic growth could be at 4.7% this year, or 1% lower than predictions. That would cut ASEAN's economic value by 74.6-105.7 billion baht, or 0.07-0.11% of ASEAN's yearly gross domestic product.
Damage to Thailand would be "moderate," at 15.5-21.8 billion baht, or 0.09-0.13% of annual GDP, the research centre wrote. The economies of Vietnam, Singapore, Laos and Cambodia are highly dependent on China, while Thailand's dependence is moderate, according to the report.
Meanwhile, the number of coronavirus infections in Thailand has risen to 33 after a Chinese woman aged 54 tested positive, the Department of Disease Control said at a press conference.
As of today, the number of confirmed virus patients in Thailand under hospital care is 23, most of whom are beginning to recover, according to local media. Ten patients who have completely recovered from the virus have been discharged.
SOURCE: Chiang Rai Times
Keep in contact with The Thaiger by following our
Facebook page
.
Coronavirus cases more than double in South Korea to surpass 150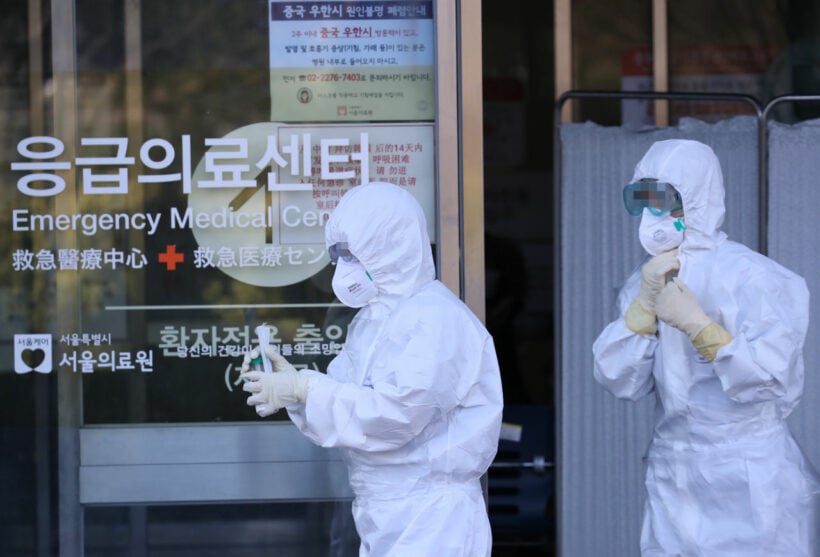 South Korea has reported its first death from the COVID-19 corona virus. The government reports that a 63 year old man, who died Wednesday, tested positive for the virus in a post mortem examination. The exact cause of his death has yet to be determined. He died in North Gyeongsang province, where he had been hospitalized for over 20 years, according to the Korean Centers for Disease Control and Prevention (KCDC).
A 10:30am today, the total number of infected people in South Korea stood at 156, with 70 of them in Daegu and nearby North Gyeongsang Province. Most of the cases have been traced to a church in the city that a 61 year old woman, confirmed as the country's 31st patient on Tuesday, had attended. Daegu fears becoming Korea's Wuhan, with largest cluster outside of China: in just 24 hours through yesterday afternoon, the area saw 53 new cases confirmed. Among the new cases, 39 people are linked with the Sincheonji Church of Jesus, a Christian sect to which the 61 year old woman, who tested positive Tuesday, belongs.
KCDC Director Jung Eun-kyeong said 1,001 church members who attended services with the woman are now in self-isolation at home. But the agency is leaning toward the possibility that the woman could have contracted the virus via a secondary infection. She is considered to be a potential "superspreader."
In a phone survey conducted by health authorities, 90 church members indicated having symptoms so far, although 396 could not be reached.
President Moon Jae-in vowed to mobilise all available resources to Daegu during a phone conversation with Mayor Kwon Young-jin. The central government plans to send medical professionals and facilities to help the city deal with snowballing cases.
Vice Health and Welfare Minister Kim Kang-lip says the country is facing a new situation that requires a different response.
"At this stage, (the government) has judged that COVID-19, which has been flowing in from overseas, is spreading locally with a limited scope."
He added that cases where the source of infection is unclear are emerging in Daegu and the capital, Seoul. There are at least 20 coronavirus patients whose transmission path is unknown.
South Korea is now one of the countries that has reported the highest tallies outside mainland China, along with Japan, Singapore and Hong Kong.
SOURCE: The Nation
Keep in contact with The Thaiger by following our
Facebook page
.
Coronavirus UPDATE: S Korea tops 156 cases, Ukrainians attack evacuee bus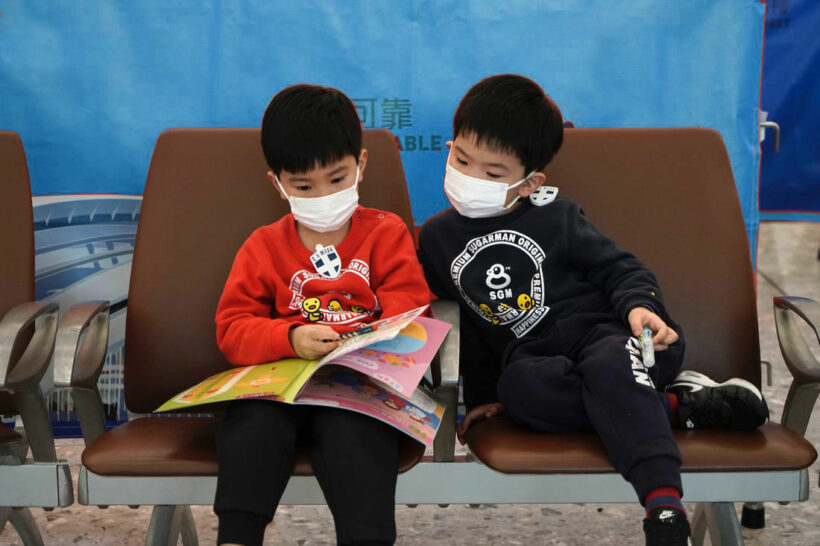 The total number of infected worldwide cases of coronavirus (Covid-19) stands at over 76,735. At least 2,247 people are now dead from the virus, with all but 11 of those deaths in mainland China. 18,561 people are now registered as 'recovered' from the virus. The fatality rate still sits around 2%.
• There has been a sharp spike in new cases of the virus in South Korea according to the country's Centres for Disease Control and Prevention. A total of 52 new cases have been diagnosed in just one day, bringing the total number of infections in the country to 156.
Among the new cases, nearly 40 are linked to the Shincheonji Church of Jesus in the southern city of Daegu. Authorities are now attempting to test the entire congregation.
South Korean President Moon Jae-in and Chinese President Xi Jinping spoke on the phone yesterday, agreeing to share information about the two countries' clinical treatment experiences.
President Xi told Moon that "the Chinese people has broken away from the initial fear and are seeing the prospect and hope of overcoming the infectious disease."
• Dozens of protesters in a Ukraine town have mobbed buses carrying evacuees from coronavirus-hit China. The evacuees were being brought to a hospital in the central Poltava region, where they will be quarantine for 14 days.
Many residents fear the virus could spread through the town, which has a population of about 10,000. Earlier yesterday, 45 Ukrainians and 27 foreign nationals were flown from Wuhan in China, the epicentre of the deadly outbreak, to eastern Ukraine. Six buses then drove them to the hospital in Novi Sanzhary, where they were met by demonstrators lighting bonfires and hurling stones.
The country's health ministry says none of the passengers were sick, whilst the Ukraine PM has issued statements trying to calm the panic in the town.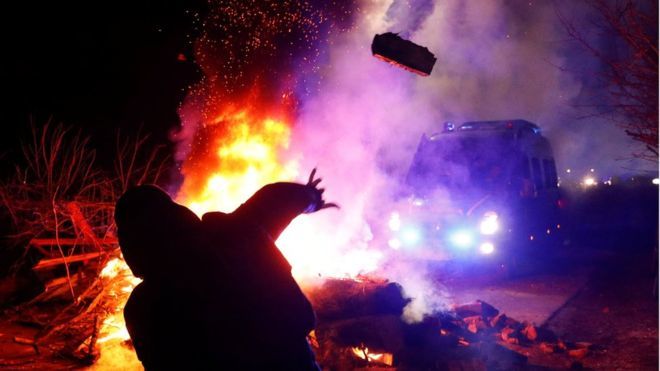 PHOTO: Protesters in the Ukraine react violently to the arrival of a bus load log evacuees from China
• 11 people evacuated from the Diamond Princess cruise ship, marooned in Yokohama Bay, and flown out by US authorities on February 17, have tested positive for the novel coronavirus. 13 of the US evacuees were taken to the University of Nebraska Medical Centre for testing. All but two tested positive.
Ten of the evacuees taken to UNMC remain in a quarantine unit, while three others are in a state Bio-containment unit, according to the release.
• Meanwhile, 2 passengers from Australia, also evacuated from the Diamond Princess cruise ship in Japan, have been diagnosed with the coronavirus. 164 evacuees from the cruise ship arrived at the Howard Springs Quarantine Facility yesterday to begin a 14 day quarantine period.
6 passengers were identified to have minor respiratory symptoms or fevers and were moved into isolation and tested. 2 tested positive for the virus.
Australia now has 17 confirmed cases of the novel coronavirus with 11 people registered as "recovered".
• In further scientific research, the new coronavirus (SARS-CoV-2) spreads mostly through respiratory droplets and contact with infected patients. But new research suggests that it can also spread through feces.
There are currently more cases of coronavirus than would be expected if the virus were spreading only through respiratory droplets and contact with infected patients. The report was published February 15 by the Chinese Centre for Disease Control and Prevention.
Previous tests have found that the coronavirus can be present in faeces, but it was unclear if the virus would be 'viable' and able to spread to another person, according to a previous Live Science report. So, a group of researchers analysed stool samples from patients with coronavirus.
According to the Live Sciencewebsite, they isolated the coronavirus from one patient who had severe pneumonia and examined the virus under an electron microscope. They found that the coronavirus was viable.
"This means that stool samples may contaminate hands, food, water, etc. People who use the bathroom and then don't wash their hands could spread the virus to others, for instance."
Keep in contact with The Thaiger by following our
Facebook page
.
Coronavirus, and Thailand's property market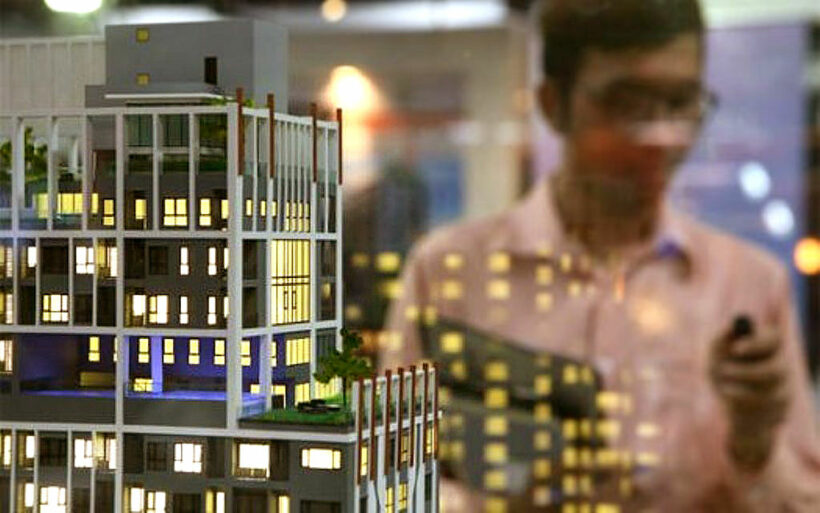 The Coronavirus outbreak poses challenges for Thailand's real estate market as potential Chinese condominium buyers remain stranded in China. Analysts believe Chinese condominium transfers in 2020 will be at least 25% lower than average because of the challenges. Meanwhile, some believe that the outbreak may bring opportunities for non-Chinese buyers and in the long-run, the Chinese may be looking for an overseas refuge in the event of these types of emergencies.
Market remains weak
The pandemic, which started in China, is hurting the condominium market as Chinese nationals account for half of the international buyers in Thailand, or 57.6% of the total foreign condo owners in 2018.
Vichai Viratkapan, acting director-general of the Real Estate Information Centre says that 50% of Chinese condo transfers are expected to disappear in the first 2 quarters of this year and the total transfer value by the Chinese will miss the mark of the usual 29 billion baht by about 25% (around 7 billion).
However, since Chinese property buyers only make up 6% of the total international and domestic housing transfers in Thailand, the total housing transfer number in the country is likely to be similar to last year.
Thailand adjusts GDP growth target due to coronavirus
On Monday (February 17), the Office of the National Economics and Social Development Council said Thailand's GDP growth rate is predicted to be about 2% this year, a record low in the last 6 years. They forecast the rate will be achieved if the pandemic ends before April or May, tourist arrivals reach 37 million, and the world economic growth grows 3.2%, among other factors. Otherwise…
The Chinese are reluctant to complete transfers
The virus has continued to affect hospitality operators, including hotels and condominiums that service tourists, nationwide. Since China has suspended tours, put restrictions on movement, and locked down cities, home to over millions of people, it also poses a threat to real estate developers as their clients are unable or unwilling to fly.
"Currently multiple off-plan condominium developments are approaching completion, and Chinese clients are unable or unwilling to transfer. Chinese clients who made a reservation in Q4 2019 are requesting a refund and withholding their investment," said Marciano Bijmohun, Business Development Director at FazWaz Property Group.
He believes every condominium that is in transfer status will see the percentage of non-transfer units rise in the coming months.
"These non-transfer units will cause a big financial hit to developers."
If a client refuses to transfer, does not comply with the terms and conditions stipulated in the sales and purchase agreement, and decides to release the property, their deposits will be forfeited.
"However, there is some good news, these non-transferred units can be offered with a discount to new clients."
Also, as China has been susceptible to a few disease outbreaks – from bird flu and swine fever and the current coronavirus – it may prompt Chinese buyers to look for second homes outside of China.
Keep in contact with The Thaiger by following our
Facebook page
.