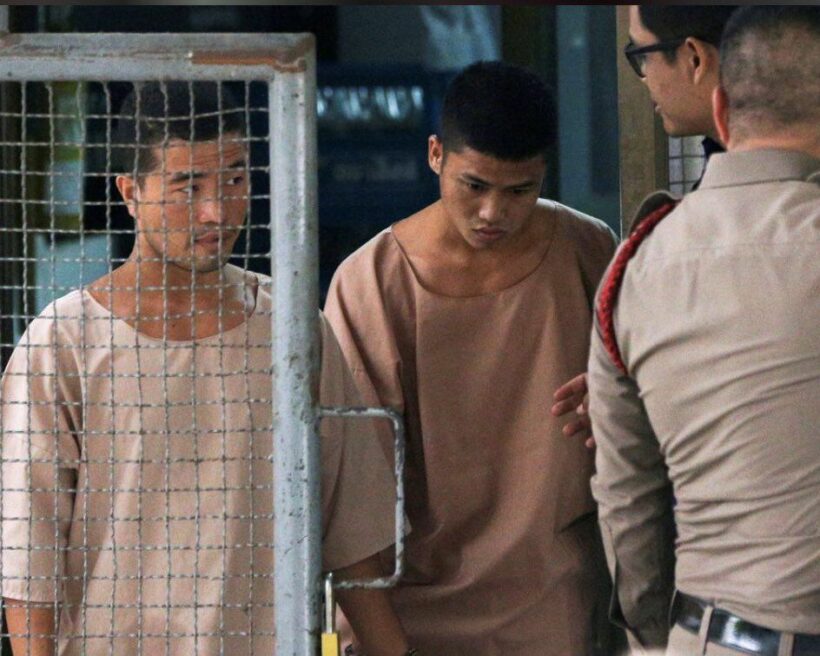 The Thai Supreme Court has upheld the death sentences for two Burmese 26 year old men convicted of murdering two British backpackers on Koh Tao in 2014.
After spending two hours reading the 60 page verdict, the Judge upheld the rulings by two lower courts that found Zaw Lin and Wai Phyo guilty of killing Hannah Witheridge and David Miller on Koh Tao on the night of September 14, 2014.
The bodies of Hannah Witheridge and David Miller were found on a Koh Tao beach in September 2014. Police also claimed that 23 year old Hannah had been raped and bludgeoned to death and 24 year old David suffered blows to his head with a garden hoe.
Burmese migrant bar workers Zaw Lin and Win Zaw Htun (aka. Wai Phyo) were arrested soon after the killing and sentenced to death in December 2015. Supporters, international campaigners, human rights activists, criminologists and the balance of social media commentary say the two were framed and the collection of evidence was bungled.
Today's ruling marks the end of a long legal battle that pitted the Royal Thai Police force against skeptics who accused the investigators of using sketchy DNA evidence and framed the two suspects as "scapegoats."
The Supreme Court verdict was read at a court in Nonthaburi where the two men have been incarcerated.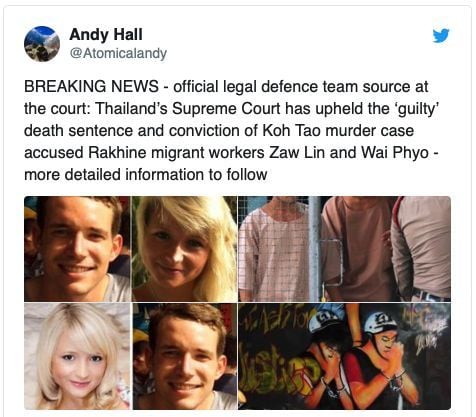 Migrant rights Lawyer and campaigner for the two Burmese, Andy Hall, tweeted the verdict as soon as it happened today
In the original 2015 verdict delivered at the Koh Samui Court, Zaw Lin and Wai Phyo, now 26 years old, were convicted on the basis of DNA traces police claim were recovered from the crime scene on Sairee beach and Hannahs's body.
Although no other physical evidence or testimony linked the pair to the crime, the court noted the two men came into possession of a mobile phone that belonged to one of the victims.
Under Thailand's legal system, an appeal to a higher court, in this case the Supreme Court, is a new trial, merely a re-examination or re-interpretation of testimonies and evidence submitted in earlier trials.
The two Burmese men are unlikely to actually face execution. Since 2004 there have only been three executions, two in 2009 and one in 2018, all by lethal injection. Clemency appeals may be filed to His Majesty the King but only defendants who plead guilty and "show remorse" would be eligible.
Pending some substantial new evidence coming to light or an unlikely mea culpa from any of the investigating Thai authorities, the Supreme Court's verdict today is likely the end of the case.