PM apologises, promises review of "VIP" loopholes amid foreign Covid cases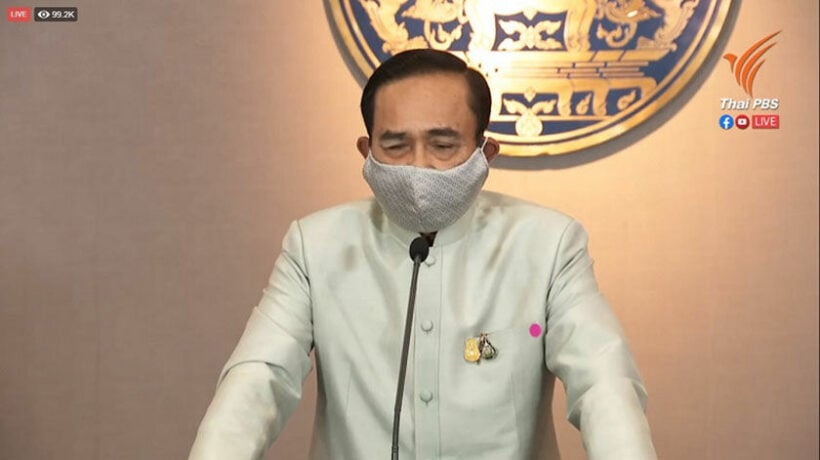 Following an Egyptian soldier and Sudanese child both testing positive for the Covid-19 virus in Thailand, PM Prayut Chan-o-cha has apologised and promised a review of the rules that exempted both foreigners from quarantine. An Egyptian aircrewman tested positive after visiting Rayong, in the east of the country, while the 9 year old daughter of a Sudanese diplomat has tested positive during self-isolation at a condo in Bangkok.
Hundreds of people believed to have had contact with either person are being traced through the Thai Chana platform and will be required to self-isolate for 2 weeks. The development has led to a shut-down of over 200 schools in Rayong, as well as the shopping malls visited by the Egyptian soldier, and the Dvaree Diva Hotel, where they were staying. Locals are reportedly furious, as Rayong was just beginning to welcome back domestic tourists following the lifting of nationwide Covid restrictions.
In Bangkok, residents of the ONE X condominium building, where the Sudanese child was self-isolating with her family, (who have so far tested negative) are being tested for the virus. It's understood the family did not violate the self-isolation requirements, but the building's common areas, including elevators and the lobby, are undergoing a deep cleaning.
The PM says a full investigation into the process that allows for certain categories of foreigners to be exempt from mandatory quarantine will be carried out. If such exemptions are reneged, such future arrivals may be required to fulfil the same quarantine requirements as other foreign nationals.
Despite the PM's apology, the government's Covid-19 task force lays the blame for the Egyptian incident firmly at the door of the Egyptian Embassy in Bangkok. The embassy has issued a statement to the effect that it is fully cooperating with the Thai government but has stopped short of an apology. Egyptian officials say all crew passed a Covid-19 test before departing Egypt and claim they did not violate any rules, despite evidence that they left their hotel to go shopping in Rayong.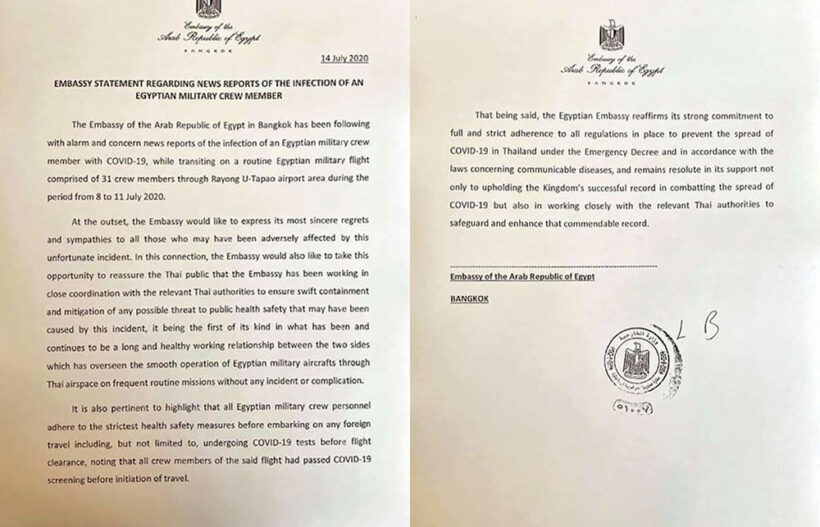 SOURCE: The Pattaya News
📱 Download our app on Android or iOS for instant updates on your mobile
📧 Subscribe to our daily email newsletter
👍 Like/Follow us on Facebook
🔔 Subscribe to or Join our YouTube channel for daily video updates
Expats condemn Phuket's "xenophobic" rapid-test payment policy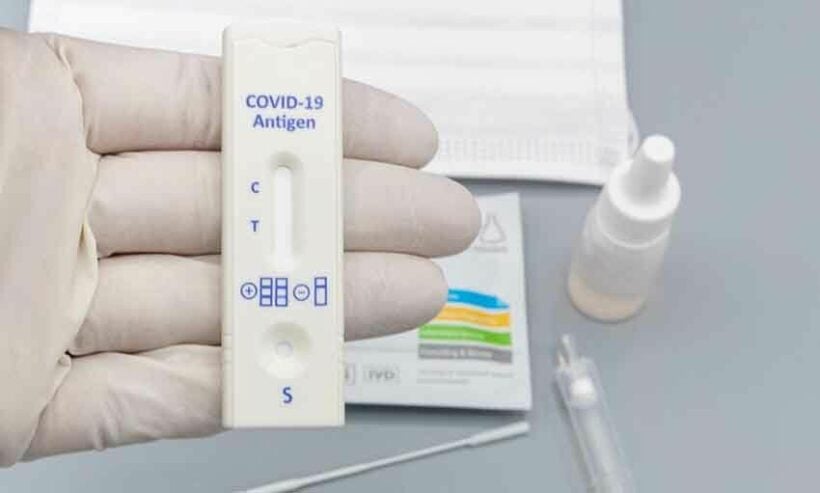 Expats living in Thailand are up in arms after Phuket officials confirmed that foreigners arriving on the island would have to pay for a rapid Covid-19 test that is free for Thais. The testing requirement is part of new restrictions now in force to combat the spread of the virus. However, it is not the cost of the test – 500 baht – that has angered so many expats, but the fact that officials see nothing wrong with charging people based on their nationality.
On Monday it was announced that EVERYONE arriving in Phuket would have to pay 300 baht if they needed the 'rapid covid test'. But that was amended the next day. Now we have the latest example of 2-tier pricing in Thailand (below).
The news was shared by travel blogger Richard Barrow on his Facebook page and has so far generated over 430 comments (and still growing), most of them furious…
"Unbelievable. I know Thailand is xenophobic, but for the authorities to do that is an absolute disgrace. They can piss off. I'll take my business elsewhere in future."
"I pay Thai taxes, I have for 16 years! am happy to bring my money elsewhere then!"
"Phuketians: "Tourists please come back." Also Phuketians: "500b khap."
It was not just foreigners commenting however, with at least one Thai person condemning the policy…
"I feel so so ashamed of how my country (or its government) so desperately wants more money to continue their corruption. Any possible ways they can rip you off – they will do shamelessly."
Effective yesterday, anyone flying in to Phuket from elsewhere in the country must take a rapid Covid-19 test, unless they have taken a negative PCR test within the last 72 hours or can prove they've received both doses of a Covid-19 vaccine. With less than 1% of the country vaccinated – almost none of them foreigners – the second requirement is unlikely to be met by many.
Foreigners who have to take the rapid test, regardless of whether they are tax-paying work permit holders or retirees contributing to the economy, long-term residents or married to a Thai, will have to pay 500 baht. For Thais, it is free. The focus of expat anger is not the cost, but the principle, which is being roundly condemned as xenophobic.
Foreigners employed in the Kingdom in particular, are angered, given that they have been paying tax for years and have social security coverage. In response, Phuket health officials have issued an "explanation" – that manages to explain very little.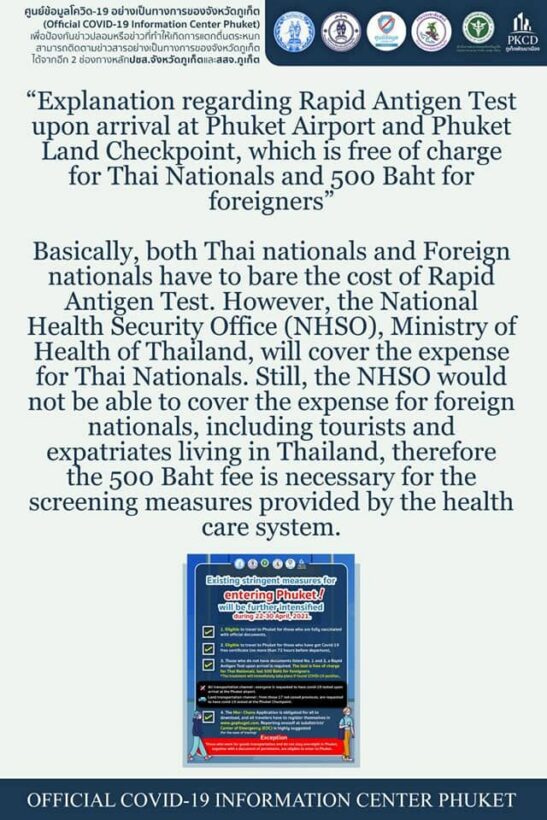 Meanwhile, while the new restrictions apply to everyone arriving by air, for those arriving by road, only people coming from the high-risk "red" provinces need to meet the entry requirements.
And, just as a footnote, if your rapid covid test conducted by airport officials happens to come back positive you will be whisked away to a Phuket field hospital for a 14 day stay.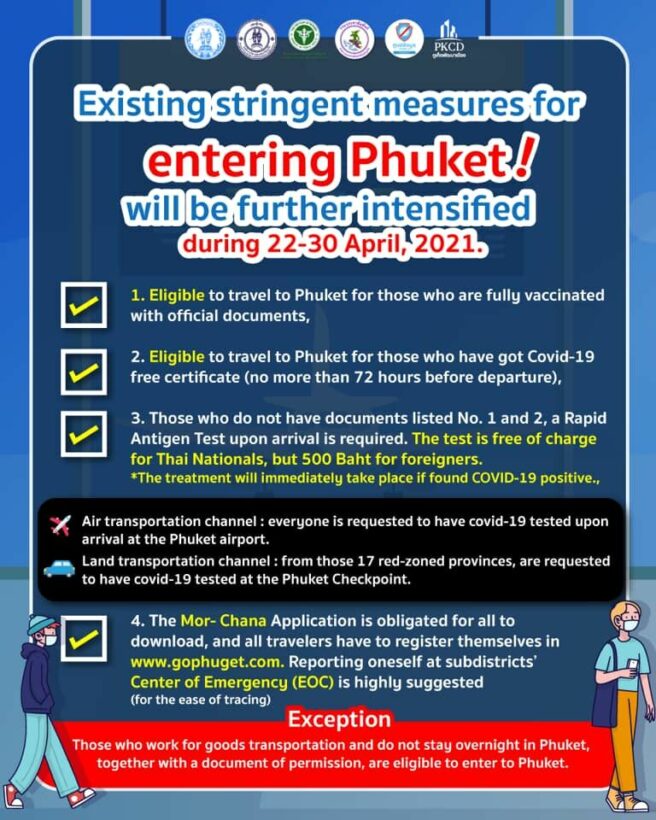 SOURCE: TPN
📱 Download our app on Android or iOS for instant updates on your mobile
📧 Subscribe to our daily email newsletter
👍 Like/Follow us on Facebook
🔔 Subscribe to or Join our YouTube channel for daily video updates
No one answered PM Prayut Chan-o-cha's calls to Covid-19 hotlines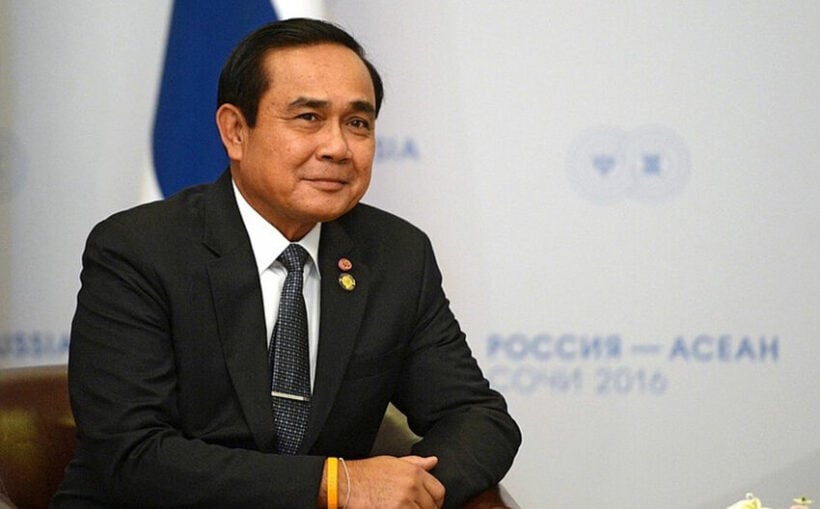 No one answered PM Prayut Chan-o-cha's calls to the country's Covid-19 hotlines. The prime minister is now ordering more staff to work for both the 1668 and 1669 Covid-19 hotlines to make sure calls don't go unanswered. There is now an official LINE account primarily for Covid-19 patients requesting hospital beds after the hotlines were "overwhelmed" with callers, a spokesperson said.
After both of his calls to the hotlines went unanswered, Prayut says he wants to look into how the hotlines are managed.
"I tried both numbers, but nobody answered. I want to find out if this is because there are too few health personnel manning the lines, or if they are too busy tending to patients in hospitals."
With the recent wave of infections at a record high with more than 18,000 active cases, more than doubling the last wave's peak, hospitals have turned down Covid patients due to a shortage of beds. Recent reports say some Covid patients have been denied a ride in an ambulance. Prayut says he wants both problems to be dealt with immediately.
"I want the Public Health Ministry to urgently deal with this problem. I can't accept the fact that entire families are getting infected because they are being denied medical help."
A spokesperson for the Centre for Covid-19 Situation Administration said at a recent press conference that there are thousands of calls made to the 2 hotline numbers and not enough people to answer.
Covid-19 patients seeking a hospital bed can send a LINE message to @sabaideebot with their name, lab results, ID number, telephone number and address.
SOURCE: Nation Thailand
📱 Download our app on Android or iOS for instant updates on your mobile
📧 Subscribe to our daily email newsletter
👍 Like/Follow us on Facebook
🔔 Subscribe to or Join our YouTube channel for daily video updates
Covid UPDATE: 1,470 new Covid-19 infections, 7 deaths, provincial totals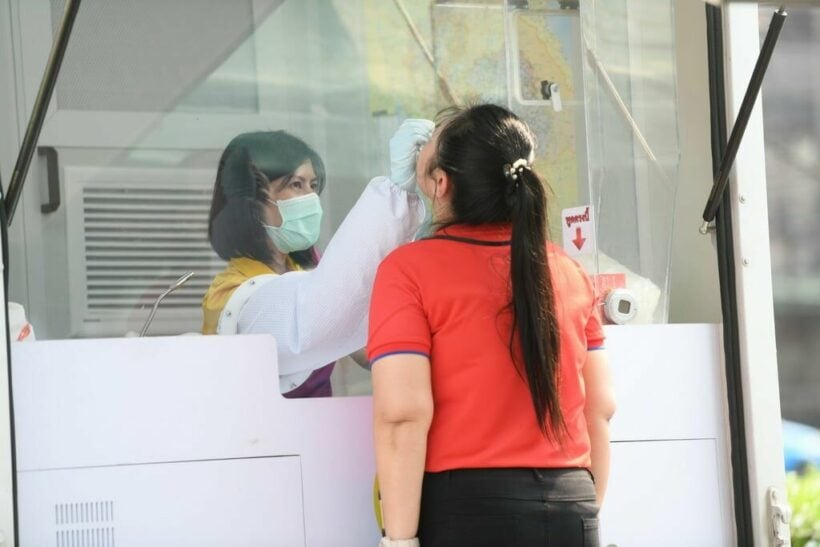 1,470 new Covid-19 infections and 7 deaths were reported today by the CCSA. 446 new cases are in Bangkok which remains the hotzone of new infections, although the latest outbreak has now spread to most Thai provinces. Out of the 7 deaths, one was a 24 year old Thai woman with a history of visiting an entertainment venue in the southern province Surat Thani where other Covid-19 infections were reported.
The young woman's death is a rare case as the vast majority of Covid-related deaths in Thailand are the elderly or older adults with pre-existing conditions. Health officials say the woman suffered from obesity and died 3 days after testing positive for the virus. At present, there are 18,148 patients in state care… 14,555 in hospitals and 3,593 in field hospitals.
Since the start of the pandemic last year, the CCSA has reported a total of 48,113 Covid-19 infections and 117 coronavirus-related deaths.
The other Covid-related fatalities include…
68 year old Thai woman with pre-existing conditions of asthma
83 year old man from Bangkok with pre-existing conditions of high blood pressure
80 year old woman with pre-existing conditions of diabetes
45 year old woman in Bangkok with high blood pressure
59 year old man in Bangkok with pre-existing conditions of diabetes
86 year old man in Bangkok with pre-existing conditions of heart disease
Here are the provincial totals for today, as published by the NBT…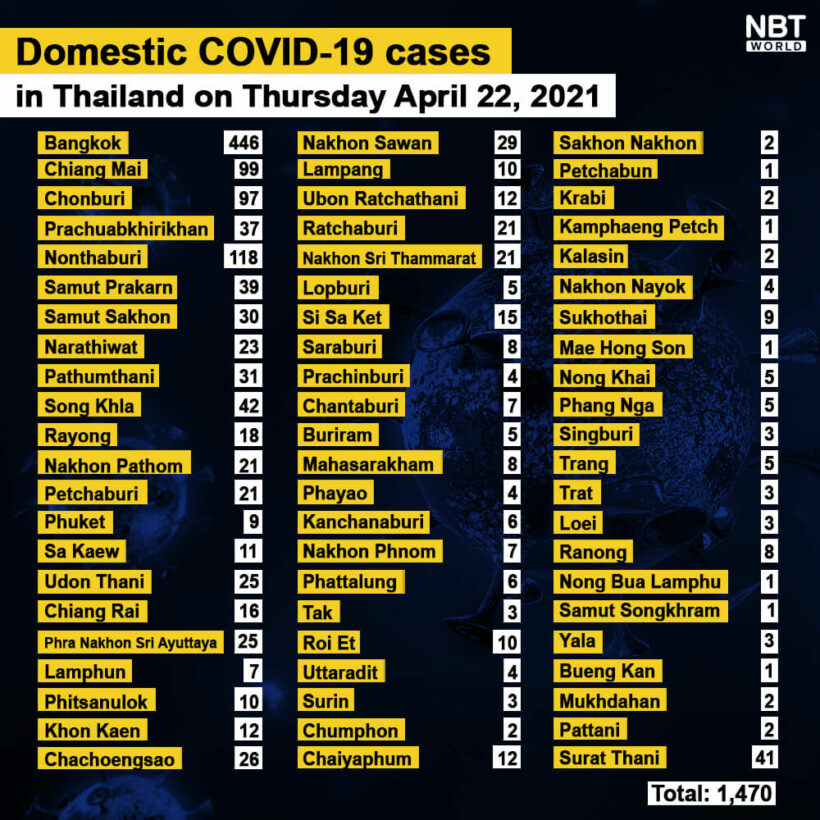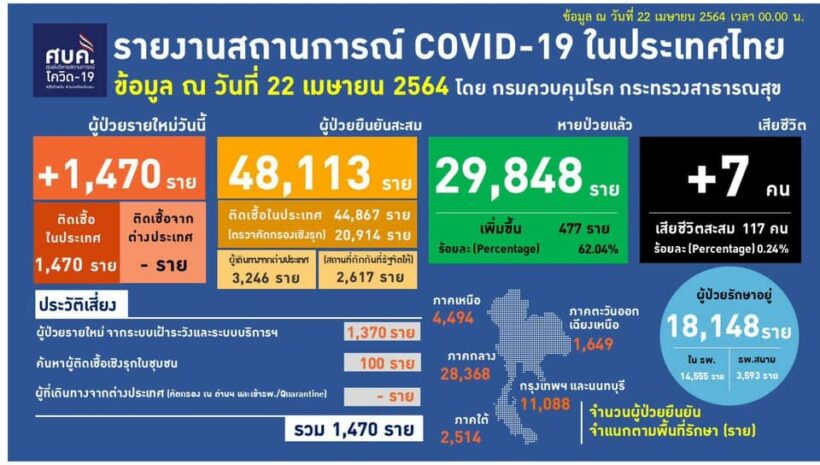 SOURCE: CCSA | Pattaya News | Nation Thailand
📱 Download our app on Android or iOS for instant updates on your mobile
📧 Subscribe to our daily email newsletter
👍 Like/Follow us on Facebook
🔔 Subscribe to or Join our YouTube channel for daily video updates