Covid-19 update: 4 new cases, no deaths (June 10)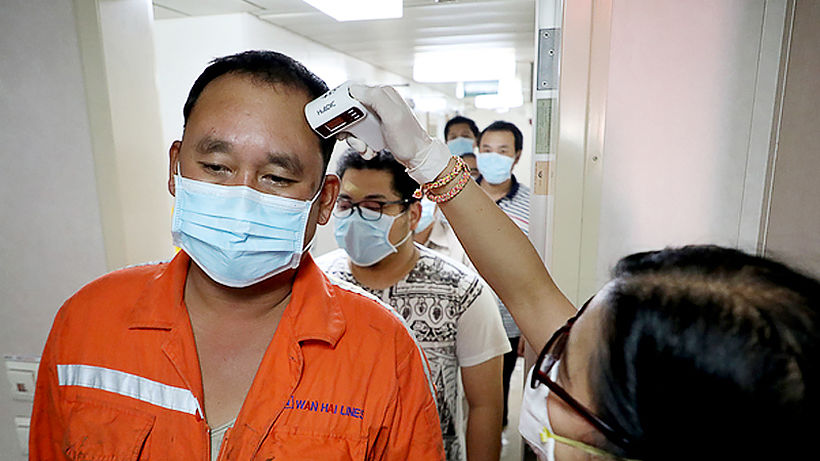 Dr Taweesilp Visanuyothin, spokesman for the Centre for Covid-19 Situation Administration, announced 4 new confirmed cases of Covid-19 at this morning's press briefing. All are imported cases from Thai Nationals recently repatriated from overseas.
2 cases are from India, 1 is from Pakistan and the last case is from Madagascar. All 4 went directly into state quarantine and had no contact with the general public.
Thailand has not recorded a single locally transmitted case nationwide in 16 days. The CCSA has stated its current goal is 28 days without a confirmed case in the country before declaring the nation virus-free.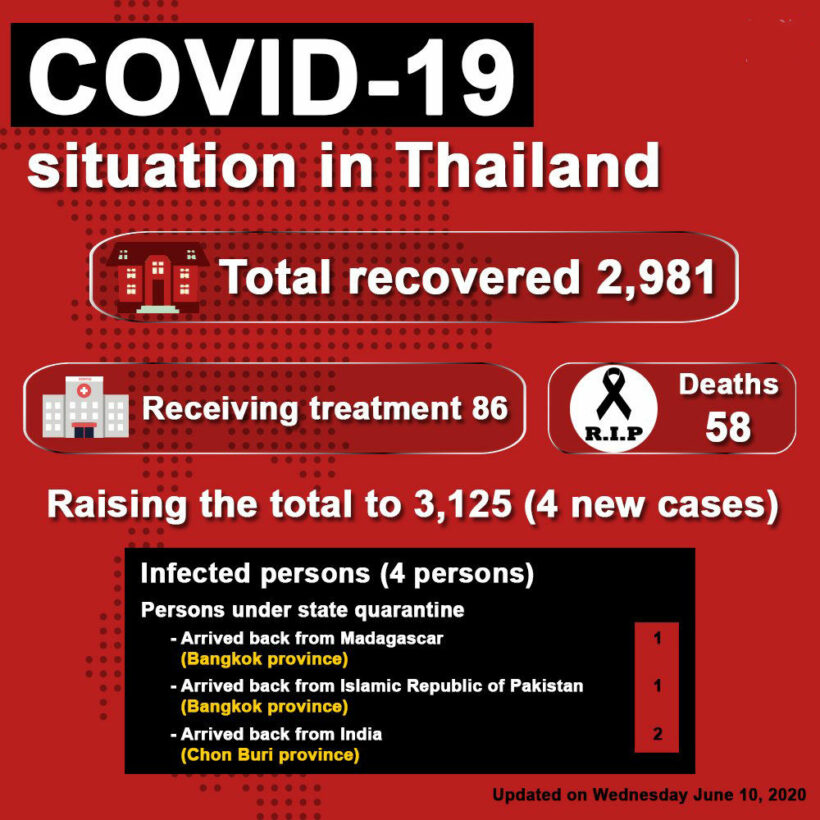 8 more patients recovered fully and were discharged in the 24 hour before the briefing.
As of today, the total number of confirmed cases in the country stands at 3,125. 86 are under treatment, 2,981 have recovered and been discharged, making the recovery rate well over 95%. There have been 58 deaths.
Globally, the total number of confirmed cases has crossed 7.3 million, up 124,000 yesterday, while deaths have exceeded 413,000. Thailand ranks 85th for the highest number of cases.
SOURCES: The Pattaya News | Nation Thailand
Keep in contact with The Thaiger by following our
Facebook page
.
Locals not rushing to book Singapore 'staycations'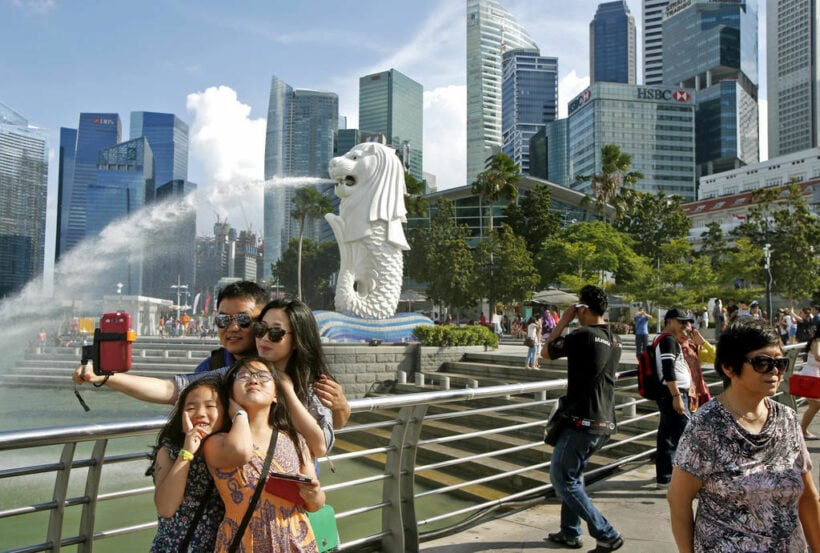 Tokyo residents can escape the city with a hike up Mount Fuji. New Yorkers can head to Long Island for a weekend. In Indonesia locals will be able to fly to the beaches of Bali. And in Thailand anyone living here now can visit the island of Phuket for a beach retreat.
Such is the Covid era 'staycation', the solution for domestic tourist economies around the world. Or is it?
Residents of Singapore have less of an option as, well, Singapore is tiny so any staycation won't take you far away from home. With the island's borders closed to foreigners, hotels and tourist attractions are hoping 'staycationers' will plug the gap in the battered $20 billion-a-year tourist industry. But despite industry enthusiasm, the Singapore locals haven't been rushing to book staycations just yet.
Michael Issenberg, CEO Accor South East Asia, the largest hotel operator in Singapore says that unless there is a return to international business, the hotel industry is going to be decimated.
"Up to 90% of our bookings come from international travellers."
While tourism internationally has been profoundly hit by the Covid-19 pandemic, a gradual re-opening of some domestic travel is giving a shot in the arm to airlines and hotels. Both industries, and the downstream travel agents, tour companies, taxi and passenger bus drivers, and cleaners, etc, have been particularly hard hit as border closures and lockdowns have shuttered hotels and ground entire fleets of planes.

Singapore's tourism sector faces an even tougher challenge with hotels given a green light just last week to request approval to welcome domestic tourists. But locals have been saying they'd prefer to save their money and wait for travel to resume in nearby holiday spots in Thailand and Malaysia rather than spend it on a hotel just around the corner in Singapore.
Thailand and Malaysia are also promoting local versions of 'staycations'. In Thailand the government is rolling out a three month stimulus package which gives users a 3,000 baht digital 'wallet' to use for expenses on rooms, flights and food.
Back in Singapore, the 5.7 million Singaporeans are now rebooting their economy after two months of lockdown, including a huge spike of new cases in April, the borders are still mostly closed. The city-state registered a historic low of just 750 foreign visitors in April, down from 1.6 million in the same month last year. May wasn't much better – 880 visitors.
Selena Ling, head of treasury research and strategy at Oversea-Chinese Banking Corp says that in the short term, hotels, restaurants and attractions can shuffle their businesses to draw interest to staycationers by adding attractions and food discounts,.
"However, our inherent small domestic market size implies it may not be a longer-term sustainable solution."
Tourism has been an increasingly vital industry for Singapore, helping to re-invent the economy from its traditional finance and shipping hub strengths. World class attractions including – Marina Bay Sands hotel, casino, Universal Studios and the Singapore Zoo have drawn tourists from around the world. The island has found its advantages as a cheap shopping stop-over and financial hub have been taken over by other south east Asian mega cities.
Last year, Singapore hosted a record 19.1 million visitors, while tourism receipts rose to S$27.7 billion (US$19.8 billion), fun 3% from the year before. Singapore's tourism industry, employing about 65,000 people, contributes about 4% to the island's GDP.
The border closure means Singapore needs to persuade locals to spend more money at home. Tourism Board CEO Keith Tan is confident the locals will be keen to travel locally and support the Singaporean economy.
"They may therefore be open to take time off in their own city and rediscover all that Singapore has to offer."
"Singapore has set aside S$90 million for the tourism sector and a task force is developing domestic and international recovery plans to be shared soon. The board also aims to strengthen Singapore's brand abroad by spending S$2 million to encourage content creators to produce compelling stories about the city-state."
Keep in contact with The Thaiger by following our
Facebook page
.
No new cases today- Covid-19 update (July 7)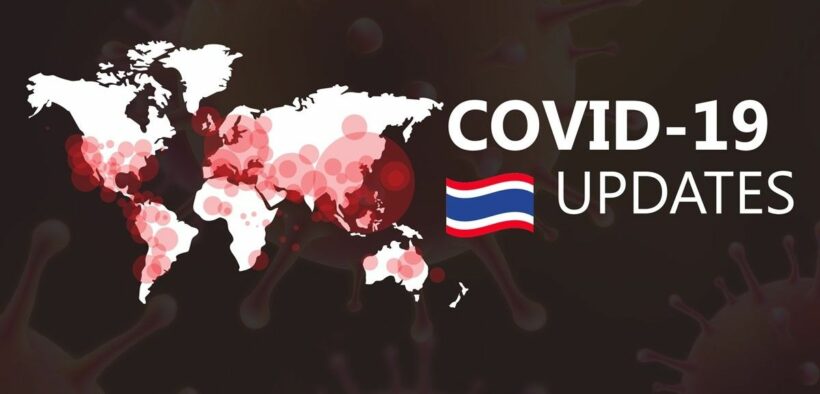 Today, there have been no new reported cases of Covid-19 in Thailand over the past 24 hours leaving the total amount of cases remaining at 3,195 with 58 deaths since the pandemic began. The number of recovered patients remains at 3,072, leaving 65 still hospitalized.
The Center for Covid-19 Situation Administration said that of the 3,195 accumulated cases, 2,444 contracted the disease locally, while 258 were diagnosed in state quarantine facilities. The Kingdom has had no new community transmissions over the past 43 days.
Globally, the number of cases rose by 182,490 over the past 24 hours to 11.74 million.
The death toll also increased by 3,884 to 540,660.
The United States had the most cases at 3.04 million, increasing by 57,905 over the last 24 hours and the most deaths at 132,979, increasing by 410 since yesterday.
Brazil has seen the second-highest number of cases at 1.63 million, up by 21,486 over the last 24 hours, with 65,556 deaths. India has the third-highest number of cases with 720,346 cases and 20,174 deaths. Thailand currently ranks 99th in the world for the number of reported cases.
Screenshot from https://covid19.ddc.moph.go.th/en
SOURCE: Bangkok Post
Keep in contact with The Thaiger by following our
Facebook page
.
The transformation of Thai hotels under the 'new normal' – CBRE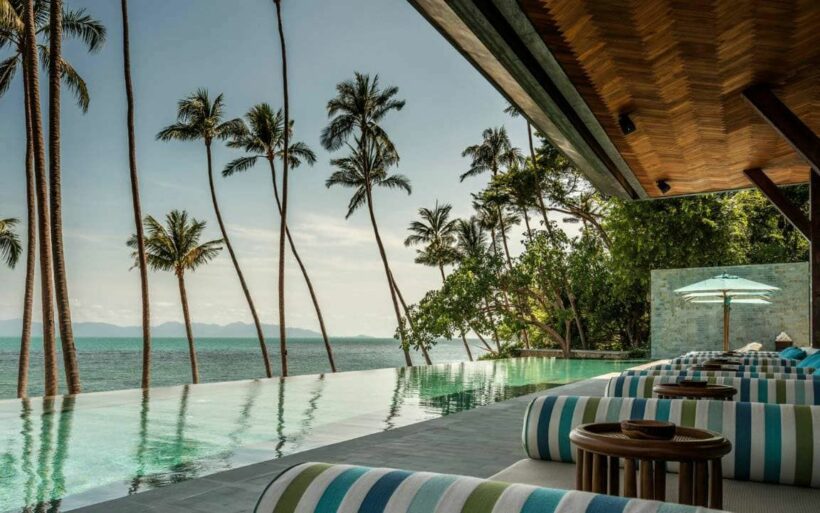 The full impact from Covid-19 could be prolonged, even after the actual virus is finally brought under control. CBRE, an international property consultant, expects Thailand's hotel industry will undergo inevitable changes as part of the 'new normal'. A new report says there will be an added emphasis on hygiene, a redefined restaurant concept, new partnerships and design alterations in line with the new global Covid era.
Atakawee Choosang, Head of Capital Market – CBRE Hotels, Thailand says that the hospitality sector is now seeing both subtle and substantial changes.
"With a sharp reduction in international visitors, the hotel sector took one of the hardest hits across the real estate industry during Covid-19. We see many hotel developers and owners of large hotels in Thailand, reliant on international inbound, temporarily shutting their respective hotel businesses as they are not able to be profitable even with the current shift towards domestic tourism. Owners across the board are trying to regain guests' confidence with accredited hygiene standards."
"The hotel asset type, in some ways should reflect a 'second home' on the road either in the short or long term, and while the common public space is easing up on its protocols, hotels will continue to have the highest standard of hygiene and cleanliness possible to build confidence with the guests."
To improve hotel performance in the short-term, hotel owners in Thailand are focusing on reassuring guests of their virus-free hotels by implementing new safety protocols like Covid-19 control and prevention training for hotel staff following the Ministry of Public Health guidelines, and acquiring a series of ISO certifications and SHA from the Amazing Thailand Safety and Health Administration.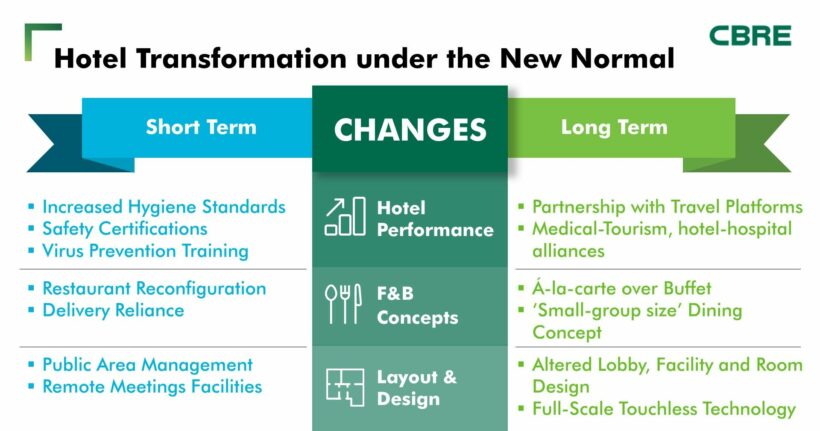 In the long-run, partnerships with travel platforms like travel agencies, tourism offices, airlines and tourist destinations will be crucial for business survival and growth. Medical tourism, wellness-certified hotel, and potential hotel-hospital alliances can play a significant role in recovering the hotel market and become a significant driver in future hotel concepts as Thailand already has, by nature, a strong and welcoming hospitality culture catering to the world's ageing population.
"With public health at the forefront, Thailand has the potential to solidify its status as one of the front-runners in the medical industry. Thailand is one of the most successful countries in the world to battle the virus outbreak, in a short period of time the infected cases has visually decreased and the number of fatalities are at a minimum. Hotel developers may see this as an opportunity to target medical tourism visitors that, despite the recent slowdown, has been on the rise since 2016."
In terms of hotel food and beverage, the social-distancing policy has altered the hotel-dining experience, especially in terms of the seating and spatial configuration. The shortage of dine-in customers during the past few months has driven many hotel restaurants to compete with standalone eateries by offering food delivery services to drive additional revenue. Since the lockdown restriction has lifted, the new hotel dine-in experience has adopted additional safety requirements like physical-distancing by table, but also a higher standard of food handling and preparation, and potentially new dining concepts to cater towards smaller group sizes but in higher quantities.
Changes from a hotel development and services standpoint are also in the pipeline for to restore the guests' confidence, firstly by accommodating essential workers, primarily business executives, government officials and investors, who are among the first groups to be permitted to travel, with new facilities to support remote meetings directly from the hotels with in-room Zoom or similar applications.
"Hotel management will likely continue its common area management… daily disinfection of the lobby, installation of air filtration, temperature scans, and hand sanitisers and alcohol-based sprays."
"Full-scale touchless technology, digital keys, digital check-in, and potentially ultraviolet and other unobtrusive virus-killing technologies could become the norm at branded and upscale to luxury hotels."
"Regardless of positioning, hotels will need to strive for a symbiotic balance to support layout usability and a clear, harmonised health and safety protocol standard to be applied to every part of the hotel. It's all about rebuilding the level of trust."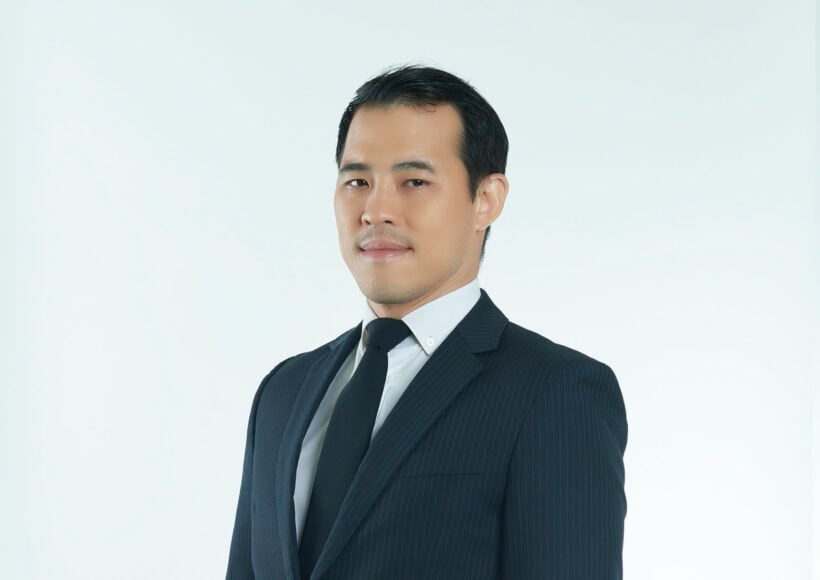 PHOTO: Atakawee Choosang, Head of Capital Market – CBRE Hotels, Thailand
Keep in contact with The Thaiger by following our
Facebook page
.