33 new cases: Thailand's biggest single day jump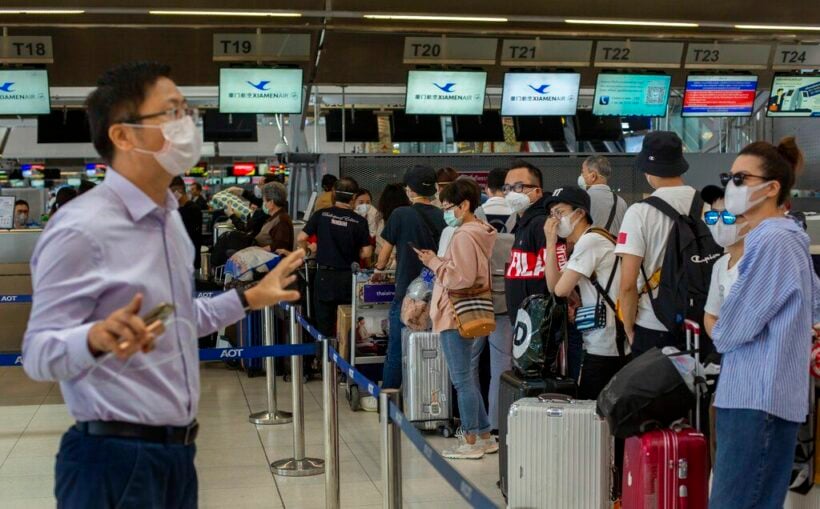 Thirty-three new cases of the Covid-19 coronavirus cases were confirmed in Thailand today, the nation's biggest single day increase, bringing the total number of infections to 147 since the virus struck in January. Of the total, 36 have recovered, 108 remain in hospital and one death has been reported from complications arising from the disease. Seventeen of the new cases are people who came from abroad and those closely related to them, while the rest are associated with other confirmed cases.
Deputy Prime Minister Wissanu Krea-ngarm told a news conference today that the government will soon announce the closure of all universities, schools, boxing and sports stadiums, pubs, cinemas and other venues with capacities of more than 50 people.
Businesses such as restaurants and stores will be required to take precautionary steps, such as thermal scanners and sanitizers.
In the event that the outbreak is elevated to Stage 3, Dr. Wissanu said the government has instructed all hospitals, whether state, private, local, military or police, to arrange for more beds. Retired doctors, medical personnel and volunteers will be mobilised if necessary.
All ministries and departments are instructed to arrange staggered working hours and breaks, and the government will consult the stock exchange regarding postponement of shareholder meetings scheduled to take place in April, and permitting of teleconferences.
SOURCE: Thai PBS World
Keep in contact with The Thaiger by following our
Facebook page
.
6 new coronavirus cases in Phuket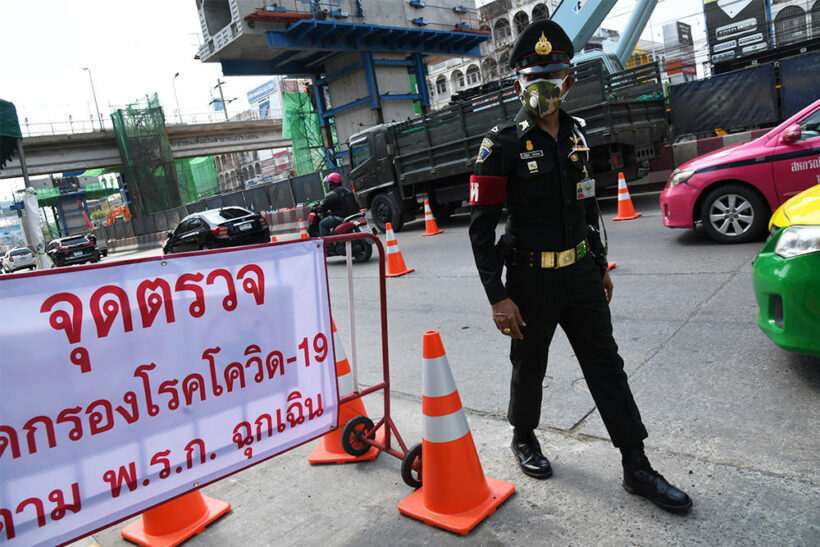 Phuket island officials have reported 6 new cases of the Covid-19 coronavirus as of today (Sunday, March 29), bringing the total to 53 on the southern island. The details as known at time of publication are…
Case 48: A 42 year old Thai woman, a gift shop owner in Patong.
Case 49: A 32 year old Ukrainian woman who runs a health clinic in Karon.
Case: 50: A 27 year old Thai woman who has had close contact with foreigners.
Case 51: A 37 year old Thai man, a bouncer in Patong's Bangla Road.
Case 52: A 36 year old Thai woman, a massuese in Patong.
Case 53: A 22 year old Thai woman who had close contact with another confirmed case, in Patong's Bangla Road.
Since January 5, 944 people in Phuket have gone to hospital for testing. Of those 794 have tested negative and were sent home.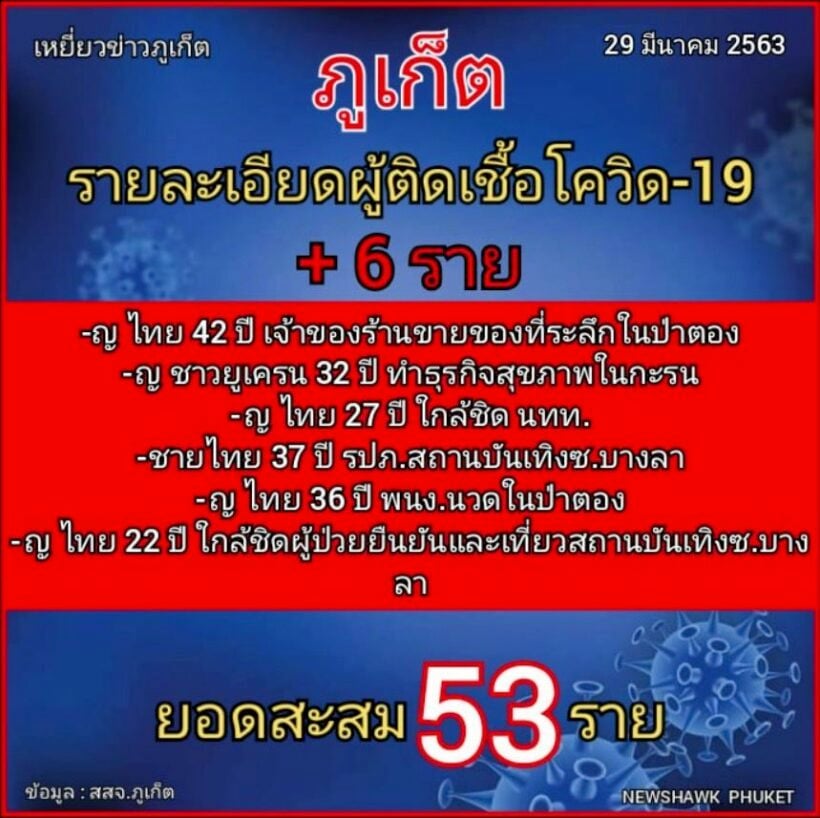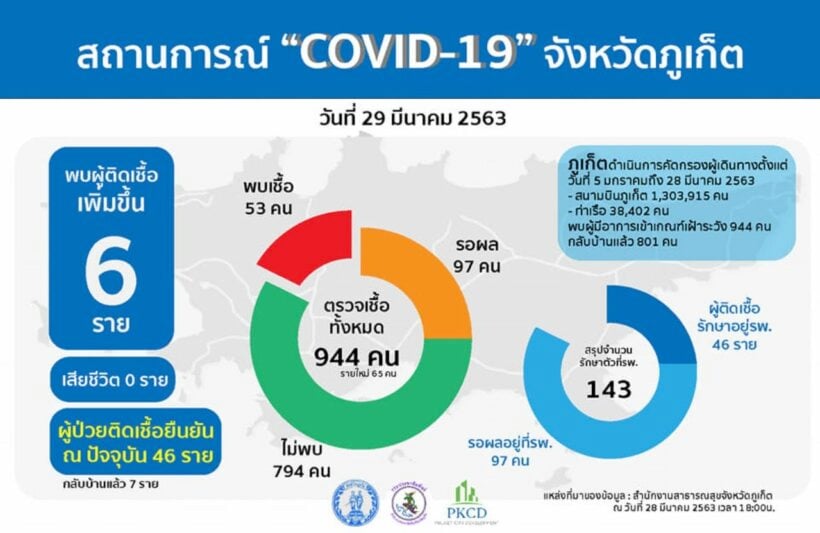 SOURCE: Newshawk Phuket
Keep in contact with The Thaiger by following our
Facebook page
.
Handful of Thais catch last flight back to Thailand from Singapore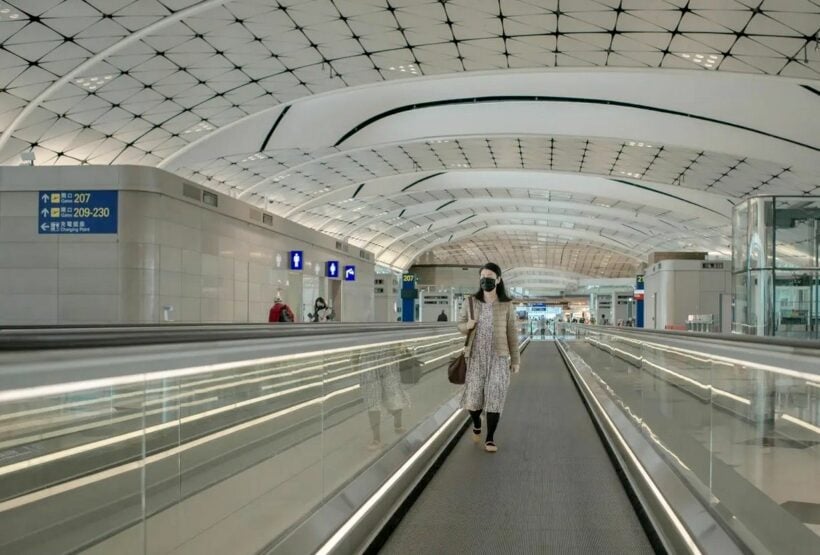 Flights are thin on the ground now and very few regional carriers are still in the air. Singapore Airlines Flight 972 was the last scheduled service to Thailand's Suvarnabhumi Airport. Passengers, only a few dozen, mostly Thais fleeing back home to ride out the Covid-19 coronavirus pandemic, flew out of Singapore's Changi Airport yesterday.
Airlines worldwide are cutting flights and grounding planes due to the global outbreak, which at 11:30am (Thai time today) had infected more than 664,000 and killed more than 30,000 people. Thailand has reported 6 deaths to date, Singapore 2.
The Thai passengers' desperation was evident. One 66 year old woman, who had been in Singapore taking care of her niece, told reporters: "If I die, I want to die in my country."
Thailand declared a nationwide state of emergency on Thursday banning all foreigners from entering the Kingdom, and placed complicated requirements for Thais to have a health certificate, not older than 72 hour, and proof of residence before being declared 'fit to fly'..
Singapore's Changi Airport was reported to be almost empty yesterday with only one check-in counter open. Nearly all passengers wore facemasks, and many wore gloves.
One passenger said she was afraid if she didn't get back to Thailand she might be stranded. 33 year old Ammara Viparsinon said she was shocked at the ticket price of 600 Singapore dollars (about 13,600 baht), about double what a flight would normally would cost. But she felt there was no choice, as any other route would involve long connections and layovers, and be even more expensive.
"The risk is too high, so I'd rather take this last direct flight."
SOURCE: Reuters
Keep in contact with The Thaiger by following our
Facebook page
.
Drug party raided in Chiang Rai for defying public gathering ban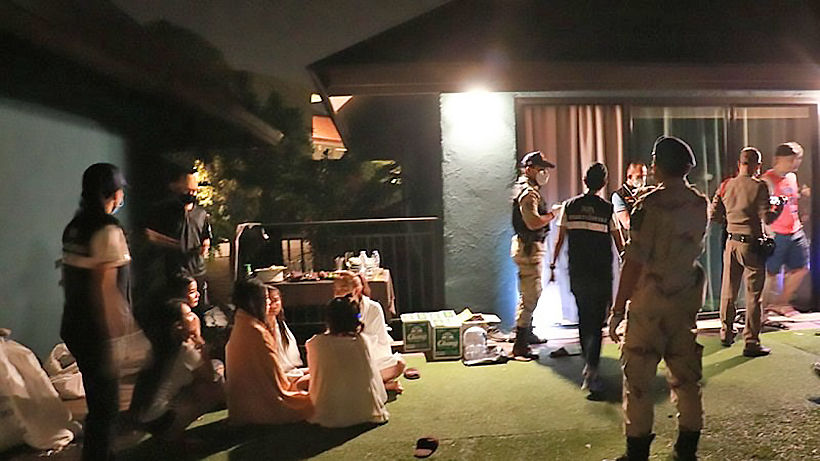 Authorities are cracking down and enforcing the ban on on public gatherings under the the state of emergency declared to fight the Covid-19 coronavirus epidemic last week. 22 people were arrested at a drug party in Chiang Rai yesterday for "gathering in defiance of the Emergency Decree". 10 men and 12 women between the ages of 20 and 30 were nabbed at a hotel in the province's main city district.
(Gamblers also arrested in Phuket, below)
The 22 were attending a pool party where alcohol and drugs such as ecstasy and ketamine were allegedly being sold. Police confiscated 237,000 baht in cash found in a bag, along with illicit drugs for evidence.
An initial investigation showed that a 24 year old man from Trat province in Thailand's east, on the Cambodian border, had been holding parties at the hotel since last Thursday. It's believed he started holding the parties because most public venues are unavailable during the virus scare.
Chiang Rai's governor says police raided the hotel in tambon Tha Sut after a tip-off.
Apart from drug charges, the detainees will also be punished for defying the Emergency Decree, which bans gatherings. The penalty is two years in prison and/or a fine of up to 40,000 baht. Chiang Rai has 5 confirmed coronavirus cases.
In a related development, 6 gamblers were arrested in Phuket near the island's Muang district yesterday.
The detainees were identified as 51 year old Natthawut, 55 year old Suwit, 40 year old Charoon, 48 year old Praiwan, 28 year old Natthapol and 39 year old Natthapong. No surnames were added to the report. Police say that while some were wearing masks to potentially protect themselves from the coronavirus, they were violating the Emergency Decree by sitting around a table to play the games. Gambling is officially illegal in Thailand, apart from the bi-monthly lottery.
SOURCE: Bangkok Post
Keep in contact with The Thaiger by following our
Facebook page
.